Hello bookworms! I'm Nia and today I'm going to be talking about some books that just got better as I kept reading them!
Now I have to say I'm the worst when it comes to finishing series. I admit it, can't help it! I can love the books but I'm always so sad to end the novels that they accumulate in the shame pile *facepalms herself*. You get what I mean. It's not about them, it's just me and new books and not wanting that series to end, because let's face it, that ending may not be what you wanted.
If you aren't familiar with Top 5 Wednesday, it is a Goodeads group now currently run by Sam over at ToughtsOfTomes on Youtube, where each week they give you a topic and you talk about 5 books that fit that category. You can join the group here if you want to participate!
Without any further ado, let's start with this week's topic!
Snow Like Ashes | Sarah Raasch
My thoughts: I have to say that with this particular series it was a bit downhill in the second book, because in the first half of the book nothing really happened and then it was a bit rushed, BUT the third and final book was amazing and it was totally worth reading Ice Like Fire. I loved the conclusion and despite what I said, I have to say this is a trilogy that gets so much better at the end.
Synopsis
Sixteen years ago the Kingdom of Winter was conquered and its citizens enslaved, leaving them without magic or a monarch. Now, the Winterians' only hope for freedom is the eight survivors who managed to escape, and who have been waiting for the opportunity to steal back Winter's magic and rebuild the kingdom ever since.
Orphaned as an infant during Winter's defeat, Meira has lived her whole life as a refugee, raised by the Winterians' general, Sir. Training to be a warrior—and desperately in love with her best friend, and future king, Mather — she would do anything to help her kingdom rise to power again.
So when scouts discover the location of the ancient locket that can restore Winter's magic, Meira decides to go after it herself. Finally, she's scaling towers, fighting enemy soldiers, just as she's always dreamed she would. But the mission doesn't go as planned, and Meira soon finds herself thrust into a world of evil magic and dangerous politics – and ultimately comes to realize that her destiny is not, never has been, her own.
The Raven Cycle | Maggie Stiefvater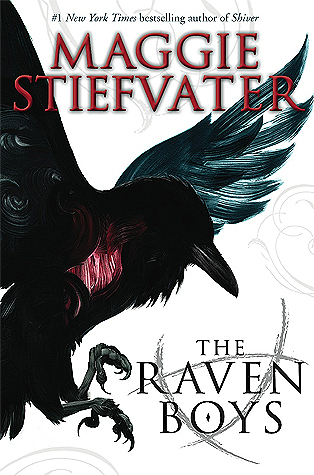 My thoughts: If you've been following any of my social medias you'll probably know that I freaking adore this quartet. It's one of my all time favourite series and the characters are amazing. I have to say that it's a bit hard to get into at first but once you do, it just gets better. I really want to re-read the books soon, because I feel there's a lot of foreshadowing and… well, I just want to dive again into that world.
Synopsis
It is freezing in the churchyard, even before the dead arrive.
Every year, Blue Sargent stands next to her clairvoyant mother as the soon-to-be dead walk past. Blue herself never sees them—not until this year, when a boy emerges from the dark and speaks directly to her.
His name is Gansey, and Blue soon discovers that he is a rich student at Aglionby, the local private school. Blue has a policy of staying away from Aglionby boys. Known as Raven Boys, they can only mean trouble.
But Blue is drawn to Gansey, in a way she can't entirely explain. He has it all—family money, good looks, devoted friends—but he's looking for much more than that. He is on a quest that has encompassed three other Raven Boys: Adam, the scholarship student who resents all the privilege around him; Ronan, the fierce soul who ranges from anger to despair; and Noah, the taciturn watcher of the four, who notices many things but says very little.
For as long as she can remember, Blue has been warned that she will cause her true love to die. She never thought this would be a problem. But now, as her life becomes caught up in the strange and sinister world of the Raven Boys, she's not so sure anymore.
The Covenant Series | Jennifer L. Armentrout
My thoughts: This was one of the first series I read when I re-discovered the YA genre. I love Jennifer L. Armentrout, she does really steamy and guilty pleassure books, but I have to say this series surprised me so incredibly much. The books got better and better and it had one of the most realistic endings, even though I didn't want it to be that way, it was what had to happen, and I'm glad I read them. There's also a spin-off series that I want to start ASAP, and I'm really excited about!
Synopsis
The Hematoi descend from the unions of gods and mortals, and the children of two Hematoi pure bloods have godlike powers. Children of Hematoi and mortals–well, not so much. Half-bloods only have two options: become trained Sentinels who hunt and kill daimons or become servants in the homes of the pures.
Seventeen-year-old Alexandria would rather risk her life fighting than waste it scrubbing toilets, but she may end up slumming it anyway. There are several rules that students at the Covenant must follow. Alex has problems with them all, but especially rule #1:Relationships between pures and halfs are forbidden. Unfortunately, she's crushing hard on the totally hot pure-blood Aiden. But falling for Aiden isn't her biggest problem–staying alive long enough to graduate the Covenant and become a Sentinel is.
If she fails in her duty, she faces a future worse than death or slavery: being turned into a daimon, and being hunted by Aiden. And that would kind of suck.
Six Of Crows | Leigh Bardugo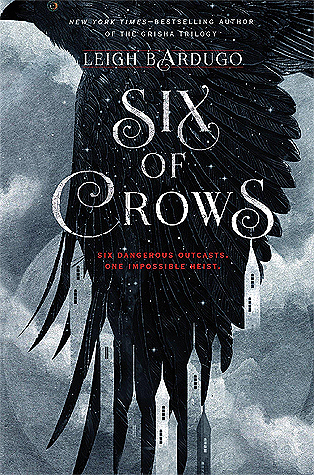 My thoughts: OH MY GOOD YOU GUYS, WEREN'T THESE BOOKS AMAZING! This series get sooo much better, let me tell you. The first book was great and I loved it, but the sequel? It blew my mind. It was everything I wanted it to be without knowing it. It was beyond any words, and if you haven't read these books yet, just go right now and pick them up, because you'll never regret it!
Synopsis
Criminal prodigy Kaz Brekker has been offered wealth beyond his wildest dreams. But to claim it, he'll have to pull off a seemingly impossible heist:
Break into the notorious Ice Court
(a military stronghold that has never been breached)
Retrieve a hostage
(who could unleash magical havoc on the world)
Survive long enough to collect his reward
(and spend it)
Kaz needs a crew desperate enough to take on this suicide mission and dangerous enough to get the job done – and he knows exactly who: six of the deadliest outcasts the city has to offer. Together, they just might be unstoppable – if they don't kill each other first.
The Remnant Chronicles | Mary E. Pearson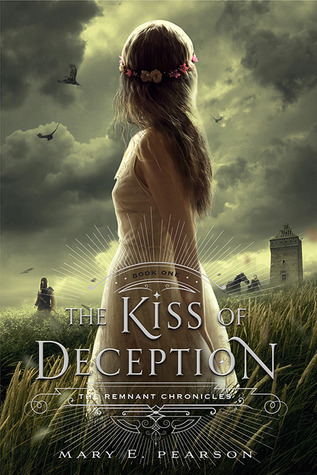 My thoughts: I freaking love this trilogy (as per usual, ehem). No, but really. I read this book and I remember I really enjoyed it, but when I picked up the sequel, I have to say I was pretty surprised. I didn't expected to like it as much as I did. I loved the world and how political everything was. And the last installment was just as good (even though it was incredibly big and there's so much happening), so I couldn't help but add these to the list.
Synopsis
A princess must find her place in a reborn world.
She flees on her wedding day.
She steals ancient documents from the Chancellor's secret collection.
She is pursued by bounty hunters sent by her own father.
She is Princess Lia, seventeen, First Daughter of the House of Morrighan.
The Kingdom of Morrighan is steeped in tradition and the stories of a bygone world, but some traditions Lia can't abide. Like having to marry someone she's never met to secure a political alliance.
Fed up and ready for a new life, Lia flees to a distant village on the morning of her wedding. She settles in among the common folk, intrigued when two mysterious and handsome strangers arrive—and unaware that one is the jilted prince and the other an assassin sent to kill her. Deceptions swirl and Lia finds herself on the brink of unlocking perilous secrets—secrets that may unravel her world—even as she feels herself falling in love.
Let me know if you've read any of these books I've mentioned or what are the series/trilogies you think got better as you kept reading!
Follow me on BlogLovin'
Goodreads | Instagram | Twitter | Contact Me