Hello bookworms! I'm Nia and today I'm going to be talking about book covers I wouldn't mind living in.
Now even though the title is quite self explanatory, we all love a pretty cover. I do at least. I like my shelves having beautiful books with beautiful covers, and even though we shouldn't judge a book by its cover, let's be honest: we all do.
So in this post I'm going to be talking about some covers I adored, giving reasons why I would completely love to live inside them!
If you aren't familiar with Top 5 Wednesday, it is a Goodeads group now currently run by Sam over at ToughtsOfTomes on Youtube, where each week they give you a topic and you talk about 5 books that fit that category. You can join the group here if you want to participate!
Without any further ado, let's start with this week's topic!
A Thousand Pieces of You | Claudia Gray
My thoughts: I cannot tell you how much I adore this cover. It's so beautiful and aesthetically pleasing. My favourite color is purple, so this no doubt caught my attention when I first saw it. And it also has that watercolor theme going on. So yeah, I'd be please to live forever inside it!
Synopsis
Marguerite Caine's physicist parents are known for their groundbreaking achievements. Their most astonishing invention, called the Firebird, allows users to jump into multiple universes—and promises to revolutionize science forever. But then Marguerite's father is murdered, and the killer—her parent's handsome, enigmatic assistant Paul— escapes into another dimension before the law can touch him.
Marguerite refuses to let the man who destroyed her family go free. So she races after Paul through different universes, always leaping into another version of herself. But she also meets alternate versions of the people she knows—including Paul, whose life entangles with hers in increasingly familiar ways. Before long she begins to question Paul's guilt—as well as her own heart. And soon she discovers the truth behind her father's death is far more sinister than she expected.
Bad Romance | Heather Demetrios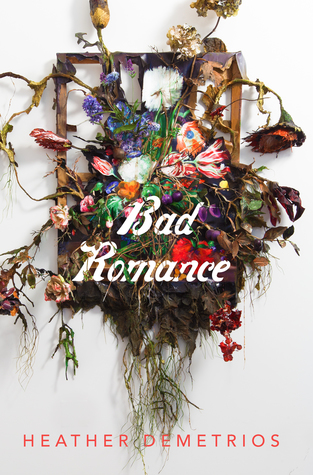 My thoughts: Ever since I first saw that cover, I knew I was going to pick up the book and read it. I love everything related to flowers, so it was no surprise that this one was going to caught my attention. But at the same time, it had something different from the flower-theme I saw in other book covers. I loved the metaphor inside it, and how related it was to the book.
Synopsis
Grace wants out. Out of her house, where her stepfather wields fear like a weapon and her mother makes her scrub imaginary dirt off the floors. Out of her California town, too small to contain her big city dreams. Out of her life, and into the role of Parisian artist, New York director—anything but scared and alone.
Enter Gavin: charming, talented, adored. Controlling. Dangerous. When Grace and Gavin fall in love, Grace is sure it's too good to be true. She has no idea their relationship will become a prison she's unable to escape. 
Deeply affecting and unflinchingly honest, this is a story about spiraling into darkness—and emerging into the light again.
A Crown Of Wishes | Roshani Chokshi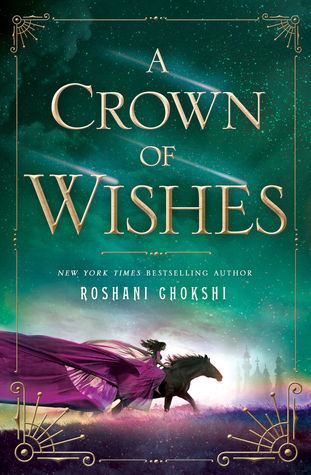 My thoughts: I sweat this series have such stunning covers! Both the first and this installment have incredible art in them, and even though The Star-Touched Queen was gorgeous, I preffer this one. Maybe it's the way the purple and green intertwined and how well they look together, but I was immediately in love with it. I'd be happy to live inside forever, no joke.
Synopsis
She is the princess of Bharata—captured by her kingdom's enemies, a prisoner of war. Now that she faces a future of exile and scorn, Gauri has nothing left to lose. But should she trust Vikram, the notoriously cunning prince of a neighboring land? He promises her freedom in exchange for her battle prowess. Together they can team up and win the Tournament of Wishes, a competition held in a mythical city where the Lord of Wealth promises a wish to the victor. It seems like a foolproof plan—until Gauri and Vikram arrive at the tournament and find that danger takes on new shapes: poisonous courtesans, mischievous story birds, a feast of fears, and twisted fairy revels. New trials will test their devotion, strength, and wits. But what Gauri and Vikram will soon discover is that there's nothing more dangerous than what they most desire. 
Vengeance Road | Erin Bowman
My thoughts: Look at this cover, isn't it stunning? Yes, I thought the same. And to be honest, this was a 100% cover buy, no shame. I have no idea what the book is about, but the art and colours were calling my name. I don't usually like yellows in the cover, but these were quite different and it's such a beautiful art.
Synopsis
When her father is murdered for a journal revealing the location of a hidden gold mine, eighteen-year-old Kate Thompson disguises herself as a boy and takes to the gritty plains looking for answers—and justice. What she finds are untrustworthy strangers, endless dust and heat, and a surprising band of allies, among them a young Apache girl and a pair of stubborn brothers who refuse to quit riding in her shadow. But as Kate gets closer to the secrets about her family, a startling truth becomes clear: some men will stop at nothing to get their hands on gold, and Kate's quest for revenge may prove fatal.
An Enchantment Of Ravens | Margaret Rogerson
My thoughts: Oh well.. I kinda cheated with this one because it hasn't come out yet, but if you've been here for a while you'll probably know this is my most anticipated book for this second half or the year. And I can't be happier about the cover art. I love the illustrations of Charlie Bowater, and I'm so in love with this cover because even though it has a person on it, it's an illustration and I don't really mind them. At all. In fact, I actually use to like them a lot. And second, it has ravens!! Ugh, I love them so much.
Synopsis
Isobel is a prodigy portrait artist with a dangerous set of clients: the sinister fair folk, immortal creatures who cannot bake bread, weave cloth, or put a pen to paper without crumbling to dust. They crave human Craft with a terrible thirst, and Isobel's paintings are highly prized among them. But when she receives her first royal patron—Rook, the autumn prince—she makes a terrible mistake. She paints mortal sorrow in his eyes – a weakness that could cost him his life.
Furious and devastated, Rook spirits her away to the autumnlands to stand trial for her crime. Waylaid by the Wild Hunt's ghostly hounds, the tainted influence of the Alder King, and hideous monsters risen from barrow mounds, Isobel and Rook depend on one another for survival. Their alliance blossoms into trust, then love, violating the fair folks' ruthless Good Law. There's only one way to save both their lives, Isobel must drink from the Green Well, whose water will transform her into a fair one—at the cost of her Craft, for immortality is as stagnant as it is timeless.
Isobel has a choice: she can sacrifice her art for a future, or arm herself with paint and canvas against the ancient power of the fairy courts. Because secretly, her Craft represents a threat the fair folk have never faced in all the millennia of their unchanging lives: for the first time, her portraits have the power to make them feel.
Let me know in the comments below which books you think have stunning covers and if they were as good as them or they disappointed you. 
Follow me on BlogLovin'
Goodreads | Instagram | Twitter | Contact Me