Hello bookworms! I'm Nia and today I'm going to be talking about the books I want to read in August.
I can't believe half of the year has already passed! Time moves incredibly fast, or maybe that's what I feel as I get older, haha! Anyways, I have a pretty big TBR for this month, because I'm very ambicious and since last month I did a pretty good job at reading, I figured this month I want to be as great. Also I'm planning to do a 24 hour readathon (I mentioned it on my twitter a few days ago) so maybe that won't be a complete disaster and I'll read a few books *mentally cries while laughing*. I'll probably be updating you guys on my twitter on how I'm doing, but I'll write a full post about my experience because this is my first time!
So I have an idea of the books I want to read this month, so I hope I stick to my TBR this month because July was quite a disaster!
Without any further ado, let's start!



What I lost | Alexandra Ballard
Synopsis
What sixteen-year-old Elizabeth has lost so far: forty pounds, four jean sizes, a boyfriend, and her peace of mind. As a result, she's finally a size zero. She's also the newest resident at Wallingfield, a treatment center for girls like her—girls with eating disorders. Elizabeth is determined to endure the program so she can go back home, where she plans to start restricting her food intake again. She's pretty sure her mom, who has her own size 0 obsession, needs treatment as much as she does. Maybe even more. Then Elizabeth begins receiving mysterious packages. Are they from her ex-boyfriend, a secret admirer, or someone playing a cruel trick?
My Sister Rosa | Justine Larbalestier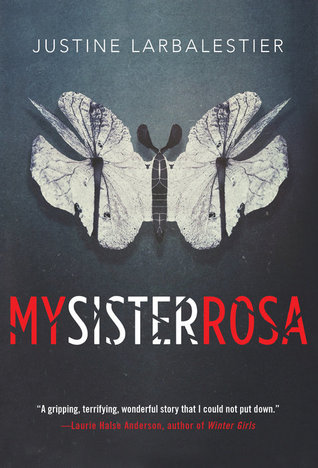 Synopsis
What if the most terrifying person you know is your ten-year-old sister?
Seventeen-year-old Aussie Che Taylor loves his younger sister, Rosa. But he's also certain that she's a psychopath—clinically, threateningly, dangerously. Recently Rosa has been making trouble, hurting things. Che is the only one who knows; he's the only one his sister trusts. Rosa is smart, talented, pretty, and very good at hiding what she is and the manipulation she's capable of.
Their parents, whose business takes the family from place to place, brush off the warning signs as Rosa's "acting out." Now that they have moved again—from Bangkok to New York City—their new hometown provides far too many opportunities for Rosa to play her increasingly complex and disturbing games. Che's always been Rosa's rock, protecting her from the world. Now, the world might need protection from her.
How to Make a Wish | Ashley Herring Blake
Synopsis
All seventeen year-old Grace Glasser wants is her own life. A normal life in which she sleeps in the same bed for longer than three months and doesn't have to scrounge for spare change to make sure the electric bill is paid. Emotionally trapped by her unreliable mother, Maggie, and the tiny cape on which she lives, she focuses on her best friend, her upcoming audition for a top music school in New York, and surviving Maggie's latest boyfriend—who happens to be Grace's own ex-boyfriend's father.
Her attempts to lay low until she graduates are disrupted when she meets Eva, a girl with her own share of ghosts she's trying to outrun. Grief-stricken and lonely, Eva pulls Grace into midnight adventures and feelings Grace never planned on. When Eva tells Grace she likes girls, both of their worlds open up. But, united by loss, Eva also shares a connection with Maggie. As Grace's mother spirals downward, both girls must figure out how to love and how to move on.
The Hanging Girl | Eileen Cook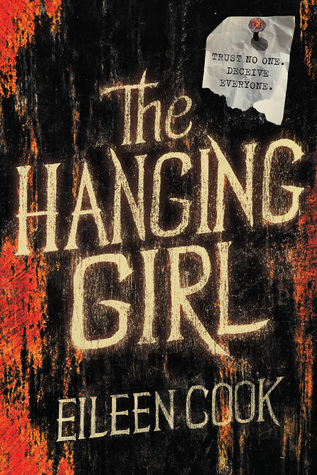 Synopsis
Skye Thorn has given tarot card readings for years, and now her psychic visions are helping the police find the town's missing golden girl. It's no challenge—her readings have always been faked, but this time she has some insider knowledge. The kidnapping was supposed to be easy—no one would get hurt and she'd get the money she needs to start a new life. But a seemingly harmless prank has turned dark, and Skye realizes the people she's involved with are willing to kill to get what they want and she must discover their true identity before it's too late.
The Hearts We Sold | Emily Lloyd-Jones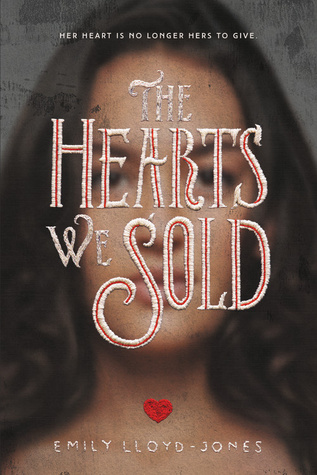 Synopsis
When Dee Moreno makes a deal with a demon—her heart in exchange for an escape from a disastrous home life—she finds the trade may have been more than she bargained for. And becoming "heartless" is only the beginning. What lies ahead is a nightmare far bigger, far more monstrous than anything she could have ever imagined.
With reality turned on its head, Dee has only a group of other deal-making teens to keep her grounded, including the charming but secretive James Lancer. And as something grows between them amid an otherworldy ordeal, Dee begins to wonder: Can she give someone her heart when it's no longer hers to give?
We Are Okay | Nina Lacour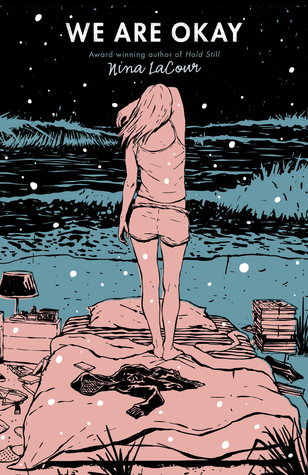 Synopsis
You go through life thinking there's so much you need…
Until you leave with only your phone, your wallet, and a picture of your mother.
Marin hasn't spoken to anyone from her old life since the day she left everything behind. No one knows the truth about those final weeks. Not even her best friend, Mabel. But even thousands of miles away from the California coast, at college in New York, Marin still feels the pull of the life and tragedy she's tried to outrun. Now, months later, alone in an emptied dorm for winter break, Marin waits. Mabel is coming to visit, and Marin will be forced to face everything that's been left unsaid and finally confront the loneliness that has made a home in her heart.
Midnight at The Electric | Jodi Lynn Anderson
Synopsis
Divided by time. Ignited by a spark.
Kansas, 2065. Adri has secured a slot as a Colonist—one of the lucky few handpicked to live on Mars. But weeks before launch, she discovers the journal of a girl who lived in her house over a hundred years ago, and is immediately drawn into the mystery surrounding her fate. While Adri knows she must focus on the mission ahead, she becomes captivated by a life that's been lost in time…and how it might be inextricably tied to her own.
Oklahoma, 1934. Amidst the fear and uncertainty of the Dust Bowl, Catherine fantasizes about her family's farmhand, and longs for the immortality promised by a professor at a traveling show called the Electric. But as her family's situation becomes more dire—and the suffocating dust threatens her sister's life—Catherine must find the courage to sacrifice everything she loves in order to save the one person she loves most.
England, 1919. In the recovery following the First World War, Lenore struggles with her grief for her brother, a fallen British soldier, and plans to sail to America in pursuit of a childhood friend. But even if she makes it that far, will her friend be the person she remembers, and the one who can bring her back to herself?
While their stories spans thousands of miles and multiple generations, Lenore, Catherine, and Adri's fates are entwined.
Cold Summer | Gwen Cole
Synopsis
Kale Jackson has spent years trying to control his time-traveling ability but hasn't had much luck. One day he lives in 1945, fighting in the war as a sharpshooter and helplessly watching soldiers—friends—die. Then the next day, he's back in the present, where WWII has bled into his modern life in the form of PTSD, straining his relationship with his father and the few friends he has left. Every day it becomes harder to hide his battle wounds, both physical and mental, from the past.
When the ex-girl-next-door, Harper, moves back to town, thoughts of what could be if only he had a normal life begin to haunt him. Harper reminds him of the person he was before the PTSD, which helps anchor him to the present. With practice, maybe Kale could remain in the present permanently and never step foot on a battlefield again. Maybe he can have the normal life he craves.
But then Harper finds Kale's name in a historical article—and he's listed as a casualty of the war. Kale knows now that he must learn to control his time-traveling ability to save himself and his chance at a life with Harper. Otherwise, he'll be killed in a time where he doesn't belong by a bullet that was never meant for him.
The Goblins of Bellwater | Molly Ringle
Synopsis
Most people have no idea goblins live in the woods around the small town of Bellwater, Washington. But some are about to find out.
Skye, a young barista and artist, falls victim to a goblin curse in the forest one winter night, rendering her depressed and silenced, unable to speak of what happened. Her older sister, Livy, is at wit's end trying to understand what's wrong with her. Local mechanic Kit would know, but he doesn't talk of such things: he's the human liaison for the goblin tribe, a job he keeps secret and never wanted, thrust on him by an ancient family contract.
Unaware of what's happened to Skye, Kit starts dating Livy, trying to keep it casual to protect her from the attention of the goblins. Meanwhile, unbeknownst to Kit, Skye draws his cousin Grady into the spell through an enchanted kiss in the woods, dooming Grady and Skye both to become goblins and disappear from humankind forever.
It's a midwinter night's enchantment as Livy, the only one untainted by a spell, sets out to save them on a dangerous magical path of her own.
Song of The Current | Sarah Tolcser
Synopsis
Caroline Oresteia is destined for the river. For generations, her family has been called by the river god, who has guided their wherries on countless voyages throughout the Riverlands. At seventeen, Caro has spent years listening to the water, ready to meet her fate. But the river god hasn't spoken her name yet—and if he hasn't by now, there's a chance he never will.
Caro decides to take her future into her own hands when her father is arrested for refusing to transport a mysterious crate. By agreeing to deliver it in exchange for his release, Caro finds herself caught in a web of politics and lies, with dangerous pirates after the cargo—an arrogant courier with a secret—and without the river god to help her. With so much at stake, Caro must choose between the life she always wanted and the one she never could have imagined for herself.
Let me know in the comments if you've read any of these books and what books do you want to read this month?
Follow me on BlogLovin'
Goodreads | Instagram | Twitter | Contact Me