Hello bookworms! I'm Nia and today I'm going to be talking about 5 character's fitness routine I'd want.
Now I cannot tell you how hard it was to pick 5 characters. I couldn't think about any of them, I'm so lame. I went over and over through my shelves trying to find answers to this topic. And it was very tough, guys. BUT I managed to find five *pats herself on the back*. They are in no particular order, just as they came to my mind.
If you aren't familiar with Top 5 Wednesday, it is a Goodeads group now currently run by Sam over at ToughtsOfTomes on Youtube, where each week they give you a topic and you talk about 5 books that fit that category. You can join the group here if you want to participate!
Without any further ado, let's start with this week's topic!
Amour amour | Krista & Becca Ritchie
My thoughts: Circus themes are my absolute favourite, so it was no surprise that I could choose these character's routines for me. It was really amazing to read how a circus could work and how much hard work the acrobats put into their performance. So, even though I'd probably be sore and crying by the end of the second day, I'd love to have their fitness routine, especially because in the end, it's a beautiful job and I adore it!
Synopsis
The best aerial technique won't land 21-year-old Thora James her dream role in Amour—a sexy new acrobatic show on the Vegas strip. Thora knows she's out of her element the second she meets Amour's leading performer. Confident, charming and devilishly captivating, 26-year-old Nikolai Kotova lives up to his nickname as the "God of Russia."
When Thora unknowingly walks into the crosshairs of Nikolai's after-show, her audition process begins way too soon. Unprofessional. That's what Nik calls their "non-existent" relationship. It's not like Thora can avoid him. For one, they may be partners in the future—acrobatic partners, that is. But getting closer to Nik means diving deeper into sin city and into his dizzying world. 
Thora wants to perform with him, but when someone like Nikolai attracts the spotlight wherever he goes—Thora fears that she's destined to be just background to his spellbinding show.
Six of Crows | Leigh Bardugo
My thoughts: Honesly, HOW COOL WOULD THAT BE? Not only I could learn some tips and tricks, but I could get to work along with Mr. Kaz Brekker and his crew. And I'd be very much pleased about it! It'd be hard, it'd be rough, but I'd be enjoying every second about it. And hopefully I'd be alive by the end of the day.
Synopsis
Criminal prodigy Kaz Brekker has been offered wealth beyond his wildest dreams. But to claim it, he'll have to pull off a seemingly impossible heist:
Break into the notorious Ice Court
(a military stronghold that has never been breached)
Retrieve a hostage
(who could unleash magical havoc on the world)
Survive long enough to collect his reward
(and spend it)
Kaz needs a crew desperate enough to take on this suicide mission and dangerous enough to get the job done – and he knows exactly who: six of the deadliest outcasts the city has to offer. Together, they just might be unstoppable – if they don't kill each other first. 
The Crown's Game | Everlyn Skye
My thoughts: Okay, but how cool would work as an illusionist be? I was in love with those parts of the book, where both protagonists created something extraordinary out of nothing, so I'd be so happy to have their routine (if that's considered one). So if I could avoid everything bad that happened in this book, I'd sign myself up without a doubt!
Synopsis
Vika Andreyeva can summon the snow and turn ash into gold. Nikolai Karimov can see through walls and conjure bridges out of thin air. They are enchanters—the only two in Russia—and with the Ottoman Empire and the Kazakhs threatening, the tsar needs a powerful enchanter by his side.
And so he initiates the Crown's Game, an ancient duel of magical skill—the greatest test an enchanter will ever know. The victor becomes the Imperial Enchanter and the tsar's most respected adviser. The defeated is sentenced to death.
Raised on tiny Ovchinin Island her whole life, Vika is eager for the chance to show off her talent in the grand capital of Saint Petersburg. But can she kill another enchanter—even when his magic calls to her like nothing else ever has?
For Nikolai, an orphan, the Crown's Game is the chance of a lifetime. But his deadly opponent is a force to be reckoned with—beautiful, whip-smart, imaginative—and he can't stop thinking about her.
And when Pasha, Nikolai's best friend and heir to the throne, also starts to fall for the mysterious enchantress, Nikolai must defeat the girl they both love…or be killed himself.
As long-buried secrets emerge, threatening the future of the empire, it becomes dangerously clear—the Crown's Game is not one to lose.
Hunted | Meagan Spooner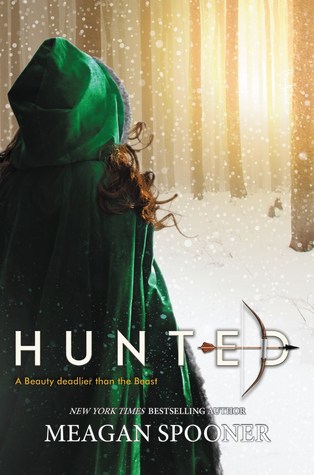 My thoughts: Archery is something that always have interested me. Maybe it's because I find it incredibly hard and tough, I don't know. But I'd love to be able to do what Yeva does, and have that perfect aim.
Synopsis
Beauty knows the Beast's forest in her bones—and in her blood. Though she grew up with the city's highest aristocrats, far from her father's old lodge, she knows that the forest holds secrets and that her father is the only hunter who's ever come close to discovering them.
So when her father loses his fortune and moves Yeva and her sisters back to the outskirts of town, Yeva is secretly relieved. Out in the wilderness, there's no pressure to make idle chatter with vapid baronessas…or to submit to marrying a wealthy gentleman. But Yeva's father's misfortune may have cost him his mind, and when he goes missing in the woods, Yeva sets her sights on one prey: the creature he'd been obsessively tracking just before his disappearance.
Deaf to her sisters' protests, Yeva hunts this strange Beast back into his own territory—a cursed valley, a ruined castle, and a world of creatures that Yeva's only heard about in fairy tales. A world that can bring her ruin or salvation. Who will survive: the Beauty, or the Beast? 
Harry Potter | J. K. Rowling
My thoughts: You knew this was coming, admit it. Who wouldn't want to be at Hogwarts, that's my question. I'd be glad to have their routine, and to play quidditch or basically join ANYTHING. I'd love to learn everything from history to herbology to potions. Ugh, I adore this world, guys, what can I do?
Synopsis
Turning the envelope over, his hand trembling, Harry saw a purple wax seal bearing a coat of arms; a lion, an eagle, a badger and a snake surrounding a large letter "H".
Harry Potter has never heard of Hogwarts when the letters start dropping on the doormat at number four, Privet Drive. Addressed in green ink on yellowish parchment with a purple seal, they are swiftly confiscated by his grisly aunt and uncle. Then, on Harry's eleventh birthday, a great beetle-eyed giant of a man called Rubeus Hagrid bursts in with some astonishing news: Harry Potter is a wizard, and he has a place at Hogwarts School of Witchcraft and Wizardry.
An incredible adventure is about to begin!
Let me know in the comments which characters would you choose for this topic or if you agree with my answers!
Follow me on BlogLovin'
Goodreads | Instagram | Twitter | Contact Me