Hello bookworms! I'm Nia and today I'm going to be talking about the books I've read this month.
August was such a great month to me, that's for sure. I read a total of X books, but considering that I added a few books I've read on July for the BookTubeAThon, we could say I read X books, but since I didn't add those on my July wrap up, I decided I wanted to add them here, just to talk a bit more about them!
I wanted to do a 24-hour readathon, but I was pretty busy this month and I couldn't do it, so hopefully this month would be the perfect one to do it! However, I still read plenty of books and I'm very proud of myself. I also got a bunch of ARCs, so I wanted to read a few before those books were released.
Side note: If you see RTC in any of those books, that means I'm going to post a review very soon where I talk more in depth about my opinion of this book.
PS: If you want me to do a review of the books I haven't let me know in the comments below, please!
But yeah, without any further ado, let's begin with my wrap up!
 Breaking | Danielle Rollins
⭐️⭐️.7
My thoughts: I have a review already posted on this blog so click this link in case you want to check it out!
Synopsis
Charlotte has always felt ordinary compared to her two best friends at the prestigious Weston Preparatory Institute. Not enigmatic and daring like Ariel or beautiful and brilliant like Devon, Charlotte has never quite met the standards of the school—or those of her demanding mother. But with Ariel and Devon by her side, none of that mattered. They became the family she never had.
Until the unthinkable happens—Ariel commits suicide. And less than a month later, so does Devon.
Everyone accepts the suicides as tragic coincidences, but Charlotte refuses to believe that. And when she finds mysterious clues left behind by Ariel, Charlotte is thrust down a path that leads to a dangerous secret about Weston Prep. There's a reason Weston students are so exceptional, and the people responsible are willing to kill to protect the truth…

Harry Potter and The Chamber of Secrets | J. K. Rowling
⭐️⭐️⭐️⭐️⭐️
My thoughts: I loved this book, but it's no surprise. I wanted to read it so I could watch the movie after, and it was such a great experience, I totally recommend doing that! I think I'll be starting again the series because one of my besties hasn't read the books and we wanted to budy read them together, so we'll see what I end up doing.
Synopsis
Harry Potter can't wait for his holidays with the dire Dursleys to end. But a small, self-punishing house-elf warns Harry of mortal danger awaiting him at Hogwarts. Returning to the castle nevertheless, Harry hears a rumour about a Chamber of Secrets, holding unknown horrors for wizards of Muggle parentage. Now someone is casting spells that turn people to stone, and a terrible warning is found painted on the wall. The chief suspect – always in the wrong place – is Harry. But something much more terrifying has yet to be unleashed.
These new editions of the classic and internationally bestselling, multi-award-winning series feature instantly pick-up-able new jackets by Jonny Duddle, with huge child appeal, to bring Harry Potter to the next generation of readers. It's time to PASS THE MAGIC ON …

The Hanging Girl | Eeilen Cook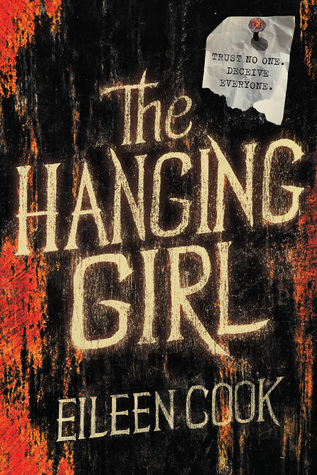 ⭐️⭐️⭐️.5
My thoughts: I have a review already posted on this blog so click this link in case you want to check it out!
Synopsis
Skye Thorn has given tarot card readings for years, and now her psychic visions are helping the police find the town's missing golden girl. It's no challenge—her readings have always been faked, but this time she has some insider knowledge. The kidnapping was supposed to be easy—no one would get hurt and she'd get the money she needs to start a new life. But a seemingly harmless prank has turned dark, and Skye realizes the people she's involved with are willing to kill to get what they want and she must discover their true identity before it's too late.

Cold Summer | Gwen Cole
⭐️⭐️⭐️⭐️
My thoughts: I have a review already posted on this blog so click this link in case you want to check it out!
Synopsis
Kale Jackson has spent years trying to control his time-traveling ability but hasn't had much luck. One day he lives in 1945, fighting in the war as a sharpshooter and helplessly watching soldiers—friends—die. Then the next day, he's back in the present, where WWII has bled into his modern life in the form of PTSD, straining his relationship with his father and the few friends he has left. Every day it becomes harder to hide his battle wounds, both physical and mental, from the past.
When the ex-girl-next-door, Harper, moves back to town, thoughts of what could be if only he had a normal life begin to haunt him. Harper reminds him of the person he was before the PTSD, which helps anchor him to the present. With practice, maybe Kale could remain in the present permanently and never step foot on a battlefield again. Maybe he can have the normal life he craves.
But then Harper finds Kale's name in a historical article—and he's listed as a casualty of the war. Kale knows now that he must learn to control his time-traveling ability to save himself and his chance at a life with Harper. Otherwise, he'll be killed in a time where he doesn't belong by a bullet that was never meant for him.

Milk & Honey | Rupi Kaur
⭐️⭐️⭐️.5
My thoughts: This book was super hyped and it was everywhere. This was actually a gift my friend gave to me for Christmas last year, but I hadn't picked it up until last month. And I really enjoyed some poems, but others were pretty repetitive and short. I liked the message it gave, especially to women, but yeah, some poems were not my cup of tea.
Synopsis
milk and honey is a collection of poetry and prose about survival. It is about the experience of violence, abuse, love, loss, and femininity. It is split into four chapters, and each chapter serves a different purpose, deals with a different pain, heals a different heartache. milk and honey takes readers through a journey of the most bitter moments in life and finds sweetness in them because there is sweetness everywhere if you are just willing to look.
City of Ashes | Cassandra Clare
⭐️⭐️⭐️⭐️
My thoughts: Well, well, this is my pile of shame. I said that because I really want to finish The Mortal Instruments this year so I could continue with the spin-off, so I've been re-reading the first books so I wouldn't go into the last two wihtout remembering anything. So far it's been an incredible experience, and I have to say I enjoyed this one more than the first book (my favourite was CoG so I can't wait to read that one!).
Synopsis
Clary Fray just wishes that her life would go back to normal. But what's normal when you're a demon-slaying Shadowhunter, your mother is in a magically induced coma, and you can suddenly see Downworlders like werewolves, vampires, and faeries? If Clary left the world of the Shadowhunters behind, it would mean more time with her best friend, Simon, who's becoming more than a friend. But the Shadowhunting world isn't ready to let her go — especially her handsome, infuriating, newfound brother, Jace. And Clary's only chance to help her mother is to track down rogue Shadowhunter Valentine, who is probably insane, certainly evil — and also her father.
To complicate matters, someone in New York City is murdering Downworlder children. Is Valentine behind the killings — and if he is, what is he trying to do? When the second of the Mortal Instruments, the Soul-Sword, is stolen, the terrifying Inquisitor arrives to investigate and zooms right in on Jace. How can Clary stop Valentine if Jace is willing to betray everything he believes in to help their father?

What I Lost | Alexandra Ballard
⭐️⭐️⭐️⭐️.7
My thoughts: I have a review already posted on this blog so click this link in case you want to check it out!
Synopsis
What sixteen-year-old Elizabeth has lost so far: forty pounds, four jean sizes, a boyfriend, and her peace of mind. As a result, she's finally a size zero. She's also the newest resident at Wallingfield, a treatment center for girls like her—girls with eating disorders. Elizabeth is determined to endure the program so she can go back home, where she plans to start restricting her food intake again. She's pretty sure her mom, who has her own size 0 obsession, needs treatment as much as she does. Maybe even more. Then Elizabeth begins receiving mysterious packages. Are they from her ex-boyfriend, a secret admirer, or someone playing a cruel trick?

Killer Instinct | Jennifer Lynn Barnes
⭐️⭐️⭐️⭐️⭐️
My thoughts: I have a review already posted on this blog so click this link in case you want to check it out!
Synopsis
Seventeen-year-old Cassie Hobbes has a gift for profiling people. Her talent has landed her a spot in an elite FBI program for teens with innate crime-solving abilities, and into some harrowing situations. After barely escaping a confrontation with an unbalanced killer obsessed with her mother's murder, Cassie hopes she and the rest of the team can stick to solving cold cases from a distance.
But when victims of a brutal new serial killer start turning up, the Naturals are pulled into an active case that strikes too close to home: the killer is a perfect copycat of Dean's incarcerated father—a man he'd do anything to forget. Forced deeper into a murderer's psyche than ever before, will the Naturals be able to outsmart the enigmatic killer's brutal mind games before this copycat twists them into his web for good?

Red Queen | Victoria Aveyard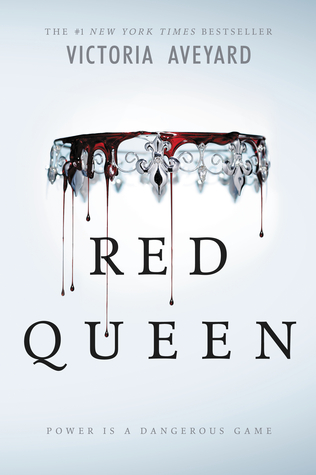 ⭐️⭐️⭐️
My thoughts: I have a review already posted on this blog so click this link in case you want to check it out!
Synopsis
The Reds are commoners, ruled by a Silver elite in possession of god-like superpowers. And to Mare Barrow, a seventeen-year-old Red girl from the poverty-stricken Stilts, it seems like nothing will ever change.
That is, until she finds herself working in the Silver Palace. Here, surrounded by the people she hates the most, Mare discovers that, despite her red blood, she possesses a deadly power of her own. One that threatens to destroy the balance of power.
Fearful of Mare's potential, the Silvers hide her in plain view, declaring her a long-lost Silver princess, now engaged to a Silver prince. Despite knowing that one misstep would mean her death, Mare works silently to help the Red Guard, a militant resistance group, and bring down the Silver regime.
But this is a world of betrayal and lies, and Mare has entered a dangerous dance – Reds against Silvers, prince against prince, and Mare against her own heart.

The Wood | Chelsea Bobulski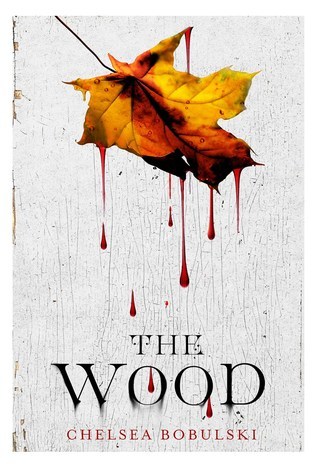 ⭐️⭐️⭐️.7
My thoughts: I have a review already posted on this blog so click this link in case you want to check it out!
Synopsis
When Winter's dad goes missing during his nightly patrol of the wood, it falls to her to patrol the time portals and protect the travelers who slip through them. Winter can't help but think there's more to her dad's disappearance than she's being told.
She soon finds a young man traveling in the wood named Henry who knows more than he should. He believes if they can work together to find his missing parents, they could discover the truth about Winter's dad.
The wood is poisoned, changing into something sinister—torturing travelers lost in it. Winter must put her trust in Henry in order to find the truth and those they've lost.

Twisted Palace | Erin Watt

⭐️⭐️⭐️
My thoughts: I was planning to re-read the first two before picking up this one, but I ended up not doing that, so there were a few things I didn't remember while reading it. However it was really fun and addicting. But there were a few sexist things I didn't agree with, and I hated so much one of the new characters and his behaviour it made me a bit mad, but overall I enjoyed the ending and the other characters.
Synopsis
From mortal enemies to unexpected allies, two teenagers try to protect everything that matters most.
Ella Harper has met every challenge that life has thrown her way. She's tough, resilient, and willing to do whatever it takes to defend the people she loves, but the challenge of a long-lost father and a boyfriend whose life is on the line might be too much for even Ella to overcome.
Reed Royal has a quick temper and even faster fists. But his tendency to meet every obstacle with violence has finally caught up with him. If he wants to save himself and the girl he loves, he'll need to rise above his tortured past and tarnished reputation.
No one believes Ella can survive the Royals. Everyone is sure Reed will destroy them all.
They may be right.

My Sister Rosa | Justine Larbalestier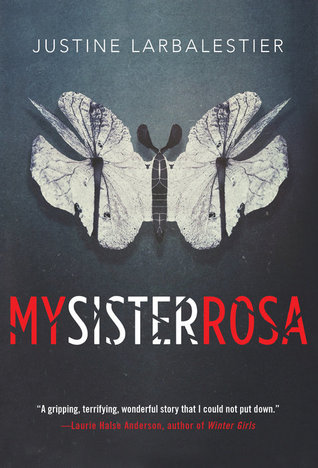 ⭐️⭐️⭐️⭐️
My thoughts: I have a review already posted on this blog so click this link in case you want to check it out!
Synopsis
What if the most terrifying person you know is your ten-year-old sister?
Seventeen-year-old Aussie Che Taylor loves his younger sister, Rosa. But he's also certain that she's a psychopath—clinically, threateningly, dangerously. Recently Rosa has been making trouble, hurting things. Che is the only one who knows; he's the only one his sister trusts. Rosa is smart, talented, pretty, and very good at hiding what she is and the manipulation she's capable of.
Their parents, whose business takes the family from place to place, brush off the warning signs as Rosa's "acting out." Now that they have moved again—from Bangkok to New York City—their new hometown provides far too many opportunities for Rosa to play her increasingly complex and disturbing games. Che's always been Rosa's rock, protecting her from the world. Now, the world might need protection from her.

Warcross | Marie Lu
⭐️⭐️⭐️⭐️⭐️
My thoughts: I have a review already posted on this blog so click this link in case you want to check it out!
Synopsis
For the millions who log in every day, Warcross isn't just a game—it's a way of life. The obsession started ten years ago and its fan base now spans the globe, some eager to escape from reality and others hoping to make a profit. Struggling to make ends meet, teenage hacker Emika Chen works as a bounty hunter, tracking down players who bet on the game illegally. But the bounty hunting world is a competitive one, and survival has not been easy. Needing to make some quick cash, Emika takes a risk and hacks into the opening game of the international Warcross Championships—only to accidentally glitch herself into the action and become an overnight sensation.
Convinced she's going to be arrested, Emika is shocked when instead she gets a call from the game's creator, the elusive young billionaire Hideo Tanaka, with an irresistible offer. He needs a spy on the inside of this year's tournament in order to uncover a security problem . . . and he wants Emika for the job. With no time to lose, Emika's whisked off to Tokyo and thrust into a world of fame and fortune that she's only dreamed of. But soon her investigation uncovers a sinister plot, with major consequences for the entire Warcross empire.

Our Dark Duet | Victoria Schwab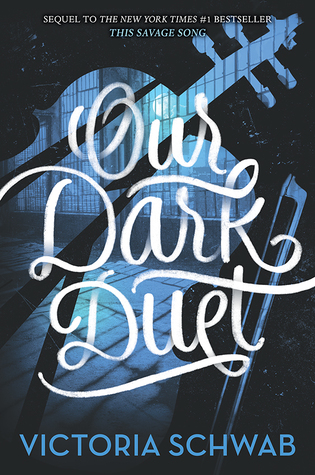 ⭐️⭐️⭐️⭐️.7
My thoughts: I have a review already posted on this blog so click this link in case you want to check it out!
Synopsis
THE WORLD IS BREAKING. AND SO ARE THEY.
KATE HARKER isn't afraid of monsters. She hunts them. And she's good at it.
AUGUST FLYNN once yearned to be human. He has a part to play. And he will play it, no matter the cost.
THE WAR HAS BEGUN.
THE MONSTERS ARE WINNING.
Kate will have to return to Verity. August will have to let her back in. And a new monster is waiting—one that feeds on chaos and brings out its victims' inner demons.
Which will be harder to conquer: the monsters they face, or the monsters within?
They Both Die at The End | Adam Silvera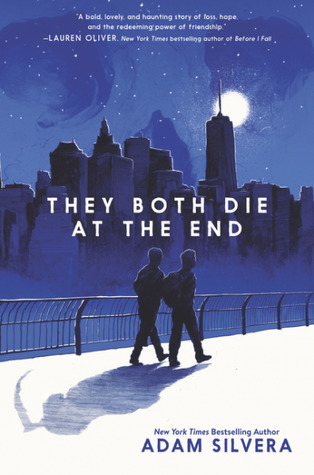 ⭐️⭐️⭐️⭐️.25
My thoughts: I have a review already posted on this blog so click this link in case you want to check it out!
Synopsis
On September 5, a little after midnight, Death-Cast calls Mateo Torrez and Rufus Emeterio to give them some bad news: They're going to die today. Mateo and Rufus are total strangers, but, for different reasons, they're both looking to make a new friend on their End Day. The good news: There's an app for that. It's called the Last Friend, and through it, Rufus and Mateo are about to meet up for one last great adventure and to live a lifetime in a single day.

When I Cast Your Shadow | Sarah Porter
⭐️.25
My thoughts: As you can see, this was a total "no" for me. I considered DNF it, but I was hoping maybe it could get better as I was reaching the end, but nope. I'll talk about it more in a future review I plan to do. *RTC*
Synopsis
Dashiell Bohnacker was hell on his family while he was alive. But it's even worse now that he's dead….
After her troubled older brother, Dashiell, dies of an overdose, sixteen-year-old Ruby is overcome by grief and longing. What she doesn't know is that Dashiell's ghost is using her nightly dreams of him as a way to possess her body and to persuade her twin brother, Everett, to submit to possession as well.
Dashiell tells Everett that he's returned from the Land of the Dead to tie up loose ends, but he's actually on the run from forces crueler and more powerful than anything the Bohnacker twins have ever imagined….
Before She Ignites | Jodi Meadows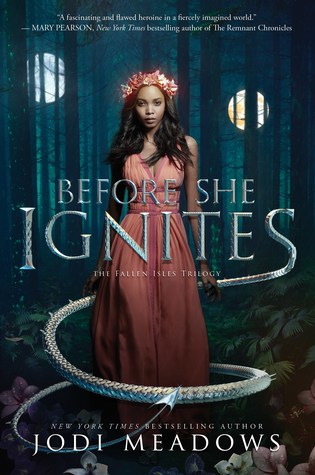 ⭐️⭐️⭐️⭐️
My thoughts: I have a review already posted on this blog so click this link in case you want to check it out!
Synopsis
Before
Mira Minkoba is the Hopebearer. Since the day she was born, she's been told she's special. Important. Perfect. She's known across the Fallen Isles not just for her beauty, but for the Mira Treaty named after her, a peace agreement which united the seven islands against their enemies on the mainland.
But Mira has never felt as perfect as everyone says. She counts compulsively. She struggles with crippling anxiety. And she's far too interested in dragons for a girl of her station.
After
Then Mira discovers an explosive secret that challenges everything she and the Treaty stand for. Betrayed by the very people she spent her life serving, Mira is sentenced to the Pit–the deadliest prison in the Fallen Isles. There, a cruel guard would do anything to discover the secret she would die to protect.
No longer beholden to those who betrayed her, Mira must learn to survive on her own and unearth the dark truths about the Fallen Isles–and herself–before her very world begins to collapse.
One Dark Throne | Kendare Blake
⭐️⭐️
My thoughts: I have a review already posted on this blog so click this link in case you want to check it out!
Synopsis
The battle for the Crown has begun, but which of the three sisters will prevail?
With the unforgettable events of the Quickening behind them and the Ascension Year underway, all bets are off. Katharine, once the weak and feeble sister, is stronger than ever before. Arsinoe, after discovering the truth about her powers, must figure out how to make her secret talent work in her favor without anyone finding out. And Mirabella, once thought to be the strongest sister of all and the certain Queen Crowned, faces attacks like never before—ones that put those around her in danger she can't seem to prevent.
How many books have you read this month and which one was your favourite? Let me know in the comments below also if you've read any of this books!
Follow me on BlogLovin'
Goodreads | Instagram | Twitter | Contact Me