Hello bookwormd! I'm Nia and today I'm going to be talking about some classes I'd love to take based on books or characters.
Now I've been thinking about doing some recommendations about this certain topic right before I knew it was going to be on Top 5 Wednesday, so I was beyond happy when I saw that it was going to be this week's topic. I love recommending books, and definitely I'd love to have those subjects at school or uni (who wouldn't, honestly?), so it was quite easy to think about. And yes, I'd love every Harry Potter subject and I'd love to study at Hogwarts, but I wanted to talk about other books because I feel HP is everyone's choice, so yeah!
If you aren't familiar with Top 5 Wednesday, it is a Goodeads group now currently run by Sam over at ToughtsOfTomes on Youtube, where each week they give you a topic and you talk about 5 books that fit that category. You can join the group here if you want to participate!
Without any further ado, let's start with this week's topic!
HOW TO BE A BADASS HACKER AT COMPUTER PROGRAMMING 101
My thoughts: Honestly ever since I read Illuminae and Warcross I felt I was pretty bad with computers *laughs*, so it'd be really handy for me to learn more about how they work and the wonderful world of hacking (not that it'd be much of a use to me but.. still). Also it'd be so cool if Emika herself taught those classes, because I'd love to hear everything about Warcross!
For the millions who log in every day, Warcross isn't just a game—it's a way of life. The obsession started ten years ago and its fan base now spans the globe, some eager to escape from reality and others hoping to make a profit. Struggling to make ends meet, teenage hacker Emika Chen works as a bounty hunter, tracking down players who bet on the game illegally. But the bounty hunting world is a competitive one, and survival has not been easy. Needing to make some quick cash, Emika takes a risk and hacks into the opening game of the international Warcross Championships—only to accidentally glitch herself into the action and become an overnight sensation.
Convinced she's going to be arrested, Emika is shocked when instead she gets a call from the game's creator, the elusive young billionaire Hideo Tanaka, with an irresistible offer. He needs a spy on the inside of this year's tournament in order to uncover a security problem . . . and he wants Emika for the job. With no time to lose, Emika's whisked off to Tokyo and thrust into a world of fame and fortune that she's only dreamed of. But soon her investigation uncovers a sinister plot, with major consequences for the entire Warcross empire.
ALL ABOUT EMOTIONS: LEARN TO READ SOMEONE'S FACE AND EXPRESSIONS
My thoughts: Honestly, HOW COOL WOULD THAT BE!? This would definitely be a class I would attend and be excited about every single day. I love psychology and everything related to emotions and expressions, so it'd be the bomb dot com to learn EVERYTHING about them! And, even though the teachers would be a big younger than usual, I feel it would be a pretty interesting  class.
Seventeen-year-old Cassie is a natural at reading people. Piecing together the tiniest details, she can tell you who you are and what you want. But it's not a skill that she's ever taken seriously. That is, until the FBI come knocking: they've begun a classified program that uses exceptional teenagers to crack infamous cold cases, and they need Cassie.
What Cassie doesn't realize is that there's more at risk than a few unsolved homicides—especially when she's sent to live with a group of teens whose gifts are as unusual as her own. Sarcastic, privileged Michael has a knack for reading emotions, which he uses to get inside Cassie's head—and under her skin. Brooding Dean shares Cassie's gift for profiling, but keeps her at arm's length.
Soon, it becomes clear that no one in the Naturals program is what they seem. And when a new killer strikes, danger looms closer than Cassie could ever have imagined. Caught in a lethal game of cat and mouse with a killer, the Naturals are going to have to use all of their gifts just to survive.
BECOME AN EXPERT AT CREATING ILLUSSIONS 101
My thoughts: I love magic. And illusions. And it'd be incredibly cool to have a class like this where I could learn about how magic works and how I can create beautiful things out of nowhere. So I'd definitely sign myself up to this class. HOW COULD I NOT?
Vika Andreyeva can summon the snow and turn ash into gold. Nikolai Karimov can see through walls and conjure bridges out of thin air. They are enchanters—the only two in Russia—and with the Ottoman Empire and the Kazakhs threatening, the tsar needs a powerful enchanter by his side.
And so he initiates the Crown's Game, an ancient duel of magical skill—the greatest test an enchanter will ever know. The victor becomes the Imperial Enchanter and the tsar's most respected adviser. The defeated is sentenced to death.
Raised on tiny Ovchinin Island her whole life, Vika is eager for the chance to show off her talent in the grand capital of Saint Petersburg. But can she kill another enchanter—even when his magic calls to her like nothing else ever has?
For Nikolai, an orphan, the Crown's Game is the chance of a lifetime. But his deadly opponent is a force to be reckoned with—beautiful, whip-smart, imaginative—and he can't stop thinking about her.
And when Pasha, Nikolai's best friend and heir to the throne, also starts to fall for the mysterious enchantress, Nikolai must defeat the girl they both love…or be killed himself.
As long-buried secrets emerge, threatening the future of the empire, it becomes dangerously clear—the Crown's Game is not one to lose.
CREATIVE DRAWING 01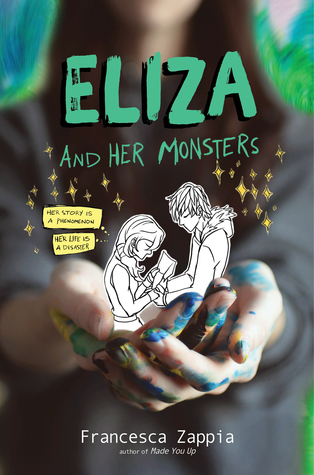 My thoughts: I love drawing! I've been studying it for a very long time, and it was something I adored, but it's true that I've taken a break of years, so I'd love to re take it. And Eliza would be such a cool proffesor who would teach me quite much.
Her story is a phenomenon. Her life is a disaster.
In the real world, Eliza Mirk is shy, weird, and friendless. Online, she's LadyConstellation, the anonymous creator of the wildly popular webcomic Monstrous Sea. Eliza can't imagine enjoying the real world as much as she loves the online one, and she has no desire to try.
Then Wallace Warland, Monstrous Sea's biggest fanfiction writer, transfers to her school. Wallace thinks Eliza is just another fan, and as he draws her out of her shell, she begins to wonder if a life offline might be worthwhile.
But when Eliza's secret is accidentally shared with the world, everything she's built—her story, her relationship with Wallace, and even her sanity—begins to fall apart.
GIMNASTICS. BE CONFIDENT AND LEARN AEREAL ACTS
My thoughts: Now this would be a beautiful class to take, but I'm a stick so it'd be one of the hardest to me. But anyways, I want to be more elastic and learn everything related to circus aereal acts, so I can't complain.
The best aerial technique won't land 21-year-old Thora James her dream role in Amour—a sexy new acrobatic show on the Vegas strip. Thora knows she's out of her element the second she meets Amour's leading performer. Confident, charming and devilishly captivating, 26-year-old Nikolai Kotova lives up to his nickname as the "God of Russia."
When Thora unknowingly walks into the crosshairs of Nikolai's after-show, her audition process begins way too soon. Unprofessional. That's what Nik calls their "non-existent" relationship. It's not like Thora can avoid him. For one, they may be partners in the future—acrobatic partners, that is. But getting closer to Nik means diving deeper into sin city and into his dizzying world. 
Thora wants to perform with him, but when someone like Nikolai attracts the spotlight wherever he goes—Thora fears that she's destined to be just background to his spellbinding show.
Would you attend any of the classes I've previously mentioned? What would be the classes you would love to have at school/uni? Let me know in the comments!
Follow me on BlogLovin'
Goodreads | Instagram | Twitter | Contact Me