Hello bookworms! I'm Nia and today I'm going to be talking about books that you should go into without reading the synopsis before.
Now usually when it comes to books I like to go as blind as possible, and knowing the least I can, so I don't form previous opinions and end up disappointed, so probably all of the books I recommend are based on that. But I tried my best to come up with 5 books that either have misleading synopsis or the premise tell you something completely different or is just simply quite spoiler-y, and so it'd be best if you read them without knowing anything about them.
If you aren't familiar with Top 5 Wednesday, it is a Goodeads group now currently run by Sam over at ToughtsOfTomes on Youtube, where each week they give you a topic and you talk about 5 books that fit that category. You can join the group here if you want to participate!
Without any further ado, let's start with this week's topic!
Black Lies | Alessandra Torre
My thoughts: This one was a recommendation of one of my best friends, and she literally told me "don't read the synopsis!", and let me tell you, she was totally right. It was a very dark, sexy and a bit twisted book, and I really enjoyed it. But it's true that the synopsis is quite misleading and if I probably had read it before picking the book up, I would have thought it was a quite clique book with a love triangle and that wasn't what the book was AT ALL. So if you're mere interested in the story, or like twisted mysteries/thrillers with sexy scenes, then you'll probably like it as much as I did.
Brant: 
Became a tech billionaire by his twentieth birthday. Has been in a relationship with me for 3 years.
Has proposed 4 times. Been rejected 4 times.
Lee: 
Cuts grass when he's not banging housewives. Good with his hands, his mouth, and his cock. Has been pursued relentlessly by me for almost 2 years, whether he knows it or not.
Go ahead. Judge me. You have no idea what my love entails.
If you think you've heard this story before, trust me – you haven't.
The Strange and Beautiful Sorrows of Ava Lavender | Leslie Walton
My thoughts: Now this is another case of a misleading synopsis. Even though it wasn't as extreme as Black Lies, the thing is that when I first read the premise of this novel I expected it to be about Ava Lavender and her current life, and even though it was, we didn't know about her until half of the book. It was more focused on her family tree and their peculiar things, and why they believe they are cursed. And I adored this book and the writing, don't be wrong about that, but I think this is one of the books where it's best if you don't know a thing at all (I think the same thing of every magical realism book that I've read!).
Foolish love appears to be the Roux family birthright, an ominous forecast for its most recent progeny, Ava Lavender. Ava—in all other ways a normal girl—is born with the wings of a bird.
In a quest to understand her peculiar disposition and a growing desire to fit in with her peers, sixteen-year old Ava ventures into the wider world, ill-prepared for what she might discover and naïve to the twisted motives of others. Others like the pious Nathaniel Sorrows, who mistakes Ava for an angel and whose obsession with her grows until the night of the Summer Solstice celebration.
That night, the skies open up, rain and feathers fill the air, and Ava's quest and her family's saga build to a devastating crescendo.
This Darkness Mine | Mindy McGinnis 
My thoughts: This was a very weird book, guys. I adored it and I have to say I went into it knowing NOTHING, so that's my recommendation for you. The synopsis, even though it's quite accurate, doesn't begin to describe a part of what the story is about, because I remember reading it before I added it to my TBR and thought "well, it doesn't seem that dark, does it?", but let me tell you, IT REALLY WAS. It was twisted, messed up and everything I wanted it to be and more, and so different from what I've read, and even though I cheated a little bit because it hasn't come out yet (it's released on October), it's a perfect book for Halloween if you don't like horror but want something dark and creepy.
I have a review of this book here.
Sasha Stone knows her place—first-chair clarinet, top of her class, and at the side of her oxford-wearing boyfriend. She's worked her entire life to ensure that her path to Oberlin Conservatory as a star musician is perfectly paved.
But suddenly there's a fork in the road, in the shape of Isaac Harver. Her body shifts toward him when he walks by, her skin misses his touch even though she's never known it, and she relishes the smell of him—smoke, beer, and trouble—all the things she's avoided to get where she is. Even worse, every time he's near Sasha, her heart stops, literally. Why does he know her so well—too well—and she doesn't know him at all?
Sasha discovers that her by-the-book life began by ending another's: the twin sister she absorbed in the womb. But that doesn't explain the gaps of missing time in her practice schedule or the memories she has of things she certainly never did with Isaac. As Sasha loses her much-cherished control, her life—and heart—become more entangled with Isaac. Armed with the knowledge that her heart might not be hers alone, Sasha must decide what she's willing to do—and who she's willing to hurt—to take it back.
The Hearts We Sold | Emily Lloyd-Jones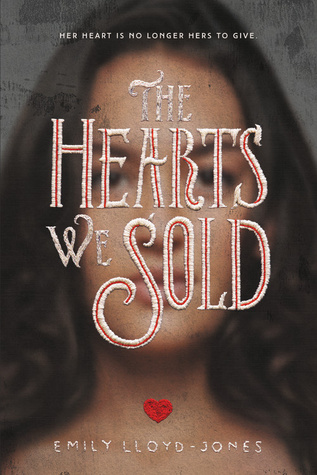 My thoughts: This is a personal preference of mine, but when I first read the premise of this novel I imagined something completely different from what I read, and I ended up a bit disappointed with it because of that. It wasn't a bad book by all means, it's just that if I hadn't read the synopsis maybe I'd have probably enjoyed it more. The thing was I thought it was going to be a contemporary book about a girl who has to live without her heart because of a deal she made with a demon, and though it was about that exact thing, there were a few scenes I wasn't quite a fan of. So yeah, better to go into it as blind as possible.
I have a review of this book here.
When Dee Moreno makes a deal with a demon—her heart in exchange for an escape from a disastrous home life—she finds the trade may have been more than she bargained for. And becoming "heartless" is only the beginning. What lies ahead is a nightmare far bigger, far more monstrous than anything she could have ever imagined.
With reality turned on its head, Dee has only a group of other deal-making teens to keep her grounded, including the charming but secretive James Lancer. And as something grows between them amid an otherworldy ordeal, Dee begins to wonder: Can she give someone her heart when it's no longer hers to give?
Charm & Strange | Stephanie Kuehn
My thoughts: This book was weird, but you know how much I love odd books, so I had to read it. And I have to say I didn't really care about the premise at all, because in a couple of reviews I read they all agree it was best to go into it as blind as possible. And they were completely right. The synopsis is a bit confusing, and though I have to agree that it's kind of right and describes a bit what the book is about, it's a mystery, and in mysteries it's perfect to know NOTHING.
I have a review of this book here.
Andrew Winston Winters is at war with himself. 
He's part Win, the lonely teenager exiled to a remote Vermont boarding school in the wake of a family tragedy. The guy who shuts all his classmates out, no matter the cost.
He's part Drew, the angry young boy with violent impulses that control him. The boy who spent a fateful, long-ago summer with his brother and teenage cousins, only to endure a secret so monstrous it led three children to do the unthinkable. 
Over the course of one night, while stuck at a party deep in the New England woods, Andrew battles both the pain of his past and the isolation of his present. 
Before the sun rises, he'll either surrender his sanity to the wild darkness inside his mind or make peace with the most elemental of truths—that choosing to live can mean so much more than not dying.
Have you read any of these books or do you agree with me? Let me know in the comments also what books do you think would be best to go into without reading the synopsis?
Follow me on BlogLovin'
Goodreads | Instagram | Twitter | Contact Me