Hello bookworms! I'm Nia and today I'm going to be recommending you some books.
We all have to agree that fall is almost here, and not only that but also school has started and people are getting a bit busier. So I wanted to incorporate the school/uni vibe into this post, and clearly this is what happened. I've been thinking about doing something like this since I started this blog, and now is the perfect time! Of course, I chose a few subjects I was taught at school, and I think would be pretty interesting to discuss in class.
Without any further ado, let's start with the recommendations!
Eliza And Her Monsters | Francesca Zappia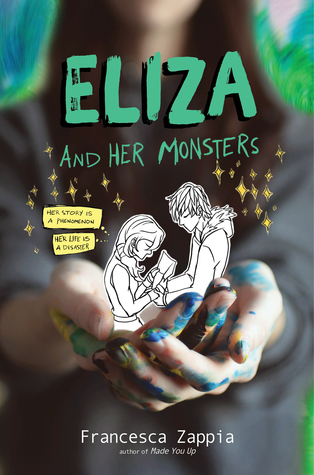 My thoughts: I loved this book so much. The characters were incredibly real and not only the story was really relatable but the main character had anxiety, and mental health is something I'm always interested in. But back to the school discussions, I feel that this book would be great to talk about in art class, because not only it deals with a very popular website comic, but also the aftermath of fame and the different oppinions that each character had about Eliza's story. Well, it's also my lame excuse to recommend this book because it was so freaking good *laughs*.
I have a review of this novel here in case you want to know my thoughts.
In the real world, Eliza Mirk is shy, weird, and friendless. Online, she's LadyConstellation, the anonymous creator of the wildly popular webcomic Monstrous Sea. Eliza can't imagine enjoying the real world as much as she loves the online one, and she has no desire to try.
Then Wallace Warland, Monstrous Sea's biggest fanfiction writer, transfers to her school. Wallace thinks Eliza is just another fan, and as he draws her out of her shell, she begins to wonder if a life offline might be worthwhile.
But when Eliza's secret is accidentally shared with the world, everything she's built—her story, her relationship with Wallace, and even her sanity—begins to fall apart.
All In | Jennifer Lynn Barnes
My thoughts: It's nothing new in this blog my love for this series because I've been talking about the non-stop ever since I started the first book, so if you haven't picked them up, this is your signal. Read them. Now. The storyline gets more and more complex as you keep reading the books, and even though the three books I've already read have sometimes dealt with numbers, this third installment was the best one in that sense, and I feel your math teachers would love to discuss them in class, because the way maths were portrayed in the novel was so clever and unique and unlike anything I've ever read before. And I adored it.
I have a review of this novel here in case you want to know my thoughts.
Three casinos. Three bodies. Three days. After a string of brutal murders in Las Vegas, Cassie Hobbes and the Naturals are called in to investigate. But even with the team's unique profiling talents, these murders seem baffling: unlike many serial killers, this one uses different methods every time. All of the victims were killed in public, yet the killer does not show up on any tape. And each victim has a string of numbers tattooed on their wrist. Hidden in the numbers is a code—and the closer the Naturals come to unraveling the mystery, the more perilous the case becomes. Meanwhile, Cassie is dealing with an equally dangerous and much more painful mystery. For the first time in years, there's been a break in her mother's case. As personal issues and tensions between the team mount, Cassie and the Naturals will be faced with impossible odds—and impossible choices.
Warcross | Marie Lu
My thoughts: I'm still surprised by how much I loved this story, but when it comes with a hyped book, you never know if you're gonna love it like everybody else or just simply hate it. Turns out, I really enjoyed it, so I'm going to be shoving it to everyone's faces (don't kill me). And it would be a great book to discuss at technology class, because the whole book was about hackers and virtual technology, and well, a game called Warcross. I loved how fast paced and easy to read it was and the story itself in general. It had also had a great diverse cast of characters, so if you haven't picked it up yet, you should go and buy it right now.
I have a review of this novel here in case you want to know my thoughts.
For the millions who log in every day, Warcross isn't just a game—it's a way of life. The obsession started ten years ago and its fan base now spans the globe, some eager to escape from reality and others hoping to make a profit. Struggling to make ends meet, teenage hacker Emika Chen works as a bounty hunter, tracking down players who bet on the game illegally. But the bounty hunting world is a competitive one, and survival has not been easy. Needing to make some quick cash, Emika takes a risk and hacks into the opening game of the international Warcross Championships—only to accidentally glitch herself into the action and become an overnight sensation.
Convinced she's going to be arrested, Emika is shocked when instead she gets a call from the game's creator, the elusive young billionaire Hideo Tanaka, with an irresistible offer. He needs a spy on the inside of this year's tournament in order to uncover a security problem . . . and he wants Emika for the job. With no time to lose, Emika's whisked off to Tokyo and thrust into a world of fame and fortune that she's only dreamed of. But soon her investigation uncovers a sinister plot, with major consequences for the entire Warcross empire.
The Valiant | Lesley Livingston
My thoughts: Even though this particular book won't be the best history one I can recommend, because it's not as accurate as others could be, I still think it's a great book and open to discussion, and history would be the perfect subject to do so. There're tons of differences between the actual roman history and the book, but I still think it was super fan and really unique, and I adored the main character and the romance, so here's me recommending it to you. It was very action packed, and frankly it took me almost nothing to finish it.
Fallon is the daughter of a proud Celtic king, the sister of the legendary warrior Sorcha, and the sworn enemy of Julius Caesar.
When Fallon was a child, Caesar's armies invaded her homeland, and her beloved sister was killed in battle.
Now, on the eve of her seventeenth birthday, Fallon is eager to follow in her sister's footsteps and earn her place in the fearsome Cantii war band. She never gets the chance.
Fallon is captured and sold to an elite training school for female gladiators—owned by none other than Julius Caesar. In a cruel twist of fate, the man who destroyed Fallon's family might be her only hope of survival.
Now Fallon must overcome vicious rivalries and deadly fights—in and out of the arena. And perhaps the most dangerous threat of all: her forbidden yet irresistible feelings for Cai, a young Roman soldier.
A Million Junes | Emily Henry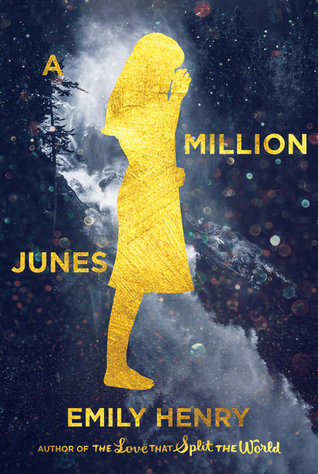 My thoughts: I know I've recommend this one before, but hear me out! I am purely including it here just because of the writing… and because it's a retelling. And I think it would be pretty cool to talk about retellings in general, their differences and how they have influenced modern literature in class, so that's why I'm talking about it again. And maybe because I loved the story so much I can't help but ramble about it when I can… *whoops*.
I have a review of this novel here in case you want to know my thoughts.
For as long as Jack "June" O'Donnell has been alive, her parents have had only one rule: stay away from the Angert family. But when June collides—quite literally—with Saul Angert, sparks fly, and everything June has known is thrown into chaos.
Who exactly is this gruff, sarcastic, but seemingly harmless boy who has returned to their hometown of Five Fingers, Michigan, after three mysterious years away? And why has June—an O'Donnell to her core—never questioned her late father's deep hatred of the Angert family? After all, the O'Donnells and the Angerts may have mythic legacies, but for all the tall tales they weave, both founding families are tight-lipped about what caused the century-old rift between them.
As Saul and June's connection grows deeper, they find that the magic, ghosts, and coywolves of Five Fingers seem to be conspiring to reveal the truth about the harrowing curse that has plagued their bloodlines for generations. Now June must question everything she knows about her family and the father she adored, and she must decide whether it's finally time for her—and all the O'Donnells before her—to let go.
This Darkness Mine | Mindy McGinnis
My thoughts: I feel like both This Darkness Mine and her previous work The Female of The Species would be amazing books to talk at school, but I had to choose one, so here's that. This one was a very dark novel, and it blurres the edges between good and bad. It also is a perfect book for Halloween if you don't want to read anything fantasy but still want to feel that creepy vibe, so extra kudos to that.
I have a review of this novel here in case you want to know my thoughts.
Sasha Stone knows her place—first-chair clarinet, top of her class, and at the side of her oxford-wearing boyfriend. She's worked her entire life to ensure that her path to Oberlin Conservatory as a star musician is perfectly paved.
But suddenly there's a fork in the road, in the shape of Isaac Harver. Her body shifts toward him when he walks by, her skin misses his touch even though she's never known it, and she relishes the smell of him—smoke, beer, and trouble—all the things she's avoided to get where she is. Even worse, every time he's near Sasha, her heart stops, literally. Why does he know her so well—too well—and she doesn't know him at all?
Sasha discovers that her by-the-book life began by ending another's: the twin sister she absorbed in the womb. But that doesn't explain the gaps of missing time in her practice schedule or the memories she has of things she certainly never did with Isaac. As Sasha loses her much-cherished control, her life—and heart—become more entangled with Isaac. Armed with the knowledge that her heart might not be hers alone, Sasha must decide what she's willing to do—and who she's willing to hurt—to take it back.
One Dark Throne | Kendare Blake
My thoughts: I know this is the second book in a series, but I have to say I didn't like Three Dark Crowns as much as everyone. I still think it was a decent  book and had tons of potential, but the book I loved more was the second one, and I think this one is more what they promised it was going to be the series about, so that's why I'm mentioning it and not the first one. It's very political driven, so that's why it fits into this category, and I feel the characters have become stronger and I started to like them more, and well, the story in general was so much better. So if you're midly interested in these books, just pick them up because they get better as you keep reading them.
I have a review of this novel here in case you want to know my thoughts.
The battle for the Crown has begun, but which of the three sisters will prevail?
With the unforgettable events of the Quickening behind them and the Ascension Year underway, all bets are off. Katharine, once the weak and feeble sister, is stronger than ever before. Arsinoe, after discovering the truth about her powers, must figure out how to make her secret talent work in her favor without anyone finding out. And Mirabella, once thought to be the strongest sister of all and the certain Queen Crowned, faces attacks like never before—ones that put those around her in danger she can't seem to prevent.
The Scorpio Races | Magie Stiefvater
My thoughts: This book is perfect if you like either sports or horses, because those are the focuses of the novel. And I have to say I really enjoyed it. It's also perfect for fall/winter time, and I loved the characters and their relationships with their horses. It was a very unique story and the writing fit perfectly.
It happens at the start of every November: the Scorpio Races. Riders attempt to keep hold of their water horses long enough to make it to the finish line. Some riders live. Others die.
At age nineteen, Sean Kendrick is the returning champion. He is a young man of few words, and if he has any fears, he keeps them buried deep, where no one else can see them.
Puck Connolly is different. She never meant to ride in the Scorpio Races. But fate hasn't given her much of a chance. So she enters the competition — the first girl ever to do so. She is in no way prepared for what is going to happen.
Have you read any of these books or do you plan to in a future? Let me know in the comments what books do you think would be perfect to discuss at school or uni.
Follow me on BlogLovin'
Goodreads | Instagram | Twitter | Contact Me