Hello bookworms! I'm Nia and today I'm going to be talking about books I've read because of Youtube, Goodreads, etc.
Now I know that this was supossed to be a "books you've read because of blogging" topic, but I'm fairly new here, so I can't say I have read a ton of books that were recommended to me in this platform. However, there are a lot of books I've read because of Booktube and Goodreads (basically most of the ones I own), so I'll be talking about five of the most popular ones I've read, or simply the ones that I knew nothing about but the hype.
If you aren't familiar with Top 5 Wednesday, it is a Goodeads group now currently run by Sam over at ToughtsOfTomes on Youtube, where each week they give you a topic and you talk about 5 books that fit that category. You can join the group here if you want to participate!
Without any further ado, let's start with this week's topic!
We Were Liars | E. Lockhart
My thoughts: I knew NOTHING about this book before I decided to pick it up, but there were tons of people talking about it on Youtube and Goodreads, and it had really positive reviews by then, so I said "why not?" and bought it. And, though it wasn't the best book in the entire world, I enjoyed it and it was a very fast paced book. I had a few issues with it, but I think that it was the hype that ruined the book a bit in my case.
A beautiful and distinguished family.
A private island.
A brilliant, damaged girl; a passionate, political boy.
A group of four friends—the Liars—whose friendship turns destructive.
A revolution. An accident. A secret.
Lies upon lies.
True love.
The truth.
Illuminae | Amy Kaufman & Jay Kristoff
My thoughts: This book was one of the most praised ones I've heard of this past year. Everyone was raving about it, saying how unique and cool it was, and to be completely honest, I probably wouldn't have picked it up if it wasn't for all the hype. I had no idea what the story was about, but I'm not a big fan of sci-fi, and that's the main reason why I stayed away from it. But yeah… I ended up reading it this year *laughs*. I can't resist the hype, guys. I'M WEAK.
I have a review of this book here in case you want to check it out!
This morning, Kady thought breaking up with Ezra was the hardest thing she'd have to do. This afternoon, her planet was invaded.
The year is 2575, and two rival megacorporations are at war over a planet that's little more than an ice-covered speck at the edge of the universe. Too bad nobody thought to warn the people living on it. With enemy fire raining down on them, Kady and Ezra—who are barely even talking to each other—are forced to fight their way onto an evacuating fleet, with an enemy warship in hot pursuit.
But their problems are just getting started. A deadly plague has broken out and is mutating, with terrifying results; the fleet's AI, which should be protecting them, may actually be their enemy; and nobody in charge will say what's really going on. As Kady hacks into a tangled web of data to find the truth, it's clear only one person can help her bring it all to light: the ex-boyfriend she swore she'd never speak to again.
A Darker Shade of Magic | V. E. Schwab
My thoughts: I adore this trilogy, and I'm so happy I knew about this and saw someone talking really positive things about it. I have no idea how I knew about this author or trilogy, but I believe it was on Goodreads. I saw the cover and thought it was gorgeous, and so it piqued out my interest.
Kell is one of the last Antari—magicians with a rare, coveted ability to travel between parallel Londons; Red, Grey, White, and, once upon a time, Black. 
Kell was raised in Arnes—Red London—and officially serves the Maresh Empire as an ambassador, traveling between the frequent bloody regime changes in White London and the court of George III in the dullest of Londons, the one without any magic left to see.
Unofficially, Kell is a smuggler, servicing people willing to pay for even the smallest glimpses of a world they'll never see. It's a defiant hobby with dangerous consequences, which Kell is now seeing firsthand.
After an exchange goes awry, Kell escapes to Grey London and runs into Delilah Bard, a cut-purse with lofty aspirations. She first robs him, then saves him from a deadly enemy, and finally forces Kell to spirit her to another world for a proper adventure.
Now perilous magic is afoot, and treachery lurks at every turn. To save all of the worlds, they'll first need to stay alive.
Red Queen | Victoria Aveyard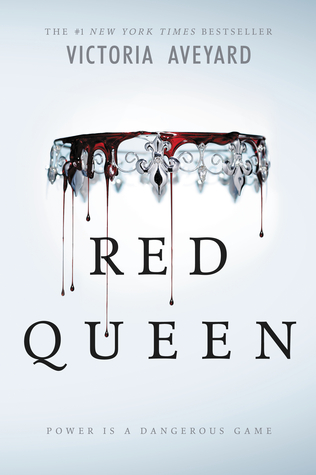 My thoughts: Another book I've read because of the amazing comments surrounding it. I feel this one you either love it or hate it, so I was debating whether to read it or not. And I ended up picking it up, and I wasn't a very big fan of it. It wasn't bad, it had a lot of potential, but sometimes it was a bit tropey. BUT there was an amazing character, and he was the reason why I plan to continue with the series, so everything wasn't lost!
I have a review of this book here in case you want to check it out!
This is a world divided by blood – red or silver.
The Reds are commoners, ruled by a Silver elite in possession of god-like superpowers. And to Mare Barrow, a seventeen-year-old Red girl from the poverty-stricken Stilts, it seems like nothing will ever change.
That is, until she finds herself working in the Silver Palace. Here, surrounded by the people she hates the most, Mare discovers that, despite her red blood, she possesses a deadly power of her own. One that threatens to destroy the balance of power.
Fearful of Mare's potential, the Silvers hide her in plain view, declaring her a long-lost Silver princess, now engaged to a Silver prince. Despite knowing that one misstep would mean her death, Mare works silently to help the Red Guard, a militant resistance group, and bring down the Silver regime.
But this is a world of betrayal and lies, and Mare has entered a dangerous dance – Reds against Silvers, prince against prince, and Mare against her own heart.
The Night Circus | Erin Morgestern
My thoughts: If you've been following me for a while, you'll probably know that this is one of my favourite books of all time, and I can't thank Goodreads and Youtube enough for making me aware that something like this existed. I remember picking this up after reading The Strange and Beautiful Sorrows of Ava Lavender, because I discover I was a big fan of magical realism, and well, this one was about a circus, so I was completely sold. And it was fantastic!
The circus arrives without warning. No announcements precede it. It is simply there, when yesterday it was not. Within the black-and-white striped canvas tents is an utterly unique experience full of breathtaking amazements. It is called Le Cirque des Rêves, and it is only open at night…
The circus arrives without warning. No announcements precede it. It is simply there, when yesterday it was not. Within the black-and-white striped canvas tents is an utterly unique experience full of breathtaking amazements. It is called Le Cirque des Rêves, and it is only open at night. 
But behind the scenes, a fierce competition is underway – a duel between two young magicians, Celia and Marco, who have been trained since childhood expressly for this purpose by their mercurial instructors. Unbeknownst to them, this is a game in which only one can be left standing, and the circus is but the stage for a remarkable battle of imagination and will. Despite themselves, however, Celia and Marco tumble headfirst into love – a deep, magical love that makes the lights flicker and the room grow warm whenever they so much as brush hands. 
True love or not, the game must play out, and the fates of everyone involved, from the cast of extraordinary circus per­formers to the patrons, hang in the balance, suspended as precariously as the daring acrobats overhead. 
What books have you read because of social medias and what was your favourite and least favourite? Also let me know if you've read any of the books I've previously mentioned and what you thought of them!
Follow me on BlogLovin'
Goodreads | Instagram | Twitter | Contact Me