Hello bookworms! I'm Nia and today I'm going to be talking about the books I've read this month.
Now if you've been reading some of my reviews you'll probably know I've been in a huuuge reading slump, and thus I haven't read all the books I wanted to this month. I was in a weird mood, and it took me a while to concentrate in some of the books I've read, but nevertheless, I managed to read 14 books, which technically isn't that bad. BUT STILL.
I believe I have all the reviews I wanted to do already published, so I'll link them down below in case you're interested in any of the novels and want to see what my thoughts were!
Without any further ado, let's begin with this month's wrap up!
All In | Jennifer Lynn Barnes
⭐️⭐️⭐️⭐️⭐️
My thoughts: I have a review of this book posted on this blog so click here in case you want to check it out!
Three casinos. Three bodies. Three days.
After a string of brutal murders in Las Vegas, Cassie Hobbes and the Naturals are called in to investigate. But even with the team's unique profiling talents, these murders seem baffling: unlike many serial killers, this one uses different methods every time. All of the victims were killed in public, yet the killer does not show up on any tape. And each victim has a string of numbers tattooed on their wrist. Hidden in the numbers is a code—and the closer the Naturals come to unraveling the mystery, the more perilous the case becomes.
Meanwhile, Cassie is dealing with an equally dangerous and much more painful mystery. For the first time in years, there's been a break in her mother's case. As personal issues and tensions between the team mount, Cassie and the Naturals will be faced with impossible odds—and impossible choices.
The Goblins of Bellwater | Molly Ringle
⭐️⭐️
My thoughts: DNFed it at 70%. When I first read the premise of the book I was pretty intrigued by it, because fae are one of my favourite mythical creatures, so I went with very high hopes into this one. Unfortunately, it ended up disappointing me quite much.
I f
the story was focusing more on the romance than in the fantasy elements of it, like the goblins. The romance was very insta-love-ish and fast that it made no sense to me, and the couples were nothing extraordinary.
I though it was going to be more focused on the goblins and how their society was, and basically their history and every day, but I hardly saw those parts. The romance took so much importance that it made the book more contemporary than fantasy.
There were also conversations or interactions between the characters just to fill the plot (that's what I felt at least) and they bored me sometimes. And all the events throughout the book happened so fast you didn't have time to get really into the story.
Overall, I think that even though the whole premise sounded really interesting, it wasn't developed well and it was too focused on the romance than the fantasy and the goblins.
Most people have no idea goblins live in the woods around the small town of Bellwater, Washington. But some are about to find out.
Skye, a young barista and artist, falls victim to a goblin curse in the forest one winter night, rendering her depressed and silenced, unable to speak of what happened. Her older sister, Livy, is at wit's end trying to understand what's wrong with her. Local mechanic Kit would know, but he doesn't talk of such things: he's the human liaison for the goblin tribe, a job he keeps secret and never wanted, thrust on him by an ancient family contract.
Unaware of what's happened to Skye, Kit starts dating Livy, trying to keep it casual to protect her from the attention of the goblins. Meanwhile, unbeknownst to Kit, Skye draws his cousin Grady into the spell through an enchanted kiss in the woods, dooming Grady and Skye both to become goblins and disappear from humankind forever.
It's a midwinter night's enchantment as Livy, the only one untainted by a spell, sets out to save them on a dangerous magical path of her own.
This Darkness Mine | Mindy McGinnis
⭐️⭐️⭐️⭐️.5
My thoughts: I have a review of this book posted on this blog so click here in case you want to check it out!
Sasha Stone knows her place—first-chair clarinet, top of her class, and at the side of her oxford-wearing boyfriend. She's worked her entire life to ensure that her path to Oberlin Conservatory as a star musician is perfectly paved.
But suddenly there's a fork in the road, in the shape of Isaac Harver. Her body shifts toward him when he walks by, her skin misses his touch even though she's never known it, and she relishes the smell of him—smoke, beer, and trouble—all the things she's avoided to get where she is. Even worse, every time he's near Sasha, her heart stops, literally. Why does he know her so well—too well—and she doesn't know him at all?
Sasha discovers that her by-the-book life began by ending another's: the twin sister she absorbed in the womb. But that doesn't explain the gaps of missing time in her practice schedule or the memories she has of things she certainly never did with Isaac. As Sasha loses her much-cherished control, her life—and heart—become more entangled with Isaac. Armed with the knowledge that her heart might not be hers alone, Sasha must decide what she's willing to do—and who she's willing to hurt—to take it back.
The Hearts We Sold | Emily Lloyd-Jones
⭐️⭐️⭐️.75
My thoughts: I have a review of this book posted on this blog so click here in case you want to check it out!
When Dee Moreno makes a deal with a demon—her heart in exchange for an escape from a disastrous home life—she finds the trade may have been more than she bargained for. And becoming "heartless" is only the beginning. What lies ahead is a nightmare far bigger, far more monstrous than anything she could have ever imagined.
With reality turned on its head, Dee has only a group of other deal-making teens to keep her grounded, including the charming but secretive James Lancer. And as something grows between them amid an otherworldy ordeal, Dee begins to wonder: Can she give someone her heart when it's no longer hers to give?
Burning Glass | Kathryn Purdie
⭐️⭐️⭐️.5
My thoughts: I have a review of this book posted on this blog so click here in case you want to check it out!
Sonya was born with the rare gift to feel what those around her feel—both physically and emotionally—a gift she's kept hidden from the empire for seventeen long years. After a reckless mistake wipes out all the other girls with similar abilities, Sonya is hauled off to the palace and forced to serve the emperor as his sovereign Auraseer.
Tasked with sensing the intentions of would-be assassins, Sonya is under constant pressure to protect the emperor. But Sonya's power is untamed and reckless, and she can't always decipher when other people's impulses end and her own begin. In a palace full of warring emotions and looming darkness, Sonya fears that the biggest danger to the empire may be herself.
As she struggles to wrangle her abilities, Sonya seeks refuge in her tenuous alliances with the charming-yet-volatile Emperor Valko and his idealistic younger brother, Anton, the crown prince. But when threats of revolution pit the two brothers against each other, Sonya must choose which brother to trust—and which to betray.
Top 10 | Katie Cotugno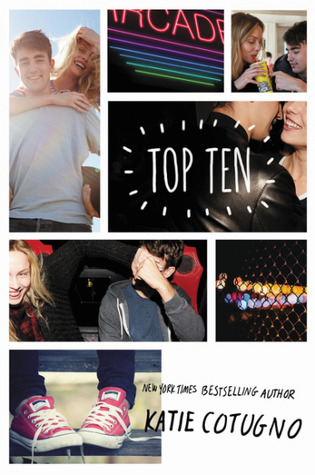 ⭐️⭐️⭐️.5
My thoughts: I have a review of this book posted on this blog so click here in case you want to check it out!
Ryan McCullough and Gabby Hart are the unlikeliest of friends. Introverted, anxious Gabby would rather do literally anything than go to a party. Ryan is a star hockey player who can get any girl he wants—and does, frequently. But against all odds, they became not only friends, but each other's favorite person. Now, as they face high school graduation, they can't help but take a moment to reminisce and, in their signature tradition, make a top ten list—counting down the top ten moments of their friendship: 
10. Where to begin? Maybe the night we met.
9. Then there was our awkward phase.
8. When you were in love with me but never told me…
7. Those five months we stopped talking were the hardest of my life.
6. Through terrible fights…
5. And emotional makeups.
4. You were there for me when I got my heart broken.
3. …but at times, you were also the one breaking it.
2. Above all, you helped me make sense of the world.
1. Now, as we head off to college—how am I possibly going to live without you?
Genuine Fraud | E. Lockhart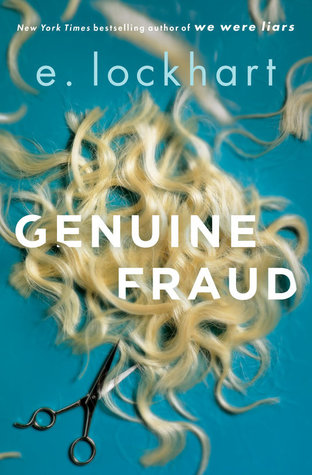 ⭐️⭐️⭐️.5
My thoughts: I have a review of this book posted on this blog so click here in case you want to check it out!
The story of a young woman whose diabolical smarts are her ticket into a charmed life. But how many times can someone reinvent themselves? You be the judge.
Imogen is a runaway heiress, an orphan, a cook, and a cheat.
Jule is a fighter, a social chameleon, and an athlete. 
An intense friendship. A disappearance. A murder, or maybe two. 
A bad romance, or maybe three.
Blunt objects, disguises, blood, and chocolate. The American dream, superheroes, spies, and villains. 
A girl who refuses to give people what they want from her.
A girl who refuses to be the person she once was.
The Rules For Breaking | Ashley Elston
⭐️⭐️⭐️.5
My thoughts: I have a review of this book posted on this blog so click here in case you want to check it out!
Anna Boyd almost lost her life to get what she wanted most in the world: freedom.
But just when it seems that her family has finally escaped Witness Protection, the illusion that Anna could resume a normal life comes crashing down.
The deadly man Anna knows as Thomas is still on the loose, and now he's using her as a pawn in a dangerous game with the drug cartel determined to silence her forever. When Thomas and a mysterious masked man capture not only Anna but also her fragile younger sister and her boyfriend, Anna decides it's time to break all the rules-even if it means teaming up with the lesser of two evils.
Anna will do whatever it takes to protect the people she loves and win her life back once and for all. But her true enemies are hidden in plain sight. Before long, Anna will learn that putting her trust in anyone may be the last mistake she ever makes.
Lick | Kylie Scott
⭐️⭐️⭐️⭐️
My thoughts: I decided to re-read this series because that seemed like the perfect thing to do when I had that reading slump, and it was one of the best ideas I had in a long time. I didn't remember some things and I had a great time re-visiting those characters. And despite this one not being my favourite book of the series, I still enjoyed it very much.
Evelyn Thomas's plans for celebrating her twenty-first birthday in Las Vegas were big. Huge. But she sure never meant to wake up on the bathroom floor with a hangover to rival the black plague, a very attractive half-naked tattooed man in her room, and a diamond on her finger large enough to scare King Kong. Now if she could just remember how it all happened.
One thing is certain, being married to one of the hottest rock stars on the planet is sure to be a wild ride.
Play | Kylie Scott
⭐️⭐️⭐️⭐️⭐️
My thoughts: I loved this book. Jimmy and Mal are my two favourite characters of the whole series, so it's nothing new to me how much I loved this sequel. However, it's true I didn't remember some things, so re-reading it made me remember them. They were the perfect books for my reading slump!
Mal Ericson, drummer for the world famous rock band Stage Dive, needs to clean up his image fast—at least for a little while. Having a good girl on his arm should do the job just fine. Mal doesn't plan on this temporary fix becoming permanent, but he didn't count on finding the one right girl. 
<span style="color:#e64e7e;
ne Rollins never thought she'd ever meet the rock god who plastered her teenage bedroom walls—especially not under these circumstances. Anne has money problems. Big ones. But being paid to play the pretend girlfriend to a wild life-of-the-party drummer couldn't end well. No matter how hot he is. Or could it?
The Long Game | Jennifer Lynn Barnes
⭐️⭐️⭐️⭐️.75
My thoughts: I have a review of this book posted on this blog so click here in case you want to check it out!
For Tess Kendrick, a junior at the elite Hardwicke School in Washington, D.C., fixing runs in the family. But Tess has another legacy, too, one that involves power and the making of political dynasties. When Tess is asked to run a classmate's campaign for student council, she agrees. But when the candidates are children of politicians, even a high school election can involve life-shattering secrets.
Meanwhile, Tess's guardian has also taken on an impossible case, as a terrorist attack calls into doubt who can—and cannot—be trusted on Capitol Hill. Tess knows better than most that power is currency in D.C., but she's about to discover firsthand that power always comes with a price.
The Glass Spare | Lauren DeStefano
⭐️⭐️⭐️⭐️.5
My thoughts: I have a review of this book posted on this blog so click here in case you want to check it out!
Wil Heidle, the only daughter of the king of the world's wealthiest nation, has grown up in the shadows. Kept hidden from the world in order to serve as a spy for her father—whose obsession with building his empire is causing a war—Wil wants nothing more than to explore the world beyond her kingdom, if only her father would give her the chance.
Until one night Wil is attacked, and she discovers a dangerous secret. Her touch turns people into gemstone. At first Wil is horrified—but as she tests its limits, she's drawn more and more to the strange and volatile ability. When it leads to tragedy, Wil is forced to face the destructive power within her and finally leave her home to seek the truth and a cure.
But finding the key to her redemption puts her in the path of a cursed prince who has his own ideas for what to do with her power.
With a world on the brink of war and a power of ultimate destruction, can Wil find a way to help the kingdom that's turned its back on her, or will she betray her past and her family forever?
Lead | Kylie Scott
⭐️⭐️⭐️⭐️⭐️
My thoughts: Again, another re-read here. What can I say about them, honestly? I love these books and I laughed out loud whit them. They are quite clique, but still they make you laugh and have an amazing time. Also there's that angsty romance and relationship drama I adore reading sometimes, so yeah.
As the lead singer of Stage Dive, Jimmy is used to getting whatever he wants, whenever he wants it, whether it's booze, drugs, or women. However, when a PR disaster serves as a wake-up call about his life and lands him in rehab, he finds himself with Lena, a new assistant to keep him out of trouble.
Lena's not willing to take any crap from the sexy rocker and is determined to keep their relationship completely professional, despite their sizzling chemistry. But when Jimmy pushes her too far and Lena leaves, he realizes that he may just have lost the best thing that ever happened to him.
A Semi-Definitive List Of Worst Nightmares | Krystal Sutherland
⭐️⭐️⭐️.75
My thoughts: I have a review of this book posted on this blog so click here in case you want to check it out!
Ever since Esther Solar's grandfather met Death, her entire family has been doomed to suffer one great fear in their lifetime—a fear that will eventually lead each and every one of them to their graves. Take Esther's father, for instance: He's an agoraphobe who hasn't left the basement in six years. Then there's her twin brother, Eugene, whose fear of the dark goes far beyond the things that go bump in the night. And her mother, Rosemary, is absolutely terrified of bad luck.
As for Esther, she's managed to escape the curse…so far. She doesn't yet have a great fear because she avoids pretty much everything. Elevators, small spaces, crowds—anything that might trigger a phobia is off-limits and is meticulously recorded in her semi-definitive list of worst nightmares. 
Esther thinks she has it all figured out, until she's reunited with an old elementary school classmate—and first crush—Jonah Smallwood. The encounter leaves her stranded at a bus stop and swindled out of her phone, all her cash, a Fruit Roll-Up she'd been saving, and her list—not to mention her dignity. But the theft is also the beginning of an unexpected friendship between the two, one that sends the pair on a journey of self-discovery as they try to break the curse that's consumed Esther's family. Together they face their greatest fears, one debilitating phobia at a time, only to discover the one fear they hadn't counted on: love.
Have you read any of these books or do you have them on your TBR? Let me know in the comments what books you've read this month and which one was your favourite read!
Follow me on BlogLovin'
Goodreads | Instagram | Twitter | Contact Me