Hello bookworms! I'm Nia and today I'm going to be talking about some books that feature any type of monsters in them!
This was one of the hardest topics to come with, because I couldn't think about 5 books that had [instert any type of creature] in them. I may probably have read more than five books, but I couldn't think about more than 3, so I decided to go with the theme monsters, because, well, aren't they're the cherry of the cake, right?
I don't know guys, I was a bit lost in here. I finally decided to talk about monsters in general, wheter is some type of beastly creature, or simply demons or the bad guys in the book (usually bad guys, at least).
If you aren't familiar with Top 5 Wednesday, it is a Goodeads group now currently run by Sam over at ToughtsOfTomes on Youtube, where each week they give you a topic and you talk about 5 books that fit that category. You can join the group here if you want to participate!
Without any further ado, let's start with this week's topic!
Hunted | Meagan Spooner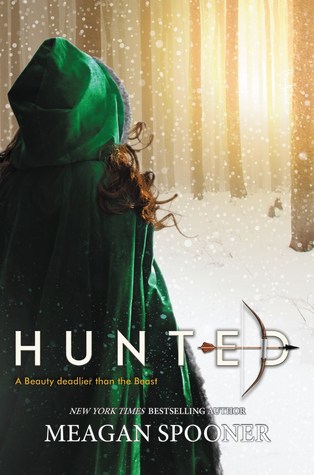 My thoughts: This is one of my favourite books of the year. I'm a very big fan of retelling, so needless to say I had to read this book right when it came out. And it features a beast, which is the monster of this story. And I really love the interactions between Yeva and the Beast, and basically the whole story line. It was beautiful and whimsical, and even though it was a bit slow in terms of pacing, I adore the whole story. And I may add it was a bit more about the original story of Beauty and the Beast rather than the Disney one, with russian folklore and an amazing setting.
I have a review of this book here in case you want to check it out!
Beauty knows the Beast's forest in her bones—and in her blood. Though she grew up with the city's highest aristocrats, far from her father's old lodge, she knows that the forest holds secrets and that her father is the only hunter who's ever come close to discovering them.
So when her father loses his fortune and moves Yeva and her sisters back to the outskirts of town, Yeva is secretly relieved. Out in the wilderness, there's no pressure to make idle chatter with vapid baronessas…or to submit to marrying a wealthy gentleman. But Yeva's father's misfortune may have cost him his mind, and when he goes missing in the woods, Yeva sets her sights on one prey: the creature he'd been obsessively tracking just before his disappearance.
Deaf to her sisters' protests, Yeva hunts this strange Beast back into his own territory—a cursed valley, a ruined castle, and a world of creatures that Yeva's only heard about in fairy tales. A world that can bring her ruin or salvation. Who will survive: the Beauty, or the Beast? 
This Savage Song | Victoria Schwab
My thoughts: Again, this book features another type of monsters, and in a very unique and interesting way. Instead of throwing a bunch of creatures we all know about, like vampires, zombies or demons (don't get me wrong, I love those type of books), the author created her own monsters: the Sunai, the Malchai and the Corsai, which if you ask me are incredibly interesting to learn about, and added a little bit of extra something to the story. Anyways, I really enjoyed the duology and I highly recommend it.
I have a review of Our Dark Duet here in case you want to check it out!
There's no such thing as safe in a city at war, a city overrun with monsters. In this dark urban fantasy from author Victoria Schwab, a young woman and a young man must choose whether to become heroes or villains—and friends or enemies—with the future of their home at stake. The first of two books.
Kate Harker and August Flynn are the heirs to a divided city—a city where the violence has begun to breed actual monsters. All Kate wants is to be as ruthless as her father, who lets the monsters roam free and makes the humans pay for his protection. All August wants is to be human, as good-hearted as his own father, to play a bigger role in protecting the innocent—but he's one of the monsters. One who can steal a soul with a simple strain of music. When the chance arises to keep an eye on Kate, who's just been kicked out of her sixth boarding school and returned home, August jumps at it. But Kate discovers August's secret, and after a failed assassination attempt the pair must flee for their lives.
White Hot Kiss | Jennifer L. Armentrout
My thoughts: Now, the covers of these books are a bit cringy, but fear not, the story is actually very fun and features some unique monsters: demons (well, they're not that unique) and GARGOYLES. Yes, you've heard me well. It has gargoyles in it! And okay, this trilogy it's more like a romance paranormal, and what I mean by that is that it's Jennifer L. Armentrout's style. It's more focused on the romance, and it's the type of book you read for fun or because you want to take a break from what you're currently reading. But I still love this trilogy and those characters.
One kiss could be the last. 
Seventeen-year-old Layla just wants to be normal. But with a kiss that kills anything with a soul, she's anything but normal. Half demon, half gargoyle, Layla has abilities no one else possesses. 
Raised among the Wardens—a race of gargoyles tasked with hunting demons and keeping humanity safe—Layla tries to fit in, but that means hiding her own dark side from those she loves the most. Especially Zayne, the swoon-worthy, incredibly gorgeous and completely off-limits Warden she's crushed on since forever. 
Then she meets Roth—a tattooed, sinfully hot demon who claims to know all her secrets. Layla knows she should stay away, but she's not sure she wants to—especially when that whole no-kissing thing isn't an issue, considering Roth has no soul. 
But when Layla discovers she's the reason for the violent demon uprising, trusting Roth could not only ruin her chances with Zayne… it could brand her a traitor to her family. Worse yet, it could become a one-way ticket to the end of the world. 
An Enchantment of Ravens | Margaret Rogerson
My thoughts: This is a recent read of mine, but I really enjoyed the book. And again, it had fair folk, and, if you ask me, they are pretty creepy. And yes, we all are very familiar with fae, but in this novel the author created her own version of these creatures, and that's what stood out the most to me. Also the world building was amazing!
Isobel is a prodigy portrait artist with a dangerous set of clients: the sinister fair folk, immortal creatures who cannot bake bread, weave cloth, or put a pen to paper without crumbling to dust. They crave human Craft with a terrible thirst, and Isobel's paintings are highly prized among them. But when she receives her first royal patron—Rook, the autumn prince—she makes a terrible mistake. She paints mortal sorrow in his eyes – a weakness that could cost him his life.
Furious and devastated, Rook spirits her away to the autumnlands to stand trial for her crime. Waylaid by the Wild Hunt's ghostly hounds, the tainted influence of the Alder King, and hideous monsters risen from barrow mounds, Isobel and Rook depend on one another for survival. Their alliance blossoms into trust, then love, violating the fair folks' ruthless Good Law. There's only one way to save both their lives, Isobel must drink from the Green Well, whose water will transform her into a fair one—at the cost of her Craft, for immortality is as stagnant as it is timeless.
Isobel has a choice: she can sacrifice her art for a future, or arm herself with paint and canvas against the ancient power of the fairy courts. Because secretly, her Craft represents a threat the fair folk have never faced in all the millennia of their unchanging lives: for the first time, her portraits have the power to make them feel.
The Raven Boys | Maggie Stiefvater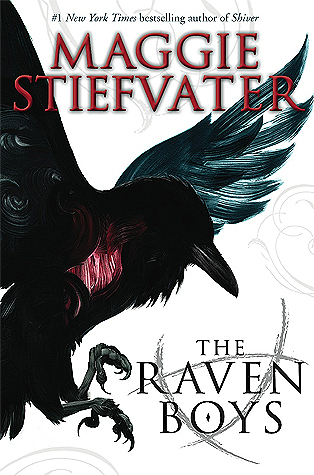 My thoughts: I'M SORRY BUT I HAD TO. I know I've been talking non-stop about this quartet, but maybe it's a sign for you to read it *winks*. No, but really. This book features… well, I think a lot of monsters, or at least, weird and paranormal mean creatures. The whole story is kind of eery, but nonetheless, it's still completely worth it. They are a perfect pick for this particular time of the year, I feel.
"There are only two reasons a non-seer would see a spirit on St. Mark's Eve," Neeve said. "Either you're his true love . . . or you killed him."
It is freezing in the churchyard, even before the dead arrive.
Every year, Blue Sargent stands next to her clairvoyant mother as the soon-to-be dead walk past. Blue herself never sees them—not until this year, when a boy emerges from the dark and speaks directly to her.
His name is Gansey, and Blue soon discovers that he is a rich student at Aglionby, the local private school. Blue has a policy of staying away from Aglionby boys. Known as Raven Boys, they can only mean trouble.
But Blue is drawn to Gansey, in a way she can't entirely explain. He has it all—family money, good looks, devoted friends—but he's looking for much more than that. He is on a quest that has encompassed three other Raven Boys: Adam, the scholarship student who resents all the privilege around him; Ronan, the fierce soul who ranges from anger to despair; and Noah, the taciturn watcher of the four, who notices many things but says very little.
For as long as she can remember, Blue has been warned that she will cause her true love to die. She never thought this would be a problem. But now, as her life becomes caught up in the strange and sinister world of the Raven Boys, she's not so sure anymore.
Let me know what books you love that have any type of creature in them! Also if you have read any of these books I've mentioned, comment down below so we can discuss your thoughts about them!
Follow me on BlogLovin'
Goodreads | Instagram | Twitter | Contact Me