Hello bookworms! I'm Nia and today I'm going to be recommending you some spooky books I adored!
I've been dying to do this post ever since I started this blog, because I love me some creepy books, especially now that it's fall and Halloween is almost here. So this seemed like the perfect thing to do this month.
Without any furhter ado, let's start with the post!
Hunting Prince Dracula | Kerri Maniscalco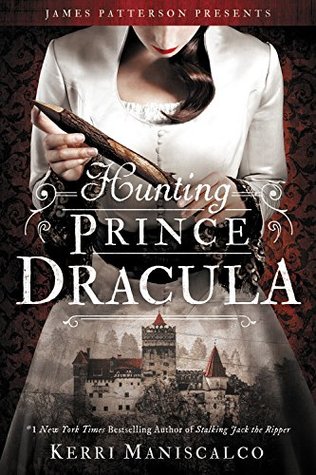 My thoughts: I cannot tell you how much I loved this book! I must say I recommend the whole series, but I think this one was the one that stand out to me the most, because not only you could see the development of the characters, but the descriptions and the whole setting was a bit creepier than Stalking Jack the Ripper, so that's why I'm including it in this list. It was spooky, mysterious and perfect for this time of the year!
If you want to see the full review of this book, click here.
Following the grief and horror of her discovery of Jack the Ripper's true identity, Audrey Rose Wadsworth has no choice but to flee London and its memories. Together with the arrogant yet charming Thomas Cresswell, she journeys to the dark heart of Romania, home to one of Europe's best schools of forensic medicine…and to another notorious killer, Vlad the Impaler, whose thirst for blood became legend.
But her life's dream is soon tainted by blood-soaked discoveries in the halls of the school's forbidding castle, and Audrey Rose is compelled to investigate the strangely familiar murders. What she finds brings all her terrifying fears to life once again.
This Savage Song | Victoria Schwab
My thoughts: I'm pretty impresed with how much I enjoyed this duology, because I usually struggle with endings and sequels, but Victoria Schwab did not disappoint me at all with these two. This is more a dystopian book than a scary one, but nonetheless, the cool thing about it and the reason why I'm including it in this list, is because it had monsters. And not only that but it was very atmospheric. It was dark, twisted, and at the same time, it featured a non-romantic relationship, which is always pretty cool to read about.
I have a review of Our Dark Duet here in case you want to know my thoughts.
There's no such thing as safe in a city at war, a city overrun with monsters. In this dark urban fantasy from author Victoria Schwab, a young woman and a young man must choose whether to become heroes or villains—and friends or enemies—with the future of their home at stake. The first of two books.
Kate Harker and August Flynn are the heirs to a divided city—a city where the violence has begun to breed actual monsters. All Kate wants is to be as ruthless as her father, who lets the monsters roam free and makes the humans pay for his protection. All August wants is to be human, as good-hearted as his own father, to play a bigger role in protecting the innocent—but he's one of the monsters. One who can steal a soul with a simple strain of music. When the chance arises to keep an eye on Kate, who's just been kicked out of her sixth boarding school and returned home, August jumps at it. But Kate discovers August's secret, and after a failed assassination attempt the pair must flee for their lives.
The Female of The Species | Mindy McGinnis
My thoughts: If you've been here for a few weeks you'll probably know that I've been talking non-stop about her new release, This Darkness Mine, but truth be told, my favourite book of hers is The Female of The Species, because not only it was the first book I've read by Mindy McGinnis, but it talked about very important topics and it had a shocking ending. So I'm always finding excuses to include this book in every post *winky eye*. No, but really, if you don't like horror books but want to feel the fall and Halloween spirit, definitely pick this book. It still has that eery and mysterious vibe, and the characters are so different and lovable you won't regret it.
Alex Craft knows how to kill someone. And she doesn't feel bad about it. When her older sister, Anna, was murdered three years ago and the killer walked free, Alex uncaged the language she knows best. The language of violence.
While her crime goes unpunished, Alex knows she can't be trusted among other people, even in her small hometown. She relegates herself to the shadows, a girl who goes unseen in plain sight, unremarkable in the high school hallways.
But Jack Fisher sees her. He's the guy all other guys want to be: the star athlete gunning for valedictorian with the prom queen on his arm. Guilt over the role he played the night Anna's body was discovered hasn't let him forget Alex over the years, and now her green eyes amid a constellation of freckles have his attention. He doesn't want to only see Alex Craft; he wants to know her.
So does Peekay, the preacher's kid, a girl whose identity is entangled with her dad's job, though that does not stop her from knowing the taste of beer or missing the touch of her ex-boyfriend. When Peekay and Alex start working together at the animal shelter, a friendship forms and Alex's protective nature extends to more than just the dogs and cats they care for.
Circumstances bring Alex, Jack, and Peekay together as their senior year unfolds. While partying one night, Alex's darker nature breaks out, setting the teens on a collision course that will change their lives forever.
Daughter of The Burning City | Amanda Foody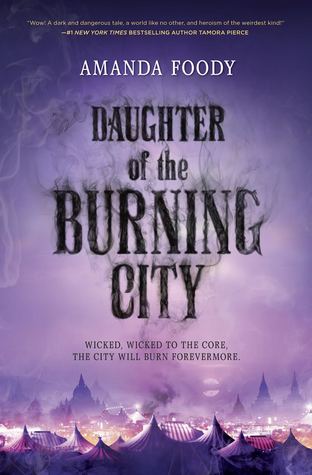 My thoughts: Okay, this book took me completely by surprise. You know how much I adore books that take place in carnivals or circuses, so I went with high expectations into this one. And it's perfect for Halloween because yes, it has that spooky atmosphere, but in addition to that it has a mystery in it, because someone's killing out protagonist illusions, and she's trying to figure out why and who. So double check to that.
I have a review of this book here in case you want to check it out.
Sixteen-year-old Sorina has spent most of her life within the smoldering borders of the Gomorrah Festival. Yet even among the many unusual members of the traveling circus-city, Sorina stands apart as the only illusion-worker born in hundreds of years. This rare talent allows her to create illusions that others can see, feel and touch, with personalities all their own. Her creations are her family, and together they make up the cast of the Festival's Freak Show.
But no matter how lifelike they may seem, her illusions are still just that—illusions, and not truly real. Or so she always believed…until one of them is murdered.
Desperate to protect her family, Sorina must track down the culprit and determine how they killed a person who doesn't actually exist. Her search for answers leads her to the self-proclaimed gossip-worker Luca, and their investigation sends them through a haze of political turmoil and forbidden romance, and into the most sinister corners of the Festival. But as the killer continues murdering Sorina's illusions one by one, she must unravel the horrifying truth before all of her loved ones disappear.
Murder on The Orient Express | Agatha Christie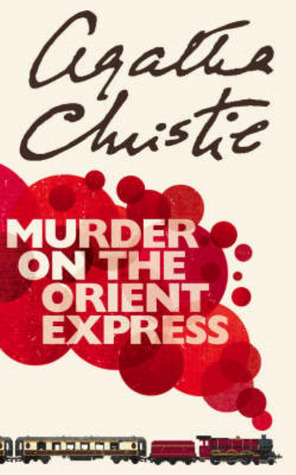 My thoughts: This was a recent read to me and my first experience with Agatha Christie's books, but I have to say I really enjoyed this one. It's not a thriller, by any means, because it focuses more on the mystery and the characters, and it's quite slow and descriptive sometimes, but the reason why I wanted to recommend it to you is that despite all of those things, it was still creepy sometimes. I don't know about you, but it would scare the crap out of me to be travelling with a murderer, so yup. Totally sugest you to pick this one up!
"The murderer is with us – on the train now…"
Just after midnight, the famous Orient Express is stopped in its tracks by a snowdrift. By morning, the millionaire Samuel Ratchett lies dead in his compartment, stabbed a dozen times, his door locked from the inside. One of his fellow passengers must be the murderer.
Isolated by the storm and with a killer in their midst, detective Hercule Poirot must find the killer amongst a dozen of the dead man's enemies, before the murderer decides to strike again…
The Language of Thorns | Leigh Bardugo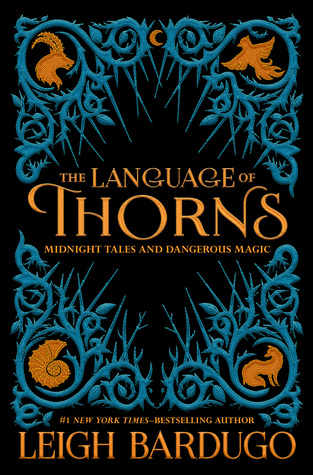 My thoughts: No, guys, I'm not kidding with this one. You may think "well, what in earth were you thinking? Short stories in the Grisha world aren't scary!", and you would be right. But these weren't your typical fairy tales, but actually, they were much darker. Still, I loved each and every single one of them, and if you want a break for the book you're currently reading, go ahead and pick this one because you won't regret it, that I'm sure. They have all that base of the tales we've all heard about and know pretty well, but each one has its own twist, and I loved the writing (honestly, queen Bardugo didn't disappoint me with any of them!).
Love speaks in flowers. Truth requires thorns.
Travel to a world of dark bargains struck by moonlight, of haunted towns and hungry woods, of talking beasts and gingerbread golems, where a young mermaid's voice can summon deadly storms and where a river might do a lovestruck boy's bidding but only for a terrible price.
Night Film | Marisha Pessl
My thoughts: Holy crap, guys, this book sometimes scared the crap out of me, and that's a statement. I really think murder/mystery thrillers are the perfect ones for Halloween, because they all have that spooky tone and feeling, and not just that but they make you want to keep reading them non-stop, which is awesome to me since I distract myself within 5 seconds. But psychological thrillers are usually the best for Halloween, because they play with your mind and suddenly you don't really know what's real and what isn't, and, in this case, if it was a suicide or something more perturbating. The ending was a bit of a let down for me, but I really enjoyed the story and it definitely made me think about it.
Everybody has a Cordova story. Cult horror director Stanislas Cordova hasn't been seen in public since 1977. To his fans he is an enigma. To journalist Scott McGrath he is the enemy. To Ashley he was a father.
On a damp October night the body of young, beautiful Ashley Cordova is found in an abandoned warehouse in lower Manhattan. Her suicide appears to be the latest tragedy to hit a severely cursed dynasty.
For McGrath, another death connected to the legendary director seems more than a coincidence. Driven by revenge, curiosity and a need for the truth, he finds himself pulled into a hypnotic, disorientating world, where almost everyone seems afraid.
The last time McGrath got close to exposing Cordova, he lost his marriage and his career. This time he could lose his grip on reality.
ONCE WE FACE OUR DEEPEST FEARS, WHAT LIES ON THE OTHER SIDE?
Three Dark Crowns | Kendare Blake
My thoughts: Now before you decide to read these books, be prepared because they both are very slow. They are quite descriptive and it takes a bit for the action to come, but I still think they are an amazing pick for Halloween because, boy oh boy, weren't they dark!  I enjoyed more the sequel than this first installment, because you already knew the characters and the whole plot started to develop a bit faster, and well, I liked one of the sisters a bit more, so yeah. There were some dark and creepy scenes in there, and I think the whole concept itself was pretty scary.
I have a review of One Dark Throne here in case you want to check it out!
In every generation on the island of Fennbirn, a set of triplets is born—three queens, all equal heirs to the crown and each possessor of a coveted magic. Mirabella is a fierce elemental, able to spark hungry flames or vicious storms at the snap of her fingers. Katharine is a poisoner, one who can ingest the deadliest poisons without so much as a stomachache. Arsinoe, a naturalist, is said to have the ability to bloom the reddest rose and control the fiercest of lions.
But becoming the Queen Crowned isn't solely a matter of royal birth. Each sister has to fight for it. And it's not just a game of win or lose…it's life or death. The night the sisters turn sixteen, the battle begins.
The last queen standing gets the crown.
Let me know hat books do you plan to read for Halloween/October and if you have any of the ones I've mentioned on your TBR. Also please leave in the comments if you have any creepy or spooky recommendations for me, because I'm always on the hunt for those!
Follow me on BlogLovin'
Goodreads | Instagram | Twitter | Contact Me