Hello bookworms! I'm Nia and today I'm going to be talking about some non-horror books that creeped me out a bit.
Now I have to say I haven't read a ton of horror in my life, so the genres that I usually reach for doesn't scare me out at all. Usually. So it was a bit hard for me to think about five books to talk about today, because as much as I love creepy books, I don't usually get really scared. However, these ones I'm going to be mentioning later have some kind of topic that if it were true in real life, would be a bit unsettling for me, and so I wanted to mention them.
If you aren't familiar with Top 5 Wednesday, it is a Goodeads group now currently run by Sam over at ToughtsOfTomes on Youtube, where each week they give you a topic and you talk about 5 books that fit that category. You can join the group here if you want to participate!
Without any further ado, let's start with this week's topic!
The Hunger Games | Susanne Collins
My thoughts: Now tell me this society wasn't scary at all! Honestly while I was reading this books I was shocked The Hunger Games even existed, and a bunch of people (more specifically, KIDS) were thrown there to kill one another until only one survived. And due to the fact that I was starting reading dystopias and all that jazz, that only creeped me out even more. Don't get me wrong, I really enjoyed those books, but do I want that situation to happen in real life or to me? Well, definitely no.
The nation of Panem, formed from a post-apocalyptic North America, is a country that consists of a wealthy Capitol region surrounded by 12 poorer districts. Early in its history, a rebellion led by a 13th district against the Capitol resulted in its destruction and the creation of an annual televised event known as the Hunger Games. In punishment, and as a reminder of the power and grace of the Capitol, each district must yield one boy and one girl between the ages of 12 and 18 through a lottery system to participate in the games. The 'tributes' are chosen during the annual Reaping and are forced to fight to the death, leaving only one survivor to claim victory.
When 16-year-old Katniss's young sister, Prim, is selected as District 12's female representative, Katniss volunteers to take her place. She and her male counterpart Peeta, are pitted against bigger, stronger representatives, some of whom have trained for this their whole lives. , she sees it as a death sentence. But Katniss has been close to death before. For her, survival is second nature.
Three Dark Crowns | Kendare Blake
My thoughts: Oh, boy, this was a very twisted plot that unsettled me quite a bit. Triples killing each other? Are you kidding me? Sounded like an awesome book to read about, but pretty dark, to be honest.
I would say I was a bit more creeped out during the sequel than in this first installment, because I feel One Dark Throne fit a bit more with the first book's premise, but nonetheless, the series are twisted and spooky.
I have a review of One Dark Throne here in case you want to see what my thoughts of the book were.
In every generation on the island of Fennbirn, a set of triplets is born—three queens, all equal heirs to the crown and each possessor of a coveted magic. Mirabella is a fierce elemental, able to spark hungry flames or vicious storms at the snap of her fingers. Katharine is a poisoner, one who can ingest the deadliest poisons without so much as a stomachache. Arsinoe, a naturalist, is said to have the ability to bloom the reddest rose and control the fiercest of lions.
But becoming the Queen Crowned isn't solely a matter of royal birth. Each sister has to fight for it. And it's not just a game of win or lose…it's life or death. The night the sisters turn sixteen, the battle begins.
The last queen standing gets the crown.
This Savage Song | Victoria Schwab
My thoughts: Okay, how scared would you be if you couldn't go out at night (or anytime) because there are monsters outside willing to kill you and hunt you down? Yup, I feel you. That would be super creepy. And despite this book being such an amazing one, with beautiful writing an amazing characters, that part was spooky. Especially because these monsters are ravenous.
I have a review of Our Dark Duet here in case you want to check it out!
There's no such thing as safe in a city at war, a city overrun with monsters. In this dark urban fantasy from author Victoria Schwab, a young woman and a young man must choose whether to become heroes or villains—and friends or enemies—with the future of their home at stake. The first of two books.
Kate Harker and August Flynn are the heirs to a divided city—a city where the violence has begun to breed actual monsters. All Kate wants is to be as ruthless as her father, who lets the monsters roam free and makes the humans pay for his protection. All August wants is to be human, as good-hearted as his own father, to play a bigger role in protecting the innocent—but he's one of the monsters. One who can steal a soul with a simple strain of music. When the chance arises to keep an eye on Kate, who's just been kicked out of her sixth boarding school and returned home, August jumps at it. But Kate discovers August's secret, and after a failed assassination attempt the pair must flee for their lives.
Harry Potter & The Sorcerer's Stone | J. K. Rowling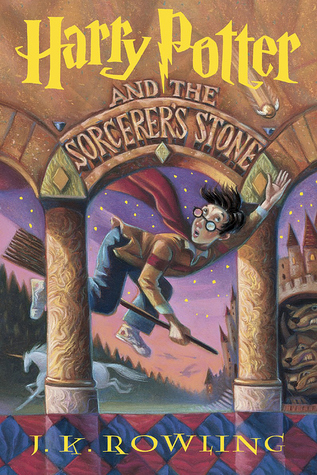 My thoughts: Now this first installment didn't scare me out at all, but I wanted to add it because I had a funny story regarding its movie. Yup. I believe I saw it for the first time when I was seven or eight years old, and me being me, I got completely scared of Voldemort's face in Quirrel's head. So that's why I wanted to mention it here. Now while watching the movie I can't help but laugh at my younger self.
Harry Potter's life is miserable. His parents are dead and he's stuck with his heartless relatives, who force him to live in a tiny closet under the stairs. But his fortune changes when he receives a letter that tells him the truth about himself: he's a wizard. A mysterious visitor rescues him from his relatives and takes him to his new home, Hogwarts School of Witchcraft and Wizardry.
After a lifetime of bottling up his magical powers, Harry finally feels like a normal kid. But even within the Wizarding community, he is special. He is the boy who lived: the only person to have ever survived a killing curse inflicted by the evil Lord Voldemort, who launched a brutal takeover of the Wizarding world, only to vanish after failing to kill Harry.
Though Harry's first year at Hogwarts is the best of his life, not everything is perfect. There is a dangerous secret object hidden within the castle walls, and Harry believes it's his responsibility to prevent it from falling into evil hands. But doing so will bring him into contact with forces more terrifying than he ever could have imagined.
The Strange & Beautiful Sorrows of Ava Lavender | Leslye Walton
My thoughts: Okay, I wasn't scared of this book. BUT there was a certain scene that I wasn't expecting at all, and it was actually quite disturbing to me, so here's the reason this book made it to this list. And I still remember that part with goosebumps in my arms. I have to add that I adored this book, it was a very unique magical realism story with such a gorgeous writing.
Foolish love appears to be the Roux family birthright, an ominous forecast for its most recent progeny, Ava Lavender. Ava—in all other ways a normal girl—is born with the wings of a bird.
In a quest to understand her peculiar disposition and a growing desire to fit in with her peers, sixteen-year old Ava ventures into the wider world, ill-prepared for what she might discover and naïve to the twisted motives of others. Others like the pious Nathaniel Sorrows, who mistakes Ava for an angel and whose obsession with her grows until the night of the Summer Solstice celebration.
That night, the skies open up, rain and feathers fill the air, and Ava's quest and her family's saga build to a devastating crescendo.
Let me know in the comments below what books scared you or still disturb you and if you agree with any of the books I've mentioned above! 
Follow me on BlogLovin'
Goodreads | Instagram | Twitter | Contact Me