Hello bookworms! I'm Nia and today I'm going to be talking some books that don't fit into a certain genre.
Now this was a pretty easy one to me, because right after seeing this topic on the goodreads group, some books immediately popped out in my mind. While I was reading them I couldn't place them in a particular genre, so this question came to my mind a few times.
If you aren't familiar with Top 5 Wednesday, it is a Goodeads group now currently run by Sam over at ToughtsOfTomes on Youtube, where each week they give you a topic and you talk about 5 books that fit that category. You can join the group here if you want to participate!
Without any further ado, let's start with this week's topic!
The Night Circus | Erin Morgenstern
My thoughts: If you've been following me for a while, you may or may not know that this book is one of my all-time favourites. I simply adore it. But it's true I cannot say it truly belongs to just one genre, because sometimes it felt like it was a magical realism and other times there were other things that were a bit more drawn towards a fantasy. The writing was gorgeous and  magical, and because it's set in the late 1800s and early 1900s, there were some historical fiction elements in it.
The circus arrives without warning. No announcements precede it. It is simply there, when yesterday it was not. Within the black-and-white striped canvas tents is an utterly unique experience full of breathtaking amazements. It is called Le Cirque des Rêves, and it is only open at night. 
But behind the scenes, a fierce competition is underway – a duel between two young magicians, Celia and Marco, who have been trained since childhood expressly for this purpose by their mercurial instructors. Unbeknownst to them, this is a game in which only one can be left standing, and the circus is but the stage for a remarkable battle of imagination and will. Despite themselves, however, Celia and Marco tumble headfirst into love – a deep, magical love that makes the lights flicker and the room grow warm whenever they so much as brush hands. 
True love or not, the game must play out, and the fates of everyone involved, from the cast of extraordinary circus per­formers to the patrons, hang in the balance, suspended as precariously as the daring acrobats overhead. 
The Raven Boys | Maggie Stiefvater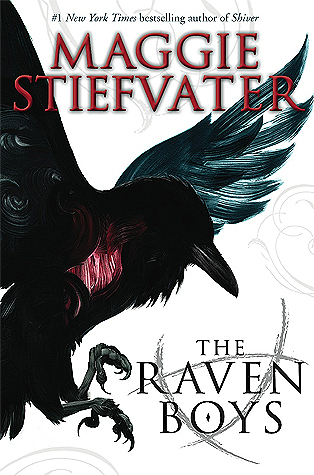 My thoughts: Okay, does anyone know to which genre this book belongs? Because at times I thought it was paranormal, and other times magical realism. Of course, in one of the installments there was a demon, so it could fit in paranormal, but the whole story and plot didn't really belong to only one genre.
It is freezing in the churchyard, even before the dead arrive.
Every year, Blue Sargent stands next to her clairvoyant mother as the soon-to-be dead walk past. Blue herself never sees them—not until this year, when a boy emerges from the dark and speaks directly to her.
His name is Gansey, and Blue soon discovers that he is a rich student at Aglionby, the local private school. Blue has a policy of staying away from Aglionby boys. Known as Raven Boys, they can only mean trouble.
But Blue is drawn to Gansey, in a way she can't entirely explain. He has it all—family money, good looks, devoted friends—but he's looking for much more than that. He is on a quest that has encompassed three other Raven Boys: Adam, the scholarship student who resents all the privilege around him; Ronan, the fierce soul who ranges from anger to despair; and Noah, the taciturn watcher of the four, who notices many things but says very little.
For as long as she can remember, Blue has been warned that she will cause her true love to die. She never thought this would be a problem. But now, as her life becomes caught up in the strange and sinister world of the Raven Boys, she's not so sure anymore.
A Semi-Definitive List of Worst Nightmares | Krystal Sutherland
My thoughts: This book was quite confusing sometimes. I started reading it thinking it was going to be a fluffy contemporary romance, and though it had a very cute romance, it was more than that. Sometimes I thought it was going to be a magical realism, because there were some elements throughout the story that made me think so, along with the fact that Death was an actual living character and he cursed Esther's family. Also the way it was written made me think it wasn't going to be just a contemporary.
I have a review of this book here.
Ever since Esther Solar's grandfather met Death, her entire family has been doomed to suffer one great fear in their lifetime—a fear that will eventually lead each and every one of them to their graves. Take Esther's father, for instance: He's an agoraphobe who hasn't left the basement in six years. Then there's her twin brother, Eugene, whose fear of the dark goes far beyond the things that go bump in the night. And her mother, Rosemary, is absolutely terrified of bad luck.
As for Esther, she's managed to escape the curse…so far. She doesn't yet have a great fear because she avoids pretty much everything. Elevators, small spaces, crowds—anything that might trigger a phobia is off-limits and is meticulously recorded in her semi-definitive list of worst nightmares. 
Esther thinks she has it all figured out, until she's reunited with an old elementary school classmate—and first crush—Jonah Smallwood. The encounter leaves her stranded at a bus stop and swindled out of her phone, all her cash, a Fruit Roll-Up she'd been saving, and her list—not to mention her dignity. But the theft is also the beginning of an unexpected friendship between the two, one that sends the pair on a journey of self-discovery as they try to break the curse that's consumed Esther's family. Together they face their greatest fears, one debilitating phobia at a time, only to discover the one fear they hadn't counted on: love.
Vicious |V. E. Schwab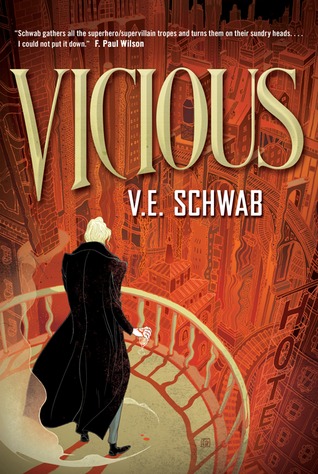 My thoughts: I can't honestly say "this book is a fantasy" or "this book is a sci-fi" because I have no idea to which genre it belongs. To me it was an adult fiction story, where it focuses more on vengeance and science, but there was also a supernatural element in it. Technically it wasn't anything fantasy, because there was no magic, but the superpower thing and some things that happened in the story made me believe it run towards sci-fi sometimes.
Victor and Eli started out as college roommates—brilliant, arrogant, lonely boys who recognized the same sharpness and ambition in each other. In their senior year, a shared research interest in adrenaline, near-death experiences, and seemingly supernatural events reveals an intriguing possibility: that under the right conditions, someone could develop extraordinary abilities. But when their thesis moves from the academic to the experimental, things go horribly wrong. 
Ten years later, Victor breaks out of prison, determined to catch up to his old friend (now foe), aided by a young girl whose reserved nature obscures a stunning ability. Meanwhile, Eli is on a mission to eradicate every other super-powered person that he can find—aside from his sidekick, an enigmatic woman with an unbreakable will. Armed with terrible power on both sides, driven by the memory of betrayal and loss, the archnemeses have set a course for revenge—but who will be left alive at the end?
Cold Summer | Gwen Cole
My thoughts: To me this was a mixed of different genres, but it was done if a way I couldn't place it in a certain one. We're following this guy who can time travel to the past, more especifically, World War II. And because of that he's suffering from PTSD, so that added something different to the story. Basically this book was a mental health one done in a different way, with some romance.
I have a review of this book here.
Kale Jackson has spent years trying to control his time-traveling ability but hasn't had much luck. One day he lives in 1945, fighting in the war as a sharpshooter and helplessly watching soldiers—friends—die. Then the next day, he's back in the present, where WWII has bled into his modern life in the form of PTSD, straining his relationship with his father and the few friends he has left. Every day it becomes harder to hide his battle wounds, both physical and mental, from the past.
When the ex-girl-next-door, Harper, moves back to town, thoughts of what could be if only he had a normal life begin to haunt him. Harper reminds him of the person he was before the PTSD, which helps anchor him to the present. With practice, maybe Kale could remain in the present permanently and never step foot on a battlefield again. Maybe he can have the normal life he craves.
But then Harper finds Kale's name in a historical article—and he's listed as a casualty of the war. Kale knows now that he must learn to control his time-traveling ability to save himself and his chance at a life with Harper. Otherwise, he'll be killed in a time where he doesn't belong by a bullet that was never meant for him.
Do you agree with the answers from above? Let me know also what books you think don't belong in only one particular genre so we could discuss them in the comments!
Follow me on BlogLovin'
Goodreads | Instagram | Twitter | Contact Me