Hello bookworms! I'm Nia and today I'm going to be talking about the books I've read this month!
I was pretty happy with my reading month, despite being quite lazy at the end of this month and not have read that much, but still I managed to read a total of 13 books, which in my opinion, it isn't that bad, right? There are some of them that I really loved, and others that I didn't that much.
Without any further ado, let's begin!
Black Bird of The Gallows | Meg Kassel
⭐️⭐️⭐️.5
My thoughts: I have a review of this book, so click here in case you want to see what my thoughts were.
Angie Dovage can tell there's more to Reece Fernandez than just the tall, brooding athlete who has her classmates swooning, but she can't imagine his presence signals a tragedy that will devastate her small town. When something supernatural tries to attack her, Angie is thrown into a battle between good and evil she never saw coming. Right in the center of it is Reece—and he's not human.What's more, she knows something most don't. That the secrets her town holds could kill them all. But that's only half as dangerous as falling in love with a harbinger of death.
The Devils You Know | M. C. Atwood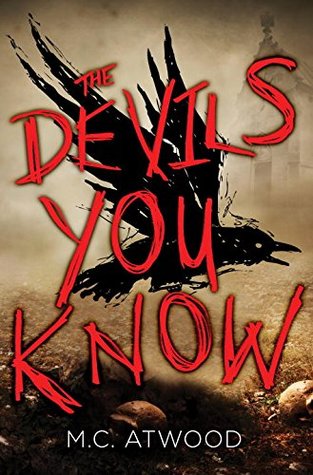 ⭐️.5
My thoughts: I have a review of this book, so click here in case you want to see what my thoughts were.
Plenty of legends surround the infamous Boulder House in Whispering Bluffs, Wisconsin, but nobody takes them seriously. Certainly nobody believes that the original owner, Maxwell Cartwright Jr., cursed its construction—or that a murder of crows died upon its completion, their carcasses turning the land black. If anyone did believe it all, there's no way River Red High would offer a field trip there for the senior class.Five very different seniors on the trip—Violet, Paul, Ashley, Dylan, and Gretchen—have reasons beyond school spirit for not ditching the trip. When they're separated from the group, they discover that what lies within Boulder House is far more horrifying than any local folklore. To survive, they'll have to band together in ways they never could have imagined and ultimately confront the truths of their darkest selves.
Hotel Ruby | Suzanne Young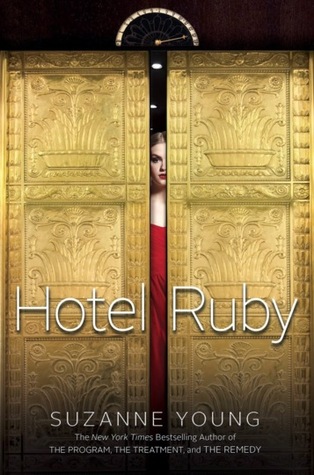 ⭐️⭐️.5
My thoughts: I have a review of this book, so click here in case you want to see what my thoughts were.
When Audrey Casella arrives for an unplanned stay at the grand Hotel Ruby, she's grateful for the detour. Just months after their mother's death, Audrey and her brother, Daniel, are on their way to live with their grandmother, dumped on the doorstep of a DNA-matched stranger because their father is drowning in his grief.Audrey and her family only plan to stay the night, but life in the Ruby can be intoxicating, extending their stay as it provides endless distractions—including handsome guest Elias Lange, who sends Audrey's pulse racing. However, the hotel proves to be as strange as it is beautiful. Nightly fancy affairs in the ballroom are invitation only, and Audrey seems to be the one guest who doesn't have an invite. Instead, she joins the hotel staff on the rooftop, catching whispers about the hotel's dark past.
The more Audrey learns about the new people she's met, the more her curiosity grows. She's torn in different directions—the pull of her past with its overwhelming loss, the promise of a future that holds little joy, and an in-between life in a place that is so much more than it seems…
Welcome to the Ruby. 
Hunting Prince Dracula | Kerri Maniscalco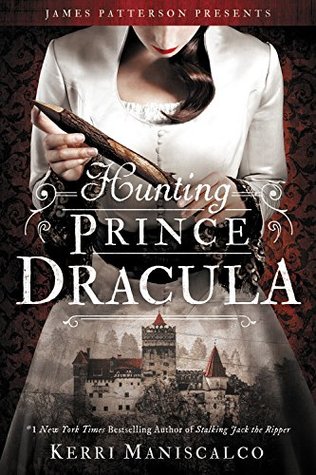 ⭐️⭐️⭐️⭐️.75
My thoughts: I have a review of this book, so click here in case you want to see what my thoughts were.
Bizarre murders are discovered in the castle of Prince Vlad the Impaler, otherwise known as Dracula. Could it be a copycat killer… or has the depraved prince been brought back to life?
Following the grief and horror of her discovery of Jack the Ripper's true identity, Audrey Rose Wadsworth has no choice but to flee London and its memories. Together with the arrogant yet charming Thomas Cresswell, she journeys to the dark heart of Romania, home to one of Europe's best schools of forensic medicine…and to another notorious killer, Vlad the Impaler, whose thirst for blood became legend.
But her life's dream is soon tainted by blood-soaked discoveries in the halls of the school's forbidding castle, and Audrey Rose is compelled to investigate the strangely familiar murders. What she finds brings all her terrifying fears to life once again.
An Enchantment of Ravens | Margaret Rogerson
⭐️⭐️⭐️⭐️
My thoughts: I have a review of this book, so click here in case you want to see what my thoughts were.
Isobel is a prodigy portrait artist with a dangerous set of clients: the sinister fair folk, immortal creatures who cannot bake bread, weave cloth, or put a pen to paper without crumbling to dust. They crave human Craft with a terrible thirst, and Isobel's paintings are highly prized among them. But when she receives her first royal patron—Rook, the autumn prince—she makes a terrible mistake. She paints mortal sorrow in his eyes – a weakness that could cost him his life.
Furious and devastated, Rook spirits her away to the autumnlands to stand trial for her crime. Waylaid by the Wild Hunt's ghostly hounds, the tainted influence of the Alder King, and hideous monsters risen from barrow mounds, Isobel and Rook depend on one another for survival. Their alliance blossoms into trust, then love, violating the fair folks' ruthless Good Law. There's only one way to save both their lives, Isobel must drink from the Green Well, whose water will transform her into a fair one—at the cost of her Craft, for immortality is as stagnant as it is timeless.
Isobel has a choice: she can sacrifice her art for a future, or arm herself with paint and canvas against the ancient power of the fairy courts. Because secretly, her Craft represents a threat the fair folk have never faced in all the millennia of their unchanging lives: for the first time, her portraits have the power to make them feel.
The Name of The Star | Maureen Johnson
⭐️⭐️⭐️.25
My thoughts: This was an okay book to me. It wasn't anything special but it was a very fun spooky read about Jack the Ripper. It reminded me in a way to The Mortal Instruments, with some of the things that happened at some point regarding some characters. I wasn't a big fan of the romance, and the characters were quite average to me, but nonetheless it was a nice story in anticipation of Halloween.
Louisiana teenager Rory Deveaux arrives in London to start a new life at boarding school just as a series of brutal murders mimicking the horrific Jack the Ripper killing spree of more than a century ago has broken out across the city. The police are left with few leads and no witnesses. Except one. Rory spotted the man believed to be the prime suspect. But she is the only one who saw him – the only one who can see him. And now Rory has become his next target…unless she can tap her previously unknown abilities to turn the tables.
Murder on The Orient Express | Agatha Christie
⭐️⭐️⭐️⭐️.25
My thoughts: This was my first Agatha Christie book, and I basically read it because there's a movie adaptation coming out this November, and I wanted to read it before I watch the movie (honestly, that was another excuse I told myself to read it ASAP). And it was an incredible experience. It was more on the slow side rather than a thriller, but I still had a great time knowing the characters and because it's a mystery, I needed to keep reading until I knew everything. I have to say the ending was not as I expected, but I was pretty satisfied with the course of the story and I will definitely be reading more books about her.
Just after midnight, the famous Orient Express is stopped in its tracks by a snowdrift. By morning, the millionaire Samuel Edward Ratchett lies dead in his compartment, stabbed a dozen times, his door locked from the inside. Without a shred of doubt, one of his fellow passengers is the murderer.
Isolated by the storm, detective Hercule Poirot must find the killer among a dozen of the dead man's enemies, before the murderer decides to strike again.
Moxie | Jennifer Mathieu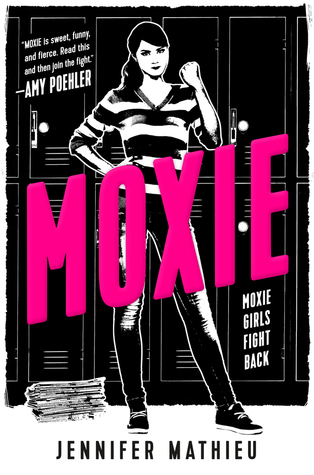 ⭐️⭐️⭐️⭐️.25
My thoughts: I have a review of this book, so click here in case you want to see what my thoughts were.
Moxie girls fight back!
Vivian Carter is fed up. Fed up with her small-town Texas high school that thinks the football team can do no wrong. Fed up with sexist dress codes and hallway harassment. But most of all, Viv Carter is fed up with always following the rules.
Viv's mom was a punk rock Riot Grrrl in the '90s, so now Viv takes a page from her mother's past and creates a feminist zine that she distributes anonymously to her classmates. She's just blowing off steam, but other girls respond. Pretty soon Viv is forging friendships with other young women across the divides of cliques and popularity rankings, and she realizes that what she has started is nothing short of a girl revolution. 
The Language of Thorns | Leigh Bardugo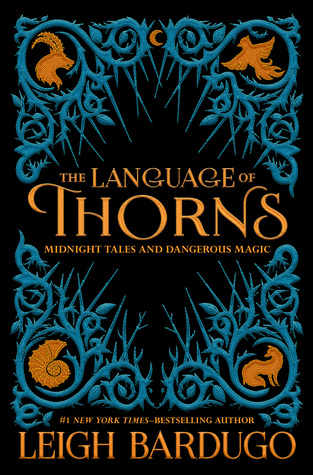 ⭐️⭐️⭐️⭐️⭐️
My thoughts: I have a review of this book, so click here in case you want to see what my thoughts were.
Love speaks in flowers. Truth requires thorns.
Travel to a world of dark bargains struck by moonlight, of haunted towns and hungry woods, of talking beasts and gingerbread golems, where a young mermaid's voice can summon deadly storms and where a river might do a lovestruck boy's bidding but only for a terrible price.
Night Film | Marisha Pessl
⭐️⭐️⭐️⭐️
My thoughts: I have a review of this book, so click here in case you want to see what my thoughts were.
Everybody has a Cordova story. Cult horror director Stanislas Cordova hasn't been seen in public since 1977. To his fans he is an enigma. To journalist Scott McGrath he is the enemy. To Ashley he was a father.
On a damp October night the body of young, beautiful Ashley Cordova is found in an abandoned warehouse in lower Manhattan. Her suicide appears to be the latest tragedy to hit a severely cursed dynasty.
For McGrath, another death connected to the legendary director seems more than a coincidence. Driven by revenge, curiosity and a need for the truth, he finds himself pulled into a hypnotic, disorientating world, where almost everyone seems afraid.
The last time McGrath got close to exposing Cordova, he lost his marriage and his career. This time he could lose his grip on reality.
ONCE WE FACE OUR DEEPEST FEARS, WHAT LIES ON THE OTHER SIDE?
The Creeping | Alexandra Sirowy
⭐️⭐️.5
My thoughts: Oh, man, I had so high expectations with this book that it was a bit of a let down to me. I think the story was a nice creepy one, and it gave me that eery and Halloween-y vibe I was looking for. BUT THE CHARACTERS???? Ugh, I didn't really like any of them. And everything was very predictible to me, which only made me more 'meh' about it. I was hoping I could get some answers to the questions I had throughout the whole book, but I didn't. So yeah, I'm a bit disappointed with it.

Now all she wants is a summe
cove days, friends, and her gorgeous crush – until a fresh corpse leads Stella down a path of ancient evil and secrets.
Stella believes remembering what happened to Jeanie will save her. It won't.
She used to know better than to believe in what slinks through the shadows. Not anymore.
27 Hours | Tristina Wright
⭐️⭐️.5
My thoughts: I have a review of this book, so click here in case you want to see what my thoughts were.
Rumor Mora fears two things: hellhounds too strong for him to kill, and failure. Jude Welton has two dreams: for humans to stop killing monsters, and for his strange abilities to vanish.
But in no reality should a boy raised to love monsters fall for a boy raised to kill them.
Nyx Llorca keeps two secrets: the moon speaks to her, and she's in love with Dahlia, her best friend. Braeden Tennant wants two things: to get out from his mother's shadow, and to unlearn Epsilon's darkest secret.
They'll both have to commit treason to find the truth.
During one twenty-seven-hour night, if they can't stop the war between the colonies and the monsters from becoming a war of extinction, the things they wish for will never come true, and the things they fear will be all that's left.
Deep | Kylie Scott
⭐️⭐️⭐️
My thoughts: Okay, let's begin saying Ben wasn't my favourite band member in the past, so I was equaly excited and scared to read this one. But since I've been re-reading the other three, I decided to give it a try. And it was okay, but definitely not my favourite. Ben was an asshole most of the time, and I wanted to punch him sometimes when he said something mean or stupid. Still, it was fun to read about the other characters and about Lizzie.
Positive. With two little lines on a pregnancy test, everything in Lizzy Rollins' ordinary life is about to change forever. And all because of one big mistake in Vegas with Ben Nicholson, the irresistibly sexy bass player for Stage Dive. So what if Ben's the only man she's ever met who can make her feel completely safe, cherished, and out of control with desire at the same time? Lizzy knows the gorgeous rock star isn't looking for anything more permanent than a good time, no matter how much she wishes differently.
Ben knows Lizzy is off limits. Completely and utterly. She's his best friend's little sister now, and no matter how hot the chemistry is between them, no matter how sweet and sexy she is, he's not going to go there. But when Ben is forced to keep the one girl he's always had a weakness for out of trouble in Sin City, he quickly learns that what happens in Vegas, doesn't always stay there. Now he and Lizzie are connected in the deepest way possible… but will it lead to a connection of the heart?
What books have you read this month and which one was your favourite? Let me know also if you've read any of the books I've mentioned above so we can discuss them in the comments!
Follow me on BlogLovin'
Goodreads | Instagram | Twitter | Contact Me