Hello bookworms! I'm Nia and today I'm bringing you my December TBR!
Now since the month of November wasn't as good as I planned when it comes to reading, I decided this month I wanted to read a bit more, and hopefully with Christmas and everything I'll be able to read a bit more *crossing fingers*. My TBR for this month isn't as large as others I've previously done, but that's mainly because I have no idea what I wanted to read, and so these were the books that I was pretty certain I was going to pick up this month.
So hopefully I'll have an amazing reading month without any reading slumps! Without any further ado, let's begin with this month's TBR.
Turtles All The Way Down | John Green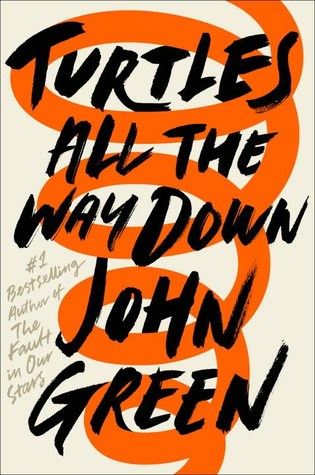 Sixteen-year-old Aza never intended to pursue the mystery of fugitive billionaire Russell Pickett, but there's a hundred-thousand-dollar reward at stake and her Best and Most Fearless Friend, Daisy, is eager to investigate. So together, they navigate the short distance and broad divides that separate them from Russell Pickett's son, Davis.
Aza is trying. She is trying to be a good daughter, a good friend, a good student, and maybe even a good detective, while also living within the ever-tightening spiral of her own thoughts. 
The Midnight Dance | Nikki Katz
When the music stops, the dance begins.
Seventeen-year-old Penny is a lead dancer at the Grande Teatro, a finishing school where she and eleven other young women are training to become the finest ballerinas in Italy. Tucked deep into the woods, the school is overseen by the mysterious and handsome young Master who keeps the girls ensconced in the estate – and in the only life Penny has never known.
But when flashes of memories, memories of a life very different from the one she thinks she's been leading, start to appear, Penny begins to question the Grand Teatro and the motivations of the Master. With a kind and attractive kitchen boy, Cricket, at her side, Penny vows to escape the confines of her school and the strict rules that dictate every step she takes. But at every turn, the Master finds a way to stop her, and Penny must find a way to escape the school and uncover the secrets of her past before it's too late.
A Line in The Dark | Malinda Lo
Jess Wong is Angie Redmond's best friend. And that's the most important thing, even if Angie can't see how Jess truly feels. Being the girl no one quite notices is OK with Jess anyway. While nobody notices her, she's free to watch everyone else. But when Angie begins to fall for Margot Adams, a girl from the nearby boarding school, Jess can see it coming a mile away. Suddenly her powers of observation are more curse than gift.
As Angie drags Jess further into Margot's circle, Jess discovers more than her friend's growing crush. Secrets and cruelty lie just beneath the carefree surface of this world of wealth and privilege, and when they come out, Jess knows Angie won't be able to handle the consequences.
When the inevitable darkness finally descends, Angie will need her best friend.
Exquisite Captive | Heather Demetrios
Forced to obey her master.
Compelled to help her enemy.
Determined to free herself. 
Nalia is a jinni of tremendous ancient power, the only survivor of a coup that killed nearly everyone she loved. Stuffed into a bottle and sold by a slave trader, she's now in hiding on the dark caravan, the lucrative jinni slave trade between Arjinna and Earth, where jinn are forced to grant wishes and obey their human masters' every command. She'd give almost anything to be free of the golden shackles that bind her to Malek, her handsome, cruel master, and his lavish Hollywood lifestyle.
Enter Raif, the enigmatic leader of Arjinna's revolution and Nalia's sworn enemy. He promises to free Nalia from her master so that she can return to her ravaged homeland and free her imprisoned brother—all for an unbearably high price. Nalia's not sure she can trust him, but Raif's her only hope of escape. With her enemies on the hunt, Earth has become more perilous than ever for Nalia. There's just one catch: for Raif's unbinding magic to work, Nalia must gain possession of her bottle…and convince the dangerously persuasive Malek that she truly loves him. Battling a dark past and harboring a terrible secret, Nalia soon realizes her freedom may come at a price too terrible to pay: but how far is she willing to go for it?
Thicker Than Water | Brigid Kemmerer
On his own.
Thomas Bellweather hasn't been in town long. Just long enough for his newlywed mother to be murdered, and for his new stepdad's cop colleagues to decide Thomas is the primary suspect.
Not that there's any evidence. But before Thomas got to Garretts Mill there had just been one other murder in twenty years. 
The only person who believes him is Charlotte Rooker, little sister to three cops and, with her soft hands and sweet curves, straight-up dangerous to Thomas. Her best friend was the other murder vic. And she'd like a couple answers.
Answers that could get them both killed, and reveal a truth Thomas would die to keep hidden…
Rosemarked | Lyvia Blackbourne
A healer who cannot be healed . . .
When Zivah falls prey to the deadly rose plague, she knows it's only a matter of time before she fully succumbs. Now she's destined to live her last days in isolation, cut off from her people and unable to practice her art—until a threat to her village creates a need that only she can fill.
A soldier shattered by war . . .
Broken by torture at the hands of the Amparan Empire, Dineas thirsts for revenge against his captors. Now escaped and reunited with his tribe, he'll do anything to free them from Amparan rule—even if it means undertaking a plan that risks not only his life but his very self.
Thrust together on a high-stakes mission to spy on the capital, the two couldn't be more different: Zivah, deeply committed to her vow of healing, and Dineas, yearning for vengeance. But as they grow closer, they must find common ground to protect those they love. And amidst the constant fear of discovery, the two grapple with a mutual attraction that could break both of their carefully guarded hearts.
Here We Are Now | Jasmine Warga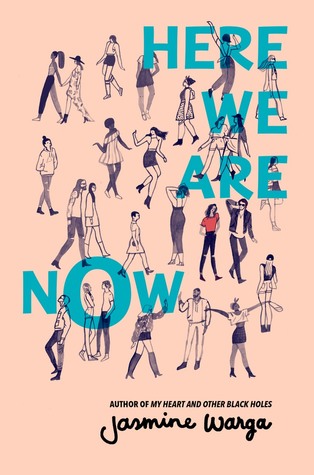 Despite sending him letters ever since she was thirteen, Taliah Abdallat never thought she'd ever really meet Julian Oliver. But one day, while her mother is out of the country, the famed rock star from Staring Into the Abyss shows up on her doorstep. This makes sense – kinda – because Julian Oliver is Taliah's father, even though her mother would never admit it to her.
Julian asks if Taliah if she will drop everything and go with him to his hometown of Oak Falls, Indiana, to meet his father – her grandfather – who is nearing the end of his life. Taliah, torn between betraying her mother's trust and meeting the family she has never known, goes.
With her best friend Harlow by her side, Taliah embarks on a three-day journey to find out everything about her 'father' and her family. But Julian isn't the father Taliah always hoped for, and revelations about her mother's past are seriously shaking her foundation. Through all these new experiences, Taliah will have to find new ways to be true to herself, honoring her past and her future.
And Then There Were None | Agatha Christie
First, there were ten – a curious assortment of strangers summoned as weekend guests to a private island off the coast of Devon. Their host, an eccentric millionaire unknown to all of them, is nowhere to be found. All that the guests have in common is a wicked past they're unwilling to reveal – and a secret that will seal their fate. For each has been marked for murder. One by one they fall prey. Before the weekend is out, there will be none. And only the dead are above suspicion.
Atheists Who Kneel and Pray | Tarryn Fisher
Yara Phillips is a wandering muse.
She dates men who need her, but always moves on to something new, never staying in one place for very long.
David Lisey is in need of a muse.
A talented musician lacking lyrical inspiration. When he first sees her, he knows he's found what he's been looking for.
Yara believes she can give David exactly what he needs to reach his full potential:
A broken heart.
David's religion is love. 
Yara's religion is heartache.
Neither is willing to surrender, but religion always requires sacrifice.
What books do you plan to read this month? Let me know if you've read any of the ones I've mentioned or if you have them on your TBR!
Follow me on BlogLovin'
Goodreads | Instagram | Twitter | Contact Me