Hello bookworms! I'm Nia and today I'll be talking about my most disappointing reads of 2017.
I wanted to do like some type of 2018 countdown, and thise was what first came to my mind, because if there's something I love more than talking about books, is talking about books I don't like. And of course, I'll be doing a post about my most surprising books later next week, but for now I'll be talking about books that I was really anticipating and they didn't live up to my expectations, of simply books that weren't that good and I thought they were going to be.
Some of these are going to be unpopular opinions, so don't me mad at me for being disappointed by some of your favourite books.
Without any further ado, let's start with the post!
A Court of Wings and Ruin | Sarah J. Maas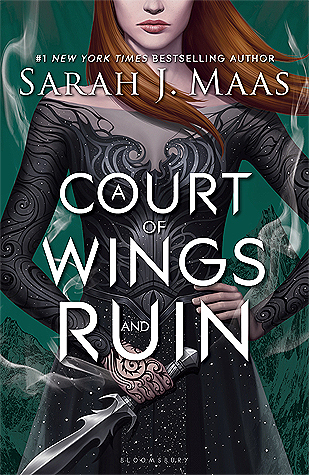 My thoughts: I feel I'm going to get a lot of hate for this but… I'm disappointed. If I had to order this from 1 to 10 most disappointing, this would be in the first place. Don't get me wrong, I liked this book (I gave it like 4 stars), but boy, oh, boy, wasn't I expecting so much more. I loved ACOMAF, so I was expecting something that would completely blow my mind like that book did, and… it didn't?
There were some problematic things in this book that made me a bit mad, and there was a scene with Mor that happened towards the end of the book that got me like "…really?". And also I hated the ending. With all my heart. I feel like there are some realistic endings when there is a war (like in Harry Potter), and this one was so unrealistic and didn't make any sense to me, because I know she did that because there was going to be a spin-off. Oh, and what happened with Rhysand towards the end… *eye roll* I didn't buy it.
So yeah, I was beyond excited for this book because AOMAF was one of my favourites of last year, but… meh, it didn't live up to my expectations.
I have a review of A Court of Mist and Fury, in case you want to check it out.
Feyre has returned to the Spring Court, determined to gather information on Tamlin's manoeuvrings and the invading king threatening to bring Prythian to its knees. But to do so she must play a deadly game of deceit – and one slip may spell doom not only for Feyre, but for her world as well.
As war bears down upon them all, Feyre must decide who to trust amongst the dazzling and lethal High Lords – and hunt for allies in unexpected places. 
Without Merit | Colleen Hoover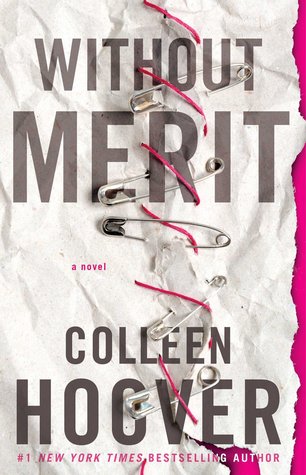 My thoughts: I'm mad at this book. Yes, you've heard me well. I know Colleen Hoover tends to write problematic books, but I usually tend to enjoy them, and have a great time reading them. However, this one didn't hit the mark for me. Yes, her writing has improved and I was loving the story… until we reached the half mark. Then it went completely downhill to me til the point I ended up frustrated and angry.
I just don't get why people give it five stars. There were some things that happened in this book that weren't okay and were extremely harmful for the LGBT+ comunity, which I totally get by the way. Also the mental health representation in this book… not okay. At all. As someone who has suffered from depresion for more than 5 years I can tell you that's not how depresion is. The first half of the book did a good job, but the second? Bullshit. Nope.
I have a review of this book here.
The Voss family is anything but normal. They live in a repurposed church, newly baptized Dollar Voss. The once cancer-stricken mother lives in the basement, the father is married to the mother's former nurse, the little half-brother isn't allowed to do or eat anything fun, and the eldest siblings are irritatingly perfect. Then, there's Merit.
Merit Voss collects trophies she hasn't earned and secrets her family forces her to keep. While browsing the local antiques shop for her next trophy, she finds Sagan. His wit and unapologetic idealism disarm and spark renewed life into her—until she discovers that he's completely unavailable. Merit retreats deeper into herself, watching her family from the sidelines when she learns a secret that no trophy in the world can fix.
Fed up with the lies, Merit decides to shatter the happy family illusion that she's never been a part of before leaving them behind for good. When her escape plan fails, Merit is forced to deal with the staggering consequences of telling the truth and losing the one boy she loves. 
The Midnight Dance | Nikki Katz
My thoughts: I was really excited about this book because not only the cover was absolutely stunning, but the premise seemed like something I would really enjoy, but well… that didn't happen. This is the only book in this list (I believe) I gave less than two stars, because some of the others I enjoyed and others not so much, but I didn't like this book. At all. It wasn't well executed and the characters were so plain it felt to me like I was reading the same thing over and over again. It also said it was a thriller, but… it wasn't that thrilling to me, so yeah. I was pretty disappointed with this book.
I have a review of this book here.
When the music stops, the dance begins.
Seventeen-year-old Penny is a lead dancer at the Grande Teatro, a finishing school where she and eleven other young women are training to become the finest ballerinas in Italy. Tucked deep into the woods, the school is overseen by the mysterious and handsome young Master who keeps the girls ensconced in the estate – and in the only life Penny has never known.
But when flashes of memories, memories of a life very different from the one she thinks she's been leading, start to appear, Penny begins to question the Grand Teatro and the motivations of the Master. With a kind and attractive kitchen boy, Cricket, at her side, Penny vows to escape the confines of her school and the strict rules that dictate every step she takes. But at every turn, the Master finds a way to stop her, and Penny must find a way to escape the school and uncover the secrets of her past before it's too late.
A Line in The Dark | Malinda Lo
My thoughts: This is kind of a spoiler because I have a review planned, but now you know. I was beyond excited to read this book, and I have to say it disappointed me quite much. Don't get me wrong, I liked some things that hapenned throughout the book and the epilogue was so good, but I was bored. It's supossed to be like a thriller/mystery type of book, but I didn't get that vibe from it AT ALL. I didn't particulary like the protagonist, she was basically complaining all the time, and… there wasn't much left. It's so focused on that, that I felt nothing else was really hapenning. And I was expecting so much more from it.
Jess Wong is Angie Redmond's best friend. And that's the most important thing, even if Angie can't see how Jess truly feels. Being the girl no one quite notices is OK with Jess anyway. While nobody notices her, she's free to watch everyone else. But when Angie begins to fall for Margot Adams, a girl from the nearby boarding school, Jess can see it coming a mile away. Suddenly her powers of observation are more curse than gift.
As Angie drags Jess further into Margot's circle, Jess discovers more than her friend's growing crush. Secrets and cruelty lie just beneath the carefree surface of this world of wealth and privilege, and when they come out, Jess knows Angie won't be able to handle the consequences.
When the inevitable darkness finally descends, Angie will need her best friend.
A Madness So Discreet | Mindy McGinnis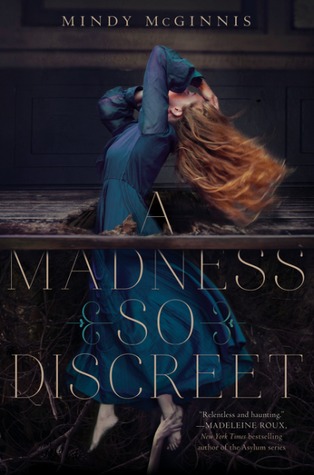 My thoughts: If you've been following me for a while, you'll probably already know that I love Mindy McGinnis. I've read previously this year The Female of The Species and This Darkness Mine and I really enjoyed both books, so I had high hopes and was very excited to read this one. And unfortunately, I didn't like it. I was so disappointed, because I thought this was going to be a really good mystery, but to be completely honest, it wasn't AT ALL. There's no mystery, let me tell you. And I wasn't a big fan of the story or characters, either. It's true that it had a few things I liked, but for the most part it was a miss for me.
Grace Mae knows madness.
She keeps it locked away, along with her voice, trapped deep inside a brilliant mind that cannot forget horrific family secrets. Those secrets, along with the bulge in her belly, land her in a Boston insane asylum.
When her voice returns in a burst of violence, Grace is banished to the dark cellars, where her mind is discovered by a visiting doctor who dabbles in the new study of criminal psychology. With her keen eyes and sharp memory, Grace will make the perfect assistant at crime scenes. Escaping from Boston to the safety of an ethical Ohio asylum, Grace finds friendship and hope, hints of a life she should have had. But gruesome nights bring Grace and the doctor into the circle of a killer who stalks young women. Grace, continuing to operate under the cloak of madness, must hunt a murderer while she confronts the demons in her own past.
Till Death | Jennifer L. Armentrout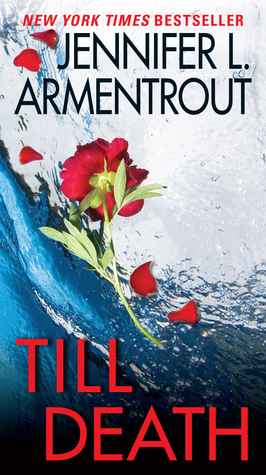 My thoughts: The reason why this book was disappointing to me was completely personal. I've read most of her books already, so I'm really familiar with how she writes a story and her type of characters. Now originally I gave this like 4.5 stars (which would be now 4 stars or so), because I really enjoyed the whole story and the mystery. It was entertaining and I had a great time reading it (despite being a mass market paperback), but THE ENDING!! She always does that same damn thing with the villains. I'm telling you it was SO VERY predictable. The I-knew-who-the-bad-character-was-from-chapter-three type of predictable. And she did exactly the same thing in two or three of her other series, so that's why this was super disappointing. I was expecting something different and… well, didn't get that.
It's been ten years since Sasha Keaton left her West Virginia hometown . . . since she escaped the twisted serial killer known as the Groom. Returning to help run her family inn means being whole again, except for one missing piece. The piece that falls into place when Sasha's threatened—and FBI agent Cole Landis vows to protect her the way he couldn't a decade ago.
First one woman disappears; then another, and all the while, disturbing calling cards are left for the sole survivor of the Groom's reign of terror. Cole's never forgiven himself for not being there when Sasha was taken, but he intends to make up for it now . . . because under the quirky sexiness Cole first fell for is a steely strength that only makes him love Sasha more.
But someone is watching. Waiting. And Sasha's first mistake could be her last.
Black Bird of The Gallows | Meg Kassel
My thoughts: This has nothing to do with the book, you can blame this on me. I think I hyped this book so much in my head that I thought it was going to be mindblowing and… wasn't. I overall enjoyed it and had a nice time reading it, but I'm pretty sure the twelve-year-old me who was a big fan of Twilight would have adored it. Since I'm not that big of a fan of Twilight anymore, this one was okay to me. But I don't know guys, I was expecting so much more.
I have a review of this book here.
A simple but forgotten truth: Where harbingers of death appear, the morgues will soon be full.
Angie Dovage can tell there's more to Reece Fernandez than just the tall, brooding athlete who has her classmates swooning, but she can't imagine his presence signals a tragedy that will devastate her small town. When something supernatural tries to attack her, Angie is thrown into a battle between good and evil she never saw coming. Right in the center of it is Reece—and he's not human.
What's more, she knows something most don't. That the secrets her town holds could kill them all. But that's only half as dangerous as falling in love with a harbinger of death.
What are the most disappointing books you've read this year? Let me know if you have any of the ones I've mentioned on your list or if you agree with me.
Follow me on BlogLovin'
Goodreads | Instagram | Twitter | Contact Me