Hello bookworms! I'm Nia and today I'm going to be talking about the worst books I've read this year.
First of all I want to say that this is my personal opinion. If you've enjoyed any of this books, that's great, but unfortunately for me, I didn't. I only have one book I DNFed, the rest I've finished them all, but I wanted to talk about that particular book because I think it's the worst book I've read this year.
Without any further ado, let's start with this post!
The Gatekeeper's Sons | Eva Pohler
My thoughts: I cannot tell you how strongly I hate this book. I remember buying it on ebook because it was free and the premise sounded like something I could probably like (greek mythology) but boooy, wasn't I wrong. Not only it had the worst love triangle I've ever read, but all the characters were incredibly immature and stupid I wanted to hit my head throughout most of the book. This is the only book in this list I DNFed, because I just couldn't stand reading more. Also I wasn't a big fan of the writing, either. It was just a bad book, guys.
Fifteen-year-old Therese watches her parents die. While in a coma, she meets the twin sons of Hades—Hypnos, the god of sleep, and Thanatos, the god of death. She thinks she's manipulating a dream, not kissing the god of death and totally rocking his world. 
Than makes a deal with Hades and goes as a mortal to the Upperworld to try and win Therese's heart, but not all the gods are happy. Some give her gifts. Others try to kill her. 
The deal requires Therese to avenge the death of her parents. With the help of Than's fierce and exotic sisters, the Furies, she finds herself in an arena face to face with the murderer, and only one will survive.
Rose Petal Graves | Olivia Wildenstein
My thoughts: I didn't hate this book as much as the first one I mentioned but… still, I didn't like it either (duh). The thing with this book is that it's forgettable. I barely can remember what happened, but I know I wasn't a big fan of it while reading it. The plot didn't do it for me, and the characters weren't well developed. And I think there was a love triangle that I hated (??). Oh, well, don't mind me. It was bad.
The Vampire Diaries with faeries. Welcome to Rowan…
Founded two centuries ago by a powerful tribe of Gottwa Indians, Rowan was a quiet town, so quiet that I fled after graduation. Staying away was the plan, but Mom died suddenly.
Dad said she suffered a stroke after she dug up one of the ancient graves in our backyard, which happens to be the town cemetery. Creepy, I know. Creepier still, there was no corpse inside the old coffin, only fresh rose petals.
As we made preparations for Mom's burial, new people began arriving in Rowan, unnervingly handsome and odd people. I begged them to leave, but they stayed, because their enemies—my ancestors—were beginning to awaken.
The Silver Swan | Amo Jones
My thoughts: Oh, holy guacamole, how much I disliked this book! To be completely honest, I was really excited to read this book. The premise sounded appealing, and the cover was gorgeous, but you must not be fool by appearances, guys. This book was bad. The main problem was that the characters were contradicting themselves throughout the entire book. They sometimes said something that in the next few pages turned to be completely the opposite, and that made me mad. And salty. The romance was super toxic (basically the story itself was), and I didn't like the way the main character was treated.
Madison Montgomery comes from money and power, but when someone close to her commits the ultimate crime, Madison must live with her tainted name for the rest of her life. When she begins Riverside Preparatory Academy, the private school her father has swept her into in The Hamptons, she hopes for a fresh start. What she wasn't hoping for was the pack of bad boys who run the school; ten, to be exact. When Madison gains the attention of their leader, Bishop Vincent Hayes, a whole new world that she didn't think existed is exposed to her. A whole world that starts and ends with The Elite Kings Club and these boys, are about to flip her world upside down. Secrets are overflowing and family lies are about to be exposed. Is there more to Madison Montgomery than even she knows?
The Library of Fates | Aditi Khorana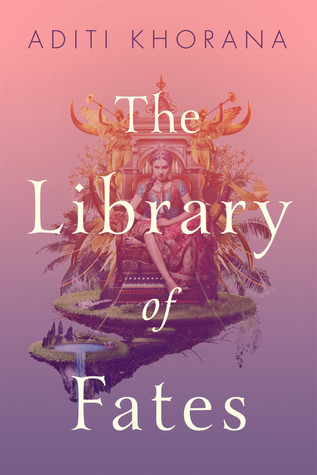 My thoughts: I'm extremely sad for not liking this book. Really. It had amazing reviews only that it made me excited about it, because not only it had a diverse cast of characters, but there was also indian mythology in it (from what I can remember). But… I really didn't like it. The premise sounded so great, but I wasn't particulary a great fan of the characters or the path the story took. I don't know, the pacing was a bit slow and it took almost more than half of the book for things to start to make sense and for me to notice a plot.
I have a review of this book here in case you want to check it out.
No one is entirely certain what brings the Emperor Sikander to Shalingar. Until now, the idyllic kingdom has been immune to his many violent conquests. To keep the visit friendly, Princess Amrita has offered herself as his bride, sacrificing everything—family, her childhood love, and her freedom—to save her people. But her offer isn't enough.
The palace is soon under siege, and Amrita finds herself a fugitive, utterly alone but for an oracle named Thala, who was kept by Sikander as a slave and managed to escape amid the chaos. With nothing and no one else to turn to, Amrita and Thala are forced to rely on each other. But while Amrita feels responsible for her kingdom and sets out to warn her people, the newly free Thala has no such ties. She encourages Amrita to go on a quest to find the fabled Library of All Things, where it is possible for each of them to reverse their fates. To go back to before Sikander took everything from them.
Stripped of all that she loves, caught between her rosy past and an unknown future, will Amrita be able to restore what was lost, or does another life—and another love—await?
Kissing Max Holden | Katy Upperman
My thoughts: I strongly disliked this book, and I'm still salty about it. It seemed like a normal contemporary at first, but nope. First of all, and basically the thing that made me dislike this book that much, is that used cheating not only as a plot, but in a very harful way. And that was not okay. So, yeah… I wasn't a very big fan of this novel ever since. Also, the characters were incredibly dumb and tropey.
I have a review of this book here in case you want to check it out.
Kissing Max Holden was a terrible idea…
After his father has a life-altering stroke, Max Holden isn't himself. As his long-time friend, Jillian Eldridge only wants to help him, but she doesn't know how. When Max climbs through her window one night, Jill knows that she shouldn't let him kiss her. But she can't resist, and when they're caught in the act by her dad, Jill swears it'll never happen again. Because kissing Max Holden is a terrible idea.
With a new baby sibling on the way, her parents fighting all the time, and her dream of culinary school up in the air, Jill starts spending more and more time with Max. And even though her father disapproves and Max still has a girlfriend, not kissing Max is easier said than done. Will Jill follow her heart and allow their friendship to blossom into something more, or will she listen to her head and stop kissing Max Holden once and for all?
When I Cast Your Shadow | Sarah Porter
My thoughts: I hated this book, let's begin by stating that clearly. I was really excited, because I wanted to read more creepy books to get in my Halloween mood, but this didn't do it for me. I think there was nothing about it that I liked, honestly. The relationship between the sister and her older brother was incredibly toxic and harmful, and the whole story was weird and confusing. Overall, I ended up not caring about anyone in the book.
I have a review of this book herein case you want to check it out.
Ruby. Haunted by her dead brother, unable to let him go, Ruby must figure out whether his nightly appearances in her dreams are the answer to her prayers—or a nightmare come true…
Everett. He's always been jealous of his dashing older brother. Now Everett must do everything he can to save his twin sister Ruby from Dashiell's clutches.
Dashiell. Charming, handsome, and manipulative, Dash has run afoul of some very powerful forces in the Land of the Dead. His only bargaining chips are Ruby and Everett. At stake is the very survival of the Bohnacker family, bodies and souls…
The Devils You Know | M. C. Atwood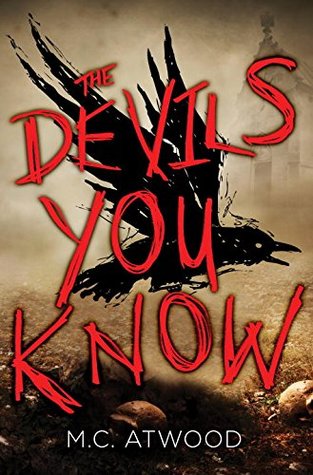 My thoughts: Another one that wasn't my cup of tea. Not even with sugar. It was a similar thing that what I experienced with When I Cast Your Shadow: I was really excited but the book was bad. It was very poorly written, and the whole story wasn't creepy at all. Usually hunted houses scare the crap out of me, so I clearly was expecting something like that, but nope. The characters were so stupid and dumb I didn't care whether they die or not. Honestly, I was hoping they would. And I think the author tried to hard to create a dark and eery setting and didn't do a good job.
I have a review of this book here in case you want to check it out.
Plenty of legends surround the infamous Boulder House in Whispering Bluffs, Wisconsin, but nobody takes them seriously. Certainly nobody believes that the original owner, Maxwell Cartwright Jr., cursed its construction—or that a murder of crows died upon its completion, their carcasses turning the land black. If anyone did believe it all, there's no way River Red High would offer a field trip there for the senior class.
Five very different seniors on the trip—Violet, Paul, Ashley, Dylan, and Gretchen—have reasons beyond school spirit for not ditching the trip. When they're separated from the group, they discover that what lies within Boulder House is far more horrifying than any local folklore. To survive, they'll have to band together in ways they never could have imagined and ultimately confront the truths of their darkest selves. 
Hotel Ruby | Suzanne Young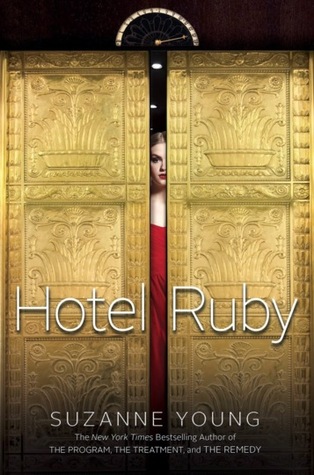 My thoughts: Before I picked it up, I've read really good things about this book. It was supossed to be creepy and perfect for Halloween, and it was "supossed" to be a kind of a mysterious book. However, let me tell you it wasn't. Yes, there were a few odd and creepy things, but overall there wasn't an actual plot until the last hundred pages of the novel. Nothing was really hapenned, and it was really focused on the romance that I ended up a bit bored, quite frankly.
Stay tonight. Stay forever.
When Audrey Casella arrives for an unplanned stay at the grand Hotel Ruby, she's grateful for the detour. Just months after their mother's death, Audrey and her brother, Daniel, are on their way to live with their grandmother, dumped on the doorstep of a DNA-matched stranger because their father is drowning in his grief.
Audrey and her family only plan to stay the night, but life in the Ruby can be intoxicating, extending their stay as it provides endless distractions—including handsome guest Elias Lange, who sends Audrey's pulse racing. However, the hotel proves to be as strange as it is beautiful. Nightly fancy affairs in the ballroom are invitation only, and Audrey seems to be the one guest who doesn't have an invite. Instead, she joins the hotel staff on the rooftop, catching whispers about the hotel's dark past.
The more Audrey learns about the new people she's met, the more her curiosity grows. She's torn in different directions—the pull of her past with its overwhelming loss, the promise of a future that holds little joy, and an in-between life in a place that is so much more than it seems…
Welcome to the Ruby.
Devils & Thieves |Jennifer Rush
My thoughts: I was really mad at this book for a while after finishing it. This was on my most anticipated 2017 releases, and I was super excited to pick it up. However, I ended up not liking it at all. I didn't like the love triangle (it was super cringy), and I wasn't a very big fan of the whole story. Also let me add that they cut themselves to produce magic… Yeah, no. The book got a little bit better towards the end, but that didn't help me that much. I'm still debating whether or not to continue reading the series.
I have a review of this book here in case you want to check it out.
Power corrupts. Magic kills.
Eighteen-year-old Jemmie Carmichael is surrounded by magic in the quiet town of Hawthorne, New York. In her world, magic users are called "kindled," and Jemmie would count herself among them if only she could cast a simple spell without completely falling apart. It doesn't help that she was also recently snubbed by Crowe—the dangerous and enigmatic leader of Hawthorne's kindled motorcycle gang, the Devils' League.
When the entire kindled community rolls into Hawthorne for an annual festival, a rumor spreads that someone is practicing forbidden magic. Then people start to go missing. With threats closing in from every side, no one can be trusted. Jemmie and Crowe will have to put aside their tumultuous history to find their loved ones, and the only thing that might save them is the very flaw that keeps Jemmie from fully harnessing her magic. For all her years of feeling useless, Jemmie may just be the most powerful kindled of all.
Before I Let Go | Marieke Nijkamp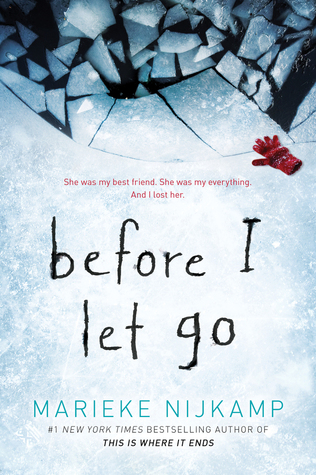 My thoughts: My main problem with this book, and the main reason I dislike it that much is that this was supossed to be a mystery/thriller type of book. And I was expecting something a bit more complex that what I got. It was extremely predictable, and there was no mystery. I feel the reader would know what happened to Kyra from the very beginning. And also I wasn't a big fan of how the mental health representation is treated in this book, because not only it made me feel helpless, but also furious. I don't know, it was a very short book and most of the time nothing was hapenning, so I was a bit sad.
I have a review of this book here in case you want to check it out.
Best friends Corey and Kyra were inseparable in their snow-covered town of Lost Creek, Alaska. When Corey moves away, she makes Kyra promise to stay strong during the long, dark winter, and wait for her return.
Just days before Corey is to return home to visit, Kyra dies. Corey is devastated―and confused. The entire Lost community speaks in hushed tones about the town's lost daughter, saying her death was meant to be. And they push Corey away like she's a stranger.
Corey knows something is wrong. With every hour, her suspicion grows. Lost is keeping secrets―chilling secrets. But piecing together the truth about what happened to her best friend may prove as difficult as lighting the sky in an Alaskan winter…
What books are the worst you've read this year? Let me know if there's any of the ones I've mentioned above in it!
Follow me on BlogLovin'
Goodreads | Instagram | Twitter | Contact Me