Hello bookworms! I'm Nia and today I'm going to be talking about some new releases that I'm really excited for.
First of all, Happy New Year! I can't believe it's 2018 already, wow. There are a lot of new releases coming out this month that I'm super excited to read, so grab a cup of coffee or tea, or whatever you like, because it's going to be a fairly long post. Actually, there are some amazing books coming out this year, and since you guys seem to like these type of posts (I noticed when I did my reading survey), I decided to keep doing them.
And that's pretty much it. I'll be doing a few posts related to some challenges I'll be doing this month along with my goals for this year, but for now, I'll just be talking about book releases.
Without any furhter ado, let's start with the post!
The Cruel Prince | Holly Black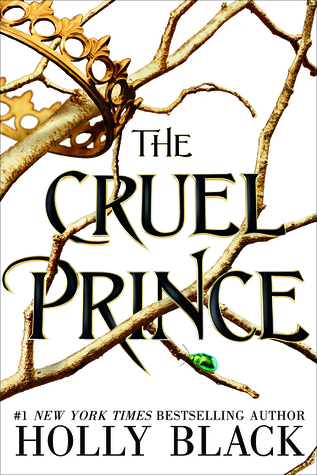 Pub. Date: January 2nd
Jude was seven years old when her parents were murdered and she and her two sisters were stolen away to live in the treacherous High Court of Faerie. Ten years later, Jude wants nothing more than to belong there, despite her mortality. But many of the fey despise humans. Especially Prince Cardan, the youngest and wickedest son of the High King.
To win a place at the Court, she must defy him–and face the consequences.
In doing so, she becomes embroiled in palace intrigues and deceptions, discovering her own capacity for bloodshed. But as civil war threatens to drown the Courts of Faerie in violence, Jude will need to risk her life in a dangerous alliance to save her sisters, and Faerie itself.
Meet Cute | V. V. A. A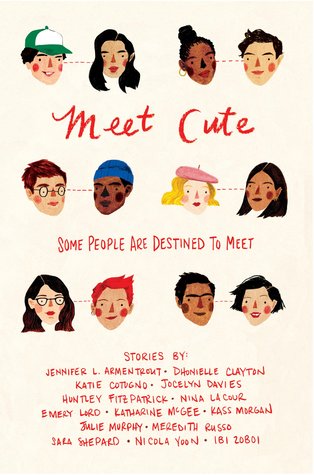 Pub. Date: January 2nd
Whether or not you believe in fate, or luck, or love at first sight, every romance has to start somewhere. MEET CUTE is an anthology of original short stories featuring tales of "how they first met" from some of today's most popular YA authors. 
Readers will experience Nina LaCour's beautifully written piece about two Bay Area girls meeting via a cranky customer service Tweet, Sara Shepard's glossy tale about a magazine intern and a young rock star, Nicola Yoon's imaginative take on break-ups and make-ups, Katie Cotugno's story of two teens hiding out from the police at a house party, and Huntley Fitzpatrick's charming love story that begins over iced teas at a diner. There's futuristic flirting from Kass Morgan and Katharine McGee, a riveting transgender heroine from Meredith Russo, a subway missed connection moment from Jocelyn Davies, and a girl determined to get out of her small town from Ibi Zoboi. Jennifer Armentrout writes a sweet story about finding love from a missing library book, Emery Lord has a heartwarming and funny tale of two girls stuck in an airport, Dhonielle Clayton takes a thoughtful, speculate approach to pre-destined love, and Julie Murphy dreams up a fun twist on reality dating show contestants. 
Batman: Nightwalker | Marie Lu
Pub, Date: January 2nd
Before he was Batman, he was Bruce Wayne. A reckless boy willing to break the rules for a girl who may be his worst enemy.
The Nightwalkers are terrorizing Gotham City, and Bruce Wayne is next on their list.
One by one, the city's elites are being executed as their mansions' security systems turn against them, trapping them like prey. Meanwhile, Bruce is turning eighteen and about to inherit his family's fortune, not to mention the keys to Wayne Enterprises and all the tech gadgetry his heart could ever desire. But after a run-in with the police, he's forced to do community service at Arkham Asylum, the infamous prison that holds the city's most brutal criminals.
Madeleine Wallace is a brilliant killer . . . and Bruce's only hope.
In Arkham, Bruce meets Madeleine, a brilliant girl with ties to the Nightwalkers. What is she hiding? And why will she speak only to Bruce? Madeleine is the mystery Bruce must unravel. But is he getting her to divulge her secrets, or is he feeding her the information she needs to bring Gotham City to its knees? Bruce will walk the dark line between trust and betrayal as the Nightwalkers circle closer.
Busted | Gina Ciocca
Pub. Date: January 2nd
Marisa wasn't planning to be a snoop for hire—until she accidentally caught her best friend's boyfriend making out with another girl. Now her reputation for sniffing out cheaters has spread all over school, and Marisa finds herself the reluctant queen of busting two-timing boys.
But when ex-frenemy Kendall asks her to spy on her boyfriend, TJ, Marisa quickly discovers the girl TJ might be falling for is Marisa herself. And worse yet? The feelings are quickly becoming mutual. Now, she's stuck spying on a "mystery girl" and the spoken-for guy who just might be the love of her life…
Everless | Sara Holland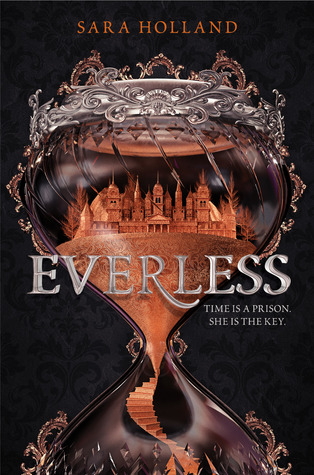 Pub. Date: January 2nd
In the kingdom of Sempera, time is currency—extracted from blood, bound to iron, and consumed to add time to one's own lifespan. The rich aristocracy, like the Gerlings, tax the poor to the hilt, extending their own lives by centuries.
No one resents the Gerlings more than Jules Ember. A decade ago, she and her father were servants at Everless, the Gerlings' palatial estate, until a fateful accident forced them to flee in the dead of night. When Jules discovers that her father is dying, she knows that she must return to Everless to earn more time for him before she loses him forever.
But going back to Everless brings more danger—and temptation—than Jules could have ever imagined. Soon she's caught in a tangle of violent secrets and finds her heart torn between two people she thought she'd never see again. Her decisions have the power to change her fate—and the fate of time itself.
Gunslinger Girls | Lindsay Ely
Pub. Date: January 2nd
Seventeen-year-old Serendipity "Pity" Jones inherited two things from her mother: a pair of six shooters and perfect aim. She's been offered a life of fame and fortune in Cessation, a glittering city where lawlessness is a way of life. But the price she pays for her freedom may be too great….
In this extraordinary debut from Lyndsay Ely, the West is once again wild after a Second Civil War fractures the U.S. into a broken, dangerous land. Pity's struggle against the dark and twisted underbelly of a corrupt city will haunt you long after the final bullet is shot.
Ink | Alice Broadway
Pub. Date: January 2nd
There are no secrets in Saintstone.
From the second you're born, every achievement, every failing, every significant moment are all immortalized on your skin. There are honorable marks that let people know you're trustworthy. And shameful tattoos that announce you as a traitor. 
After her father dies, Leora finds solace in the fact that his skin tells a wonderful story. That is, until she glimpses a mark on the back of his neck…the symbol of the worst crime a person can commit in Saintstone. Leora knows it has to be a mistake, but before she can do anything about it, the horrifying secret gets out, jeopardizing her father's legacy…and Leora's life.
A Conspiracy of Stars | Olivia A. Cole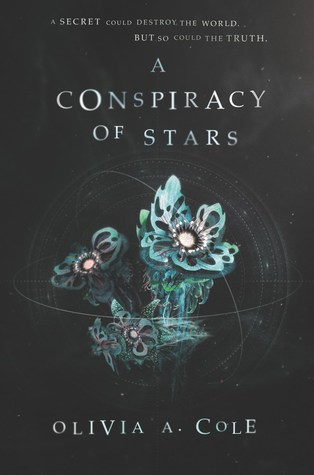 Pub. Date: January 2nd
Octavia has only ever had one goal: to follow in the footsteps of her parents and become a prestigious whitecoat, one of the scientists who study the natural wonders of Faloiv. The secrets of the jungle's exotic plants and animals are protected fiercely in the labs by the Council of N'Terra, so when the rules suddenly change, allowing students inside, Octavia should be overjoyed.
But something isn't right. The newly elected leader of the Council has some extremist views about the way he believes N'Terra should be run, and he's influencing others to follow him. When Octavia witnesses one of the Faloii—the indigenous people of Faloiv—attacked in front of her in the dark of night, she knows the Council is hiding something. They are living in separate worlds on a shared planet, and their fragile peace may soon turn into an all-out war.
With the help of Rondo, a quiet boy in class with a skill for hacking, and her inquisitive best friend, Alma, Octavia is set on a collision course to discover the secrets behind the history she's been taught, the science she's lived by, and the truth about her family.
Love and Other Train Wrecks | Leah Konen
Pub. Date: January 2nd
One train ride. Two strangers.
Noah is a hopeless romantic. He's heading back home for one last chance with his first love, whom he broke up with when he went off to college.
Ammy doesn't believe in true love—her parents being prime examples. She's escaping from a mom who can't take care of her to a dad who may not even want her. That is, until one winter night when Noah and Ammy find themselves in the same Amtrak car heading to Upstate New York.
After a train-wreck first encounter between the two of them, the Amtrak train suddenly breaks down due to a snowstorm. Desperate to make it to their destinations, Noah and Ammy have no other option but to travel together. What starts off as a minor detour turns into the whirlwind journey of a lifetime, and over the course of the night they fall in love. But come morning their adventure takes an unexpected turn for the worst. Can one night can really change how they feel about love…and the course of their lives forever?
The Forgotten Book | Mecthild Gläser
Pub. Date: January 2nd
Emma is used to things going her way. Her father is headmaster of her prestigious boarding school, her friends take her advice as gospel, and she's convinced that a relationship with her long-time crush is on the horizon. 
As it turns out, Emma hasn't seen anything yet. When she finds an old book in an abandoned library, things really start going Emma's way: anything she writes in the book comes true. 
But the power of the book is not without consequences, and Emma soon realizes that she isn't the only one who knows about it. Someone is determined to take it from her—and they'll stop at nothing to succeed.
A new boy in school—the arrogant, aloof, and irritatingly handsome Darcy de Winter—becomes Emma's unlikely ally as secrets are revealed and danger creeps ever closer.
Beneath the Haunting Sea | Joanna Ruth Meyer
Pub. Date: January 9th
Sixteen-year-old Talia was born to a life of certainty and luxury, destined to become Empress of half the world. But when an ambitious rival seizes power, she and her mother are banished to a nowhere province on the far edge of the Northern Sea.
It is here, in the drafty halls of the Ruen-Dahr, that Talia discovers family secrets, a melancholy boy with a troubling vision of her future, and a relic that holds the power of an ancient Star. On these shores, the eerie melody of the sea is stronger than ever, revealing long-forgotten tales of the Goddess Rahn. The more dark truths that Talia unravels about the gods' history—and her own—the more the waves call to her, and it may be her destiny to answer.
Nice Try, Jane Sinner | Lianne Oelke
Pub. Date: January 9th
The only thing 17-year-old Jane Sinner hates more than failure is pity. After a personal crisis and her subsequent expulsion from high school, she's going nowhere fast. Jane's well-meaning parents push her to attend a high school completion program at the nearby Elbow River Community College, and she agrees, on one condition: she gets to move out.
 
Jane tackles her housing problem by signing up for House of Orange, a student-run reality show that is basically Big Brother, but for Elbow River Students. Living away from home, the chance to win a car (used, but whatever), and a campus full of people who don't know what she did in high school… what more could she want? Okay, maybe a family that understands why she'd rather turn to Freud than Jesus to make sense of her life, but she'll settle for fifteen minutes in the proverbial spotlight.
 
As House of Orange grows from a low-budget web series to a local TV show with fans and shoddy T-shirts, Jane finally has the chance to let her cynical, competitive nature thrive. She'll use her growing fan base, and whatever Intro to Psychology can teach her, to prove to the world—or at least viewers of substandard TV—that she has what it takes to win.
Unearthed | Amy Kaufman & Meagan Spooner
Pub. Date: January 9th
When Earth intercepts a message from a long-extinct alien race, it seems like the solution the planet has been waiting for. The Undying's advanced technology has the potential to undo environmental damage and turn lives around, and Gaia, their former home planet, is a treasure trove waiting to be uncovered.
For Jules Addison and his fellow scholars, the discovery of an alien culture offers unprecedented opportunity for study… as long as scavengers like Amelia Radcliffe don't loot everything first. Mia and Jules' different reasons for smuggling themselves onto Gaia put them immediately at odds, but after escaping a dangerous confrontation with other scavvers, they form a fragile alliance.
In order to penetrate the Undying temple and reach the tech and information hidden within, the two must decode the ancient race's secrets and survive their traps. But the more they learn about the Undying, the more their presence in the temple seems to be part of a grand design that could spell the end of the human race…
Truly Devious | Maureen Johnson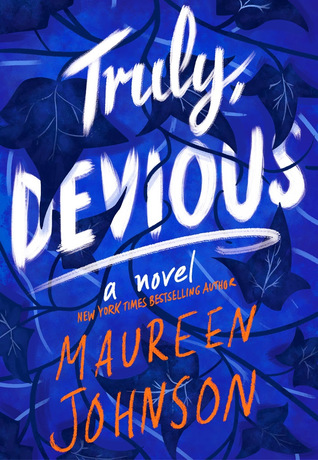 Pub. Date: January 16th
Ellingham Academy is a famous private school in Vermont for the brightest thinkers, inventors, and artists. It was founded by Albert Ellingham, an early twentieth century tycoon, who wanted to make a wonderful place full of riddles, twisting pathways, and gardens. "A place," he said, "where learning is a game."
Shortly after the school opened, his wife and daughter were kidnapped. The only real clue was a mocking riddle listing methods of murder, signed with the frightening pseudonym "Truly, Devious." It became one of the great unsolved crimes of American history.
True-crime aficionado Stevie Bell is set to begin her first year at Ellingham Academy, and she has an ambitious plan: She will solve this cold case. That is, she will solve the case when she gets a grip on her demanding new school life and her housemates: the inventor, the novelist, the actor, the artist, and the jokester. But something strange is happening. Truly Devious makes a surprise return, and death revisits Ellingham Academy. The past has crawled out of its grave. Someone has gotten away with murder.
Zenith | Sasha Alsberg & Lindsay Cummings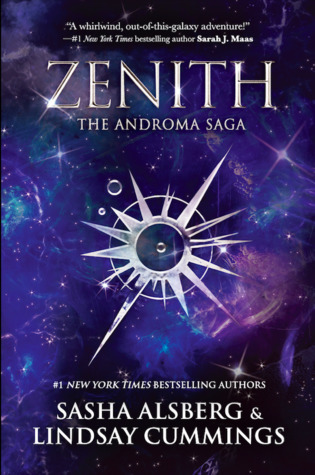 Pub. Date: January 16th
Most know Androma Racella as the Bloody Baroness, a powerful mercenary whose reign of terror stretches across the Mirabel Galaxy. To those aboard her glass starship, Marauder, however, she's just Andi, their friend and fearless leader.
But when a routine mission goes awry, the Marauder's all-girl crew is tested as they find themselves in a treacherous situation and at the mercy of a sadistic bounty hunter from Andi's past.
Meanwhile, across the galaxy, a ruthless ruler waits in the shadows of the planet Xen Ptera, biding her time to exact revenge for the destruction of her people. The pieces of her deadly plan are about to fall into place, unleashing a plot that will tear Mirabel in two.
Andi and her crew embark on a dangerous, soul-testing journey that could restore order to their shipor just as easily start a war that will devour worlds. As the Marauder hurtles toward the unknown, and Mirabel hangs in the balance, the only certainty is that in a galaxy run on lies and illusion, no one can be trusted.
Love, Hate & Other Filters | Samira Ahmed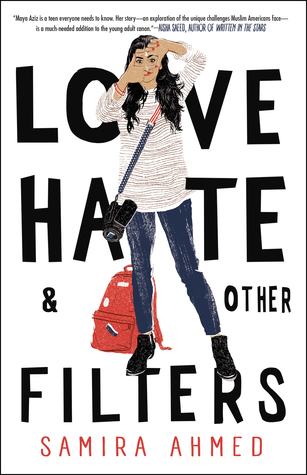 Pub. Date: January 16th
American-born seventeen-year-old Maya Aziz is torn between worlds. There's the proper one her parents expect for their good Indian daughter: attending a college close to their suburban Chicago home, and being paired off with an older Muslim boy her mom deems "suitable." And then there is the world of her dreams: going to film school and living in New York City—and maybe (just maybe) pursuing a boy she's known from afar since grade school, a boy who's finally falling into her orbit at school.
There's also the real world, beyond Maya's control. In the aftermath of a horrific crime perpetrated hundreds of miles away, her life is turned upside down. The community she's known since birth becomes unrecognizable; neighbors and classmates alike are consumed with fear, bigotry, and hatred. Ultimately, Maya must find the strength within to determine where she truly belongs.
Markswoman | Rati Mehrotra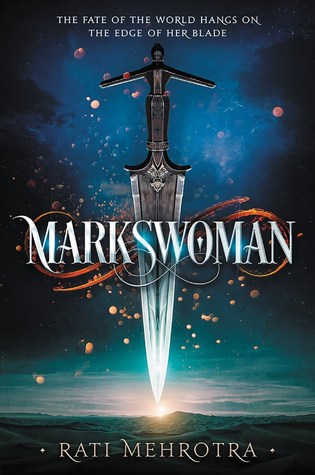 Pub. Date: January 23rd
Kyra is the youngest Markswoman in the Order of Kali, a highly trained sisterhood of elite warriors armed with telepathic blades. Guided by a strict code of conduct, Kyra and the other Orders are sworn to protect the people of Asiana. But to be a Markswoman, an acolyte must repudiate her former life completely. Kyra has pledged to do so, yet she secretly harbors a fierce desire to avenge her dead family.
When Kyra's beloved mentor dies in mysterious circumstances, and Tamsyn, the powerful, dangerous Mistress of Mental Arts, assumes control of the Order, Kyra is forced on the run. Using one of the strange Transport Hubs that are remnants of Asiana's long-lost past, she finds herself in the unforgiving wilderness of desert that is home to the Order of Khur, the only Order composed of men. Among them is Rustan, a young, disillusioned Marksman whom she soon befriends.
Kyra is certain that Tamsyn committed murder in a twisted bid for power, but she has no proof. And if she fails to find it, fails in her quest to keep her beloved Order from following Tamsyn down a dark path, it could spell the beginning of the end for Kyra–and for Asiana.
But what she doesn't realize is that the line between justice and vengeance is razor thin . . . thin as the blade of a knife.
Reign of The Fallen | Sarah Glenn Marsh
Pub. Date: January 23rd
Odessa is one of Karthia's master necromancers, catering to the kingdom's ruling Dead. Whenever a noble dies, it's Odessa's job to raise them by retrieving their souls from a dreamy and dangerous shadow world called the Deadlands. But there is a cost to being raised–the Dead must remain shrouded, or risk transforming into zombie-like monsters known as Shades. If even a hint of flesh is exposed, the grotesque transformation will begin.
A dramatic uptick in Shade attacks raises suspicions and fears among Odessa's necromancer community. Soon a crushing loss of one of their own reveals a disturbing conspiracy: someone is intentionally creating Shades by tearing shrouds from the Dead–and training them to attack. Odessa is faced with a terrifying question: What if her necromancer's magic is the weapon that brings Karthia to its knees? 
The Defiant | Lesley Livingston
Pub, Date: January 23rd
Fallon was warned.
Now she is about to pay the price for winning the love of the Roman people as Caesar's victorious gladiatrix.
In this highly anticipated sequel to THE VALIANT, Fallon and her warrior sisters find themselves thrust into a vicious conflict with a rival gladiator academy, one that will threaten not only Fallon's heart – and her love for Roman soldier Cai – but the very heart of the ancient Roman Empire.
When dark treachery and vicious power struggles threaten her hard-won freedom, the only thing that might help the girl known as Victrix save herself and her sisters is a tribe of long-forgotten mythic Amazon warriors.
The only trouble is, they might just kill her themselves first.
The Hazel Wood | Melissa Albert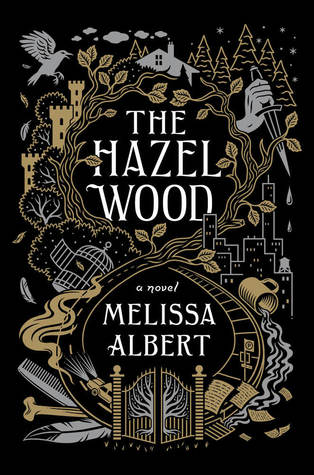 Pub. Date: January 30th
Seventeen-year-old Alice and her mother have spent most of Alice's life on the road, always a step ahead of the uncanny bad luck biting at their heels. But when Alice's grandmother, the reclusive author of a cult-classic book of pitch-dark fairy tales, dies alone on her estate, the Hazel Wood, Alice learns how bad her luck can really get: Her mother is stolen away―by a figure who claims to come from the Hinterland, the cruel supernatural world where her grandmother's stories are set. Alice's only lead is the message her mother left behind: "Stay away from the Hazel Wood."
Alice has long steered clear of her grandmother's cultish fans. But now she has no choice but to ally with classmate Ellery Finch, a Hinterland superfan who may have his own reasons for wanting to help her. To retrieve her mother, Alice must venture first to the Hazel Wood, then into the world where her grandmother's tales began―and where she might find out how her own story went so wrong. 
Winner Take All | Laurie Devore
Pub. Date: January 30th
For Nell Becker, life is a competition she needs to win.
For Jackson Hart, everyone is a pawn in his own game.
They both have everything to lose.
Nell wants to succeed at everything—school, sports, life. And victory is sweeter when it means beating Jackson Hart, the rich, privileged, undisputed king of Cedar Woods Prep Academy. Yet no matter how hard she tries, Jackson is somehow one step ahead. They're a match made in hell, but opposites do attract.
Drawn to each other by their rivalry, Nell and Jackson fall into a whirlwind romance that consumes everything in their lives. But when a devastating secret exposes their relationship as just another game, how far will Nell go to win?
S. T. A. G. S. | M. E. Bennet
Pub. Date: January 30th
There's no point hunting if there's no kill.
At St. Aidan the Great School, or S.T.A.G.S., new things–and new people–are to be avoided. Unfortunately, Greer MacDonald, token scholarship student, is very much a new person. She has just transferred to S.T.A.G.S., and finds herself ignored at best and mocked at worst by the school's most admired circle of friends, the Medievals.
So imagine Greer's surprise when this very group invites her to an exclusive weekend retreat at the private estate of the parents of their unofficial leader, Henry de Warlencourt. It's billed as a weekend of "huntin' shootin' fishin'," and rumor has it that the invitee who most impresses the group will be given the privilege of becoming a Medieval themselves.
As the weekend begins to take shape, however, it becomes apparent that beyond the luxurious trappings–the fancy clothes the maid lays out on Greer's bed, the elaborate multicourse dinners held in the Great Hall–there are predators lurking, and they're out for blood. . . . 
Reign The Earth | A. C. Gaughen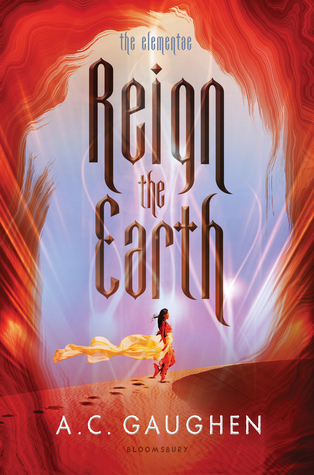 Pub. Date: January 30th
Shalia is a proud daughter of the desert, but after years of devastating war with the adjoining kingdom, her people are desperate for peace. Willing to trade her freedom to ensure the safety of her family, Shalia becomes Queen of the Bonelands.
But she soon learns that her husband, Calix, is motivated only by his desire to exterminate the Elementae—mystical people who can control earth, wind, air, and fire. Even more unsettling are Shalia's feelings for her husband's brother, which unleash a power over the earth she never knew she possessed—a power that could get her killed. As rumors of a rebellion against Calix spread, Shalia must choose between the last chance for peace and her own future as an Elementae.
The Dangerous Art of Blending In | Angelo Surmelis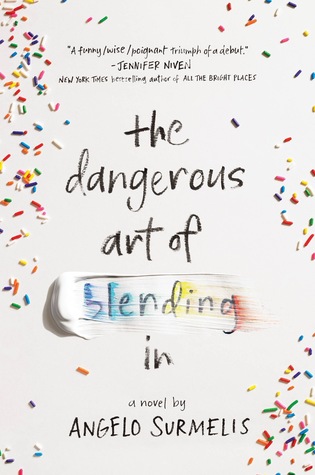 Pub. Date: January 30th
Seventeen-year-old Evan Panos doesn't know where he fits in. His strict Greek mother refuses to see him as anything but a disappointment. His quiet, workaholic father is a staunch believer in avoiding any kind of conflict. And his best friend Henry has somehow become distractingly attractive over the summer. 
Tired, isolated, scared—Evan's only escape is drawing in an abandoned church that feels as lonely as he is. And, yes, he kissed one guy over the summer. But it's his best friend Henry who's now proving to be irresistible. It's Henry who suddenly seems interested in being more than friends. And it's Henry who makes him believe that he's more than his mother's harsh words and terrifying abuse. But as things with Henry heat up, and his mother's abuse escalates, Evan has to decide how to find his voice in a world where he has survived so long by avoiding attention at all costs.
Say You'll Remember Me | Katie McGarry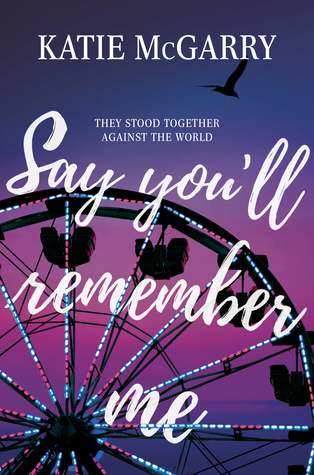 Pub. Date: January 30th
When Drix was convicted of a crime–one he didn't commit–he thought his life was over. But opportunity came with the new Second Chance Program, the governor's newest pet project to get delinquents off the streets, rehabilitated and back into society. Drix knows this is his chance to get his life back on track, even if it means being paraded in front of reporters for a while.
Elle knows she lives a life of privilege. As the governor's daughter, she can open doors with her name alone. But the expectations and pressure to be someone she isn't may be too much to handle. She wants to follow her own path, whatever that means.
When Drix and Elle meet, their connection is immediate, but so are their problems. Drix is not the type of boy Elle's parents have in mind for her, and Elle is not the kind of girl who can understand Drix's messy life.
But sometimes love can breach all barriers.
Fighting against a society that can't imagine them together, Drix and Elle must push themselves–Drix to confront the truth of the robbery, and Elle to assert her independence–and each other to finally get what they deserve.
What new releases are you most excited for? Let me know if you have read any of the books I've mentioned already or if you have it on your TBR!
Follow me on BlogLovin'
Goodreads | Instagram | Twitter | Contact Me