Hello bookworms! I'm Nia and today I'm going to be talking about my favourite contemporary books of 2017!
I can now officially say that I've read a total of 163 books this past year, so even though I've had a few disappointments in my reading journey, it's true that there'd been also really amazing books that I've adored. I've already posted my Favourite Fantasy Books, so in this one I'm going to be talking about contemporary books. This category includes thrillers and mysteries, mental health and romance.
Without any further ado, let's start with this week's topic!
This is Our Story | Ashley Elston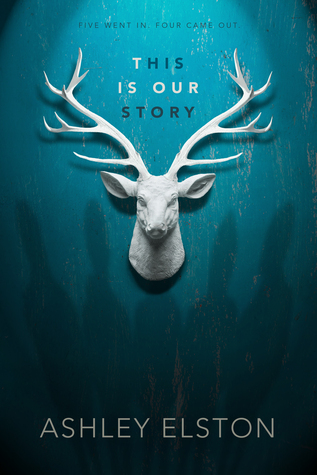 My thoughts: This is one of the first books that made me realise I loved mystery/thriller books. I picked it up at the beginning of the year and I absolutely adored it. Not only the premise sounded amazing, but the actual book was really well done, and it kept me guessing until the very end. I remember that when I read this books I was obsessed with How to Get Away with Murder, and though this had almost nothing to do with the show, it still satisfied my tastes. The characters were so interesting despite everything, and I really liked the romance. It has a special place in my heart, because it was the first mystery novel I read, and I was hooked.
No one knows what happened that morning at River Point. Five boys went hunting. Four came back. The boys won't say who fired the shot that killed their friend; the evidence shows it could have been any one of them. 
Kate Marino's senior year internship at the district attorney's office isn't exactly glamorous—more like an excuse to leave school early that looks good on college applications. Then the DA hands her boss, Mr. Stone, the biggest case her small town of Belle Terre has ever seen. The River Point Boys are all anyone can talk about. Despite their damning toxicology reports the morning of the accident, the DA wants the boys' case swept under the rug. He owes his political office to their powerful families.
Kate won't let that happen. Digging up secrets without revealing her own is a dangerous line to walk; Kate has her own reasons for seeking justice for Grant. As she investigates with Stone, the aging prosecutor relying on Kate to see and hear what he cannot, she realizes that nothing about the case—or the boys—is what it seems. Grant wasn't who she thought he was, and neither is Stone's prime suspect. As Kate gets dangerously close to the truth, it becomes clear that the early morning accident might not have been an accident at all—and if Kate doesn't uncover the true killer, more than one life could be on the line…including her own.
The Female of The Species | Mindy McGinnis
My thoughts: I can't believe I read this book this past year. I thought it was a bit longer since I did, to be honest. As you'll probably know by not shutting up talking about this book, I loved it to pieces. It broke my heart, it made cry and I absolutely love Alex as a main character. She was completely different from eveyrthing I've read before, that made me immediately like her. It was a very powerful read that talked about rape culture, animal cruelty and feminism, and it was fantastic. I totally recommend it, if you haven't read it yet.
Alex Craft knows how to kill someone. And she doesn't feel bad about it.
Three years ago, when her older sister, Anna, was murdered and the killer walked free, Alex uncaged the language she knows best—the language of violence. While her own crime goes unpunished, Alex knows she can't be trusted among other people. Not with Jack, the star athlete who wants to really know her but still feels guilty over the role he played the night Anna's body was discovered. And not with Peekay, the preacher's kid with a defiant streak who befriends Alex while they volunteer at an animal shelter. Not anyone.
As their senior year unfolds, Alex's darker nature breaks out, setting these three teens on a collision course that will change their lives forever.
Infini | Krista & Becca Ritchie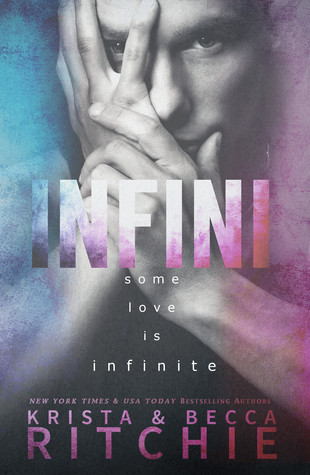 My thoughts: This was such a sweet and adorable read. Though I really enjoyed the previous book, this was my favourite without any doubt. I love anything that has to do with carnivals or circuses, and this one, even though it was a contemporary romance, it was like reading about Le Cirque du Soleil, which was amazing. I adored the characters and the whole story, and I really hope they'll continue publishing more books, because I'll pick them up and devour them.
"Don't have a best friend that's a girl" — this was the advice from my older cousin. I didn't take it. Because he followed with, "friends don't f*ck friends. And you'll want to f*ck her."
It was terrible advice. 
My cousin should've told me that being best friends with Baylee Wright — since she was twelve — would be the best and worst decision of my life. 
He should have told me to protect her from what was coming. 
He should have told me that when a darkness crawled towards us, there'd be no safety net. 
Now I've signed back on to the same Vegas acrobatic show as Baylee, working together for the first time in years. And she tells me that she's having trouble in a certain "area" of her life — because of our past. 
"You can help me fix it," she says.
And then she hands me a list.
Made You Up | Francesca Zappia
My thoughts: This was the first Francesca Zappia book I've read, and I really enjoyed it, hence why it's in this list. I found the story really interesting and beautiful, and I loved reading from Alex's perspective, because she was a very unreliable narrator. It had a very mind blowing ending that took me completely by surprise, but overall I really loved the whole story and the interactions between the characters in the book.
I have a review of this book here.
Alex fights a daily battle to figure out the difference between reality and delusion. Armed with a take-no-prisoners attitude, her camera, a Magic 8-Ball, and her only ally (her little sister), Alex wages a war against her schizophrenia, determined to stay sane long enough to get into college. She's pretty optimistic about her chances until classes begin, and she runs into Miles. Didn't she imagine him? Before she knows it, Alex is making friends, going to parties, falling in love, and experiencing all the usual rites of passage for teenagers. But Alex is used to being crazy. She's not prepared for normal. 
Dangeous Girls | Abigail Haas
My thoughts: Okay, I feel I need to say this before talking about this book. It was a bit predictable to me. I knew who the murderer was since chapter three. Nonetheless, it was such a great story and I absolutely devoured it. I think, despite being a bit predictable to me, that it was such a good psicological thriller, and I really enjoyed everything about this book, so that's why it's one of my favourites despite not being as shocking to me as it could have been to someone else.
I have a review of this book here.
It's Spring Break of senior year. Anna, her boyfriend Tate, her best friend Elise, and a few other close friends are off on a debaucherous trip to Aruba that promises to be the time of their lives. But when Elise is found brutally murdered, Anna finds herself trapped in a country not her own, fighting against vile and contemptuous accusations.
As Anna sets out to find her friend's killer, she discovers hard truths about her friendships, the slippery nature of truth, and the ache of young love.
As she awaits the judge's decree, it becomes clear that everyone around her thinks she is not just guilty, but dangerous. When the truth comes out, it is more shocking than one could ever imagine… 
The Naturals | Jennifer Lynn Barnes
My thoughts: You knew this was coming… I don't know what can I say about these books that I haven't already tell you. I feel like I've been constantly talking about them and my love for them, so this is going to be a bit short. They were amazing, and I really need more books in the series, or at least a spin-off.
I have a review of The Naturals, Killer Instinct, All In and Bad Blood.
Seventeen-year-old Cassie is a natural at reading people. Piecing together the tiniest details, she can tell you who you are and what you want. But it's not a skill that she's ever taken seriously. That is, until the FBI come knocking: they've begun a classified program that uses exceptional teenagers to crack infamous cold cases, and they need Cassie.
What Cassie doesn't realize is that there's more at risk than a few unsolved homicides—especially when she's sent to live with a group of teens whose gifts are as unusual as her own. Sarcastic, privileged Michael has a knack for reading emotions, which he uses to get inside Cassie's head—and under her skin. Brooding Dean shares Cassie's gift for profiling, but keeps her at arm's length.
Soon, it becomes clear that no one in the Naturals program is what they seem. And when a new killer strikes, danger looms closer than Cassie could ever have imagined. Caught in a lethal game of cat and mouse with a killer, the Naturals are going to have to use all of their gifts just to survive.
What I Lost | Alexandra Ballard
My thoughts: Boy, oh boy, how much I adored this book. It was a very tough read, but still it was so worth it. I immediately connected with our main character, since I myself had an eating disorder years ago, so it was kind of a personal book to me. It had an amazing representation, and I really loved that it focused purely on recovery instead of telling us a story about her life with her eating disorder. That made the story more unique and different. I just loved Elizabeth's journey and her interactions with the other girls at the center, and the whole love story. It was such a good book, and if you're looking for a novel like this, I totally recommend it.
I have a review of this book here.
What sixteen-year-old Elizabeth has lost so far: forty pounds, four jean sizes, a boyfriend, and her peace of mind. As a result, she's finally a size zero. She's also the newest resident at Wallingfield, a treatment center for girls like her—girls with eating disorders. Elizabeth is determined to endure the program so she can go back home, where she plans to start restricting her food intake again. She's pretty sure her mom, who has her own size 0 obsession, needs treatment as much as she does. Maybe even more. Then Elizabeth begins receiving mysterious packages. Are they from her ex-boyfriend, a secret admirer, or someone playing a cruel trick?
Far From You | Tess Sharpe
My thoughts: This book was nothing like I imagined. First of all, I thought it wasn't going to be a mystery, but once I knew about it I immediately read it. And I really enjoyed it. It was such a beautiful and heartbreaking love story, and I have to say I'm sad we didn't get more romance in it, because Sophie and Mina were so cute. I think it was a really good mystery, because I didn't fully predicted who killed Mina, so kudos to that. Overall, it was a very interesting and powerful story.
I have a review of this book here.
Nine months. Two weeks. Six days.
That's how long recovering addict Sophie's been drug-free. Four months ago her best friend, Mina, died in what everyone believes was a drug deal gone wrong – a deal they think Sophie set up. Only Sophie knows the truth. She and Mina shared a secret, but there was no drug deal. Mina was deliberately murdered.
Forced into rehab for an addiction she'd already beaten, Sophie's finally out and on the trail of the killer—but can she track them down before they come for her?
Eliza and Her Monsters | Francesca Zappia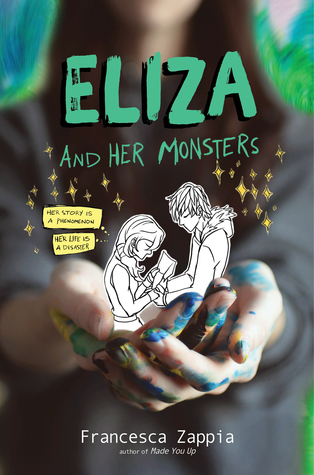 My thoughts: This book was amazing. I loved that not only one story line, but two. You're following Eliza and her life at high school, but also the comic that she was writing. There were some amazing illustrations throughout the book, and I really liked that the main character was an art geek, and had a passion for drawing. It was such a cute and adorable read, and I think Wallace was an amazing character, as well.
I have a review of this book here.
In the real world, Eliza Mirk is shy, weird, and friendless. Online, she's LadyConstellation, the anonymous creator of the wildly popular webcomic Monstrous Sea. Eliza can't imagine enjoying the real world as much as she loves the online one, and she has no desire to try.
Then Wallace Warland, Monstrous Sea's biggest fanfiction writer, transfers to her school. Wallace thinks Eliza is just another fan, and as he draws her out of her shell, she begins to wonder if a life offline might be worthwhile.
But when Eliza's secret is accidentally shared with the world, everything she's built—her story, her relationship with Wallace, and even her sanity—begins to fall apart.
What are the best books you've read in 2017? Do you have any of the ones I've mentioned on your TBR? Let me know if you've read them and what you thought about them!
Follow me on BlogLovin'
Goodreads | Instagram | Twitter | Contact Me