Hello bookworms! I'm Nia and today I'm going to be talking about the books I've read last month.
December was an amazing reading month for me. I don't know if it was because of the holidays or what, but I ended up reading a total of 19 books, which is crazy! I think I've never read that many books in a month, so I'm so happy that I did it!
I have to say there were some I really enjoyed and others that weren't as good as I thought they would be.
But without any further ado, let's start with this post!
By a Charm And a Curse | Jaime Questell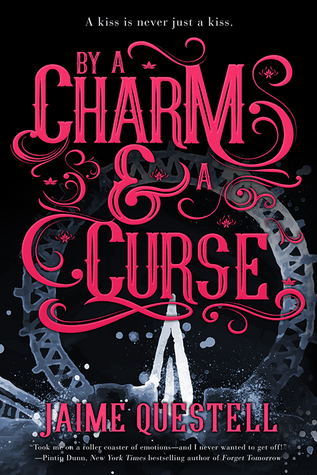 ⭐️⭐️⭐️.5
My thoughts: I have a review of this book, so click here if you want to know my thoughts about it.
Le Grand's Carnival Fantastic isn't like other traveling circuses. It's bound by a charm, held together by a centuries-old curse, that protects its members from ever growing older or getting hurt. Emmaline King is drawn to the circus like a moth to a flame…and unwittingly recruited into its folds by a mysterious teen boy whose kiss is as cold as ice.
Forced to travel through Texas as the new Girl in the Box, Emmaline is completely trapped. Breaking the curse seems like her only chance at freedom, but with no curse, there's no charm, either—dooming everyone who calls the Carnival Fantastic home. Including the boy she's afraid she's falling for. 
Everything—including his life—could end with just one kiss.

Exquisite Captive | Heather Demetrios
⭐️⭐️⭐️.5
My thoughts: I have a review of this book, so click here if you want to know my thoughts about it.
Forced to obey her master.
Compelled to help her enemy.
Determined to free herself. 
Nalia is a jinni of tremendous ancient power, the only survivor of a coup that killed nearly everyone she loved. Stuffed into a bottle and sold by a slave trader, she's now in hiding on the dark caravan, the lucrative jinni slave trade between Arjinna and Earth, where jinn are forced to grant wishes and obey their human masters' every command. She'd give almost anything to be free of the golden shackles that bind her to Malek, her handsome, cruel master, and his lavish Hollywood lifestyle.
Enter Raif, the enigmatic leader of Arjinna's revolution and Nalia's sworn enemy. He promises to free Nalia from her master so that she can return to her ravaged homeland and free her imprisoned brother—all for an unbearably high price. Nalia's not sure she can trust him, but Raif's her only hope of escape. With her enemies on the hunt, Earth has become more perilous than ever for Nalia. There's just one catch: for Raif's unbinding magic to work, Nalia must gain possession of her bottle…and convince the dangerously persuasive Malek that she truly loves him. Battling a dark past and harboring a terrible secret, Nalia soon realizes her freedom may come at a price too terrible to pay: but how far is she willing to go for it?
Thicker Than Water | Bridig Kemmerer
⭐️.25
My thoughts: I did not like this book. At all. I was super excited to read it, because the premise sounded really great, and I thought it was going to be a great mystery/thriller. The beginning wasn't that bad; the characters weren't that unique or special, but there was a bit of a mystery and it made me want to keep reading it.
However, as I reached the half mark, things started to go downhill. There were some revelations that made me completely dislike the book, mostly because there were too convinient. One of my problems was that I thought it was going to be a contemporary book, and it had some weird fantasy elements in it that made the book entirely predictable to me once they came out.
I wasn't the biggest fan of the characters, either. The romance was quite fast, and the characters weren't that remarkable to me. And I completely disliked Charlotte's family, so… yeah.
It had an interesting concept, but it wasn't done well, and since it was so predictable to me, I had a not so great experience reading it.
Thomas Bellweather hasn't been in town long. Just long enough for his newlywed mother to be murdered, and for his new stepdad's cop colleagues to decide Thomas is the primary suspect.
Not that there's any evidence. But before Thomas got to Garretts Mill there had just been one other murder in twenty years. 
The only person who believes him is Charlotte Rooker, little sister to three cops and, with her soft hands and sweet curves, straight-up dangerous to Thomas. Her best friend was the other murder vic. And she'd like a couple answers.
Answers that could get them both killed, and reveal a truth Thomas would die to keep hidden…
The Midnight Dance | Nikki Katz
⭐️.5
My thoughts: I have a review of this book, so click here in case you want to know my thoughts about it.
When the music stops, the dance begins.
Seventeen-year-old Penny is a lead dancer at the Grande Teatro, a finishing school where she and eleven other young women are training to become the finest ballerinas in Italy. Tucked deep into the woods, the school is overseen by the mysterious and handsome young Master who keeps the girls ensconced in the estate – and in the only life Penny has never known.
But when flashes of memories, memories of a life very different from the one she thinks she's been leading, start to appear, Penny begins to question the Grand Teatro and the motivations of the Master. With a kind and attractive kitchen boy, Cricket, at her side, Penny vows to escape the confines of her school and the strict rules that dictate every step she takes. But at every turn, the Master finds a way to stop her, and Penny must find a way to escape the school and uncover the secrets of her past before it's too late.
Pretty Dead Girls | Monica Murphy
⭐️⭐️⭐️.5
My thoughts: I have a review of this book, so click hereif you want to know my thoughts about it.
Beautiful. Perfect. Dead.
In the peaceful seaside town of Cape Bonita, wicked secrets and lies are hidden just beneath the surface. But all it takes is one tragedy for them to be exposed.
The most popular girls in school are turning up dead, and Penelope Malone is terrified she's next. All the victims so far have been linked to Penelope—and to a boy from her physics class. The one she's never really noticed before, with the rumored dark past and a brooding stare that cuts right through her.
There's something he isn't telling her. But there's something she's not telling him, either.
Everyone has secrets, and theirs might get them killed.
Atheists Who Kneel and Pray | Tarryn Fisher
⭐️⭐️⭐️⭐️
My thoughts: I really enjoyed this book. It was the first Tarryn Fisher's book I decided to pick it up, and I have to say it made me want to read more of her books. It was a much more darker contemporary, and to be honest, it was full of drama and heartbreak, but it was exactly what I needed.
It had a very unlikeable protagonist. It was really easy to hate her, but it did the completely opposite to me. Though she didn't make the greatest choices, I understood her and she seemed a very real character to me. I connected with this protagonist's experiences throughout the story.
Also there was a very angsty romance in this book, and you know how much I love those. The whole book basically explained to us what went wrong in their relationship, and why. It's true that there were some problematic elements throughout the book, such as that main character's posessiveness over the love interest, and how mean she was with another girl in the story (even though the woman wasn't the best person in the world and didn't do good things), but still I was a bit disappointed to read that, and that made me lower my rating a bit.
Yara Phillips is a wandering muse.
She dates men who need her, but always moves on to something new, never staying in one place for very long.
David Lisey is in need of a muse.
A talented musician lacking lyrical inspiration. When he first sees her, he knows he's found what he's been looking for.
Yara believes she can give David exactly what he needs to reach his full potential:
A broken heart.
David's religion is love. 
Yara's religion is heartache.
Neither is willing to surrender, but religion always requires sacrifice.
Rosemarked | Livia Blackbourne
⭐️⭐️⭐️⭐️.25
My thoughts: I have a review of this book, so click hereif you want to know my thoughts about it.
A healer who cannot be healed . . .
When Zivah falls prey to the deadly rose plague, she knows it's only a matter of time before she fully succumbs. Now she's destined to live her last days in isolation, cut off from her people and unable to practice her art—until a threat to her village creates a need that only she can fill.
A soldier shattered by war . . .
Broken by torture at the hands of the Amparan Empire, Dineas thirsts for revenge against his captors. Now escaped and reunited with his tribe, he'll do anything to free them from Amparan rule—even if it means undertaking a plan that risks not only his life but his very self.
Thrust together on a high-stakes mission to spy on the capital, the two couldn't be more different: Zivah, deeply committed to her vow of healing, and Dineas, yearning for vengeance. But as they grow closer, they must find common ground to protect those they love. And amidst the constant fear of discovery, the two grapple with a mutual attraction that could break both of their carefully guarded hearts.
Harry Potter & The Prisoner of Azkaban | J. K. Rowling
⭐️⭐️⭐️⭐️⭐️
My thoughts: I adored this book so so much. I have to do a ranking after finishing the series, but so far this is my favourite Harry Potter book. I don't know why, but I devoured it. I did exactly the same as I did with the other two; after finishing this book I watched the movie, and it was such a great experience.
I loved Remus so much. I liked him in the movies, he was such a cool teacher and a very honorable person, but the book created a halo of fragility about him that made me want to hug young Lupin a few times.
Also, I enjyoed the time turner scenes, they were so much fun. They weren't as action packed, but I still loved the whole book, and I cannot wait to re-read it again.
"Welcome to the Knight Bus, emergency transportation for the stranded witch or wizard. Just stick out your wand hand, step on board and we can take you anywhere you want to go."
When the Knight Bus crashes through the darkness and screeches to a halt in front of him, it's the start of another far from ordinary year at Hogwarts for Harry Potter. Sirius Black, escaped mass-murderer and follower of Lord Voldemort, is on the run – and they say he is coming after Harry. In his first ever Divination class, Professor Trelawney sees an omen of death in Harry's tea leaves… But perhaps most terrifying of all are the Dementors patrolling the school grounds, with their soul-sucking kiss…
Here We Are Now | Jasmine Warga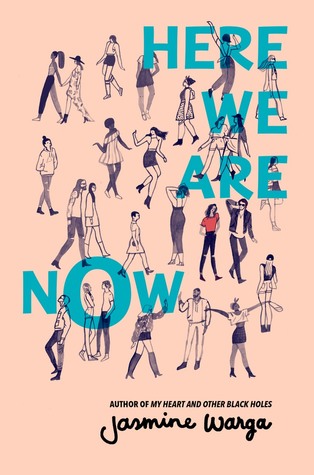 ⭐️⭐️⭐️.5
My thoughts: I have a review of this book, so click here if you want to know my thoughts about it.
Despite sending him letters ever since she was thirteen, Taliah Abdallat never thought she'd ever really meet Julian Oliver. But one day, while her mother is out of the country, the famed rock star from Staring Into the Abyss shows up on her doorstep. This makes sense – kinda – because Julian Oliver is Taliah's father, even though her mother would never admit it to her.
Julian asks if Taliah if she will drop everything and go with him to his hometown of Oak Falls, Indiana, to meet his father – her grandfather – who is nearing the end of his life. Taliah, torn between betraying her mother's trust and meeting the family she has never known, goes.
With her best friend Harlow by her side, Taliah embarks on a three-day journey to find out everything about her 'father' and her family. But Julian isn't the father Taliah always hoped for, and revelations about her mother's past are seriously shaking her foundation. Through all these new experiences, Taliah will have to find new ways to be true to herself, honoring her past and her future.
Smut | Karina Hale
⭐️⭐️⭐️.25
My thoughts: I picked this book on a whim because I wanted something light and easy to read, and since I'd heard really good things about it, I decided to go for it. And I have to say I overall had so much fun reading it. It wasn't the best book in the world, but it was a light, fluffy read, and still enjoyable.
Both of the main characters were writers, and though it was more a romance book than anything else, it was very focused on the writing as well. The romance I have to say happened a bit suddenly, because in one scene they were hating each other's guts and in the next one they were oh, so in love. But oh, boy… They had chemistry. Even though the romance was really fast, you could still feel that tension between them.
Something I really liked was that it had a very sarcastic tune sometimes, and I laughed out loud while I was reading some scenes because they were hilarious.
What happens when the kink between the pages leads to heat between the sheets?
All Blake Crawford wants is to pass his creative writing course, get his university degree, and take over his dad's ailing family business. What Amanda Newland wants is to graduate at the top of her class, as well as finally finish her novel and prove to her family that writing is a respectful career.
What Blake and Amanda don't want is to be paired up with each other for their final project, but that's exactly what they both get when they're forced to collaborate on a writing piece. Since Amanda thinks Blake is a pushy asshole (with a panty-melting smirk and British accent) and Blake thinks Amanda has a stick up her ass (though it's a brilliant ass), they fight tooth and nail until they discover they write well together. They also may find each other really attractive, but that's neither here nor there.
When their writing project turns out to be a success, the two of them decide to start up a secret partnership using a pen name, infiltrating the self-publishing market in the lucrative genre of erotica. Naturally, with so much heat and passion between the pages, it's not long before their dirty words become a dirty reality. Sure, they still fight a lot, but at least there's make-up sex now.
But even as they start to fall hard for each other, will their burgeoning relationship survive if their scandalous secret is exposed? Or are happily-ever-afters just a work of fiction?
The Girl In 6E | A. R. Torre
⭐️⭐️⭐️⭐️
My thoughts: I have a review of this book, so click here if you want to know my thoughts about it.
I haven't touched a human in three years. That seems like it would be a difficult task, but it's not. Not anymore, thanks to the internet.
I am, quite possibly, the most popular recluse ever. Not many shut-ins have a 200-member fan club, a bank account in the seven-figure range, and hundreds of men lining up to pay for undivided attention.
They get satisfaction, I get a distraction. Their secret desires are nothing compared to why I hide… my lust for blood, my love of death.
Taking their money is easy. Keeping all these secrets… one is bound to escape.
What if you hid yourself away because all you could think of was killing? And what if one girl's life depending on you venturing into society?
A Line In The Dark | Malinda Lo
⭐️⭐️.5
My thoughts: I have a review of this book, so click here if you want to know my thoughts about it.
Jess Wong is Angie Redmond's best friend. And that's the most important thing, even if Angie can't see how Jess truly feels. Being the girl no one quite notices is OK with Jess anyway. While nobody notices her, she's free to watch everyone else. But when Angie begins to fall for Margot Adams, a girl from the nearby boarding school, Jess can see it coming a mile away. Suddenly her powers of observation are more curse than gift.
As Angie drags Jess further into Margot's circle, Jess discovers more than her friend's growing crush. Secrets and cruelty lie just beneath the carefree surface of this world of wealth and privilege, and when they come out, Jess knows Angie won't be able to handle the consequences.
When the inevitable darkness finally descends, Angie will need her best friend.
Vicarious | Paula Stokes
⭐️⭐️⭐️.25
My thoughts: I decided to pick up this book because I've heard by multiple people that the mystery was really well done, and since I'm a big fan of that genre, I bought it and read it immediately after. And overall it was a great book, but I had a few issues with the characters and the ending of the story.
First of all, let me tell you that indeed, it was a really well done mystery book. It was much darker than I expected, but it kept me interested and wanting to know what really happened, despite having one theory ever since the beginning. But there was one point where something happened to our protagonist that made me guess the entire plot, and there were about 80 pages left of book, which made me a bit sad, to be honest, because it wasn't that innovative or unique.
The characters were okay. I didn't hate them but I wasn't blown away, either. I liked the diversity of the book, and how strong our main character was after experiencing everything she did, but I wasn't completely sold with the romance. I thought the ViSEs thing was super cool and really interesting, and I'm glad it was one of the main focuses of the story.
Winter Kim and her sister, Rose, work as high-tech stunt girls for Rose's ex-boyfriend, Gideon, engaging in dangerous and enticing activities while recording their neural impulses for his Vicarious Sensory Experiences, or ViSEs. Whether it's bungee jumping, shark diving, or grinding up against celebrities at the city's hottest dance clubs, Gideon can make it happen for you—for a price.
When Rose disappears and a ViSE recording of her murder is delivered to Gideon, Winter is devastated. She won't rest until she finds her sister's killer. But when the clues she uncovers conflict with the digital recordings her sister made, Winter isn't sure what to believe. To find out what happened to Rose, she'll have to untangle what's real from what only seems real, risking her life in the process.
Frostblood | Elly Blake
⭐️⭐️⭐️.25
My thoughts: I have a review of this book, so click here if you want to know my thoughts about it.
Seventeen-year-old Ruby is a Fireblood who has concealed her powers of heat and flame from the cruel Frostblood ruling class her entire life. But when her mother is killed trying to protect her, and rebel Frostbloods demand her help to overthrow their bloodthirsty king, she agrees to come out of hiding, desperate to have her revenge.
Despite her unpredictable abilities, Ruby trains with the rebels and the infuriating – yet irresistible – Arcus, who seems to think of her as nothing more than a weapon. But before they can take action, Ruby is captured and forced to compete in the king's tournaments that pit Fireblood prisoners against Frostblood champions. Now she has only one chance to destroy the maniacal ruler who has taken everything from her – and from the icy young man she has come to love.
The Last Girl On Earth | Alexandra Blogier
⭐️.5
My thoughts: I have a review of this book, so click here if you want to know my thoughts about it.
RAISED AMONG THEM.
Li has a father and a sister who love her. A best friend, Mirabae, to share things with. She goes to school and hangs out at the beach and carefully follows the rules. She has to. Everyone she knows–her family, her teachers, her friends–is an alien. And she is the only human left on Earth.
A SECRET THAT COULD END HER LIFE.
The Abdoloreans hijacked the planet sixteen years ago, destroying all human life. Li's human-sympathizer father took her in as a baby and has trained her to pass as one of them. The Abdoloreans appear human. But they don't think with human minds or feel with human hearts. And they have special abilities no human could ever have. 
FIT IN OR DIE. 
When Li meets Ryn, she's swept up in a relationship that could have disastrous consequences. How far will Li go to stay alive? Will she save herself–and in turn, the human race–or will she be the final witness to humanity's destruction?
Shimmer & Burn | Mary Taranta
⭐️⭐️⭐️.5
My thoughts: I have a review of this book, so click here if you want to know my thoughts about it.
To save her sister's life, Faris must smuggle magic into a plague-ridden neighboring kingdom in this exciting and dangerous start to a brand-new fantasy duology.
Faris grew up fighting to survive in the slums of Brindaigel while caring for her sister, Cadence. But when Cadence is caught trying to flee the kingdom and is sold into slavery, Faris reluctantly agrees to a lucrative scheme to buy her back, inadvertently binding herself to the power-hungry Princess Bryn, who wants to steal her father's throne.
Now Faris must smuggle stolen magic into neighboring Avinea to incite its prince to alliance—magic that addicts in the war-torn country can sense in her blood and can steal with a touch. She and Bryn turn to a handsome traveling magician, North, who offers protection from Avinea's many dangers, but he cannot save Faris from Bryn's cruelty as she leverages Cadence's freedom to force Faris to do anything—or kill anyone—she asks. Yet Faris is as fierce as Bryn, and even as she finds herself falling for North, she develops schemes of her own.
With the fate of kingdoms at stake, Faris, Bryn, and North maneuver through a dangerous game of magical and political machinations, where lives can be destroyed—or saved—with only a touch.
Harry Potter & The Goblet of Fire | J. K. Rowling
⭐️⭐️⭐️⭐️⭐️
My thoughts: Honestly, what can I say? I freaking loved each single part of this book. It took me a bit longer to finish, mostly because after starting it I decided that it'd be amazing to read it in Christmas time, so I read it super slowly (more than normal).
I think after The Prisoner of Azkaban this would be my favourite. As I mentioned previously, I think I'll do a ranking after finishing the series, because despite loving Harry Potter, I have my favourite books within the series.
Back to the point, it was so good to be back to this world again, and as tradition, I watched the movie right after finishing the book (which was soo good, by the way).
"There will be three tasks, spaced throughout the school year, and they will test the champions in many different ways… their magical prowess – their daring – their powers of deduction – and, of course, their ability to cope with danger."
The Triwizard Tournament is to be held at Hogwarts. Only wizards who are over seventeen are allowed to enter – but that doesn't stop Harry dreaming that he will win the competition. Then at Hallowe'en, when the Goblet of Fire makes its selection, Harry is amazed to find his name is one of those that the magical cup picks out. He will face death-defying tasks, dragons and Dark wizards, but with the help of his best friends, Ron and Hermione, he might just make it through – alive!
The Conspiracy of Us | Maggie Hall
⭐️⭐️⭐️.25
My thoughts: I was super surprised by this book. When I started it I knew I was going to hate this book, because the characters were super tropey and I suspected there would be an insta love-ish love triangle, so I was shocked when I continued reading it, because it was better than I expected.
It still was a bit tropey, don't get me wrong, but it was a super fun and entertaining read. It was a very addicting story, and a perfect book to read when you're in a reading slump, because it was a very easy and light read.
Sometimes the characters were a bit juvenile, but I was really surprised about the love triangle, because though there was one, you barely saw it in this first installment. Also the relationships weren't as insta-lovey as I thought they would be, and there were A LOT of mini plot twists that kept me guessing until the very end.
Avery West's newfound family can shut down Prada when they want to shop in peace, and can just as easily order a bombing when they want to start a war. Part of a powerful and dangerous secret society called the Circle, they believe Avery is the key to an ancient prophecy. Some want to use her as a pawn. Some want her dead.
To unravel the mystery putting her life in danger, Avery must follow a trail of clues from the monuments of Paris to the back alleys of Istanbul with two boys who work for the Circle — beautiful, volatile Stellan and mysterious, magnetic Jack. But as the clues expose a stunning conspiracy that might plunge the world into World War 3, she discovers that both boys are hiding secrets of their own. Now she will have to choose not only between freedom and family — but between the boy who might help her save the world, and the one she's falling in love with.
Map of Fates | Maggie Hall
⭐️⭐️⭐️
My thoughts: Since I already owned the trilogy, I decided to marathon the three books, because I'm the worst at finishing series. So that was what I did.
This was a very interesting sequel. It wasn't as good as the first one, because in this installment there was much more relationship drama, but it was a good book nonetheless. In this one I started to see a love triangle, and that added a bit more of drama to the story. I have to say I liked Stellan more, because I saw a few problematic things regarding Jack and Avery's relationship, and Stellan was such an adorable character so… yeah.
The plot started to get more intricate, with more twists and turns and things happening that I didn't really expect. I loved the traveling aspect of this book, because they went to so many different countries and it was really fun.
And boy… I wasn't expecting that ending at all. I'm so glad I picked up the third book after finishing this one, because I needed answers and a conclusion.
Two weeks. 


That's how long it took for Avery West's ordinary life to change forever: In two weeks, she discovered she was heiress to a powerful secret society known as the Circle, learned her mother was taken hostage by the Circle's enemies, and fell for a boy she's not allowed to love, just as she found out another was her unwelcome destiny. 


Now, Avery crosses oceans in private jets to hunt for clues that will uncover the truth about the Circle, setting her mom and herself free before it's too late. By her side are both the boys: Jack—steady, loyal, and determined to help her even at the expense of his own duty—and Stellan, whose connection to Avery grows stronger by the day despite her best intentions, making her question what she believes at every turn.
 

But at the end of a desperate hunt from the islands of Greece to the red carpet at Cannes comes a discovery that not only changes everything, but could bring the whole world to its knees. And now Avery is forced to face the truth: in the world of the Circle, no one is what they seem.
What books have you read this past month and which one was your favourite and least favourite read? Let me know if you've also read any of the books I've mentioned so we can discuss them in the comments!
Follow me on BlogLovin'
Goodreads | Instagram | Twitter | Contact Me