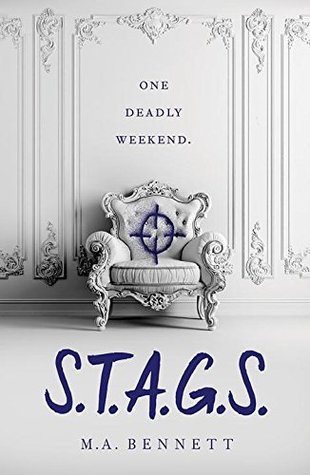 Title: S. T. A. G. S.
Author: M. E. Bennett
Series: N/A
Genre: Young Adult, Contemporary, Mystery/Thrillers
Publisher: Penguin Teen
Publication date: January 30th, 2018
Pages: 304
My rating: 
---
Seventeen-year-old Greer, a scholarship girl at a prestigious private school, St Aidan the Great School (known as STAGS), soon realizes that the school is full of snobs and spoilt rich brats, many of whom come from aristocratic families who have attended the institute throughout the centuries. She's immediately ignored by her classmates. All the teachers are referred to as Friars (even the female ones), but the real driving force behind the school is a group of prefects known as the Medievals, whose leader, Henry de Warlencourt, Greer finds both strangely intriguing as well as attractive. The Medievals are all good-looking, clever and everyone wants to be among their circle of friends. Greer is therefore surprised when she receives an invitation from Henry to spend a long weekend with him and his friends at his family house in the Lake District, especially when she learns that two other "outsiders" have also been invited: Shafeen and Chanel. As the weekend unfolds, Greer comes to the chilling realization that she and two other "losers" were invited only because they were chosen to become prey in a mad game of manhunt.
"Who couldn't live like this, without all the noise and craziness of the modern world? If you needed a little excitement, there was always huntin' shootin' fishin'."
Okay, I'm equally parts happy and disappointed after finishing this book. If you've been following me for a while, you'll probably already know that I was super excited to read this book. So I can't thank the publisher enough for giving me the opportunity to read an ARC of this novel.
I have to say, before I started reading it, I thought it was going to be a This Is Our Story type of book, and that was mainly the reason why I was so interested in picking it up. And though they had a few things in common, they ended up being two completely different stories. And though I had a few issues with the story and the characters, I had overall a really good time reading it.
"Maybe, I thought as I walked hand in hand with Henry to the boathouse, we'd invented the monster in the darkness of the midnight library."
One of my main problems was that the plot didn't begin until I reached the half mark. Before it was purely focusing on the boarding school and the life of our main character, and let's say I was a bit bored, because I was expecting a mindblowing thriller that kept me on the edge of my seat and… it didn't.
However, once you passed that half mark, it started to get so much better. I read it faster and I was more engrosed in the story, wanting to know what was going to happen. And though it was pretty predictable to me, I still was at the edge of my seat during some thrilling scenes.
I wasn't the biggest fan of the cast of characters that were in the book. To be completely honest, they were quite tropey and underdeveloped, and I would have loved to know more about the side characters, and I didn't really. It was purely focused on their feelings of that weekend, and our main character was kind of frustrating, because she contradicted herself throughout the entire novel. I also felt the little romance a bit unnecessary, because it didn't add much to the story.
"Everyone knew the Medievals, because it was the Medievals, not the friars, who really ran STAGS."
Something I really liked about this story was that it could be open to discussion. I could do a whole post discussing the different topics that I found throughout the story. It was very thought provoking, and the whole story quite morally grey, to be honest in terms of religion, morallity and technology, which was something that I found really interesting, despite not agreeing with some of the things the characters said to excuse themselves.
I would say if you're a sensitive reader and don't really like to read about hunting or killing any type of animals, to skip this book, because the one of its main focuses was haunting, and though it wasn't really explicit, I was sometimes I bit unconfortable reading some scenes, so have that in mind if you decide to pick this one up.
Overall, it was a decent read, and despite not liking the beginning of the story or the characters, I enjoyed the second half of the book, and I liked that it made me think about something.
I recieved an ARC of this book in exchange for an honest review. This doesn't change my opinion whatsoever. All thoughts are my own.
Follow me on BlogLovin'
Goodreads | Instagram | Twitter | Contact Me