Hello bookworms! I'm Nia and today I'm going to be talking about books I've read but I don't remember much about them.
Now I have to say that some of this I've really enjoyed back in the time, and probably still love them right now, but I can't remember anything about them. Some of these I knew brief things about them. This list also contains books I wasn't the biggest fan of, as well.
If you aren't familiar with Top 5 Wednesday, it is a Goodeads group now currently run by Sam over at ToughtsOfTomes on Youtube, where each week they give you a topic and you talk about 5 books that fit that category. You can join the group here if you want to participate!
Without any further ado, let's start with this week's topic!
The Wrath and The Dawn | Renée Ahdieh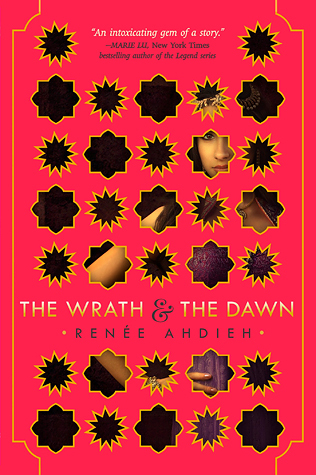 My thoughts: I've read this book about two years ago because my friend recommended to me, and I really loved it. I adored the story and Renée's writing was so beautiful that I was captivated, but if you ask me what happens in this book, I couldn't answer you because I HAVE NO IDEA. I only remember the beginning of the story and the main character' and her love interest's name, nothing else. And I want to continue with the duology, so I'll have to re-read this before I pick up the sequel.
In a land ruled by a murderous boy-king, each dawn brings heartache to a new family. Khalid, the eighteen-year-old Caliph of Khorasan, is a monster. Each night he takes a new bride only to have a silk cord wrapped around her throat come morning. When sixteen-year-old Shahrzad's dearest friend falls victim to Khalid, Shahrzad vows vengeance and volunteers to be his next bride. Shahrzad is determined not only to stay alive, but to end the caliph's reign of terror once and for all.
Night after night, Shahrzad beguiles Khalid, weaving stories that enchant, ensuring her survival, though she knows each dawn could be her last. But something she never expected begins to happen: Khalid is nothing like what she'd imagined him to be. This monster is a boy with a tormented heart. Incredibly, Shahrzad finds herself falling in love. How is this possible? It's an unforgivable betrayal. Still, Shahrzad has come to understand all is not as it seems in this palace of marble and stone. She resolves to uncover whatever secrets lurk and, despite her love, be ready to take Khalid's life as retribution for the many lives he's stolen. Can their love survive this world of stories and secrets?
27 hours | Tristina Wright
My thoughts: Okay, maybe this was my fault because I wasn't really enjoying the story while I was reading it and didn't pay much attention, but I hardly remember what it happened in this book. I still know briefly what it was about and some of the things that happened at the beginning of the story, but overall, I can't remember much about 27 hours.
I have a review of this book here.
Rumor Mora fears two things: hellhounds too strong for him to kill, and failure. Jude Welton has two dreams: for humans to stop killing monsters, and for his strange abilities to vanish.
But in no reality should a boy raised to love monsters fall for a boy raised to kill them.
Nyx Llorca keeps two secrets: the moon speaks to her, and she's in love with Dahlia, her best friend. Braeden Tennant wants two things: to get out from his mother's shadow, and to unlearn Epsilon's darkest secret.
They'll both have to commit treason to find the truth.
During one twenty-seven-hour night, if they can't stop the war between the colonies and the monsters from becoming a war of extinction, the things they wish for will never come true, and the things they fear will be all that's left.
Cold Summer | Gwen Cole
My thoughts: It's not this book's fault, I promise. It was actually a really good book that dealt with mental health a bit differently than others. But I can hardly remember what happened in it. I know it was kind of emotional sometimes and some other things, but for the most part, nope. Zero.
I have a review of this book here.
Kale Jackson has spent years trying to control his time-traveling ability but hasn't had much luck. One day he lives in 1945, fighting in the war as a sharpshooter and helplessly watching soldiers—friends—die. Then the next day, he's back in the present, where WWII has bled into his modern life in the form of PTSD, straining his relationship with his father and the few friends he has left. Every day it becomes harder to hide his battle wounds, both physical and mental, from the past.
When the ex-girl-next-door, Harper, moves back to town, thoughts of what could be if only he had a normal life begin to haunt him. Harper reminds him of the person he was before the PTSD, which helps anchor him to the present. With practice, maybe Kale could remain in the present permanently and never step foot on a battlefield again. Maybe he can have the normal life he craves.
But then Harper finds Kale's name in a historical article—and he's listed as a casualty of the war. Kale knows now that he must learn to control his time-traveling ability to save himself and his chance at a life with Harper. Otherwise, he'll be killed in a time where he doesn't belong by a bullet that was never meant for him.
Breaking | Danielle Rollins
My thoughts: This is one of the cases where the book itself wasn't really remarkable, so it was pretty easy for me to forget about it. Honestly, the only interesting thing about it is the cover, because it was a really plain story, and not much of a mystery, I have to say. So yeah, I remember a few puntual things about it, but if someone asked me to summarize it for them, I'd have to idea.
I have a review of this book here.
Charlotte has always felt ordinary compared to her two best friends at the prestigious Weston Preparatory Institute. Not enigmatic and daring like Ariel or beautiful and brilliant like Devon, Charlotte has never quite met the standards of the school—or those of her demanding mother. But with Ariel and Devon by her side, none of that mattered. They became the family she never had.
Until the unthinkable happens—Ariel commits suicide. And less than a month later, so does Devon.
Everyone accepts the suicides as tragic coincidences, but Charlotte refuses to believe that. And when she finds mysterious clues left behind by Ariel, Charlotte is thrust down a path that leads to a dangerous secret about Weston Prep. There's a reason Weston students are so exceptional, and the people responsible are willing to kill to protect the truth…
The Problem With Forever | Jennifer L. Armentrout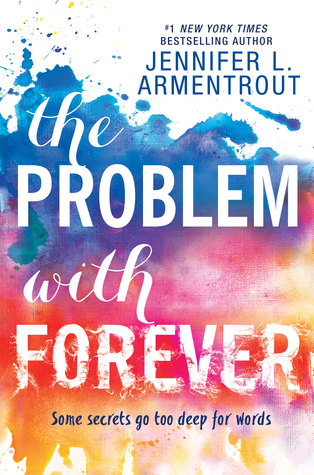 My thoughts: Out of all of the books I've mentioned in this list, I think this one would be the winner. I don't know what this book was about. If I read the synopsis, I'd probably had a fair idea of the story, but still, nada. I read it about two years ago, and though at the time I did enjoy it, it was a very forgettable book to me.
Growing up, Mallory Dodge learned that the best way to survive was to say nothing. And even though it's been four years since her nightmare ended, she's beginning to worry that the fear that holds her back will last a lifetime. Now, after years of homeschooling, Mallory must face a new milestone—spending her senior year at a public high school. But she never imagined she'd run into Rider Stark, the friend and protector she hasn't seen since childhood, on her very first day.
It doesn't take long for Mallory to realize that the connection she shared with Rider never really faded. Yet soon it becomes apparent that she's not the only one grappling with lingering scars from the past. And as she watches Rider's life spiral out of control, Mallory must make a choice between staying silent and speaking out—for the people she loves, the life she wants and the truths that need to be heard. 
What are your forgettable books? Let me know if you've also read any of these ones I've mentioned, and what you thought about them!
Follow me on BlogLovin'
Goodreads | Instagram | Twitter | Contact Me