Hello bookworms! I'm Nia and today I'm going to be talking about some books that I don't mention or talk much in this blog (or anywhere).7
Thinking about this post made me realise that there are so many books that I've loved but haven't talked much about them anywhere. Yes, I've recommended them to my friends or talk about them with them, but I don't mention them here often, so that needs to change.
If you aren't familiar with Top 5 Tuesday, it is a group here on WordPress now currently run by Shanah over at BionicBookWorm, where each week they give you a topic and you talk about 5 books that fit that category.
Without any further ado, let's start with this week's topic!
The Forbidden Wish | Jessica Khoury
My thoughts: This book was so amazing and beautifully written I'm sad not many people talk about it. I read it a few years ago and absolutely loved it. Not only it was a super interesting and unique Aladdin retelling, but it's one of those books you can't help but fall in love with the story. The world building was really well done, and the characters and their interactions were so angsty and beautiful I couldn't help but add it to my favourites list after finishing it.
When Aladdin discovers Zahra's jinni lamp, Zahra is thrust back into a world she hasn't seen in hundreds of years—a world where magic is forbidden and Zahra's very existence is illegal. She must disguise herself to stay alive, using ancient shape-shifting magic, until her new master has selected his three wishes. 
But when the King of the Jinn offers Zahra a chance to be free of her lamp forever, she seizes the opportunity—only to discover she is falling in love with Aladdin. When saving herself means betraying him, Zahra must decide once and for all: is winning her freedom worth losing her heart?
Making Faces | Amy Harmon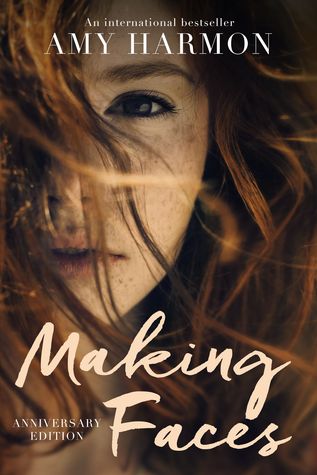 My thoughts: This was such a beautiful and heartbreaking story. It was pretty popular a few years ago, but now not many people are talking about it, and it needs more recognition. Don't be fooled by that cover, it's actually a whimsical contemporary book that would make you laugh and cry and stay in bed for days after finishing it. But honestly, it was a very beautifully written book, and I should talk about it more often.
Ambrose Young was beautiful. He was tall and muscular, with hair that touched his shoulders and eyes that burned right through you. The kind of beautiful that graced the covers of romance novels, and Fern Taylor would know. She'd been reading them since she was thirteen. But maybe because he was so beautiful he was never someone Fern thought she could have…until he wasn't beautiful anymore.
Making Faces is the story of a small town where five young men go off to war, and only one comes back. It is the story of loss. Collective loss, individual loss, loss of beauty, loss of life, loss of identity. It is the tale of one girl's love for a broken boy, and a wounded warrior's love for an unremarkable girl. This is a story of friendship that overcomes heartache, heroism that defies the common definitions, and a modern tale of Beauty and the Beastwhere we discover that there is little beauty and a little beast in all of us.
What I Lost | Alexandra Ballard
My thoughts: I know I've talked about this book on a recent favourites post, but it's not enough. This book deserves so much more, because it was absolutely amazing. I loved the story and the characters, how powerful it was and how I relate to the main characters most of the time, so if you're looking for a really good mental health YA book, I totally recommend this!
I have a review of this book here.
What sixteen-year-old Elizabeth has lost so far: forty pounds, four jean sizes, a boyfriend, and her peace of mind. As a result, she's finally a size zero. She's also the newest resident at Wallingfield, a treatment center for girls like her—girls with eating disorders. Elizabeth is determined to endure the program so she can go back home, where she plans to start restricting her food intake again. She's pretty sure her mom, who has her own size 0 obsession, needs treatment as much as she does. Maybe even more. Then Elizabeth begins receiving mysterious packages. Are they from her ex-boyfriend, a secret admirer, or someone playing a cruel trick?
Geekerella | Ashley Poston
My thoughts: I was genuinely surprised with this book, because honestly I didn't think I would like it as much as I did. And it's true I don't talk that much about it, either. And it was a really cute, fluffy story. It was super fast and the love story was actually really adorable, and it totally reminded me to the movie A Cinderella Story, which I used to love when I was a kid.
Geek girl Elle Wittimer lives and breathes Starfield, the classic science-fiction series she grew up watching with her late father. So when she sees a cosplay contest for a new Starfield movie, she has to enter. The prize? An invitation to the ExcelsiCon Cosplay Ball and a meet-and-greet with the actor slated to play Federation Prince Carmindor in the reboot. With savings from her gig at the Magic Pumpkin food truck and her dad's old costume, Elle's determined to win – unless her stepsisters get there first.
Teen actor Darien Freeman used to live for cons – before he was famous. Now they're nothing but autographs and awkward meet-and-greets. Playing Carmindor is all he has ever wanted, but Starfield fandom has written him off as just another dumb heartthrob. As ExcelsiCon draws near, Darien feels more and more like a fake – until he meets a girl who shows him otherwise. But when she disappears at midnight, will he ever be able to find her again?
The Scorpio Races | Maggie Stiefvater
My thoughts: Even though I don't love this book as much as The Raven Boys, this one was really amazing and I was pleasantly surprised, because it was so much better and I loved it more than I thought. I loved the relationship between both main characters and their horses, and basically the whole racing thing. It was really well written, and I fell in love with the whole story.
It happens at the start of every November: the Scorpio Races. Riders attempt to keep hold of their water horses long enough to make it to the finish line. Some riders live. Others die.
At age nineteen, Sean Kendrick is the returning champion. He is a young man of few words, and if he has any fears, he keeps them buried deep, where no one else can see them.
Puck Connolly is different. She never meant to ride in the Scorpio Races. But fate hasn't given her much of a chance. So she enters the competition — the first girl ever to do so. She is in no way prepared for what is going to happen.
What books you love but don't talk about enough? Let me know if you have any of the ones I've mentioned on your list!
Follow me on BlogLovin'
Goodreads | Instagram | Twitter | Contact Me