Hello bookworms! I'm Nia and today I'm going to be talking about books I didn't particulary like but love to talk about.
Now I wouldn't say I hated all of the books I'll be mentioning in this post. There are two that I totally hated, one that I didn't really like that much and the other two are just in the middle of my love-hate relationship, but everytime I can talk about them, I definitely will.
Disclaimer: I want to apologize in advance in case one of the books I'm going to mention is your favourite. It's okay if you loved them or hate them, people have different opinions and tastes when it comes to books!
If you aren't familiar with Top 5 Wednesday, it is a Goodeads group now currently run by Sam over at ToughtsOfTomes on Youtube, where each week they give you a topic and you talk about 5 books that fit that category. You can join the group here if you want to participate!
Without any further ado, let's start with this week's topic!
Empire of Storms | Sarah J. Maas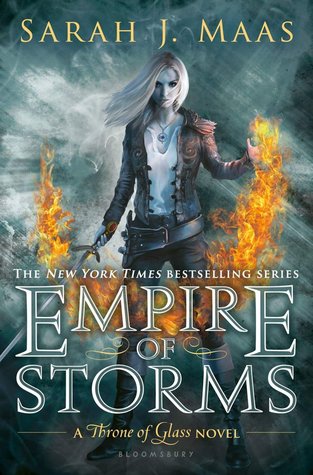 My thoughts: I feel I've already talked about why I wasn't the biggest fan of this book, but for the purpose of this post, I'll do it again. There's something that always (or mostly) happens to me with Sarah J. Maas's books, and that's that right after finishing them I really love them, but after a few days where I've thought about them more, I tend to find a LOT of things that I don't like. And that's what happened to me with EOS.
I didn't like the path the story is taking, and basically how our main character is a completely different person from who she was at the beginning of the story (that's a new level of character development, guys). Also I don't like how the author is trying to pair every important character together (it's really forced), and basically how sexist it sometimes was. I don't like Rowan (I'm sorry if you're a Rowan's stan), and WHAT DID SHE DO WITH MY PURE BABY DORIAN??!? Now she's like a Christian Grey 2.0.
But you can tell I love talking about why I don't like it by this.
The long path to the throne has only just begun for Aelin Galathynius as war looms on the horizon. Loyalties have been broken and bought, friends have been lost and gained, and those who possess magic find themselves at odds with those who don't.
With her heart sworn to the warrior-prince by her side, and her fealty pledged to the people she is determined to save, Aelin will delve into the depths of her power to protect those she loves. But as monsters emerge from the horrors of the past, and dark forces become poised to claim her world, the only chance for salvation will lie in a desperate quest that may mark the end of everything Aelin holds dear.
Without Merit| Colleen Hoover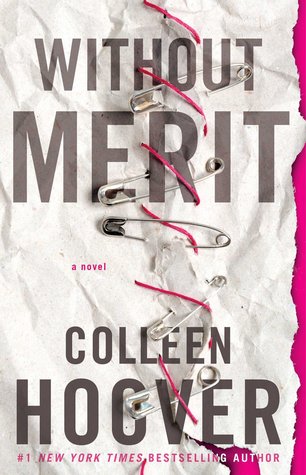 My thoughts: Oh guys… This was such a disappointment. I usually tend to enjoy Colleen Hoover's books. They are fun, fast paced, and though they tend to be quite problematic most of the time, they are still my guilty pleasure reads. But this one? Nope.
Basically the more I think about it, the more I dislike it. It started as a really nice story, but then again I wasn't really enjoying the romance, and I feel she used something extremely harmful as a plot device, and that's not cool. Also I hated how mental health was portrayed in this book, and that made me completely change my opinion of it. It left a very sour taste in my mouth.
I have a review of this book here.
The Voss family is anything but normal. They live in a repurposed church, newly baptized Dollar Voss. The once cancer-stricken mother lives in the basement, the father is married to the mother's former nurse, the little half-brother isn't allowed to do or eat anything fun, and the eldest siblings are irritatingly perfect. Then, there's Merit.
Merit Voss collects trophies she hasn't earned and secrets her family forces her to keep. While browsing the local antiques shop for her next trophy, she finds Sagan. His wit and unapologetic idealism disarm and spark renewed life into her—until she discovers that he's completely unavailable. Merit retreats deeper into herself, watching her family from the sidelines when she learns a secret that no trophy in the world can fix.
Fed up with the lies, Merit decides to shatter the happy family illusion that she's never been a part of before leaving them behind for good. When her escape plan fails, Merit is forced to deal with the staggering consequences of telling the truth and losing the one boy she loves.
When I Cast Your Shadow | Sarah Porter
My thoughts: I hated this book. It was one of the worst books I've read last year. I was hoping for a cool, dark and creepy horror story (and let me tell you I'm a chicken nugget, I tend to be scared quite easily), and it wasn't?? It was a flat, trying-to-be-horror-but-failing book.
To be completely honest with you, I still don't fully understand what the book was about. But let me tell you this: THE CHARACTERS WERE SO BAD I WANTED TO KILL MYSELF. Not only they had an extremely toxic relationship that wasn't even adressed, but they were all SO frustrating I wanted to throw my phone to the window a few times.
I have a review of this book here.
Dashiell Bohnacker was hell on his family while he was alive. But it's even worse now that he's dead…
Ruby. Haunted by her dead brother, unable to let him go, Ruby must figure out whether his nightly appearances in her dreams are the answer to her prayers—or a nightmare come true…
Everett. He's always been jealous of his dashing older brother. Now Everett must do everything he can to save his twin sister Ruby from Dashiell's clutches.
Dashiell. Charming, handsome, and manipulative, Dash has run afoul of some very powerful forces in the Land of the Dead. His only bargaining chips are Ruby and Everett. At stake is the very survival of the Bohnacker family, bodies and souls…
Across The Universe | Beth Revis
My thoughts: The main reason why I picked this book was that everyone was raving about it, and it had really great reviews on Goodreads, but honestly? It was really bad.
It started out okay, I guess. But it had a lot of race problems throughout the entire story I was really surprised no one pointed out. Also I didn't like the romance or character development, and booy oh boy, wasn't the main character annoying! She was one of the most stupid and dumb characters I've ever read from, and that ending ruined the story completely (it was really predictable as well, let me tell you).
Seventeen-year-old Amy joins her parents as frozen cargo aboard the vast spaceship Godspeed and expects to awaken on a new planet, three hundred years in the future. Never could she have known that her frozen slumber would come to an end fifty years too soon and that she would be thrust into the brave new world of a spaceship that lives by its own rules.
Amy quickly realizes that her awakening was no mere computer malfunction. Someone—one of the few thousand inhabitants of the spaceship —tried to kill her. And if Amy doesn't do something soon, her parents will be next.
Now Amy must race to unlock Godspeed's hidden secrets. But out of her list of murder suspects, there's only one who matters: Elder, the future leader of the ship and the love she could never have seen coming.
A Shadow Bright and Burning | Jessica Cluess
My thoughts: This was one of my biggest disappointments of last year. I was super excited about this book before it came out, and I immediately pick it up once I had my hands on it. And… it wasn't my cup of tea?? Not onlyit had one of the worst love triangles (or were actually more than two love interests in the story??) I've ever read (they were so insta love-y and underdeveloped), but the main character was SO ANNOYING! I was debating whether or not DNFed it, because I couldn't stand her. Basically she was the type of person who said she was one thing and did was the complete opposite.
Ugh, and also I feel I wasn't getting anything from that story! Nothing interesting was really happening, and everything was so slow I was losing my interest as I continued reading it.
Henrietta Howel can burst into flames. When she is brought to London to train with Her Majesty's sorcerers, she meets her fellow sorcerer trainees, young men eager to test her powers and her heart. One will challenge her. One will fight for her. One will betray her. As Henrietta discovers the secrets hiding behind the glamour of sorcerer life, she begins to doubt that she's the true prophesied one. With battle looming, how much will she risk to save the city–and the one she loves?
What books did you dislike but love to talk about them and discuss? Let me know if you have any of the ones I've mentioned in your list!
Follow me on BlogLovin'
Goodreads | Instagram | Twitter | Contact Me