Hello bookworms! I'm Nia and today I'm going to be talking about some amazing books that (probably) not many people know about.
Now I have to say these books aren't that unpopular in the book comunity, but it's true that I haven't seen many people talking about them, and I really loved each of them, so that's the main reason I'll be mentioning them in this post. And since I have a few favourite genres, I'll be talking about a few of them, but mostly mystery, fantasy and contemporary (and retellings, because I love me a good retelling!).
If you aren't familiar with Top 5 Wednesday, it is a Goodeads group now currently run by Sam over at ToughtsOfTomes on Youtube, where each week they give you a topic and you talk about 5 books that fit that category. You can join the group here if you want to participate!
Without any further ado, let's start with this week's topic!
The Forbidden Wish | Jessica Khoury
My thoughts: I freaking adored this book. I haven't found any good Aladdin retelling that's currently in the market better than this one. I swear, guys, this book was simply amazing. I really loved the world building and the character development, and I found the entire book so fastinating I didn't want to finish it. I'm thinking of re-reading it in the future, just to dive back into that world and those incredible characters.
When Aladdin discovers Zahra's jinni lamp, Zahra is thrust back into a world she hasn't seen in hundreds of years—a world where magic is forbidden and Zahra's very existence is illegal. She must disguise herself to stay alive, using ancient shape-shifting magic, until her new master has selected his three wishes. 
But when the King of the Jinn offers Zahra a chance to be free of her lamp forever, she seizes the opportunity—only to discover she is falling in love with Aladdin. When saving herself means betraying him, Zahra must decide once and for all: is winning her freedom worth losing her heart?
Drown | Esther Dalseno
My thoughts: I'm pretty sure I've already mentioned this book in another hidden gems post I did in the past, but oh well, I'm going to be talking about it again. But first I wanted to tell a trigger warning, and that is self harm, so if you're unconfortable reading about that, maybe stay away from it. If not, I highly recommend it if you're looking for a really unique retelling of The Little Mermaid, but that it has elements of the original fairytale in it. It's also a really short book, so it doesn't take much to finish it.
Seven emotionless princesses.
Three ghostly sirens.
A beautiful, malicious witch haunted by memories.
A handsome, self-mutilating prince.
Belonging to a race that is mostly animal with little humanity, a world obsessed with beauty where morality holds no sway, a little mermaid escapes to the ocean's surface. Discovering music, a magnificent palace of glass and limestone, and a troubled human prince, she is driven by love to consult the elusive sea-witch who secretly dominates the entire species of merfolk. Upon paying an enormous price for her humanity, the little mermaid begins a new life, uncovering secrets of sexuality and the Immortal Soul. As a deadly virus threatens to contaminate the bloodstreams of the whole merfolk race, the little mermaid must choose between the lives of her people, the man she loves, or herself.
The Architect of Song | A. G. Howard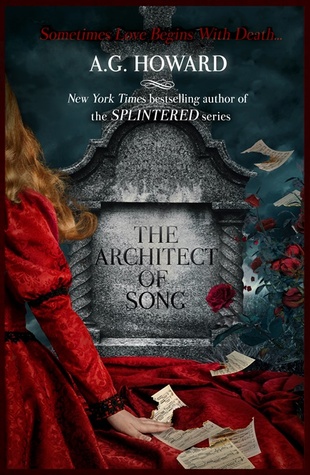 My thoughts: This book was super addicting. It's not that well known in the book comunity, but I really enjoyed it and I recommend it if you like gothic with some paranormal elements in it, try this one, because maybe you'll like it. I don't know, even though it had some tropes I was very familiar with, it also had some unique things that made me love it, as well. It was also really atmospherical and eery, and I'm super excited to read the companion!
For most of her life, nineteen-year-old Juliet Emerline has subsisted – isolated by deafness – making hats in the solitude of her home. Now, she's at risk to lose her sanctuary to Lord Nicolas Thornton, a twenty-seven-year-old mysterious and eccentric architect with designs on her humble estate. When she secretly witnesses him raging beside a grave, Juliet investigates, finding the name "Hawk" on the headstone and an unusual flower at the base. The moment Juliet touches the petals, a young English nobleman appears in ghostly form, singing a song only her deaf ears can hear. The ghost remembers nothing of his identity or death, other than the one name that haunts his afterlife: Thornton. 
To avenge her ghostly companion and save her estate, Juliet pushes aside her fear of society and travels to Lord Thornton's secluded holiday resort, posing as a hat maker in one of his boutiques. There, she finds herself questioning who to trust: the architect of flesh and bones who can relate to her through romantic gestures, heartfelt notes, and sensual touches … or the specter who serenades her with beautiful songs and ardent words, touching her mind and soul like no other man ever can. As sinister truths behind Lord Thornton's interest in her estate and his tie to Hawk come to light, Juliet is lured into a web of secrets. But it's too late for escape, and the tragic love taking seed in her heart will alter her silent world forever.
What I Lost | Alexandra Ballard
My thoughts: This is such an underrated book I cannot shout it loudly enough! Ugh, this book is so close to my heart that I really want everyone to read it. It focused more on the main character's recovery and it was raw, powerful and amazing. Not only I loved the characters but I really liked their development and interactions, and I think it's one of those books that you need to read if you're interested in mental health.
What sixteen-year-old Elizabeth has lost so far: forty pounds, four jean sizes, a boyfriend, and her peace of mind. As a result, she's finally a size zero. She's also the newest resident at Wallingfield, a treatment center for girls like her—girls with eating disorders. Elizabeth is determined to endure the program so she can go back home, where she plans to start restricting her food intake again. She's pretty sure her mom, who has her own size 0 obsession, needs treatment as much as she does. Maybe even more. Then Elizabeth begins receiving mysterious packages. Are they from her ex-boyfriend, a secret admirer, or someone playing a cruel trick?
Truly, Devious | Maureen Johnson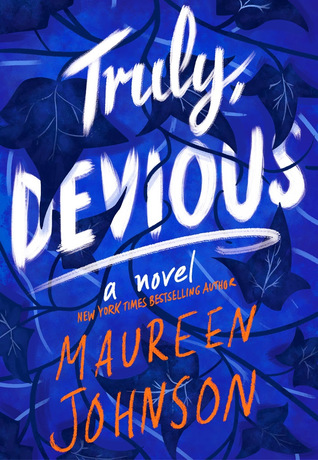 My thoughts: Okay, I know this is a new release and that's why not many people are talking about, BUT I had to mention it as well, because holy crap, I've just finished it and it was amazing! Though I was really anticipating this book because of the synopsis, I didn't want to get my hopes up just in case it wasn't as good as I expected, but it was such a roller coaster of emotions and mystery. I couldn't put it down, and it was such a great mystery book. It kept me guessing until the very end, and though I still haven't got all the answers I needed (mainly because there's a sequel coming out this year), it was an amazing book with such a diverse cast of characters!
Ellingham Academy is a famous private school in Vermont for the brightest thinkers, inventors, and artists. It was founded by Albert Ellingham, an early twentieth century tycoon, who wanted to make a wonderful place full of riddles, twisting pathways, and gardens. "A place," he said, "where learning is a game."
Shortly after the school opened, his wife and daughter were kidnapped. The only real clue was a mocking riddle listing methods of murder, signed with the frightening pseudonym "Truly, Devious." It became one of the great unsolved crimes of American history.
True-crime aficionado Stevie Bell is set to begin her first year at Ellingham Academy, and she has an ambitious plan: She will solve this cold case. That is, she will solve the case when she gets a grip on her demanding new school life and her housemates: the inventor, the novelist, the actor, the artist, and the jokester. But something strange is happening. Truly Devious makes a surprise return, and death revisits Ellingham Academy. The past has crawled out of its grave. Someone has gotten away with murder. 
The two interwoven mysteries of this first book in the Truly Devious series dovetail brilliantly, and Stevie Bell will continue her relentless quest for the murderers in books two and three.
What are your hidden gems in your favourite genres? Do you have any of the books I've mentioned on your list as well? Let me know so we can chat about them (and maybe I'll discover some amazing books as well!).
Follow me on BlogLovin'
Goodreads | Instagram | Twitter | Contact Me