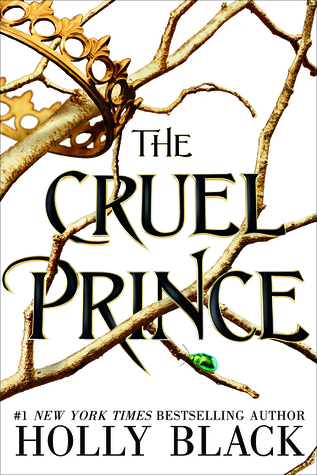 Title: The Cruel Prince
Author: Holly Black
Series: The Folk of The Air #1
Genre: Young Adult, Fantasy, Urban Fantasy, Romance, Dark Fantasy
Publisher: Little Brown Books
Publication date: January 2nd, 2018
Pages: 370
My rating: 
---
Jude was seven years old when her parents were murdered and she and her two sisters were stolen away to live in the treacherous High Court of Faerie. Ten years later, Jude wants nothing more than to belong there, despite her mortality. But many of the fey despise humans. Especially Prince Cardan, the youngest and wickedest son of the High King.
To win a place at the Court, she must defy him–and face the consequences.
In doing so, she becomes embroiled in palace intrigues and deceptions, discovering her own capacity for bloodshed. But as civil war threatens to drown the Courts of Faerie in violence, Jude will need to risk her life in a dangerous alliance to save her sisters, and Faerie itself.
"Here's why I don't like those stories: They highlighy that I am vulnerable. No matter how careful I am, eventually I'll make another mistep. I am weak. I am fragile. I am mortal.

I hate that most of all."
Holy guacamole, this book was fantastic! There's this thing that usually happens to me when I hype up an upcoming book in my head, and I get so excited I think it's going to be amazing, and later it end up disappointing me a bit. Well, I thought it was going to happen to me with this particular book, so I went a bit hesitant and not expecting anything, and turns out it was really amazing.
Ever since I knew this book was coming out I knew I had to read it. A lot of people have been comparing to Game of Thrones, but since I don't watch the show nor read the books, what sold me was wicked faeries. And boy, oh boy, weren't they brutal!
"Nice things don't happen in storybooks. Or when they do happen, something bad happens next. Because otherwise the story would be boring, and no one would read it."
The whole plot was so damn good and very complex I wanted to keep reading to know what was going to happen, because everytime I felt I knew what was going to happen, there was a mini plot twist that suddenly left me completely shook, and that's something that I really appreciate in a book.
Also the book is full of morally grey characters. I feel everyone that appeared in this book was selfish, manipulative or brutal in one way or another. They weren't your typical cast of characters, and though there weren't that easy to connect with (well, sometimes they didn't make the best decisions or did the greatest things), they were really amazing characters, and I loved them anyway. Each one had a different strenght that was really interesting to know and discover.
I also thoroughly enjoyed the world building and the faerie world. It wasn't particulary innovative, but I still had a great time learning about how their society worked, and the different interactions between them.
"He's wrong about me. I am going to make my mayfly life count for something. 

I won't be afraid of him or of Prince Dain's censure. If I cannot be better than them, I will become so much worse."
And it was freaking addicting. I decided once I started to take my time with this novel, and I didn't want to rush it, but I ended up devouring it, because I couldn't stop reading or wondering how it was going to end. It was fast paced, really action packed and once I started, I couldn't put it down.
Oh, and that ending. It was so intense and unexpected that I ended up spending a fair 15 minutes looking at my bedroom walls after finishing it. I'm still not sure how the sequel is going to be, but what I know is that after that ending, it'll probably be amazing and even more brutal. And I cannot wait.
Follow me on BlogLovin'
Goodreads | Instagram | Twitter | Contact Me