Hello bookworms! I'm Nia and today I'm going to be talking about the books I've read in January!
Now January was a pretty badass book reading month to me, which I'm super happy about. I read a total of 14 books, which isn't as good as my reading month last December, but it's still a pretty good amount of books to me, considering that I was in a reading slump by the end of the month.
Without any further ado, let's begin with this post!
The Ends of The World| Maggie Hall
⭐️⭐️⭐️.25
My thoughts: This is a nice conclusion to the trilogy. Like I've probably already said before, these books are kind of my guilty pleassure. They are tropey, but addicting, and a good series if you're in a reading slump or want something light to read. It wasn't the best in the trilogy, but I have to say I was really impressed with the mayor plot twist in the book, because I sure wasn't expecting it.
There were a few things I really liked, despite it not being an awesome read. There was some toxic behaviours going on in the second installment that were completely solved out and talked about in this book, and also I really loved the relationship and interactions of the main character and her love interest, because they were freaking adorable.
Overall, it was a very fun trilogy to marathon. They weren't the best books in the world, and the plot wasn't the most unique one, but still I had a really good time reading them.
The Circle is hers. But Avery West has lost everything else: her mother, the family she'd just found, and the one boy she trusted. In their place are unfathomable power, a staged relationship that makes her question every real feeling she's ever had, and a mission to find the cure to the virus that's made her own blood a weapon.
Then disaster strikes, turning Avery, Stellan, Jack, and Elodie into the most wanted people in the world. To clear their names and the growing rift between the families of the Circle before the world dissolves into World War Three, they'll have to make a desperate, dangerous final race for Alexander the Great's tomb. What they will find inside will mean the world's salvation—or destruction.
Harry Potter and The Order of The Phoenix | J. K. Rowling
⭐️⭐️⭐️⭐️⭐️
My thoughts: I was pretty surprised with this book because in my mind this is the most intimidating Harry Potter book, but I ended flyring trough it and really loving it. It was a chunk of a book, don't get me wrong, but it took me less that I thought to finish it. I hated Umbridge with all my might, but I loved re-visiting this world again, and reading about Dumbledore's Army and well, basically everything.
Also, I have some unanswered questions. Still. I don't know the origins of the Veil (that's mostly what I was questioning myself after finishing the book), so if you do know a bit more about it, please enlighten me.
Harry is furious that he is stuck at the Dursleys' house for the summer, when he suspects that Voldemort is gathering an army, and the wizarding authorities seem unwilling to do anything. Harry's so-called friends are trying to keep him in the dark. But he knows that Voldemort's forces can find him wherever he is; he could be attacked at any moment. Harry is finally rescued from Privet Drive by members of the Order of the Phoenix – a secret society first formed years ago to fight Voldemort – and discovers that maybe he is not alone in this battle after all.
Of Beast and Beauty | Stacey Jay
⭐️⭐️⭐️⭐️.75
My thoughts: I have already written a review of this book, so click here in case you want to check it out and know what I think about it.
In the beginning was the darkness, and in the darkness was a girl, and in the girl was a secret…
In the domed city of Yuan, the blind Princess Isra, a Smooth Skin, is raised to be a human sacrifice whose death will ensure her city's vitality. In the desert outside Yuan, Gem, a mutant beast, fights to save his people, the Monstrous, from starvation. Neither dreams that together, they could return balance to both their worlds.
Isra wants to help the city's Banished people, second-class citizens despised for possessing Monstrous traits. But after she enlists the aid of her prisoner, Gem, who has been captured while trying to steal Yuan's enchanted roses, she begins to care for him, and to question everything she has been brought up to believe.
As secrets are revealed and Isra's sight, which vanished during her childhood, returned, Isra will have to choose between duty to her people and the beast she has come to love.
Ash Princess | Laura Sebastian
⭐️⭐️⭐️.25
My thoughts: *RTC this month of February*, but overall I really enjoyed this book. The plot wasn't as unique as I thought it would be, but the main character was so different from the baddass girl I pictured when I read the synopsis. It has a few trigger warnings that I'll be mentioning in my future review, but I'm interested in continuing with the series, because it had potential.
Theodosia was six when her country was invaded and her mother, the Queen of Flame and Fury, was murdered before her eyes. Ten years later, Theo has learned to survive under the relentless abuse of the Kaiser and his court as the ridiculed "Ash Princess." Pretending to be empty-headed and naive when she's not enduring brutal whippings, she pushes down all other thoughts but one: Keep the Kaiser happy and he will keep you safe.
When the Kaiser forces her to execute her last hope of rescue, Theo can't keep her feelings and memories pushed down any longer. She vows revenge, throwing herself into a plot to seduce and murder the Kaiser's warrior son with the help of a group of magically gifted and volatile rebels. But Theo doesn't expect to develop feelings for the Prinz. Or for her rebel allies to challenge her friendship with the one person who's been kind to her throughout the last hopeless decade: her heart's sister, Cress.
Cornered into impossible choices and unable to trust even those who are on her side, Theo will have to decide how far she's willing to go to save her people and how much of herself she's willing to sacrifice to become queen.
S. T. A. G. S. | M. A. Bennet
⭐️⭐️⭐️.5
My thoughts: I have already written a review of this book, so click here in case you want to check it out and know what I think about it.
At St. Aidan the Great School, or S.T.A.G.S., new things–and new people–are to be avoided. Unfortunately, Greer MacDonald, token scholarship student, is very much a new person. She has just transferred to S.T.A.G.S., and finds herself ignored at best and mocked at worst by the school's most admired circle of friends, the Medievals.
So imagine Greer's surprise when this very group invites her to an exclusive weekend retreat at the private estate of the parents of their unofficial leader, Henry de Warlencourt. It's billed as a weekend of "huntin' shootin' fishin'," and rumor has it that the invitee who most impresses the group will be given the privilege of becoming a Medieval themselves.
As the weekend begins to take shape, however, it becomes apparent that beyond the luxurious trappings–the fancy clothes the maid lays out on Greer's bed, the elaborate multicourse dinners held in the Great Hall–there are predators lurking, and they're out for blood…
Kingdom of Ash and Briars |Hannah West
⭐️⭐️⭐️.5
My thoughts: I have already written a review of this book, so click here in case you want to check it out and know what I think about it.
Bristal, an orphaned kitchen maid, lands in a gritty fairy tale gone wrong when she discovers she is an elicromancer with a knack for shape-shifting. An ancient breed of immortal magic beings, elicromancers have been winnowed down to merely two – now three – after centuries of bloody conflict in the realm. Their gifts are fraught with responsibility, and sixteen-year-old Bristal is torn between two paths. Should she vow to seek the good of the world, to protect and serve mortals? Or should she follow the strength of her power, even if it leads to unknown terrors? She draws on her ability to disguise herself as a man to infiltrate a prince's band of soldiers, and masquerades as a fairy godmother to shield a cursed princess, but time is running out. As an army of dark creatures grows closer, Bristal faces a supernatural war. To save the kingdoms, Bristal must find the courage to show her true form.
Harry Potter and The Half-Blood Prince | J. K. Rowling
⭐️⭐️⭐️⭐️⭐️
My thoughts: It was awesome to read this book again, because it's been more than eight years since I read it for the first time, and I have to say I didn't remember much about it. But this has become one of my favourite Harry Potter books, because not only the characters have become more mature and I had an overall picture of the whole story, but also it provided a lot of information regarding Voldemort's back story and past, and also Snape's. I loved this book, and after watching the movie I have to say: If you've only watched the Harry Potter movies but haven't read the book, just read them, because you're missing out a lot of information about many things.
As the Dark Lord's sinister forces amass, a spirit of gloom and fear is sweeping the land. Harry Potter waits nervously in his bedroom at the Dursleys' for Professor Dumbledore to arrive. One of the last times he saw the Headmaster was in a fierce duel with Voldemort at the Ministry of Magic. Why is the Professor coming to visit him now? What is it that cannot wait until Harry returns to Hogwarts? In his sixth year, Harry will discover the secret behind the Half-Blood Prince, as Professor Dumbledore prepares him to face his destiny …
These new editions of the classic and internationally bestselling, multi-award-winning series feature instantly pick-up-able new jackets by Jonny Duddle, with huge child appeal, to bring Harry Potter to the next generation of readers. It's time to PASS THE MAGIC ON …

Winner Take All | Laurie Devore
⭐️⭐️.5
My thoughts: I have already written a review of this book, so click here in case you want to check it out and know what I think about it.
For Nell Becker, life is a competition she needs to win.
For Jackson Hart, everyone is a pawn in his own game.
They both have everything to lose.
Nell wants to succeed at everything—school, sports, life. And victory is sweeter when it means beating Jackson Hart, the rich, privileged, undisputed king of Cedar Woods Prep Academy. Yet no matter how hard she tries, Jackson is somehow one step ahead. They're a match made in hell, but opposites do attract.
Drawn to each other by their rivalry, Nell and Jackson fall into a whirlwind romance that consumes everything in their lives. But when a devastating secret exposes their relationship as just another game, how far will Nell go to win?
Busted | Gina Ciocca
⭐️⭐️⭐️.25
My thoughts: This was a very easy and ligh-hearted read. I was really intrigued after reading that synopsis, and even though it wasn't as much of a mystery as I once thought, it still had that thrilling vibe that made me want to continue reading this novel.
I loved the friendship between Marisa, our main character, and Charlie. It was nice to have a great and supportive friendship in a YA contemporary, where they could count on each other and help the other when needed. You could see that in some parts of the book. I was also really happy to see that our protagonist had a supportive and healthy family. Though the parents weren't really that important in the story (that's usually common in YA), her brother was one of the side characters, and sometimes it was really funny to read their interactions.
I also really adored the romance. Despite the circumstances being in the book, they were really adorable and it was a pretty healthy relationship, if we ignore the drama going on, which was pretty surprising.
Something I wasn't a big fan of is that there was a part of the book where some of the characters (mostly girls) shammed Marisa. Since I don't like girl shamming, I wasn't the biggest fan of those scenes, and made me lower my rating a bit.
Like I mentioned above, it was a very easy and quick read, and it took me less than three hours to finish. I devoured it, and I didn't stop reading until I knew it was finished.
Marisa wasn't planning to be a snoop for hire—until she accidentally caught her best friend's boyfriend making out with another girl. Now her reputation for sniffing out cheaters has spread all over school, and Marisa finds herself the reluctant queen of busting two-timing boys.
But when ex-frenemy Kendall asks her to spy on her boyfriend, TJ, Marisa quickly discovers the girl TJ might be falling for is Marisa herself. And worse yet? The feelings are quickly becoming mutual. Now, she's stuck spying on a "mystery girl" and the spoken-for guy who just might be the love of her life…
Siege and Storm |Leigh Bardugo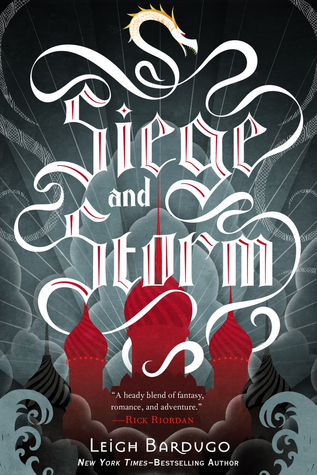 ⭐️⭐️⭐️⭐️.5
My thoughts: I have already written a review of this book, so click here in case you want to check it out and know what I think about it.

Hunted across the True Sea, haunted by the lives she took on the Fold, Alina must try to make a life with Mal in an unfamiliar land. She finds starting new is not easy while keeping her identity as the Sun Summoner a secret. She can't outrun her past or her destiny for long.
The Darkling has emerged from the Shadow Fold with a terrifying new power and a dangerous plan that will test the very boundaries of the natural world. With the help of a notorious privateer, Alina returns to the country she abandoned, determined to fight the forces gathering against Ravka. But as her power grows, Alina slips deeper into the Darkling's game of forbidden magic, and farther away from Mal. Somehow, she will have to choose between her country, her power, and the love she always thought would guide her–or risk losing everything to the oncoming storm.
The Cruel Prince | Holly Black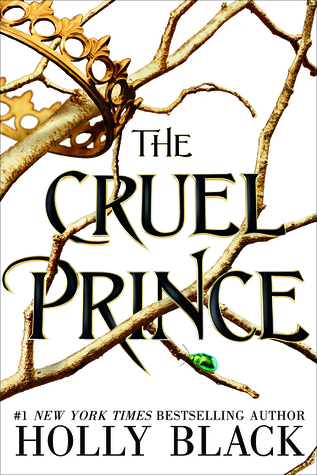 ⭐️⭐️⭐️⭐️.5
My thoughts: I have already written a review of this book, so click here in case you want to check it out and know what I think about it.
Jude was seven years old when her parents were murdered and she and her two sisters were stolen away to live in the treacherous High Court of Faerie. Ten years later, Jude wants nothing more than to belong there, despite her mortality. But many of the fey despise humans. Especially Prince Cardan, the youngest and wickedest son of the High King.
To win a place at the Court, she must defy him–and face the consequences.
In doing so, she becomes embroiled in palace intrigues and deceptions, discovering her own capacity for bloodshed. But as civil war threatens to drown the Courts of Faerie in violence, Jude will need to risk her life in a dangerous alliance to save her sisters, and Faerie itself.
The Last to Let Go | Amber Smith
⭐️⭐️⭐️.5
My thoughts: I have already written a review of this book, so click here in case you want to check it out and know what I think about it.
How do you let go of something you've never had?
Junior year for Brooke Winters is supposed to be about change. She's transferring schools, starting fresh, and making plans for college so she can finally leave her hometown, her family, and her past behind.
But all of her dreams are shattered one hot summer afternoon when her mother is arrested for killing Brooke's abusive father. No one really knows what happened that day, if it was premeditated or self-defense, whether it was right or wrong. And now Brooke and her siblings are on their own.
In a year of firsts—the first year without parents, first love, first heartbreak, and her first taste of freedom—Brooke must confront the shadow of her family's violence and dysfunction, as she struggles to embrace her identity, finds her true place in the world, and learns how to let go.
#Prettyboy Must Die | Kimberley Reid 
⭐️⭐️
My thoughts: I was super excited for this upcoming release, but this was a mayor disappointment to me. This could be either an amazing book, or a crappy one. And unfortunately for me, it was the second.
Let me first say that I thought the premise sounded amazing and hilarious. But it wasn't?? In my mind I pictured a great spy novel, or at least I thought it was going to be like a Cody Banks movie type of thing in book format, and it was so incredibly boring. The characters were so flat and plain, and they didn't have a development throughout the entire book. They were exactly the same at the end than they were at the beginning, and I don't know, I guess I was expecting so much more from it.
Also the story didn't grab me, not even from the beginning. I was a bit confused at the beginning because it was a bit fast, and then later nothing was really happening until the very end of the book. Also the mystery wasn't really that well done, and everything was a bit too predictable for my liking.
It was really tropey, and overall I didn't have the greatest time reading it. It wasn't a book for me, I guess.
When Peter Smith's classmate snaps a picture of him during a late night run at the track, Peter thinks he might be in trouble. When she posts that photo–along with the caption, "See the Pretty Boy Run,"–Peter knows he's in trouble. But when hostiles drop through the ceiling of his 6th period Chem Class, Peter's pretty sure his trouble just became a national emergency.
Because he's not really Peter Smith. He's Jake Morrow, former foster-kid turned CIA operative. After a massive screw-up on his first mission, he's on a pity assignment, a dozen hit lists and now, social media, apparently. As #Prettyboy, of all freaking things.
His cover's blown, his school's under siege, and if he screws up now, #Prettyboy will become #Deadboy faster than you can say, 'fifteen minutes of fame.' Trapped in a high school with rabid killers and rabid fans, he'll need all his training and then some to save his job, his school and, oh yeah, his life.
Love and Other Train Wrecks |Leah Konen
⭐️⭐️⭐️.75
My thoughts: This was a very light hearted book, and I have to say I really enjoyed it. I was really anticipating this novel, and though it ended up not being what I had in mind, I still think it was a very cute book, and it was really funny.
I really enjoyed the whole romance thing. It was definitely on the fast side, but their relationship was very well done and hilarious that I didn't particulary mind. I adored the interactions between both main characters, and their development throughout the story.
Something I also really liked seeing in this book was that one of the characters realised was in an unhealthy realtionship at some part of the book.
It was a very fast paced story, and I think it would be such a great movie. I was picturing everything in my mind while I was reading it, and somehow it seemed perfect like a screen play.
Overall, it was hilarious and funny, and a lighthearted read, and though I saw some of the twists at the end coming and were a bit predictable, I still really had a great time reading it.
One train ride. Two strangers.
Noah is a hopeless romantic. He's heading back home for one last chance with his first love, whom he broke up with when he went off to college.
Ammy doesn't believe in true love—her parents being prime examples. She's escaping from a mom who can't take care of her to a dad who may not even want her. That is, until one winter night when Noah and Ammy find themselves in the same Amtrak car heading to Upstate New York.
After a train-wreck first encounter between the two of them, the Amtrak train suddenly breaks down due to a snowstorm. Desperate to make it to their destinations, Noah and Ammy have no other option but to travel together. What starts off as a minor detour turns into the whirlwind journey of a lifetime, and over the course of the night they fall in love. But come morning their adventure takes an unexpected turn for the worst. Can one night can really change how they feel about love…and the course of their lives forever?
What books have you read this past month and which one was your most and least favourite read? Let me know if you've also read any of the books I've mentioned above or if you have them on your TBR!
Follow me on BlogLovin'
Goodreads | Instagram | Twitter | Contact Me