Hello bookworms! I'm Nia and today I'm going to be talking about cover buys.
Believe it or not, I don't usually buy a book because purely because of the cover. It's true that I love a pretty cover (who doesn't) but I have at least to be intrigued by the premise to buy said book. But, I have to admit there are a few books that I've bough because the cover was gorgeous and the synopsis sounded like something I'd enjoy. So I'm going to be talking about a few of those.
If you aren't familiar with Top 5 Tuesday, it is a group here on WordPress now currently run by Shanah over at BionicBookWorm, where each week they give you a topic and you talk about 5 books that fit that category.
Without any further ado, let's start with this week's topic!
A Thousand Pieces of You | Claudia Gray
My thoughts: I mean, who hasn't bought this book just because the cover is absolutely stunning? One time while I was scrolling through amazon and found this books, I immediately fell in love with this cover, and after reading the premise and adding it to my TBR, I couldn't help but buy it. I still haven't read it, but I promise I'll do it in a future, because I own the sequel as well.
Marguerite Caine's physicist parents are known for their groundbreaking achievements. Their most astonishing invention, called the Firebird, allows users to jump into multiple universes—and promises to revolutionize science forever. But then Marguerite's father is murdered, and the killer—her parent's handsome, enigmatic assistant Paul— escapes into another dimension before the law can touch him.
Marguerite refuses to let the man who destroyed her family go free. So she races after Paul through different universes, always leaping into another version of herself. But she also meets alternate versions of the people she knows—including Paul, whose life entangles with hers in increasingly familiar ways. Before long she begins to question Paul's guilt—as well as her own heart. And soon she discovers the truth behind her father's death is far more sinister than she expected.
The Beast is An Animal | Peternelle Van Arsdale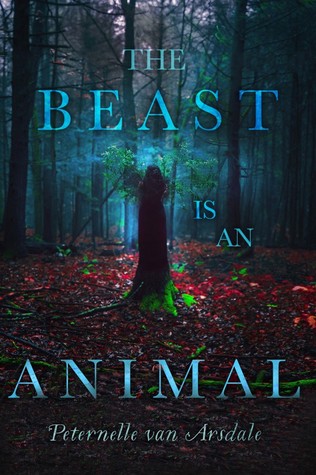 My thoughts: Okay, I bought this book for two reasons. The first being the cover (duh), because it's so mysterious and intriguing, and the second because it's a Beauty and the Beast retelling. I started it last year, but since I wasn't really in the mood, I put it down. Hopefully I'll be reading it this year, because I'm craving retellings and I'm always in the hunt for a good one.
Alys was seven when the soul eaters came to her village.
These soul eaters, twin sisters who were abandoned by their father and slowly morphed into something not quite human, devour human souls. Alys, and all the other children, were spared—and they were sent to live in a neighboring village. There the devout people created a strict world where good and evil are as fundamental as the nursery rhymes children sing. Fear of the soul eaters—and of the Beast they believe guides them—rule village life. But the Beast is not what they think it is. And neither is Alys.
Inside, Alys feels connected to the soul eaters, and maybe even to the Beast itself. As she grows from a child to a teenager, she longs for the freedom of the forest. And she has a gift she can tell no one, for fear they will call her a witch. When disaster strikes, Alys finds herself on a journey to heal herself and her world. A journey that will take her through the darkest parts of the forest, where danger threatens her from the outside—and from within her own heart and soul.
Night of Cake and Puppets | Laini Taylor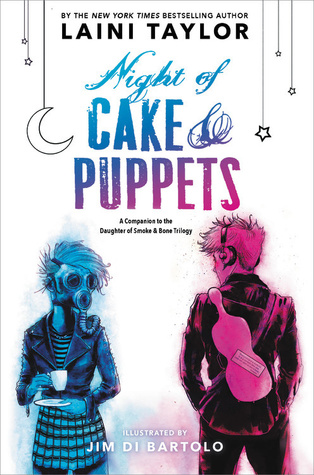 My thoughts: LOOK AT THIS COVER! It's absolutely beautiful. Did I need to buy it after not being in this world for more than 3 years? Nope. But did I buy it? Absolutely.
To be honest, this is a beautiful addition to my shelves, and after I recieved and look inside, I completely fell in love with the illustrations and how the book was done. And I cannot wait to read it, because Zuzana was one of my favourite characters!
Petite though she may be, Zuzana is not known for timidity. Her best friend, Karou, calls her "rabid fairy," her "voodoo eyes" are said to freeze blood, and even her older brother fears her wrath. But when it comes to the simple matter of talking to Mik, or "Violin Boy," her courage deserts her. Now, enough is enough. Zuzana is determined to make the first move, and she has a fistful of magic and a plan. It's a wonderfully elaborate treasure hunt of a plan that will take Mik all over Prague on a cold winter's night before leading him to the treasure: herself! Violin Boy is not going to know what hit him.
Done Dirt Cheap | Sarah Nicole Lemon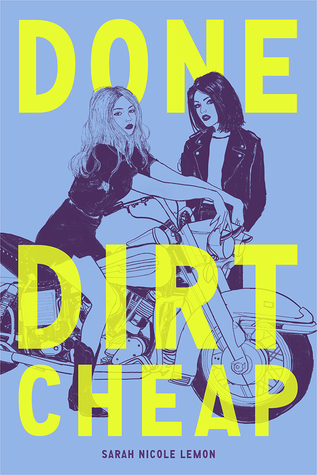 My thoughts: This one I bought on a whim, and we could say it's what's the closest to a cover buy I've done. I saw that cover on Book Depository, and there was something about the illustrations and colours that made me want to buy it. And it was really cheap, so if felt like a sign for me to buy it. I don't know, I guess I'm a sucker for a good illustration.
Tourmaline Harris's life hit pause at fifteen, when her mom went to prison because of Tourmaline's unintentionally damning testimony. But at eighteen, her home life is stable, and she has a strong relationship with her father, the president of a local biker club known as the Wardens.
Virginia Campbell's life hit fast-forward at fifteen, when her mom "sold" her into the services of a local lawyer: a man for whom the law is merely a suggestion. When Hazard sets his sights on dismantling the Wardens, he sends in Virginia, who has every intention of selling out the club—and Tourmaline. But the two girls are stronger than the circumstances that brought them together, and their resilience defines the friendship at the heart of this powerful debut novel. 
An Enchantment of Ravens | Margaret Rogerson
My thoughts: Do you remember what I said about illustrations in the previous book? Well, here we are now. I didn't care what this book was about, I needed it in my life. The cover is absolutely stunning and beautiful, and it screamed fall to me when I first saw it, so I pre-ordered the book.
I have a review of it here in case you want to check it out.
Isobel is a prodigy portrait artist with a dangerous set of clients: the sinister fair folk, immortal creatures who cannot bake bread, weave cloth, or put a pen to paper without crumbling to dust. They crave human Craft with a terrible thirst, and Isobel's paintings are highly prized. But when she receives her first royal patron—Rook, the autumn prince—she makes a terrible mistake. She paints mortal sorrow in his eyes—a weakness that could cost him his life.
Furious and devastated, Rook spirits her away to the autumnlands to stand trial for her crime. Waylaid by the Wild Hunt's ghostly hounds, the tainted influence of the Alder King, and hideous monsters risen from barrow mounds, Isobel and Rook depend on one another for survival. Their alliance blossoms into trust, then love—and that love violates the fair folks' ruthless laws. Now both of their lives are forfeit, unless Isobel can use her skill as an artist to fight the fairy courts. Because secretly, her Craft represents a threat the fair folk have never faced in all the millennia of their unchanging lives: for the first time, her portraits have the power to make them feel.
What are your cover buy books? Do you have any of the ones I've mentioned above in your list? Let me know so we can talk about them!
Follow me on BlogLovin'
Goodreads | Instagram | Twitter | Contact Me