Hello bookworms! I'm Nia and today I'm going to be talking about my favourite m/m romances.
Thinking about this post made me realise that I haven't read many books with m/m romance in them, or at least I couldn't think about much of them that I hardcore ship. However, I came
If you aren't familiar with Top 5 Wednesday, it is a Goodeads group now currently run by Sam over at ToughtsOfTomes on Youtube, where each week they give you a topic and you talk about 5 books that fit that category. You can join the group here if you want to participate!
Without any further ado, let's start with this week's topic!
Ronan and Adam | The Raven Boys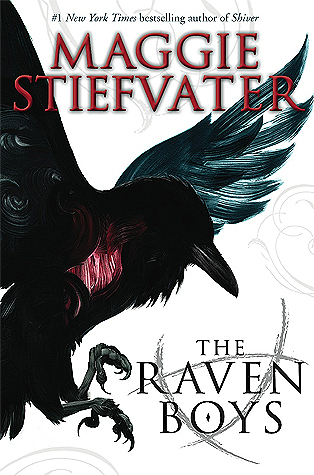 My thoughts: I loved Pynch even before it happened. Ronan was one of my favourite characters from the series, and I think he and Adam look so cute together. It took a while for them to become canon, but I loved the little glimpses we got throughout the last two books, because it made me ship them even more!
It is freezing in the churchyard, even before the dead arrive.
Every year, Blue Sargent stands next to her clairvoyant mother as the soon-to-be dead walk past. Blue herself never sees them—not until this year, when a boy emerges from the dark and speaks directly to her.
His name is Gansey, and Blue soon discovers that he is a rich student at Aglionby, the local private school. Blue has a policy of staying away from Aglionby boys. Known as Raven Boys, they can only mean trouble.
But Blue is drawn to Gansey, in a way she can't entirely explain. He has it all—family money, good looks, devoted friends—but he's looking for much more than that. He is on a quest that has encompassed three other Raven Boys: Adam, the scholarship student who resents all the privilege around him; Ronan, the fierce soul who ranges from anger to despair; and Noah, the taciturn watcher of the four, who notices many things but says very little.
For as long as she can remember, Blue has been warned that she will cause her true love to die. She never thought this would be a problem. But now, as her life becomes caught up in the strange and sinister world of the Raven Boys, she's not so sure anymore.
Wylan and Jesper | Six of Crows
My thoughts: Basically I love each single character and couple that was in this book, but Jesper and Wylan were SO ADORABLE TOGETHER. They were so different from each other, but their interactions and basically eberything that happened between them was so well done they have become one of my favourite couples. Wylan is my cinnamon roll and deserves de world, so anything that'll make him happy makes me, too.
Criminal prodigy Kaz Brekker has been offered wealth beyond his wildest dreams. But to claim it, he'll have to pull off a seemingly impossible heist:
Break into the notorious Ice Court
(a military stronghold that has never been breached)
Retrieve a hostage
(who could unleash magical havoc on the world)
Survive long enough to collect his reward
(and spend it)
Kaz needs a crew desperate enough to take on this suicide mission and dangerous enough to get the job done – and he knows exactly who: six of the deadliest outcasts the city has to offer. Together, they just might be unstoppable – if they don't kill each other first.
Alec and Magnus | The Mortal Instruments
My thoughts: Okay, I know I haven't finished the series yet (I'm the worst), but I think they were canon at book two or three, soo.. yeah. Magnus was such a cool character, and I think his story with Alec was so hilarious and funny. They are so cute together, and I have to say, though the TV show wasn't as good as I expected, I ship them even more after watching it!
When fifteen-year-old Clary Fray heads out to the Pandemonium Club in New York City, she hardly expects to witness a murder― much less a murder committed by three teenagers covered with strange tattoos and brandishing bizarre weapons. Then the body disappears into thin air. It's hard to call the police when the murderers are invisible to everyone else and when there is nothing―not even a smear of blood―to show that a boy has died. Or was he a boy?
This is Clary's first meeting with the Shadowhunters, warriors dedicated to ridding the earth of demons. It's also her first encounter with Jace, a Shadowhunter who looks a little like an angel and acts a lot like a jerk. Within twenty-four hours Clary is pulled into Jace's world with a vengeance, when her mother disappears and Clary herself is attacked by a demon. But why would demons be interested in ordinary mundanes like Clary and her mother? And how did Clary suddenly get the Sight? The Shadowhunters would like to know… 
Rufus and Mateo | They Both Die at The End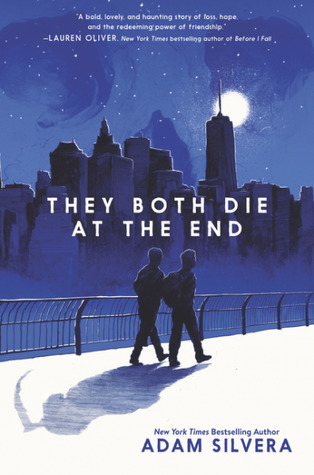 My thoughts: Oh, this was pure heartbreak. Let me start by saying that I love Mateo. He had such a pure heart and was so nice and good to everyone that though I knew what was going to happen (*coughs* the title says it all *coughs*), I wanted him to be happy. And I would have loved to read a complete love story between both of them, because I really liked them, and I wanted them to be happy.
On September 5, a little after midnight, Death-Cast calls Mateo Torrez and Rufus Emeterio to give them some bad news: They're going to die today.
Mateo and Rufus are total strangers, but, for different reasons, they're both looking to make a new friend on their End Day. The good news: There's an app for that. It's called the Last Friend, and through it, Rufus and Mateo are about to meet up for one last great adventure—to live a lifetime in a single day.
Baz and Simon | Carry On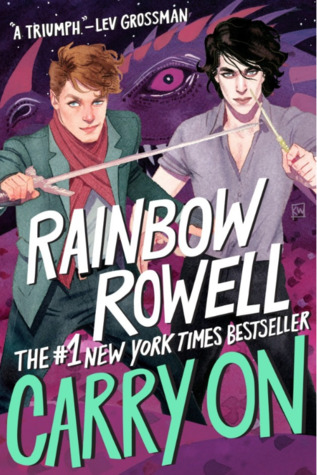 My thoughts: I admit that even though this wasn't my favourite book in the world, I completely shipped Baz and Simon. You know that I'm a sucker for hate-to-love romances, soo… I couldn't help it. I really loved Baz as a character, and his interactions with Simon sometimes were hilarious and to die for. So basically, yup, they are one of my faves.
Simon Snow is the worst Chosen One who's ever been chosen.
That's what his roommate, Baz, says. And Baz might be evil and a vampire and a complete git, but he's probably right.
Half the time, Simon can't even make his wand work, and the other half, he starts something on fire. His mentor's avoiding him, his girlfriend broke up with him, and there's a magic-eating monster running around, wearing Simon's face. Baz would be having a field day with all this, if he were here — it's their last year at the Watford School of Magicks, and Simon's infuriating nemesis didn't even bother to show up.
What are your favourite m/m couples? Let me know in the comments your recommendations, because I really want to read more m/m romances! Also tell me if you have any of these ones I've mentioned on your list!
Follow me on BlogLovin'
Goodreads | Instagram | Twitter | Contact Me