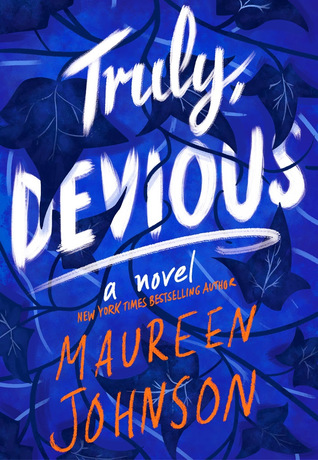 Title: Truly, Devious
Author: Maureen Johnson
Series: Truly Devious #1
Genre: Young Adult, Contemporary, Mystery/Thrillers, Romance
Publisher: HarperCollins
Publication date: January16th, 2018
Pages: 432
My rating: 
---
Ellingham Academy is a famous private school in Vermont for the brightest thinkers, inventors, and artists. It was founded by Albert Ellingham, an early twentieth century tycoon, who wanted to make a wonderful place full of riddles, twisting pathways, and gardens. "A place," he said, "where learning is a game."
Shortly after the school opened, his wife and daughter were kidnapped. The only real clue was a mocking riddle listing methods of murder, signed with the frightening pseudonym "Truly, Devious." It became one of the great unsolved crimes of American history.
True-crime aficionado Stevie Bell is set to begin her first year at Ellingham Academy, and she has an ambitious plan: She will solve this cold case. That is, she will solve the case when she gets a grip on her demanding new school life and her housemates: the inventor, the novelist, the actor, the artist, and the jokester. But something strange is happening. Truly Devious makes a surprise return, and death revisits Ellingham Academy. The past has crawled out of its grave. Someone has gotten away with murder. 
The two interwoven mysteries of this first book in the Truly Devious series dovetail brilliantly, and Stevie Bell will continue her relentless quest for the murderers in books two and three.
"There was something there. She could feel it.

Stevie had no fears of the dead. The living, however, sometimes gave her the creeps."
*Inster chorus of gasps here* This book was so amazing I have no words to describe my current state. Honestly, guys. I've been intrigued ever since I read the premise, and I knew I had to read this book once it was released, so after a few hours of fangirling and enjoyment, here we are now.
To be completely honest, even though I was really anticipating this book, I didn't have high hopes. I've read another Maureen Johnson's book in the past, and though I overall had a good time reading it, it wasn't the best mystery I've ever read. So in my mind I was picturing something like that was going to happen with this one, and boy oh boy, wasn't I wrong!
"Schools may be famous for many things: academics, graduates, sports teams.

They are not supposed to be famous for murders."
First let me start by saying that it had a very diverse cast of characters. Usually in mystery novels most of the characters are cishet or white, but I was pleasantly surprised to see that this book had some diversity. Our main character had anxiety and panic attacks, and there was also a non-binary side character and an indian character as well. And I adored all of them!
Stevie was definitely the type of main character I love reading about. She was quiet, witty and intelligent, and frankly, very observant. She even reminded me of a present time Nancy Drew, and I really enjoyed reading from her POV. She was such a cool character that added something different to the story, and I really loved trying to figure out the whole mystery with her.
Not only that but I also really enjoyed the romance. I've been realising lately that I'm more picky when it comes to romance and relationships, but guys, I'm a sucker for a good hate-to-love romance. And this one was angsty and good and I freaking loved it. It wasn't insta love-y or rushed, and it fit really well with the story and plot. And I cannot wait to read more about them, because not only I ship them as a couple, but I really want to know more about those characters!
"Where do you look for someone who's never really there? Always on a staircase but never on a stair."
And it was a really well done mystery book! Usually when I read this genre either I knew previously the whole plot twist or murderer, or I find the story not as thrilling or gripping as I thought, and end up disappointed. But this one kept me guessing until the very end. It had a lot of twists and turns, and I wanted to keep reading to know what really happened.
If I have to be honest with you, I was pretty pissed with the ending, because I HAVE TO WAIT A WHOLE YEAR TO KNOW EVERYTHING AND WHO THE MURDERER WAS. I couldn't believe it, but I guess that's what made me realise I loved Truly Devious.
Overall, this was such a surprising book, with a good mystery plot and lots of twists and turns, and even though I didn't get answers to all my questions, I highly recommend it, because it was amazing.
Follow me on BlogLovin'
Goodreads | Instagram | Twitter | Contact Me