Hello bookworms! I'm Nia and today I'm going to be talking about the books I want to read this month of February.
I have a pretty ambicious TBR. Since lately I've been in the mood to read fantasy, I'll mostly will be reading that genre this month. It actually really depends on my mood, but I'm really excited for some of these books and really want to read them in February, so yeah.
I'm also going to be participating in the ContemporaryAThon this month, so some of these contemporaries you'll be seeing later will be for some of the challenges. I'm still not sure about the books that I'm going to be reading that week, but I'll definitely will be doing a wrap up with my experience at the end of the month.
But without any furher ado, let's begin.
Truly Devious | Maureen Johnson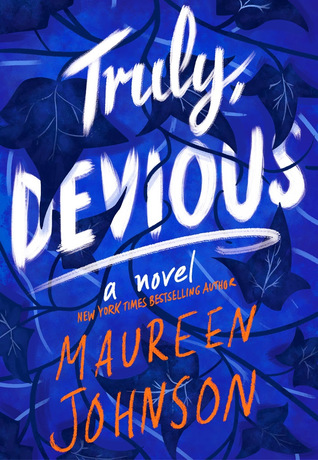 Ellingham Academy is a famous private school in Vermont for the brightest thinkers, inventors, and artists. It was founded by Albert Ellingham, an early twentieth century tycoon, who wanted to make a wonderful place full of riddles, twisting pathways, and gardens. "A place," he said, "where learning is a game."
Shortly after the school opened, his wife and daughter were kidnapped. The only real clue was a mocking riddle listing methods of murder, signed with the frightening pseudonym "Truly, Devious." It became one of the great unsolved crimes of American history.
True-crime aficionado Stevie Bell is set to begin her first year at Ellingham Academy, and she has an ambitious plan: She will solve this cold case. That is, she will solve the case when she gets a grip on her demanding new school life and her housemates: the inventor, the novelist, the actor, the artist, and the jokester. But something strange is happening. Truly Devious makes a surprise return, and death revisits Ellingham Academy. The past has crawled out of its grave. Someone has gotten away with murder.
Children of Blood and Bone | Tomi Adeyemi
Zélie Adebola remembers when the soil of Orïsha hummed with magic. Burners ignited flames, Tiders beckoned waves, and Zelie's Reaper mother summoned forth souls.
But everything changed the night magic disappeared. Under the orders of a ruthless king, maji were targeted and killed, leaving Zélie without a mother and her people without hope.
Now, Zélie has one chance to bring back magic and strike against the monarchy. With the help of a rogue princess, Zélie must outwit and outrun the crown prince, who is hell-bent on eradicating magic for good.
Danger lurks in Orïsha, where snow leoponaires prowl and vengeful spirits wait in the waters. Yet the greatest danger may be Zélie herself as she struggles to control her powers—and her growing feelings for the enemy. 
Ruin and Rising | Leigh Bardugo
The Darkling rules Ravka from his shadow throne.
Now the nation's fate rests with a broken Sun Summoner, a disgraced tracker, and the shattered remnants of a once-great magical army.
Deep in an ancient network of tunnels and caverns, a weakened Alina must submit to the dubious protection of the Apparat and the zealots who worship her as a Saint. Yet her plans lie elsewhere, with the hunt for the elusive firebird and the hope that an outlaw prince still survives.
Alina will have to forge new alliances and put aside old rivalries as she and Mal race to find the last of Morozova's amplifiers. But as she begins to unravel the Darkling's secrets, she reveals a past that will forever alter her understanding of the bond they share and the power she wields. The firebird is the one thing that stands between Ravka and destruction—and claiming it could cost Alina the very future she's fighting for.
Love, Life and The List | Kasie West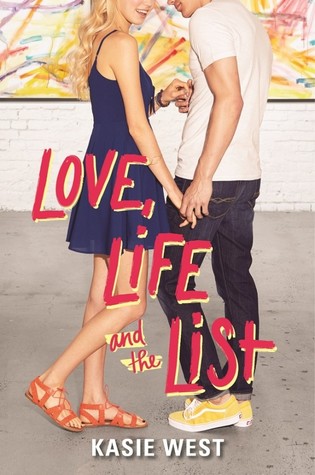 Seventeen-year-old Abby Turner's summer isn't going the way she'd planned. She has a not-so-secret but definitely unrequited crush on her best friend, Cooper. She hasn't been able to manage her mother's growing issues with anxiety. And now she's been rejected from an art show because her work "has no heart." So when she gets another opportunity to show her paintings Abby isn't going to take any chances.
Which is where the list comes in.
Abby gives herself one month to do ten things, ranging from face a fear (#3) to learn a stranger's story (#5) to fall in love (#8). She knows that if she can complete the list she'll become the kind of artist she's always dreamed of being. But as the deadline approaches, Abby realizes that getting through the list isn't as straightforward as it seems… and that maybe—just maybe—she can't change her art if she isn't first willing to change herself.
Under Rose-Tainted Skies | Louise Gornall
At seventeen, Norah has accepted that the four walls of her house delineate her life. She knows that fearing everything from inland tsunamis to odd numbers is irrational, but her mind insists the world outside is too big, too dangerous. So she stays safe inside, watching others' lives through her windows and social media feed.
But when Luke arrives on her doorstep, he doesn't see a girl defined by medical terms and mental health. Instead, he sees a girl who is funny, smart, and brave. And Norah likes what he sees.
Their friendship turns deeper, but Norah knows Luke deserves a normal girl. One who can walk beneath the open sky. One who is unafraid of kissing. One who isn't so screwed up. Can she let him go for his own good—or can Norah learn to see herself through Luke's eyes?
The Sky Is Everywhere | Jandy Nelson
Adrift after her sister Bailey's sudden death, Lennie finds herself torn between quiet, seductive Toby—Bailey's boyfriend who shares her grief—and Joe, the new boy in town who bursts with life and musical genius. Each offers Lennie something she desperately needs… though she knows if the two of them collide her whole world will explode.
Join Lennie on this heartbreaking and hilarious journey of profound sorrow and mad love, as she makes colossal mistakes and colossal discoveries, as she traipses through band rooms and forest bedrooms and ultimately right into your heart.
As much a celebration of love as a poignant portrait of loss, Lennie's struggle to sort her own melody out of the noise around her is always honest, often uproarious, and absolutely unforgettable. 
The First Time She Drowned | Kerry Kletter
Cassie O'Malley has been trying to keep her head above water—literally and metaphorically—since birth. It's been two and a half years since Cassie's mother dumped her in a mental institution against her will, and now, at eighteen, Cassie is finally able to reclaim her life and enter the world on her own terms.
But freedom is a poor match against a lifetime of psychological damage. As Cassie plumbs the depths of her new surroundings, the startling truths she uncovers about her own family narrative make it impossible to cut the tethers of a tumultuous past. And when the unhealthy mother-daughter relationship that defined Cassie's childhood and adolescence threatens to pull her under once again, Cassie must decide: whose version of history is real? And more important, whose life must she save?
Everless | Sarah Holland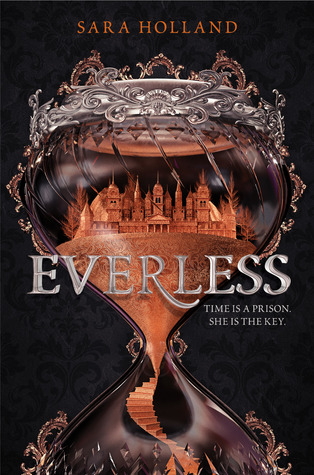 In the kingdom of Sempera, time is currency—extracted from blood, bound to iron, and consumed to add time to one's own lifespan. The rich aristocracy, like the Gerlings, tax the poor to the hilt, extending their own lives by centuries.
No one resents the Gerlings more than Jules Ember. A decade ago, she and her father were servants at Everless, the Gerlings' palatial estate, until a fateful accident forced them to flee in the dead of night. When Jules discovers that her father is dying, she knows that she must return to Everless to earn more time for him before she loses him forever.
But going back to Everless brings more danger—and temptation—than Jules could have ever imagined. Soon she's caught in a tangle of violent secrets and finds her heart torn between two people she thought she'd never see again. Her decisions have the power to change her fate—and the fate of time itself.
What are the books you want to read this month? Let me know if you have read any of these ones or you have them on your TBR as well!
Follow me on BlogLovin'
Goodreads | Instagram | Twitter | Contact Me