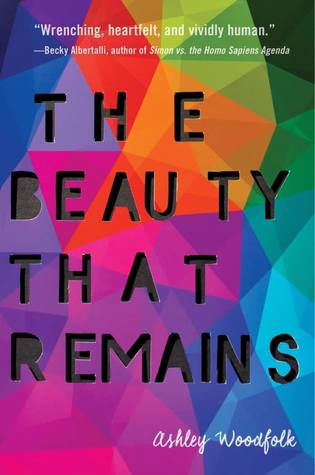 Title: The Beauty That Remains
Author: Ashley Woodfolk
Series: N/A
Genre: Young Adult, Contemporary, Mental Health, LGBT+, Romance
Publisher: Delacorte Press
Publication date: March 6th, 2018
Pages: 352
My rating:
---
Autumn always knew exactly who she was—a talented artist and a loyal friend. Shay was defined by two things: her bond with her twin sister, Sasha, and her love of music. And Logan always turned to writing love songs when his love life was a little less than perfect.
But when tragedy strikes each of them, somehow music is no longer enough. Now Logan can't stop watching vlogs of his dead ex-boyfriend. Shay is a music blogger struggling to keep it together. And Autumn sends messages that she knows can never be answered.
Each of them wonders: How different would my life be if this hadn't happened? And now that it has . . . what's next?
"I miss you. There's never an I miss you not. And there aren't enough petals on the flower. There aren't enough petals in the world."
Wow, this was a very emotional read. When I started this book I honestly didn't know it was going to be this kind of story, but I have to say I ended up really loving it. It was tough, but overall it was really beautifully written book that dealt with the loss of a loved one.
I was super excited when I got an ARC of this book, because when I first read the premise I found it pretty interesting, and lately I've been wanting to read more stories that are more focused on death and loss, and how different people react about a similar situation. And let me tell you this was exactly that, which was so convinient to me.
"Before, it was like I was drowing. The water looked smooth, but I was thrashing around under the waves, struggling to breathe. Now I've broken the surface, and people can see me. But I'm too far away from the shore to be rescued."
I was completely blown away by how diverse this story was. There was a black main character, and adopted korean girl, a gay boy and spanish side characters, and let me tell you I loved all of them. It's true that at the beginning I didn't know much about each one, just the death of a closer person and how they are trying to cope or live with that, but as the story continued, I started connecting more and more with each single character.
Something I really loved about this book was how supportive the friendships were. That was almost my favourite part of the book, because I cannot tell you how much I adore to see healthy friends in YA contemporary books, so seeing side characters that were there for the protagonists was actually a really cool thing to read.
Also another thing I really liked seeing was how different their reactions to a death were, and how each tried a different thing to cope with that loss. I feel like not only they were really different characters, but also those deaths were completely different one from the other (one being a twin and the other a best friend), so seeing those characters react differently to a similar event made it more realistic to me, and also distinguished the characters from each other.
"Grief is tricky, and it's something that will never go away. But I think getting what you're feeling out in the open is part of the first step toward finding peace."
I must say that there were a few tough things that broke my heart throughout the book. However it was all so beautifully written that it was a bittersweet aftertaste. I also really enjoyed the fact that some of those characters look for help, whether going to meeting or an actual shrink, which was such a great thing to read. I feel like in these type of stories that's something I always want to see something like that happening.
Overall, I totally recommend this book. It was really beautiful YA story with lots of diversity and different characters, that was very character driven. I really enjoyed it.
I recieved an ARC of this book in exchange for an honest review. This doesn't change my opinion whatsoever. All thoughts are my own.
Follow me on BlogLovin'
Goodreads | Instagram | Twitter | Contact Me