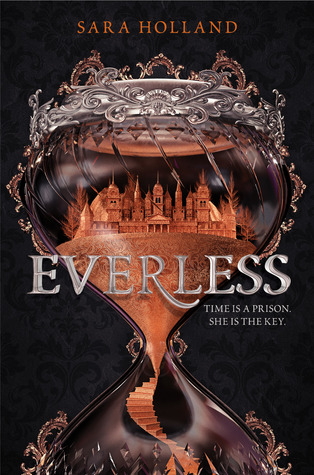 Title: Everless
Author: Sara Holland 
Series: Everless #1
Genre: Young Adult, Fantasy, High Fantasy, Romance
Publisher: HarperTeen
Publication date: January 2nd, 2018
Pages: 368
My rating: 
---
In the kingdom of Sempera, time is currency—extracted from blood, bound to iron, and consumed to add time to one's own lifespan. The rich aristocracy, like the Gerlings, tax the poor to the hilt, extending their own lives by centuries.
No one resents the Gerlings more than Jules Ember. A decade ago, she and her father were servants at Everless, the Gerlings' palatial estate, until a fateful accident forced them to flee in the dead of night. When Jules discovers that her father is dying, she knows that she must return to Everless to earn more time for him before she loses him forever.
But going back to Everless brings more danger—and temptation—than Jules could have ever imagined. Soon she's caught in a tangle of violent secrets and finds her heart torn between two people she thought she'd never see again. Her decisions have the power to change her fate—and the fate of time itself.
"Most people find the forest frightening, believing the old tales of fairies who will freeze the time in your blood, or witches who can spill your years out over the snow with only a whisper. 

I know better than to be afraid of stories."
Okay, let me say that I'm impressed. This book was one of my most anticipated releases of this year, and overall I really enjoyed it. I found it so interesting and intriguing, and it took me almost anything to finish it, which surprised me the most.
But the thing was, that there was nothing that unique about this story. I felt like I've read about that world or those characters or the plot in other YA book, and I was expecting a bit more from it.
"I would have scrabbled on my knees in the mud for as long as it took. It would have dug through the stones until my fingers bled. Until they were down to bone."
I found the concept so freaking cool. It reminded me a lot of the movie Time (which wasn't my favourite, but again, super interesting premise), and in a way it was, but somehow it ended up being completely different. Yes, time was still priced in this story, but I think the author did a much better job at creating this story.
Depite not being that unique and sometimes quite tropey, and having pretty average characters, I still really enjoyed the journey our main character went through, and her development throughout the story. I also really enjoyed the friendship in it, and learning about the folklore and how magic actually worked.
However, there were some tropes I wasn't that huge fan of. Everything related to the main character's interactions with the love interest was pretty average, and I felt like I've read that somewhere before. There wasn't a love triangle, but sometimes it seemed like there was going to be one?? I don't know, I didn't really like the romance in this intallment. Hopefully I'll change my mind after reading the second book, because I liked some things that happened toward the end of the novel.
"Time has always moved strangely around me, clinging for one moment too long, then stuttering to catch up with the world."
But something I really enjoyed was the plot twists that occured toward the ending of the book. I wasn't expecting something like that to happen, and though there was some foreshadowing at the beginning of Everless that made some of the big revelations too much predictable, I actually appreciated that twist that made me interested in the book again.
I really must say that this book was SO fast paced and easy to read. I experienced no problem getting to know the world and characters, and it took me almost nothing to get engrosed in the story. It was really addicting, and I had such a great time reading it, despite addressing those problems I had.
Overall, I decided to give it 3.5 stars, because even though I had such a great time reading it and finish it in two sittings, I thought it was going to be a much more unique story, and it wasn't as special as I expected.
Follow me on BlogLovin'
Goodreads | Instagram | Twitter | Contact Me