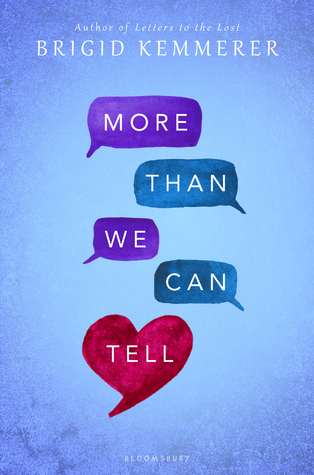 Title: More Than We Can Tell
Author: Brigid Kemmerer
Series: Letters To the Lost
Genre: Young Adult, Contemporary, Romance, Mental Health
Publisher: Bloomsbury Children's
Publication date: March 6th, 2018
Pages: 416
My rating: 
---
Rev Fletcher is battling the demons of his past. But with loving adoptive parents by his side, he's managed to keep them at bay…until he gets a letter from his abusive father and the trauma of his childhood comes hurtling back.
Emma Blue spends her time perfecting the computer game she built from scratch, rather than facing her parents' crumbling marriage. She can solve any problem with the right code, but when an online troll's harassment escalates, she's truly afraid.
When Rev and Emma meet, they both long to lift the burden of their secrets and bond instantly over their shared turmoil. But when their situations turn dangerous, their trust in each other will be tested in ways they never expected. 
"Sometimes events are set in motion from so far away that it's almost impossible to draw connections until well after the fact."
Okay, I was equal parts excited and terrified to read this book, because even though I had an ARC since quite a long time ago, it wasn't until a few months ago that I read a Brigid Kemmerer book for the first time. And I didn't like it. At all.
Still, I was pretty intrigued, because I remember being super interested and requesting this book after reading the premise (I can't thank the publisher enough for giving me an advance copy). And I have to say I enjoyed this book waaay more than the other book I read by her. No joke.
"You are not stubborn and rebellious. You are kind. You are thoughtful. You are the best son we could have ever hoped for. We love you. And we are proud of you."
I cannot tell you how much I liked the characters in this book, and basically the whole friendship that was in it. I think the dynamics between them were done really well, and I liked how it wasn't an insta love story, but it was focused more on them as individuals and their interactions throughout the whole entire book.
I liked how different the characters turned out to be, because in my mind I pictured them some way and they ended up being completely different. I have to say that it was a bit tough to read sometimes, because it dealth with much darker topics, like abuse, so have that in mind if you want to pick it up.
However, I freaking adored the parental figures. I wasn't the biggest fan of Emma's mother at the beginning of the book, because she was pretty much out of the picture, but I started to like her more as the book progressed. But Rev's parents were awesome. They were the kind of supportive and caring parents I love seeing in YA books, because not only they took after their kid, but also respected him and supported his decisions, and let me tell you that's something that warms my heart everytime.
"We all push sometimes, just to makes sure someone is on the other side, pushing back."
I really liked the character development of our two protagonists throughout the book, but I may say that there were a few things that happened towards the end that were a bit too predictable to me. I don't know if that was the author's purpose the whole entire time, and she was foreshadowing some things in certain scenes, but yeah, I knew ever since almost the very beginning.
I still enjoyed how the story ended, because I feel it was a bit different from what usually people think about that, but I would have loved to be a bit more surprised, I guess.
Something I didn't know previously is that this book is set in the same universe as Letters to the Los, another book of hers, but talks about different characters and is considered a standalone and not part of a series. However, it's true that the two main characters of LTTL appeared in this book, and you knew a few snippets of their story, so maybe read the other one before you read this one, because otherwise you'll probably know a few spoilers about said novel.
Overall, I think it was a really good book! I thoroughly enjoyed the whole cast of characters, and how they changed, and I'll definitely be picking up Letters to the Lost, because since I loved the side characters that much, I figure it was about time to do so!
I recieved an ARC of this book in exchange for an honest review. This doesn't change my opinion whatsoever. All thoughts are my own.
Follow me on BlogLovin'
Goodreads | Instagram | Twitter | Contact Me