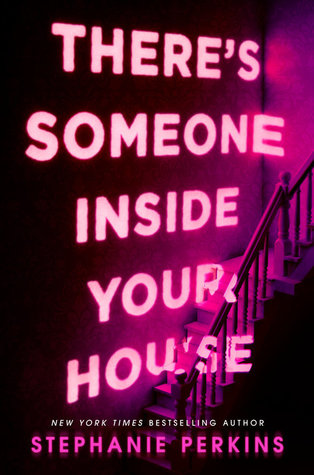 Title: There's Someone Inside Your House
Author: Stephanie Perkins
Series: N/A
Genre: Young Adult, Contemporary, Romance, Mystery/Thrillers, Horror
Publisher: Dutton Books
Publication date: September 26th, 2017
Pages: 289
My rating: 
---
Love hurts…
Makani Young thought she'd left her dark past behind her in Hawaii, settling in with her grandmother in landlocked Nebraska. She's found new friends and has even started to fall for mysterious outsider Ollie Larsson. But her past isn't far behind.
Then, one by one, the students of Osborne Hugh begin to die in a series of gruesome murders, each with increasingly grotesque flair. As the terror grows closer and her feelings for Ollie intensify, Makani is forced to confront her own dark secrets.
"His declaration pierced through the muscle of her heart like a skillfully thrown knife. It was the kind of pain that made her feel alive."
Oh, man, this was bad. I don't know what I was expecting when I first started this book, but I'm a disappointed burnt potato right now. And the thing is, I went with low expectations. I heard not the greatest things about this book, and that it wasn't a horror book yada, yada, yada… But somehow I expected a better story. And the thing is that it started good. But then it went downhill.
This was one of my most anticipated releases last year, not only because I really enjoyed her Anna and the French Kiss trilogy back in the day, but because this book was described as a YA Scream version. And I was pretty excited, let me tell you. Spoiler alert: it wasn't. At all.
"People life through so much pain only once; pain comes again, but it finds a tougher surface."
Like I said before, it started good. I knew already from previous reviews that it was going to be a more romance mystery/thriller type of story, rather than the horror novel we all expected, and yes, it had those Scream vibes (a hooded figure killing people), but that's about it.
The beginning was mysterious enough that picked my interest, and made me want to continue to try to figure out everything, but I have to tell you the romance happens in like page 50, which is suuper soon. Also it was really focus on the main character's relationship with her love interest, period. Yes, there was also that "mystery" going on, but it was mostly about them being together.
Also, the rest of the characters were very underveloped and unidimensional. They were just there so the protagonist could interact with them, but didn't really have much to add to the story or anything.
"They thought puzzle were boring. But I've always thought they were satisfyinh, you know? Each piece having its exact place."
Well, it wasn't that bad. I tolerated them being together until the very worst happened. HOW COULD YOU REVEAL WHO THE MURDER WAS HALFWAY THROUGH THE STORY? Like, what? It was supposed to be a mystery, and when I reached the half mark, everything was pretty much solved??? Ugh, I cannot tell you how much it pissed me. Needless to say, I lost my interest in the book ever since, because I thought maybe there was going to be a plot twist toward the end that would blow my mind, but NOPE.
And right at the end of the book when we know basically why was that character doing everything, well… I just didn't like it. The reasons where so superficial and stupid, and it could have been so much better and the story more complex if it was done differently, but by the time everything was solved, I was really bored and pissed.
Overall, I wouldn't recommend this book at all. There are much better thrillers out in the market, and this one didn't reach the mark, I'm sorry.
Follow me on BlogLovin'
Goodreads | Instagram | Twitter | Contact Me