Hello bookworms! I'm Nia and today I'm going to be talking about my favourite urban fantasy books.
This was a really tough one, guys. I usually lead towards high fantasy more than urban fantasy, mostly because I really like to get engrosed in new worlds and discover them, so urban fantasy is not a genre I reach that often. However, I ended up coming up with my favourite top 5 urban fantasy books. Now some of them aren't technically fantasy, and they have magical realism or paranormal elements in them, but I still count them in here, because otherwise I think I wouldn't have reached all 5 of them.
If you aren't familiar with Top 5 Wednesday, it is a Goodeads group now currently run by Sam over at ToughtsOfTomes on Youtube, where each week they give you a topic and you talk about 5 books that fit that category. You can join the group here if you want to participate!
Without any further ado, let's start with this week's topic!
The Infernal Devices | Cassandra Clare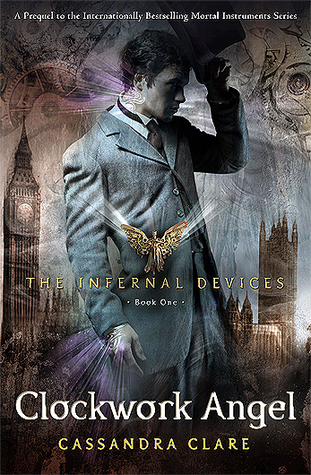 My thoughts: This technically counts more as historical fiction, but I wanted to mention here all Cassandra Clare books in here, because even though TMI isn't my favourite series in the world right now, her books still have a very special place in my heart, because they were one of the first ones I read when I started reading and my obsession back in the day, and I have a lot of good memories that involve these books, so that's why I wanted them to be in this post. Until this very moment my favourite trilogy is The Infernal Devices, and I still have to read The Dark Artifices, but I'll keep you updated if that changes anytime soon.
In a time when Shadowhunters are barely winning the fight against the forces of darkness, one battle will change the course of history forever. Welcome to the Infernal Devices trilogy, a stunning and dangerous prequel to the New York Times bestselling Mortal Instruments series.
The year is 1878. Tessa Gray descends into London's dark supernatural underworld in search of her missing brother. She soon discovers that her only allies are the demon-slaying Shadowhunters—including Will and Jem, the mysterious boys she is attracted to. Soon they find themselves up against the Pandemonium Club, a secret organization of vampires, demons, warlocks, and humans. Equipped with a magical army of unstoppable clockwork creatures, the Club is out to rule the British Empire, and only Tessa and her allies can stop them…
Harry Potter | J. K. Rowling
My thoughts: Yes, guys, Harry Potter is urban fantasy. I don't know why but it took me a while to realize that. However, even though I discovered the movies first, this series has a very special place in my heart, not only because I ended up really loving the books when I read them, but because I grew up with Harry Potter. I would go to the movies to watch it, and they always released the on my birthday, which was super cool. Anyways, I love Harry Potter, and I think I'll always remember the good memories I have about it, so yup.
Harry Potter's life is miserable. His parents are dead and he's stuck with his heartless relatives, who force him to live in a tiny closet under the stairs. But his fortune changes when he receives a letter that tells him the truth about himself: he's a wizard. A mysterious visitor rescues him from his relatives and takes him to his new home, Hogwarts School of Witchcraft and Wizardry.
After a lifetime of bottling up his magical powers, Harry finally feels like a normal kid. But even within the Wizarding community, he is special. He is the boy who lived: the only person to have ever survived a killing curse inflicted by the evil Lord Voldemort, who launched a brutal takeover of the Wizarding world, only to vanish after failing to kill Harry.
Though Harry's first year at Hogwarts is the best of his life, not everything is perfect. There is a dangerous secret object hidden within the castle walls, and Harry believes it's his responsibility to prevent it from falling into evil hands. But doing so will bring him into contact with forces more terrifying than he ever could have imagined.
The Raven Boys | Maggie Stiefvater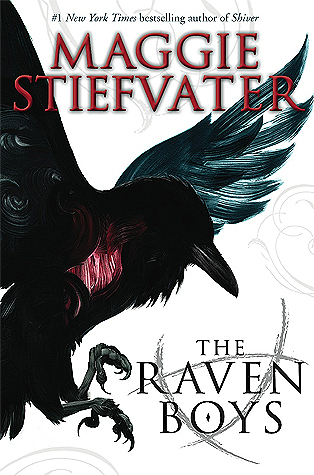 My thoughts: This is one of those series that it's a mix of genres. To be it's a bit urban fantasy, paranormal and magical realism, but it's a weird a confusing series, and it doesn't really belong to one particular genre. So today it's urban fantasy, okay? Anyways, this is one of my favourite series of all time. I'm so glad I read them, because not only it was such a good and mysterious story, but I completely fell in love with the cast of characters. I'm a character driven kind of girl, so even if the plot isn't that great but I adore the characters, I'll probably really enjoy that book. And I think that's what happened to me with this quartet.
It is freezing in the churchyard, even before the dead arrive.
Every year, Blue Sargent stands next to her clairvoyant mother as the soon-to-be dead walk past. Blue herself never sees them—not until this year, when a boy emerges from the dark and speaks directly to her.
His name is Gansey, and Blue soon discovers that he is a rich student at Aglionby, the local private school. Blue has a policy of staying away from Aglionby boys. Known as Raven Boys, they can only mean trouble.
But Blue is drawn to Gansey, in a way she can't entirely explain. He has it all—family money, good looks, devoted friends—but he's looking for much more than that. He is on a quest that has encompassed three other Raven Boys: Adam, the scholarship student who resents all the privilege around him; Ronan, the fierce soul who ranges from anger to despair; and Noah, the taciturn watcher of the four, who notices many things but says very little.
For as long as she can remember, Blue has been warned that she will cause her true love to die. She never thought this would be a problem. But now, as her life becomes caught up in the strange and sinister world of the Raven Boys, she's not so sure anymore.
A Million Junes | Emily Henry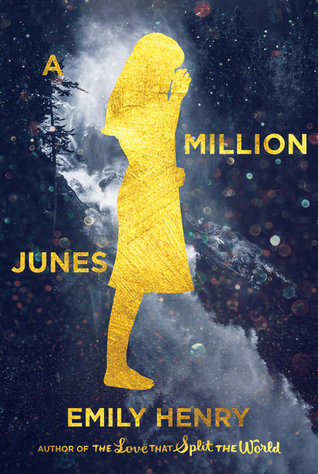 My thoughts: This isn't urban fantasy, I know, I know, I'm the worst. It's a magical realism book, but I still wanted to mention it because it has fantasy elements, and it's set in present day, so… bear with me. This was one of my favourite books of last year, and a very underrated one. It was amazing, and it's one of those stories that's creepy but whimsical, and I really loved it. It had a really interesting plot and a love/hate relationship, which you know I live for.
I have a review of this book here, in case you want to check it out.
For as long as Jack "June" O'Donnell has been alive, her parents have had only one rule: stay away from the Angert family. But when June collides—quite literally—with Saul Angert, sparks fly, and everything June has known is thrown into chaos.
Who exactly is this gruff, sarcastic, but seemingly harmless boy who has returned to their hometown of Five Fingers, Michigan, after three mysterious years away? And why has June—an O'Donnell to her core—never questioned her late father's deep hatred of the Angert family? After all, the O'Donnells and the Angerts may have mythic legacies, but for all the tall tales they weave, both founding families are tight-lipped about what caused the century-old rift between them.
As Saul and June's connection grows deeper, they find that the magic, ghosts, and coywolves of Five Fingers seem to be conspiring to reveal the truth about the harrowing curse that has plagued their bloodlines for generations. Now June must question everything she knows about her family and the father she adored, and she must decide whether it's finally time for her—and all the O'Donnells before her—to let go.
Wicked | Jennifer L. Armentrout
My thoughts: This would be the closest urban fantasy you get in this post, because it's a legit urban fantasy NA book. And it was amazing. These books are so easy to read and addicting, and they are so fast paced they take so little time to finish them. This trilogy in particular is about fae, and though they have a few well known tropes that made the book a bit predictable to me, I still had an amazing time reading them, and I cannot wait to read the third installment and see how it ends!
Twenty-two year old Ivy Morgan isn't your average college student. She, and others like her, know humans aren't the only thing trolling the French Quarter for fun… and for food. Her duty to the Order is her life. After all, four years ago, she lost everything at the hands of the creatures she'd sworn to hunt, tearing her world and her heart apart.
Ren Owens is the last person Ivy expected to enter her rigidly controlled life. He's six feet and three inches of temptation and swoon-inducing charm. With forest-green eyes and a smile that's surely left a stream of broken hearts in its wake, he has an uncanny, almost unnatural ability to make her yearn for everything he has to offer. But letting him in is as dangerous as hunting the cold-blooded killers stalking the streets. Losing the boy she loved once before had nearly destroyed her, but the sparking tension that grows between them becomes impossible for Ivy to deny. Deep down, she wants… she needs more than what her duty demands of her, what her past has shaped for her.
But as Ivy grows closer to Ren, she realizes she's not the only one carrying secrets that could shatter the frail bond between them. There's something he's not telling her, and one thing is for certain. She's no longer sure what is more dangerous to her—the ancient beings threatening to take over the town or the man demanding to lay claim to her heart and her soul.
What are your favourite urban fantasy books? Let me know if you have any recommendations of that genre, because I want to read more urban fantasy books, but I feel I don't find one I'm very interested in to pick it up.
Follow me on BlogLovin'
Goodreads | Instagram | Twitter | Contact Me