Hello bookworms! I'm Nia and today I'm going to be talking about the books I've read in February.
I cannot believe the amount of books I managed to finish this month. I think it's been my best reading month I've had so far, because I ended up reading a total of 18 books, which is crazy!! I have to say it was mostly because I participated in the ContemporaryAThon, and read 8 books that week, but nonetheless, I'm still really proud of myself.
There are, of course, some favorites in this list and novels I adored, but there are also some books that I either dislike or wasn't the biggest fan of, but I'll be talking about them in a second.
Without any further ado, let's begin with my February wrap up!
Tess of The Road | Rachel Hartman
⭐️.5
My thoughts: To say that I DNFed this book is actually saying a lot about me. I did not like it. At all.
I was really excited to read this book, mostly because it was supposed to be a really amazing novel with a badass protagonist and dragons, but truth be told, nothing exciting happened. There were mentions about magical creatures and dragons, but it was so slow and boring that I ended up stopping halfway through. And I hardly ever do that, because I think some books tend to get better as the story continues. Well, that wasn't the case with this one.
I actually enjoyed the beginning of the story, but it was really confusing and I didn't really followed the path of the story. The main character wasn't my favorite, to be honest, and the flashbacks that happened in the story weren't written properly, and I didn't know if what I was reading was happening in the present or the past.
Overall, I didn't like the plot nor the story, hence why I did not finish it, and I was expecting to read about dragons, and honestly? There wasn't a lot of information about them, nor apparitions of those creatures in the story.
In the medieval kingdom of Goredd, women are expected to be ladies, men are their protectors, and dragons get to be whomever they want. Tess, stubbornly, is a troublemaker. You can't make a scene at your sister's wedding and break a relative's nose with one punch (no matter how pompous he is) and not suffer the consequences. As her family plans to send her to a nunnery, Tess yanks on her boots and sets out on a journey across the Southlands, alone and pretending to be a boy.
Where Tess is headed is a mystery, even to her. So when she runs into an old friend, it's a stroke of luck. This friend is a quigutl–a subspecies of dragon–who gives her both a purpose and protection on the road. But Tess is guarding a troubling secret. Her tumultuous past is a heavy burden to carry, and the memories she's tried to forget threaten to expose her to the world in more ways than one.
Truly Devious | Maureen Johnson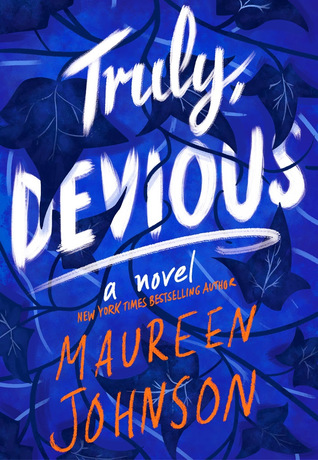 ⭐️⭐️⭐️⭐️.75
My thoughts: I have a review already posted a review on this blog, so click here in case you want to know my thoughts about it.
Ellingham Academy is a famous private school in Vermont for the brightest thinkers, inventors, and artists. It was founded by Albert Ellingham, an early twentieth century tycoon, who wanted to make a wonderful place full of riddles, twisting pathways, and gardens. "A place" he said, "where learning is a game."
Shortly after the school opened, his wife and daughter were kidnapped. The only real clue was a mocking riddle listing methods of murder, signed with the frightening pseudonym, Truly Devious. It became one of the great unsolved crimes of American history.
True-crime aficionado Stevie Bell is set to begin her first year at Ellingham Academy, and she has an ambitious plan: She will solve this cold case. That is, she will solve the case when she gets a grip on her demanding new school life and her housemates: the inventor, the novelist, the actor, the artist, and the jokester. But something strange is happening. Truly Devious makes a surprise return, and death revisits Ellingham Academy. The past has crawled out of its grave. Someone has gotten away with murder.
The Beauty That Remains | Ashley Woodfolk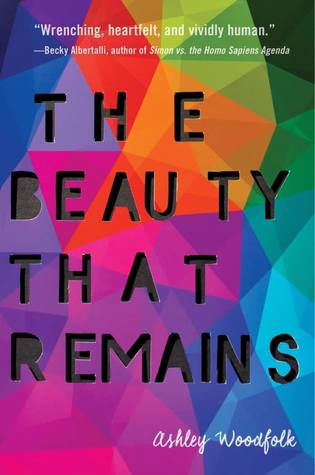 ⭐️⭐️⭐️⭐️.25
My thoughts: I have a review already posted a review on this blog, so click here in case you want to know my thoughts about it.
Autumn always knew exactly who she was—a talented artist and a loyal friend. Shay was defined by two things: her bond with her twin sister, Sasha, and her love of music. And Logan always turned to writing love songs when his love life was a little less than perfect.
But when tragedy strikes each of them, somehow music is no longer enough. Now Logan can't stop watching vlogs of his dead ex-boyfriend. Shay is a music blogger struggling to keep it together. And Autumn sends messages that she knows can never be answered.
Despite the odds, one band's music will reunite them and prove that after grief, beauty thrives in the people left behind.

Everless | Sara Holland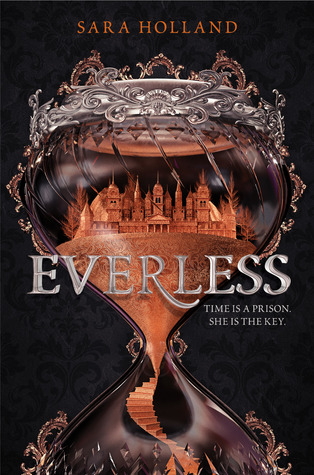 ⭐️⭐️⭐️.5
My thoughts: I have a review already posted a review on this blog, so click here in case you want to know my thoughts about it.
In the kingdom of Sempera, time is currency—extracted from blood, bound to iron, and consumed to add time to one's own lifespan. The rich aristocracy, like the Gerlings, tax the poor to the hilt, extending their own lives by centuries.
No one resents the Gerlings more than Jules Ember. A decade ago, she and her father were servants at Everless, the Gerlings' palatial estate, until a fateful accident forced them to flee in the dead of night. When Jules discovers that her father is dying, she knows that she must return to Everless to earn more time for him before she loses him forever.
But going back to Everless brings more danger—and temptation—than Jules could have ever imagined. Soon she's caught in a tangle of violent secrets and finds her heart torn between two people she thought she'd never see again. Her decisions have the power to change her fate—and the fate of time itself.
Blood and Sand | C. V. Wyk
⭐️⭐️⭐️⭐️.5
My thoughts: I have a review already posted a review on this blog, so click here in case you want to know my thoughts about it.
FORGED IN BATTLE…
FROM THE DUST OF THE ARENA…
A LEGEND WILL RISE
Roma Victrix. The Republic of Rome is on a relentless march to create an empire―an empire built on the backs of the conquered, brought back to Rome as slaves.
Attia was once destined to rule as the queen and swordmaiden of Thrace, the greatest warrior kingdom the world had seen since Sparta. Now she is a slave, given to Xanthus, the Champion of Rome, as a sign of his master's favor. Enslaved as a child, Xanthus is the preeminent gladiator of his generation.
Against all odds, Attia and Xanthus form a tentative bond. A bond that will spark a rebellion. A rebellion that threatens to bring the Roman Republic to its end―and gives rise to the legend of Spartacus…
More Than We Can Tell | Brigid Kemmerer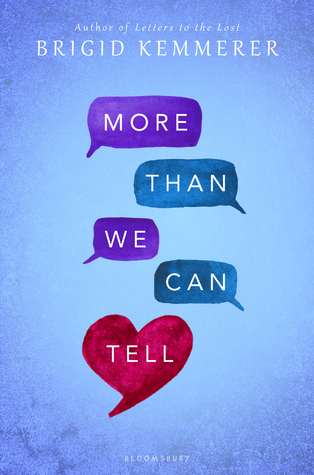 ⭐️⭐️⭐️⭐️.25
My thoughts: I have a review already posted a review on this blog, so click here in case you want to know my thoughts about it.
Rev Fletcher is battling the demons of his past. But with loving adoptive parents by his side, he's managed to keep them at bay…until he gets a letter from his abusive father and the trauma of his childhood comes hurtling back.
Emma Blue spends her time perfecting the computer game she built from scratch, rather than facing her parents' crumbling marriage. She can solve any problem with the right code, but when an online troll's harassment escalates, she's truly afraid.
When Rev and Emma meet, they both long to lift the burden of their secrets and bond instantly over their shared turmoil. But when their situations turn dangerous, their trust in each other will be tested in ways they never expected. 
The Defiant | Lesley Livingston
⭐️⭐️⭐️.5
My thoughts: Okay, I was super excited about this book because I read The Valiant last year and really enjoyed, so I read it as soon as I managed to grab a copy.
Turns out, I liked the book and I think it was a very interesting sequel, but I didn't love it as much as the first book. It was slower, and the plot took a while longer to develop. However, I really enjoyed knowing more about Fallon and what was she going through, and of course, I loved the female friendship that all the gladiatrix had. This installment was a bit more focused on the romance than The Valiant, and thought I liked the main couple in this book, I think that sometimes nothing really was happening apart from that romance or some drama between some characters, and I was hoping to see more about the gladiatrix and their fights.
I took me a while to get into the story. I don't know the reason, but I noticed that in this book I wasn't as focused as I was when I read the first novel, but once I got focused on the story, it was really fast paced and took me almost nothing to finish it.
Overall, it was a solid read and I really enjoyed the ending and the character development, as well as the female friendship that was portrayed in the story, and I'm still excited to continue with the third installment and know finally how everything would end.
Be brave, gladiatrix… And be wary. Once you win Caesar's love, you'll earn his enemies' hate.
Fallon was warned.
Now she is about to pay the price for winning the love of the Roman people as Caesar's victorious gladiatrix.
In this highly anticipated sequel to THE VALIANT, Fallon and her warrior sisters find themselves thrust into a vicious conflict with a rival gladiator academy, one that will threaten not only Fallon's heart – and her love for Roman soldier Cai – but the very heart of the ancient Roman Empire.
When dark treachery and vicious power struggles threaten her hard-won freedom, the only thing that might help the girl known as Victrix save herself and her sisters is a tribe of long-forgotten mythic Amazon warriors.
The only trouble is, they might just kill her themselves first.

Tiger Lily | Jodi Lynn Anderson
⭐️⭐️⭐️⭐️⭐️
My thoughts: I have a review already posted a review on this blog, so click here in case you want to know my thoughts about it.
Before Peter Pan belonged to Wendy, he belonged to the girl with the crow feather in her hair…
Fifteen-year-old Tiger Lily doesn't believe in love stories or happy endings. Then she meets the alluring teenage Peter Pan in the forbidden woods of Neverland and immediately falls under his spell.
Peter is unlike anyone she's ever known. Impetuous and brave, he both scares and enthralls her. As the leader of the Lost Boys, the most fearsome of Neverland's inhabitants, Peter is an unthinkable match for Tiger Lily. Soon, she is risking everything—her family, her future—to be with him. When she is faced with marriage to a terrible man in her own tribe, she must choose between the life she's always known and running away to an uncertain future with Peter.
With enemies threatening to tear them apart, the lovers seem doomed. But it's the arrival of Wendy Darling, an English girl who's everything Tiger Lily is not, that leads Tiger Lily to discover that the most dangerous enemies can live inside even the most loyal and loving heart.
Ruin and Rising | Leigh Bardugo
⭐️⭐️⭐️.5
My thoughts: I have a review already posted a review on this blog, so click here in case you want to know my thoughts about it.
The Darkling rules Ravka from his shadow throne.
Now the nation's fate rests with a broken Sun Summoner, a disgraced tracker, and the shattered remnants of a once-great magical army.
Deep in an ancient network of tunnels and caverns, a weakened Alina must submit to the dubious protection of the Apparat and the zealots who worship her as a Saint. Yet her plans lie elsewhere, with the hunt for the elusive firebird and the hope that an outlaw prince still survives.
Alina will have to forge new alliances and put aside old rivalries as she and Mal race to find the last of Morozova's amplifiers. But as she begins to unravel the Darkling's secrets, she reveals a past that will forever alter her understanding of the bond they share and the power she wields. The firebird is the one thing that stands between Ravka and destruction—and claiming it could cost Alina the very future she's fighting for.
The Hating Game | Sally Thorne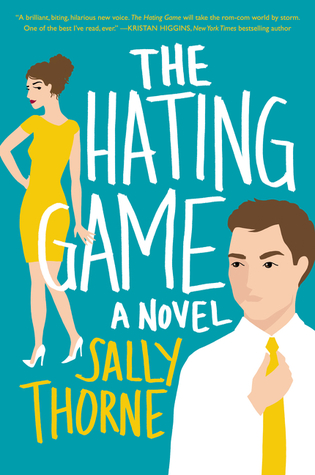 ⭐️⭐️⭐️.75
My thoughts: This was such a funny story. I've been wanting to read it for so long because everyone and their mother's been talking and raving about it, so I finally got the chance to do so, and overall I think it was a really funny and fluffy hate-to-love story.
The story was so addicting and I ended up finishing in a few hours after starting it. You know I'm a sucker for this trope, so I devoured it. I loved the dynamics between the characters, and the development of their relationship. Of course, it was a very trope-y and clique story, but I usually have no problem with that in NA contemporary, because they tend to have the same tropes most of the time.
I had some issues regarding the characters and the writing sometimes, but something that I really appreciated was how the author didn't add that relationship drama toward the ending and did something completely different that I loved reading, because I feel all NA books tend to have the same endings, and at times it frustrates me a bit.
Nemesis (n.)
1) An opponent or rival whom a person cannot best or overcome;
2) A person's undoing;
3) Joshua Templeman.
Lucy Hutton and Joshua Templeman hate each other. Not dislike. Not begrudgingly tolerate. Hate. And they have no problem displaying their feelings through a series of ritualistic passive aggressive maneuvers as they sit across from each other, executive assistants to co-CEOs of a publishing company. Lucy can't understand Joshua's joyless, uptight, meticulous approach to his job. Joshua is clearly baffled by Lucy's overly bright clothes, quirkiness, and Pollyanna attitude.
Now up for the same promotion, their battle of wills has come to a head and Lucy refuses to back down when their latest game could cost her her dream job…But the tension between Lucy and Joshua has also reached its boiling point, and Lucy is discovering that maybe she doesn't hate Joshua. And maybe, he doesn't hate her either. Or maybe this is just another game.
Under Rose-Tainted Skies | Louise Gornall
⭐️⭐️⭐️.5
My thoughts: I have a review already posted a review on this blog, so click here in case you want to know my thoughts about it.
At seventeen, Norah has accepted that the four walls of her house delineate her life. She knows that fearing everything from inland tsunamis to odd numbers is irrational, but her mind insists the world outside is too big, too dangerous. So she stays safe inside, watching others' lives through her windows and social media feed.
But when Luke arrives on her doorstep, he doesn't see a girl defined by medical terms and mental health. Instead, he sees a girl who is funny, smart, and brave. And Norah likes what he sees.
Their friendship turns deeper, but Norah knows Luke deserves a normal girl. One who can walk beneath the open sky. One who is unafraid of kissing. One who isn't so screwed up. Can she let him go for his own good—or can Norah learn to see herself through Luke's eyes?

Alex, Approximately | Jen Bennett
⭐️⭐️⭐️⭐️.25
My thoughts: This was super duper cute, guys. I've been wanting to read this book ever since it came out last year, and I was pleasantly surprised with the whole story.
I loved Bailey as a main character. I think she was a more different character, and I really liked the fact that she loved vintage and old movies. She was hilarious and sarcastic and realistic, and I very much enjoyed her interactions throughout the story with the male character. I think the romance was really well done, and it took its time to happen and develop, which was very surprising. Both characters were hilarious together, and I enjoyed so much the hate-to-love trope in the story.
I have to say that some things that were happening towards the ending were a bit predictable, but since it was a romance contemporary I didn't mind it that much.
Classic movie fan Bailey "Mink" Rydell has spent months crushing on a witty film geek she only knows online as Alex. Two coasts separate the teens until Bailey moves in with her dad, who lives in the same California surfing town as her online crush.
Faced with doubts (what if he's a creep in real life—or worse?), Bailey doesn't tell Alex she's moved to his hometown. Or that she's landed a job at the local tourist-trap museum. Or that she's being heckled daily by the irritatingly hot museum security guard, Porter Roth—a.k.a. her new archnemesis. But life is a whole lot messier than the movies, especially when Bailey discovers that tricky fine line between hate, love, and whatever it is she's starting to feel for Porter.
And as the summer months go by, Bailey must choose whether to cling to a dreamy online fantasy in Alex or take a risk on an imperfect reality with Porter. The choice is both simpler and more complicated than she realizes, because Porter Roth is hiding a secret of his own: Porter is Alex…Approximately.
There's Someone Inside Your House | Stephanie Perkins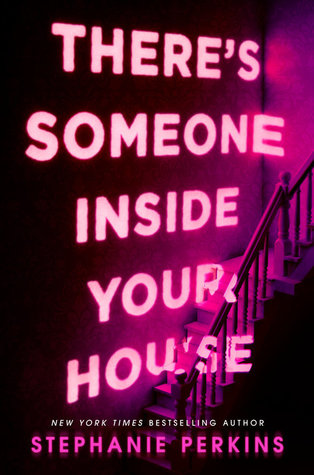 ⭐️.5
My thoughts: I have a review already posted a review on this blog, so click here in case you want to know my thoughts about it.
Love hurts…
Makani Young thought she'd left her dark past behind her in Hawaii, settling in with her grandmother in landlocked Nebraska. She's found new friends and has even started to fall for mysterious outsider Ollie Larsson. But her past isn't far behind.
Then, one by one, the students of Osborne Hugh begin to die in a series of gruesome murders, each with increasingly grotesque flair. As the terror grows closer and her feelings for Ollie intensify, Makani is forced to confront her own dark secrets.

Shuffle, Repeat | Jen Klein
⭐️⭐️⭐️⭐️
My thoughts: Another hate-to-love story, surprise surprise. I've heard so many people talking about it lately that I purchased it on a whim and decided to finally read it. And it was super fluffy and adorable.
I think it did really well the purpose of this book. It was a really light and fun contemporary romance, and I liked the romance, so kudos to that. It was super fast paced and easy to get into, and I enjoyed so much the interactions between both main characters.
The romance was done really well in my opinion, and it took its time to happen, which was so good. I laughed out loud a few times while reading the novel, and I liked the fact that music was some of the main focuses of the story (there's an actual playlists with all the songs at the end of the book!).
Overall, it was a cute hate-to-love story, with a very adorable and hilarious romance. and I very much enjoyed it all.
June wants high school to end and real life to begin. Oliver is soaking up senior year's glory days. They could have coasted through high school, knowing about—but not really knowing—each other.
Except that their moms have arranged for Oliver to drive June to school. Every. Single. Day.
Suddenly these two opposites are fighting about music, life . . . pretty much everything. But love is unpredictable. When promises—and hearts—get broken, Oliver and June must figure out what really matters. And then fight for it.
The First Time She Drowned | Kerry Kletter
⭐️⭐️⭐️⭐️⭐️
My thoughts: I have a review already posted a review on this blog, so click here in case you want to know my thoughts about it.
Cassie O'Malley has been trying to keep her head above water—literally and metaphorically—since birth. It's been two and a half years since Cassie's mother dumped her in a mental institution against her will, and now, at eighteen, Cassie is finally able to reclaim her life and enter the world on her own terms.
But freedom is a poor match against a lifetime of psychological damage. As Cassie plumbs the depths of her new surroundings, the startling truths she uncovers about her own family narrative make it impossible to cut the tethers of a tumultuous past. And when the unhealthy mother-daughter relationship that defined Cassie's childhood and adolescence threatens to pull her under once again, Cassie must decide: whose version of history is real? And more important, whose life must she save?
The Sky Is Everywhere | Jandy Nelson
⭐️⭐️
My thoughts: I know this is a pretty unpopular opinion but I didn't like this novel. Which was a let down to me because a few people have been recommending it to me, and I was really excited to pick it up.
I just didn't click with the story as much as I expected. I hoped it would be something completely different than it was, and I didn't like the main character, nor anything that happened throughout the story.
It started okay, but the romance in the story wasn't really well done. Like, I get some things that happened regarding our main character and a certain guy, but the romance that was in the story was super insta love-y and came basically out of nowhere. I don't know, I think it was really focused on the story and not coping with loss.
Something that I liked was the relationship between Bailey and her grandmother. It was so precious and supportive, and I think she helped her a lot.
Adrift after her sister Bailey's sudden death, Lennie finds herself torn between quiet, seductive Toby—Bailey's boyfriend who shares her grief—and Joe, the new boy in town who bursts with life and musical genius. Each offers Lennie something she desperately needs… though she knows if the two of them collide her whole world will explode.
Join Lennie on this heartbreaking and hilarious journey of profound sorrow and mad love, as she makes colossal mistakes and colossal discoveries, as she traipses through band rooms and forest bedrooms and ultimately right into your heart.
As much a celebration of love as a poignant portrait of loss, Lennie's struggle to sort her own melody out of the noise around her is always honest, often uproarious, and absolutely unforgettable.

The Truth Beneath the Lies | Amanda Searcy
⭐️⭐️.5
My thoughts: I was so soo disappointed with this book. Ever since I knew about it I've been wanting to read it, and I don't know if I would have liked it more if not being on a reading slump, but well… the thing is that I had a lot of issues regarding the story.
I thought it had a really amazing and interesting concept, and since I'm the kind of person who's always looking for a good mystery/thriller, I decided to give it a try. BUT THE COVER GAVE TOO MUCH AWAY. Like, too much. And that ended up affecting the way I ended up seeing the novel.
The thing is, that I was super confused the whole time I was reading it. And I like mysterious books where you don't know what's going on, but with this particular story I think that played on the wrong path, because there was no plot until the last 40 pages, where you started to know what was really going on.
I was so bored during the entire book that I wanted to DNF it, but me being me, I decided to continue just to know what happened. And… it was really predictable. Ever since I started the novel I had a theory and I ended up being right about it, which was a bit disappointing, because I was hoping that I would be at least a bit more surprised.
I feel this could have been a better story if done completely different, because it had an interesting premise, and the plot wasn't that bad, but the way it was done made it slow and anticlimactic.
Fight or Flight.
All Kayla Asher wants to do is run. Run from the government housing complex she calls home. Run from her unstable mother. Run from a desperate job at No Limit Foods. Run to a better, cleaner, safer life. Every day is one day closer to leaving.
All Betsy Hopewell wants to do is survive. Survive the burner phone hidden under her bed. Survive her new rules. Survive a new school with new classmates. Survive being watched. Every minute grants her another moment of life.
But when fate brings Kayla and Betsy together, only one girl will live.
Children of Blood and Bones | Tomi Adeyemi
⭐️⭐️⭐️⭐️.5
My thoughts: I have a review already posted a review on this blog, so click here in case you want to know my thoughts about it.
Zélie Adebola remembers when the soil of Orïsha hummed with magic. Burners ignited flames, Tiders beckoned waves, and Zelie's Reaper mother summoned forth souls.
But everything changed the night magic disappeared. Under the orders of a ruthless king, maji were targeted and killed, leaving Zélie without a mother and her people without hope.
Now, Zélie has one chance to bring back magic and strike against the monarchy. With the help of a rogue princess, Zélie must outwit and outrun the crown prince, who is hell-bent on eradicating magic for good.
Danger lurks in Orïsha, where snow leoponaires prowl and vengeful spirits wait in the waters. Yet the greatest danger may be Zélie herself as she struggles to control her powers—and her growing feelings for the enemy.
What books have you read this past month of February and which one was your most and least favorite read? Let me know if you also have any of these books on your TBR!
Follow me on BlogLovin'
Goodreads | Instagram | Twitter | Contact Me