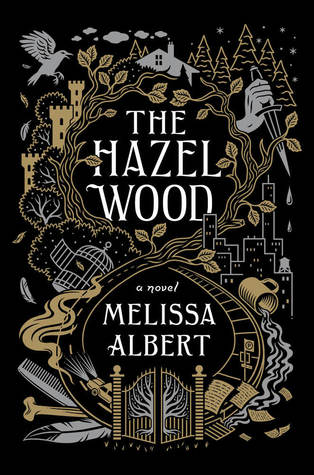 Title: The Hazel Wood
Author: Melissa Albert
Series: The Hazel Wood #1
Genre: Young Adult, Fantasy, Urban Fantasy
Publisher: Flatiron Books
Publication date: January 30th, 2018
Pages: 368
My rating: 
---
Seventeen-year-old Alice and her mother have spent most of Alice's life on the road, always a step ahead of the uncanny bad luck biting at their heels. But when Alice's grandmother, the reclusive author of a cult-classic book of pitch-dark fairy tales, dies alone on her estate, the Hazel Wood, Alice learns how bad her luck can really get: her mother is stolen away―by a figure who claims to come from the Hinterland, the cruel supernatural world where her grandmother's stories are set. Alice's only lead is the message her mother left behind: "Stay away from the Hazel Wood."
Alice has long steered clear of her grandmother's cultish fans. But now she has no choice but to ally with classmate Ellery Finch, a Hinterland superfan who may have his own reasons for wanting to help her. To retrieve her mother, Alice must venture first to the Hazel Wood, then into the world where her grandmother's tales began―and where she might find out how her own story went so wrong.
"It made me wonder if we weren't a little bit alike. Behaving the way we had to get by, while hiding a core that was a mystery even to ourselves."
Okay, I admit I'm impressed. Even though I went with pretty high expectations after hearing amazing praises about this novel, I have to say that even though it was completely different from what I had on mind, I still think it was a really interesting story. The plot was so intriguing and mysterious, and I completely fell in love with the writing.
This was one of my most anticipated releases of this year. I've been waiting to read it for ages it feels. I'm a very big fan of fairytales, but dark and twisted ones? Sign me in. I take them all. And I was pleasantly surprised to discover this new eerie world where not everything happens for a reason.
"When we traveled I kept an eagle eye on the cars behind us, like bad luck could take human form and trail you in a minivan. But bad luck was sneakier than that. You couldn't outsmart it, you could only keep going when it had you in its sights."
I admit though, that I had some issues with the characters, especially the main character, Alice. There were parts where I really liked her, and overall I enjoyed her development throughout the entire book, but at times she seemed a bit off to me. I don't know exactly why, because it wasn't anything she was doing, but more her actions, I believe. She was a morally gray character, and sometimes I didn't click with her as much as I expected to.
Something I really appreciated was the lack of romance in the novel. There was a weird and strange kind-of-friendship in the story between Alice and Finch, and though I feel it didn't reach its fully potential, I still think we would read more about them in the sequel (don't quote me on that!). But I liked sometimes their dynamics, because they make an odd pair.
"Look until the leaves turn red, sew the worlds up with thread. If your journey's left undone, fear the rising of the sun."
But, the thing that made me love the book I was reading and probably one of the reasons why I ended up giving it a higher rating was the stories within the story. I cannot tell you how much I adored the fairytales that I read in this book, and how engrossed I was reading The Hazel Wood. I found all of those tales so beautiful yet dark, and also unique that I completely fell in love with them.
And though some of the big revelations that happened toward the end of it were a bit too predictable, and to be honest, a bit convenient as well, I still liked it enough to want to continue reading it.
Overall, despite having some issues with Alice and some of her actions at some point of the story, I still think it was a very unique plot, and I'm definitely intrigued to see what the sequel's going to be about!
Follow me on BlogLovin'
Goodreads | Instagram | Twitter | Contact Me