Hello bookworms! I'm Nia and today I'm going to be talking about some children books that you can read as an adult and still enjoy!
Now I'm not the biggest fan of children literature, to be completely honest, so this was a bit tough to think about. And since I didn't think about enough books to talk about (I'm not going to mention Harry Potter, because I think most people would be putting it on their lists), I ended up changing a bit this week's topic, and decided to talk about some books that I want to read as an adult.
Since they are technically on my TBR (all of them except Alice in Wonderland), I'm not going to be talking much about them, because I don't really know much about them, just that they are children classics that adults can read and enjoy.
If you aren't familiar with Top 5 Wednesday, it is a Goodeads group now currently run by Sam over at ToughtsOfTomes on Youtube, where each week they give you a topic and you talk about 5 books that fit that category. You can join the group here if you want to participate!
Without any further ado, let's start with this week's topic!
The Little Prince | Antoine De Saint-Exupéry
Moral allegory and spiritual autobiography, The Little Prince is the most translated book in the French language. With a timeless charm it tells the story of a little boy who leaves the safety of his own tiny planet to travel the universe, learning the vagaries of adult behaviour through a series of extraordinary encounters. His personal odyssey culminates in a voyage to Earth and further adventures.
Alice's Adventures in Wonderland | Lewis Carroll
Alice's Adventures in Wonderland (commonly shortened to Alice in Wonderland) is an 1865 novel written by English mathematician Charles Lutwidge Dodgson under the pseudonym Lewis Carroll. It tells of a girl named Alice falling through a rabbit hole into a fantasy world populated by peculiar, anthropomorphic creatures. The tale plays with logic, giving the story lasting popularity with adults as well as with children. It is considered to be one of the best examples of the literary nonsense genre. Its narrative course and structure, characters and imagery have been enormously influential in both popular culture and literature, especially in the fantasy genre.
Peter Pan | J. M. Berrie
Peter Pan, the book based on J.M. Barrie's famous play, is filled with unforgettable characters: Peter Pan, the boy who would not grow up; the fairy, Tinker Bell; the evil pirate, Captain Hook; and the three children–Wendy, John, and Michael–who fly off with Peter Pan to Neverland, where they meet Indians and pirates and a crocodile that ticks. Renowned children's-book artist Michael Hague has brought the amazing adventures of Peter Pan to life. His beautiful illustrations capture the wild, seductive power of this classic book. This newly designed edition will be enjoyed by fans young and old alike.
Grimm's Fairy Tales | Grimm's Brothers
Children's and Household Tales (German: Kinder- und Hausmärchen) is a collection of German fairy tales first published in 1812 by Jacob and Wilhelm Grimm, the Brothers Grimm. In the English-speaking world, the collection is commonly known today as Grimms' Fairy Tales. For almost two centuries, the stories of magic and myth gathered by the Brothers Grimm have been part of the way children—and adults—learn about the vagaries of the real world. Cinderella, Rapunzel, Snow-White, Hänsel and Gretel, Little Red-Cap (a.k.a. Little Red Riding Hood), and Briar-Rose (a.k.a. Sleeping Beauty) are only a few of more than 200 enchanting characters included here. Lyrically translated, the tales are presented just as Jacob and Wilhelm Grimm originally set them down: bold, primal, just frightening enough, and endlessly engaging.
The Wonderful Wizard of Oz |  L. Frank Baum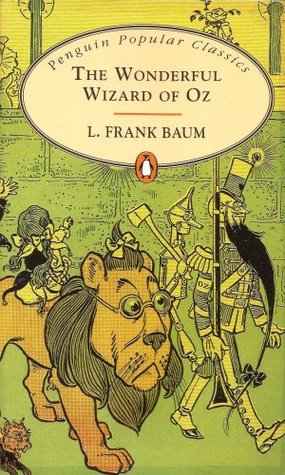 '"Come along, Toto," she said. "We will go to the Emerald City and ask the Great Oz how to get back to Kansas again."'Swept away from her home in Kansas by a tornado, Dorothy and her dog Toto find themselves stranded in the fantastical Land of Oz. As instructed by the Good Witch of the North and the Munchkins, Dorothy sets off on the yellow brick road to try and find her way to the Emerald City and the Wizard of Oz, who can help her get home.With her companions the Scarecrow, the Tin Woodman and the Cowardly Lion, Dorothy experiences an adventure full of friendship, magic and danger. A much-loved children's classic, The Wizard of Oz continues to delight readers young and old with its enchanting tale of witches, flying monkeys and silver shoes.
What are your favorite children books that you'd read as an adult? Are any of these ones on your list? Let me know so we can chat about them in the comments!
Follow me on BlogLovin'
Goodreads | Instagram | Twitter | Contact Me