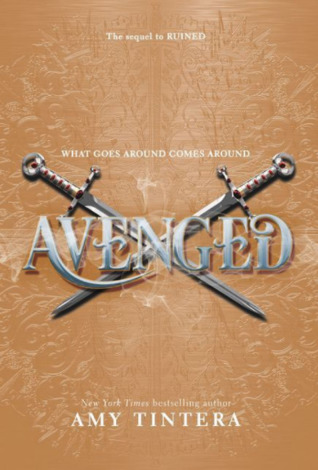 Title: Avenged
Author: Amy Tintera
Series: Ruined #2
Genre: Young Adult, Fantasy, High Fantasy, Romance
Publisher: HarperTeen
Publication date: May 2nd, 2017
Pages: 412
My rating: 
---
A war that will fuel her. A bond that will destroy her.
Emelina Flores has come home to Ruina. After rescuing her sister, Olivia, from imprisonment in rival kingdom Lera, Em and Olivia together vow to rebuild Ruina to its former glory.
But just because Em and Olivia are out of Lera doesn't mean they are safe. Their actions over the past year have had consequences, and they are now targets of retaliation. Olivia will destroy everyone who acts against Ruina. Em isn't as sure.
Ever since Em posed as Prince Casimir's betrothed in Lera, she's started to see another side to this war. Lera may have destroyed the Ruined for decades, but Em knows that Cas is different. And now that he's taken the throne, Em believes a truce is within reach. But Olivia suspects that Em's romantic feelings for Cas are just coloring her judgement.
Em is determined to bring peace to her home. But when winning the war could mean betraying her family, she faces an impossible choice between loyalty and love. Em must stay one step ahead of her enemies—and her blood—before she's the next victim in this battle for sovereignty.
"Staying silence in the face of horrible atrocities is just as bad as actually committing them."
Okay, I'm so pleasantly surprised with this sequel because it was so good! To be completely honest, second books tend to be a little hit or miss to me, and after that first installment I thought this wasn't going to be as good, but I was completely wrong. It was even better than the first one!
I decided to finally marathon the series because the third and final book is coming out later this year (I believe in May??), and I was eyeing this series for a while. And I'm so glad I did, because I thoroughly enjoyed these two novels.
"Maybe 'coincidence' is another word for fate."
First I wanted to point out that there was a major development in our main character. Basically she completely changed her mind after the first book, and though it seemed a bit unrealistic to me at first, as I continue the story I started to understood why. However, I have to say that I enjoyed the journey she went through in this installment, because not only I got to know her past and allies a bit more, but it was a bit easier to empathize with her after finishing Ruined.
Something I also really appreciated was the dynamics between the characters. Basically it all became a much more complex story, and it was a bit more focused on the interactions between all of those different characters and the political aspect of those interactions, which was something different from the first book, and I very much enjoyed it. The romance took a much more important focus on this installment, but I'd say it didn't feel heavy, because there was a lot of stuff going on and that didn't overcome that.
Another thing I was glad to see in Avenged was a much more complex world building and a story that was based more on politics, which I found a bit lacking in Ruined. In this installment I got to see a lot of different places of that world, and not only that but also the different interactions and relationships between the people in those places, which was so amazing and interesting.
"Em might not be the prettiest girl in the room, but everyone stared at her anyway. It was like she held a secret they all wanted to know."
And boy, oh boy, there were a LOT of different twists and turns in this novel. I found that this was more action packed and intriguing than the first novel, because not only I didn't know what was going to happen, but suddenly there was a plot twist that got me shook and wanting to know what was going on.
It had some morally grey characters, and some unlikeable villains, which I didn't expect, and I have to say that I kind of had a love/hate relationship with some of them, but I found them very interesting at the same time, and I'm super intrigued to see how the third book is going to be.
Overall, this was such an amazing sequel, with a much more complex plot and subplots, and lots of twists and turns, and I'm very excited to know how everything's going to end!
Follow me on BlogLovin'
Goodreads | Instagram | Twitter | Contact Me