Hello bookworms! I'm Nia and today I'm going to be talking about some of my favorite teachers and mentors!
Now I have to admit that I cheated a little bit and did a research of mentors or teachers, because I couldn't think of any that I loved. And that method actually helped me, because not only I re-discovered some books that I loved when I was younger, but also found some to complete this post, which was amazing, in my opinion.
If you aren't familiar with Top 5 Wednesday, it is a Goodeads group now currently run by Sam over at ToughtsOfTomes on Youtube, where each week they give you a topic and you talk about 5 books that fit that category. You can join the group here if you want to participate!
Without any further ado, let's start with this week's topic!
Morpheus | Splintered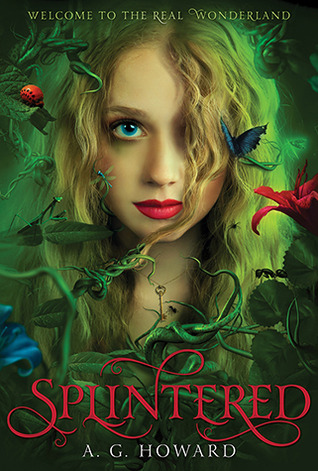 My thoughts: Even though Morpheus isn't technically neither a teacher not a mentor, I think he actually helped Alyssa a lot throughout the series to not only find herself and accept her legacy, but also to love Wonderland as much as he did, so that counts for me. And despite not being my favorite teacher/mentor, this series has a special place in my heart because it was one of the first ones I read when I first started reading YA, and because of that I wanted to mention in here (Morpheus was my fave).
Alyssa Gardner hears the whispers of bugs and flowers—precisely the affliction that landed her mother in a mental hospital years before. This family curse stretches back to her ancestor Alice Liddell, the real-life inspiration for Lewis Carroll's Alice's Adventures in Wonderland. Alyssa might be crazy, but she manages to keep it together. For now.
When her mother's mental health takes a turn for the worse, Alyssa learns that what she thought was fiction is based in terrifying reality. The real Wonderland is a place far darker and more twisted than Lewis Carroll ever let on. There, Alyssa must pass a series of tests, including draining an ocean of Alice's tears, waking the slumbering tea party, and subduing a vicious bandersnatch, to fix Alice's mistakes and save her family. She must also decide whom to trust: Jeb, her gorgeous best friend and secret crush, or the sexy but suspicious Morpheus, her guide through Wonderland, who may have dark motives of his own.
Dmitri Belikov| Vampire Academy
My thoughts: How could I forget Dimitri? I was super obsessed with these books back in the day, and I really loved Dimitri. Now I haven't finished the saga yet (the story of my life), but still I think Dimitri was one of my favorite teachers, because he really helped Rose a lot throughout the series. And they made such a cool pair. I don't know, since I can't remember much about what happened in the first four books, I'll just say that I appreciated Dimitri and his relationship with Rose.
Only a true best friend can protect you from your immortal enemies . . .
Lissa Dragomir is a Moroi princess: a mortal vampire with a rare gift for harnessing the earth's magic. She must be protected at all times from Strigoi; the fiercest vampires – the ones who never die. The powerful blend of human and vampire blood that flows through Rose Hathaway, Lissa's best friend, makes her a dhampir. Rose is dedicated to a dangerous life of protecting Lissa from the Strigoi, who are hell-bent on making Lissa one of them.
After two years of freedom, Rose and Lissa are caught and dragged back to St. Vladimir's Academy, a school for vampire royalty and their guardians-to-be, hidden in the deep forests of Montana. But inside the iron gates, life is even more fraught with danger . . . and the Strigoi are always close by.
Rose and Lissa must navigate their dangerous world, confront the temptations of forbidden love, and never once let their guard down, lest the evil undead make Lissa one of them forever . . .
Remus Lupin | Harry Potter
My thoughts: Remus Lupin was the best teacher at Hogwarts, period. He might be my favorite teacher not only out of this list, but also forever. I love Remus so freaking much, and he deserved so much better. With that being said, I think not only he helped Harry in his third year at Hogwarts, but also you could see how much he cared for all those children, and wanted to make sure they learnt something useful while he was teaching. Not only he was a pure and amazing human being, but also he was an amazing teacher!
"Welcome to the Knight Bus, emergency transportation for the stranded witch or wizard. Just stick out your wand hand, step on board and we can take you anywhere you want to go."
When the Knight Bus crashes through the darkness and screeches to a halt in front of him, it's the start of another far from ordinary year at Hogwarts for Harry Potter. Sirius Black, escaped mass-murderer and follower of Lord Voldemort, is on the run – and they say he is coming after Harry. In his first ever Divination class, Professor Trelawney sees an omen of death in Harry's tea leaves… But perhaps most terrifying of all are the Dementors patrolling the school grounds, with their soul-sucking kiss…
Catarina | Tales From The Shadowhunter Academy
My thoughts: I've recently finished this book and Catarina has become one of my favorite characters, and also one of my favorite teachers. Even though she wasn't a main focus throughout these stories, you could see how much she supported Simon, and the good advices she gave to him at some parts of the book. I don't know, since not many warlocks have appeared in the series, I think she was such an interesting and cool addition to the books, and I'm glad I met her.
Simon Lewis has been a human and a vampire, and now he is becoming a Shadowhunter. But the events of City of Heavenly Fire left him stripped of his memories, and Simon isn't sure who he is anymore. He knows he was friends with Clary, and that he convinced the total goddess Isabelle Lightwood to go out with him…but he doesn't know how. And when Clary and Isabelle look at him, expecting him to be a man he doesn't remember…Simon can't take it.
So when the Shadowhunter Academy reopens, Simon throws himself into this new world of demon-hunting, determined to find himself again. His new self. Whomever this new Simon might be.
But the Academy is a Shadowhunter institution, which means it has some problems. Like the fact that non-Shadowhunter students have to live in the basement. And that differences—like being a former vampire—are greatly looked down upon. At least Simon is trained in weaponry—even if it's only from hours of playing D&D.
Join Simon on his journey to become a Shadowhunter, and learn about the Academy's illustrious history along the way, through guest lecturers such as Jace Herondale, Tessa Gray, and Magnus Bane. These ten short stories give an epilogue to the Mortal Instruments series and provide glimpses of what's in store in the Dark Artifices.
The Dragon | Uprooted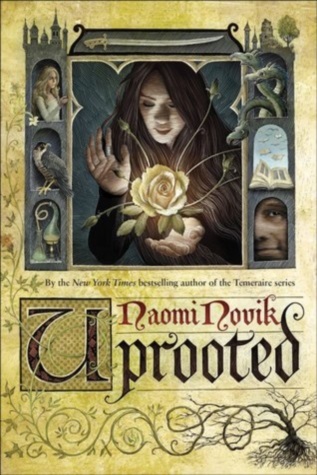 My thoughts: I have to admit that Uprooted wasn't my favorite book in the world. Even though I liked the plot and premise, and some parts of the book, there were others where it dragged and it was quite slow that I got a bit bored. However, one thing I'm pretty sure of is that I love the Dragon. He was a very mysterious character, but I think he was a very cool mentor, hence why I'm mentioning in this list. I love his relationship with Agnieszka, and the odd pair they were together, but also I think he was an incredible and weird mentor.
Agnieszka loves her valley home, her quiet village, the forests and the bright shining river. But the corrupted Wood stands on the border, full of malevolent power, and its shadow lies over her life.
Her people rely on the cold, driven wizard known only as the Dragon to keep its powers at bay. But he demands a terrible price for his help: one young woman handed over to serve him for ten years, a fate almost as terrible as falling to the Wood.
The next choosing is fast approaching, and Agnieszka is afraid. She knows—everyone knows—that the Dragon will take Kasia: beautiful, graceful, brave Kasia, all the things Agnieszka isn't, and her dearest friend in the world. And there is no way to save her.
But Agnieszka fears the wrong things. For when the Dragon comes, it is not Kasia he will choose.
What are your favorite teachers or mentors? Do you have any of these ones I've mentioned above on your list? Let me know!
Follow me on BlogLovin'
Goodreads | Instagram | Twitter | Contact Me