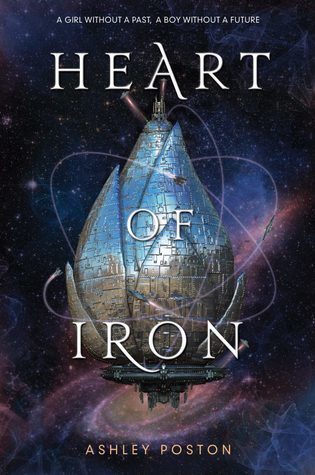 Title: Heart of Iron
Author: Ashley Poston
Series: Heart of Iron #1
Genre: Young Adult, Fantasy, Sci-fi, Retelling, Romance
Publisher: Balzer + Bray
Publication date: February 27th, 2018
Pages: 480
My rating: 
---
Seventeen-year-old Ana is a scoundrel by nurture and an outlaw by nature. Found as a child drifting through space with a sentient android called D09, Ana was saved by a fearsome space captain and the grizzled crew she now calls family. But D09—one of the last remaining illegal Metals—has been glitching, and Ana will stop at nothing to find a way to fix him.
Ana's desperate effort to save D09 leads her on a quest to steal the coordinates to a lost ship that could offer all the answers. But at the last moment, a spoiled Ironblood boy beats Ana to her prize. He has his own reasons for taking the coordinates, and he doesn't care what he'll sacrifice to keep them.
When everything goes wrong, she and the Ironblood end up as fugitives on the run. Now their entire kingdom is after them—and the coordinates—and not everyone wants them captured alive.
What they find in a lost corner of the universe will change all their lives—and unearth dangerous secrets. But when a darkness from Ana's past returns, she must face an impossible choice: does she protect a kingdom that wants her dead or save the Metal boy she loves?
"I'll always come back for you. I promise you on iron and stars."
Okay, I have to admit I was beyond excited because an Anastasia's retelling? Sign me in, please. No, but really. This book was I think on my top 5 most anticipated books of this year, and though I overall enjoyed it, I had a few issues with it.
Let me first begin by saying that the 12-year-old me would be so happy to see something like that happening. And maybe if I would be starting reading YA I would have a higher opinion of this book, but since that didn't happen, let's say I expected more of it. I still really enjoyed the majority of the book, especially the characters, but I had a few problems regarding the story.
"All the stories are built from the bones of something true. You are the daughter of iron and stars. You are the symbol of hope in a time when light only shines from the things that burn."
I don't know what I was expecting before I started reading this novel, but it ended up being completely different from what I first had in mind, which was equal parts good and bad. Like I said before, my favorite part was definitely the characters and their interactions throughout the whole book.
I would say Heart of Iron was more a character driven story. I don't usually have problems with that, because I find that if I like the characters I can look past some of the other issues the story has, which was exactly what happened here. The characters were amazing. Yes, they started a bit trope-y and not that unique, but honestly, I loved their dynamics and the relationships formed as the story went by. They were much different from what I pictured them, but they still look true to the original tale, which was what I wanted to see.
I loved the friendship so freaking much. The way the group was tightly packed together and how much they cared and look after each other was what sold this book to me. I love all of the relationships that started in this book. I don't know, I think that even though I didn't fully get much of it, I wouldn't mind reading more about them and their romances.
"Love was a double-edged sword. It could protect you from the worst of the kingdom, but then it could cut so deep the lost ached years later."
But apart from that, I wanted to say that I was a bit disappointed with the world building. There was hardly any, and I feel the author focused mostly on the characters and their different stories and interactions and didn't really create any space world, and since technically it was labelled as a sci-fi, it was a bit of a let down to me. I was expecting to discover new things, and I found that everything regarding that world at the beginning was a bit confusing and made it a bit harder to focus on the story.
Also, I found all the twists very predictable. I guess I was expecting to be a bit more surprised throughout the story, since halfway through it started to take a very interesting path, but all the reveals made at the very end weren't that mind blowing or surprising.
Still, I'm very interested to read the sequel and see if all the issues I had in this first installment are solved in the next one, because honestly, I freaking adored the cast of characters that were introduced in the novel, and I want to read more about them!
Follow me on BlogLovin'
Goodreads | Instagram | Twitter | Contact Me