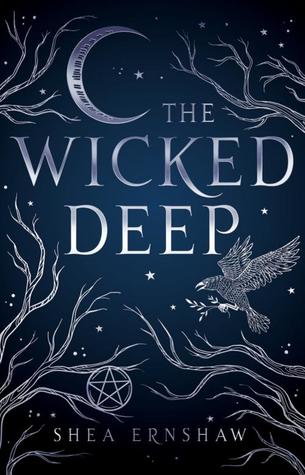 Title: The Wicked Deep
Author: Shea Ensshaw
Series: N/A
Genre: Young Adult, Fantasy, Urban Fantasy, Paranormal, Romance
Publisher: Simon Pulse
Publication date: March 6th, 2018
Pages: 320
My rating: 
---
Welcome to the cursed town of Sparrow…
Where, two centuries ago, three sisters were sentenced to death for witchery. Stones were tied to their ankles and they were drowned in the deep waters surrounding the town.
Now, for a brief time each summer, the sisters return, stealing the bodies of three weak-hearted girls so that they may seek their revenge, luring boys into the harbor and pulling them under.
Like many locals, seventeen-year-old Penny Talbot has accepted the fate of the town. But this year, on the eve of the sisters' return, a boy named Bo Carter arrives; unaware of the danger he has just stumbled into.
Mistrust and lies spread quickly through the salty, rain-soaked streets. The townspeople turn against one another. Penny and Bo suspect each other of hiding secrets. And death comes swiftly to those who cannot resist the call of the sisters.
But only Penny sees what others cannot. And she will be forced to choose: save Bo, or save herself.
I want to do a bit of a disclaimer before I start this review: it will contain some spoilers, because some of the problems I had with the story have something to do with them, so I wanted to point that thing out in case you want to read this book and don't want to get spoiled!
"From the black waters of the harbor, their song sinks into dreams, permeates the brittle grass that grows along steep cliffs and rotting homes. It settles into the stones that hold up the lighthouse; it floats and swirls in the air until it's all you can taste and breathe."
I feel this is a pretty unpopular opinion because I've only heard amazing things about this book, but I guess I kind of expecting so much more?? I don't know, I was super disappointed with this novel, because the premise sounded amazing and I went with high expectations, and it turned out to be not that great of a story.
The Wicked Deep was one of my most anticipated books of 2018, and I know I say this a lot, but well, I have a long list. And though I get why people like this, I think this wasn't a book for me, because even though I overall like what it was trying to tell me, I had a lot of issues with the story in general and the characters, and I ended up really disappointed.
"He sees the same thing in me: a chasm of secrets so deep and wide and unending that it bleeds from me like sweat. We both carry it. A mark on our skin, a brand burned into flesh from the weight of our past."
Let's start by saying that I wasn't the biggest fan of the characters. The were just so lineal and plain and nothing out of the ordinary. The main character didn't have much of a personality, and to be frankly honest with you, she had no development at all. I just didn't particularly like her.
Ever since chapter three or so I already knew the big plot twist regarding Hazel "being" Penny, and I was super disappointed. It was really foreshadowed and it didn't a good job at creating that mystery. And I didn't understand much the way it was done, because we knew about Penny's personality and how different it was form Hazel's, and I think the author didn't difference them much until that plot twist was revealed.
I also found the romance quite unnecessary in the story. It happened very fast and it didn't make much sense to me how entirely focused the story was on the romance and not on other parts of the story. I don't know, it didn't add much to it, and I didn't like the relationship between both characters.
"For in a place like Sparrow, rumors spread quickly, like small pox or cholera, confusing the mind, rooting itself into the fabric of a town until there's no one telling truth from speculation."
The story had such an interesting and unique premise, but I feel it was underdeveloped. It was so slow, and though I had no problem with slow burning stories I found myself bored with this one, because most of the time nothing interesting was really happening. Like I said before, it was so focused on the romance that the true story was pretty much lost.
The back story of the three sisters wasn't complex at all, which was a disappointment to me, since it was what I was most excited about. There were a few excerpts throughout the book where I learnt more about them, but there was no information provided about how the curse happened, or their stories, and that put a distance between me and the novel.
Overall, it had a very intriguing premise, but the general development wasn't great, and the ending was a bit anticlimactic for my liking. I didn't particularly love the characters or their relationship, and I found most of the story quite lineal.
Follow me on BlogLovin'
Goodreads | Instagram | Twitter | Contact Me