Hello bookworms! I'm Nia and today I'm going to be talking about some new releases that are coming out this month that I'm very excited about!
I have to admit, I'm a bit happy that April isn't a big release month. Well, my wallet is happy about that, because this past few months were a bit crazy in terms of new releases, so I'm kind of happy that April is a calmer month. In fact, there are less than 20 books that are coming out this month that I'm super excited about, so that's new!
Without any further ado, let's start with the post!
Starry Eyes | Jen Bennett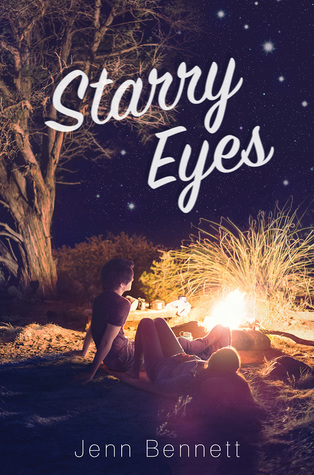 Pub. Date: April 3rd
Ever since last year's homecoming dance, best friends-turned-best enemies Zorie and Lennon have made an art of avoiding each other. It doesn't hurt that their families are the modern day, Californian version of the Montagues and Capulets.
But when a group camping trip goes south, Zorie and Lennon find themselves stranded in the wilderness. Alone. Together.
What could go wrong?
With no one but each other for company, Zorie and Lennon have no choice but to hash out their issues via witty jabs and insults as they try to make their way to safety. But fighting each other while also fighting off the forces of nature makes getting out of the woods in one piece less and less likely.
And as the two travel deeper into Northern California's rugged backcountry, secrets and hidden feelings surface. But can Zorie and Lennon's rekindled connection survive out in the real world? Or was it just a result of the fresh forest air and the magic of the twinkling stars?
Now a Major Motion Picture | Cori McCarthy
Pub. Date: April 3rd
Unlike the rest of the world, Iris doesn't care about the famous high-fantasy Elementia books written by M. E. Thorne. So it's just a little annoying that M. E. Thorne is her grandmother—and that Iris has to deal with the trilogy's crazy fans.
When Iris gets dropped in Ireland for the movie adaptation, she sees her opportunity: if she can shut down production, the Elementia craze won't grow any bigger, and she can finally have a normal life. Not even the rascally-cute actor Eamon O'Brien can get in her way.
But the crew's passion is contagious, and as Iris begins to find herself in the very world she has avoided her whole life, she realizes that this movie might just be amazing…
Dread Nation | Justina Ireland
Pub. Date: April 3rd
Jane McKeene was born two days before the dead began to walk the battlefields of Gettysburg and Chancellorsville—derailing the War Between the States and changing America forever. In this new nation, safety for all depends on the work of a few, and laws like the Native and Negro Reeducation Act require certain children attend combat schools to learn to put down the dead. But there are also opportunities—and Jane is studying to become an Attendant, trained in both weaponry and etiquette to protect the well-to-do. It's a chance for a better life for Negro girls like Jane. After all, not even being the daughter of a wealthy white Southern woman could save her from society's expectations.
But that's not a life Jane wants. Almost finished with her education at Miss Preston's School of Combat in Baltimore, Jane is set on returning to her Kentucky home and doesn't pay much mind to the politics of the eastern cities, with their talk of returning America to the glory of its days before the dead rose. But when families around Baltimore County begin to go missing, Jane is caught in the middle of a conspiracy, one that finds her in a desperate fight for her life against some powerful enemies. And the restless dead, it would seem, are the least of her problems.
All The Beautiful Lies | Peter Swanson
Pub. Date: April 3rd
Harry Ackerson has always considered his step-mother Alice to be sexy and beautiful, in an "other worldly" way. She has always been kind and attentive, if a little aloof in the last few years.
Days before his college graduation, Alice calls with shocking news. His father is dead and the police think it's suicide. Devastated, he returns to his father's home in Maine. There, he and Alice will help one another pick up of the pieces of their lives and uncover what happened to his father.
Shortly after he arrives, Harry meets a mysterious young woman named Grace McGowan. Though she claims to be new to the area, Harry begins to suspect that Grace may not be a complete stranger to his family. But she isn't the only attractive woman taking an interest in Harry. The sensual Alice is also growing closer, coming on to him in an enticing, clearly sexual way.
Mesmerized by these two women, Harry finds himself falling deeper under their spell. Yet the closer he gets to them, the more isolated he feels, disoriented by a growing fear that both women are hiding dangerous—even deadly—secrets . . . and that neither one is telling the truth.
The Window | Amelia Brunskill
Pub. Date: April 3rd
Anna is everything her identical twin is not. Outgoing and athletic, she is the opposite of quiet introvert Jess. The same on the outside, yet so completely different inside–it's hard to believe the girls are sisters, let alone twins. But they are. And they tell each other everything.
Or so Jess thought.
After Anna falls to her death while sneaking out her bedroom window, Jess's life begins to unravel. Everyone says it was an accident, but to Jess, that doesn't add up. Where was Anna going? Who was she meeting? And how long had Anna been lying to her?
Jess is compelled to learn everything she can about the sister she thought she knew. At first it's a way to stay busy and find closure . . . but Jess soon discovers that her twin kept a lot of secrets. And as she digs deeper, she learns that the answers she's looking for may be truths that no one wants her to uncover.
Because Anna wasn't the only one with secrets.
Someday, Somewhere | Lindsay Champion
Pub. Date: April 3rd
Dominique is a high school junior from a gritty neighborhood in Trenton, where she and her mom are barely getting by.
Ben is a musical prodigy from the Upper East Side, a violinist at a top conservatory with obsessive talent and a brilliant future.
When Dom's class is taken to hear a concert at Carnegie Hall, she expects to be bored out of her mind. But then she sees the boy in the front row playing violin like his life depends on it — and she is transfixed.
Posing as an NYU student, Dom sneaks back to New York City to track down Ben Tristan, a magnetic genius who whisks her into a fantasy world of jazz clubs and opera, infatuation and possibility. Each sees something in the other that promises to complete them.
As Dom's web of lies grows, though, so does Ben's obsessive need to conquer Beethoven's famous Kreutzer Sonata. But Ben's genius, which captivates Dominique, conceals a secret, and the challenges of her life may make it difficult to help him.
Alternating perspectives and an unreliable narrator create suspense and momentum, romance and heartbreak. Author Lindsay Champion's deep roots in theater and music are evident on every page — structured like a sonata with hints of West Side Story, her debut novel hits all the right notes.
Ace of Shades | Amanda Foody
Pub. Date: April 10th
Welcome to the City of Sin, where casino families reign, gangs infest the streets…
and secrets hide in every shadow.
Enne Salta was raised as a proper young lady, and no lady would willingly visit New Reynes, the so-called City of Sin. But when her mother goes missing, Enne must leave her finishing school—and her reputation—behind to follow her mother's trail to the city where no one survives uncorrupted.
Frightened and alone, her only lead is a name: Levi Glaisyer. Unfortunately, Levi is not the gentleman she expected—he's a street lord and a con man. Levi is also only one payment away from cleaning up a rapidly unraveling investment scam, so he doesn't have time to investigate a woman leading a dangerous double life. Enne's offer of compensation, however, could be the solution to all his problems.
Their search for clues leads them through glamorous casinos, illicit cabarets and into the clutches of a ruthless mafia donna. As Enne unearths an impossible secret about her past, Levi's enemies catch up to them, ensnaring him in a vicious execution game where the players always lose. To save him, Enne will need to surrender herself to the city…
And she'll need to play.
Isle of Blood and Stone | Makiia Lucier
Pub. Date: April 10th
Ulises asked, "How can I look at these maps, see this riddle, and do nothing? They are my brothers."
Elias reached across the table and flicked aside two shells with a fingertip. The map curled into itself. "It's bound to be a goose chase. You know that?"
"Or a treasure hunt," Ulises countered, "and you've always been good at those."
Nineteen-year-old Elias is a royal explorer, a skilled mapmaker, and the new king of del Mar's oldest friend. Soon he will embark on the adventure of a lifetime, an expedition past the Strait of Cain and into uncharted waters. Nothing stands in his way…until a long-ago tragedy creeps back into the light, threatening all he holds dear.
The people of St. John del Mar have never recovered from the loss of their boy princes, kidnapped eighteen years ago, both presumed dead. But when two maps surface, each bearing the same hidden riddle, troubling questions arise. What really happened to the young heirs? And why do the maps appear to be drawn by Lord Antoni, Elias's father, who vanished on that same fateful day? With the king's beautiful cousin by his side-whether he wants her there or not-Elias will race to solve the riddle of the princes. He will have to use his wits and guard his back. Because some truths are better left buried…and an unknown enemy stalks his every turn.
The Diminished | Kaitlyn Sage Patterson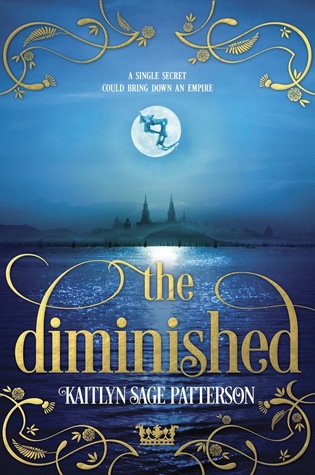 Pub. Date: April 10th
In the Alskad Empire, nearly all are born with a twin, two halves to form one whole…yet some face the world alone.
The singleborn
A rare few are singleborn in each generation, and therefore given the right to rule by the gods and goddesses. Bo Trousillion is one of these few, born into the royal line and destined to rule. Though he has been chosen to succeed his great-aunt, Queen Runa, as the leader of the Alskad Empire, Bo has never felt equal to the grand future before him.
The diminished
When one twin dies, the other usually follows, unable to face the world without their other half. Those who survive are considered diminished, doomed to succumb to the violent grief that inevitably destroys everyone whose twin has died. Such is the fate of Vi Abernathy, whose twin sister died in infancy. Raised by the anchorites of the temple after her family cast her off, Vi has spent her whole life scheming for a way to escape and live out what's left of her life in peace.
As their sixteenth birthdays approach, Bo and Vi face very different futures—one a life of luxury as the heir to the throne, the other years of backbreaking work as a temple servant. But a long-held secret and the fate of the empire are destined to bring them together in a way they never could have imagined.
Circe | Madeline Miller
Pub. Date: April 10th
In the house of Helios, god of the sun and mightiest of the Titans, a daughter is born. But Circe has neither the look nor the voice of divinity, and is scorned and rejected by her kin. Increasingly isolated, she turns to mortals for companionship, leading her to discover a power forbidden to the gods: witchcraft.
When love drives Circe to cast a dark spell, wrathful Zeus banishes her to the remote island of Aiaia. There she learns to harness her occult craft, drawing strength from nature. But she will not always be alone; many are destined to pass through Circe's place of exile, entwining their fates with hers. The messenger god, Hermes. The craftsman, Daedalus. A ship bearing a golden fleece. And wily Odysseus, on his epic voyage home.
There is danger for a solitary woman in this world, and Circe's independence draws the wrath of men and gods alike. To protect what she holds dear, Circe must decide whether she belongs with the deities she is born from, or the mortals she has come to love.
Beyond a Darkened Shore | Jessica Leake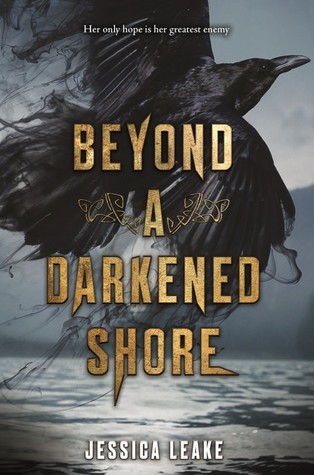 Pub. Date: April 10th
The ancient land of Éirinn is mired in war. Ciara, Princess of Mide, has never known a time when Éirinn's kingdoms were not battling for power, or Northmen were not plundering their shores.
The people of Mide have thankfully always been safe because of Ciara's unearthly ability to control her enemies' minds and actions. But lately, a mysterious crow has been appearing to Ciara, whispering warnings of an even darker threat. Although her clansmen dismiss her visions as pagan nonsense, Ciara fears this coming evil will destroy not just Éirinn, but the entire world.
Then the crow leads Ciara to Leif, a young Northman leader. Leif should be Ciara's enemy, but when Ciara discovers that he, too, shares her prophetic visions, she knows he's something more. Leif is mounting an impressive army, and with Ciara's strength in battle the two might have a chance to save their world.
With evil rising around them, they'll do what it takes to defend the land they love…even if it means making the greatest sacrifice of all.
Then She Was Gone | Lisa Jewell 
Pub. Date: April 17th
Ten years after her teenage daughter disappears, a woman crosses paths with a charming single father whose young child feels eerily familiar, in this evocative, suspenseful drama from New York Times bestselling author Lisa Jewell—perfect for fans of Paula Hawkins and Liane Moriarty.
Ellie Mack was the perfect daughter. She was fifteen, the youngest of three. She was beloved by her parents, friends, and teachers. She and her boyfriend made a teenaged golden couple. She was days away from an idyllic post-exams summer vacation, with her whole life ahead of her.
And then she was gone.
Now, her mother Laurel Mack is trying to put her life back together. It's been ten years since her daughter disappeared, seven years since her marriage ended, and only months since the last clue in Ellie's case was unearthed. So when she meets an unexpectedly charming man in a café, no one is more surprised than Laurel at how quickly their flirtation develops into something deeper. Before she knows it, she's meeting Floyd's daughters—and his youngest, Poppy, takes Laurel's breath away.
Because looking at Poppy is like looking at Ellie. And now, the unanswered questions she's tried so hard to put to rest begin to haunt Laurel anew. Where did Ellie go? Did she really run away from home, as the police have long suspected, or was there a more sinister reason for her disappearance? Who is Floyd, really? And why does his daughter remind Laurel so viscerally of her own missing girl?
Sky In The Deep | Adrienne Young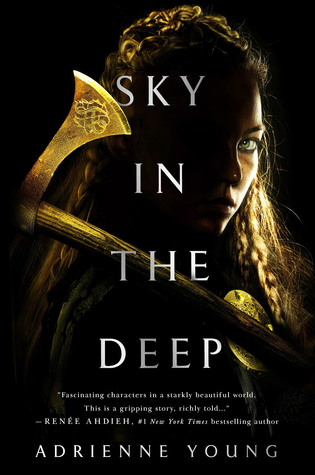 Pub. Date: April 24th
OND ELDR. BREATHE FIRE.
Raised to be a warrior, seventeen-year-old Eelyn fights alongside her Aska clansmen in an ancient rivalry against the Riki clan. Her life is brutal but simple: fight and survive. Until the day she sees the impossible on the battlefield—her brother, fighting with the enemy—the brother she watched die five years ago.
Faced with her brother's betrayal, she must survive the winter in the mountains with the Riki, in a village where every neighbor is an enemy, every battle scar possibly one she delivered. But when the Riki village is raided by a ruthless clan thought to be a legend, Eelyn is even more desperate to get back to her beloved family.
She is given no choice but to trust Fiske, her brother's friend, who sees her as a threat. They must do the impossible: unite the clans to fight together, or risk being slaughtered one by one. Driven by a love for her clan and her growing love for Fiske, Eelyn must confront her own definition of loyalty and family while daring to put her faith in the people she's spent her life hating.
White Rabbit | Caleb Roehrig
Pub. Date: April 24th
Rufus Holt is having the worst night of his life. It begins with the reappearance of his ex-boyfriend, Sebastian—the guy who stomped his heart out like a spent cigarette. Just as Rufus is getting ready to move on, Sebastian turns up out of the blue, saying they need to "talk." Things couldn't get much worse, right?
But then Rufus gets a call from his sister April, begging for help. And then he and Sebastian find her, drenched in blood and holding a knife, beside the dead body of her boyfriend, Fox Whitney.
April swears she didn't kill Fox—but Rufus knows her too well to believe she's telling him the whole truth. April has something he needs, though, and her price is his help. Now, with no one to trust but the boy he wants to hate yet can't stop loving, Rufus has one night to prove his sister's innocence…or die trying.
Leah On the Offbeat | Becky Albertalli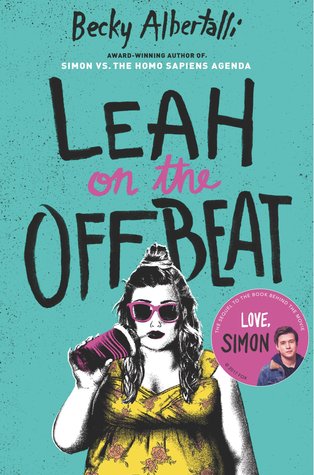 Pub. Date: April 24th
Leah Burke—girl-band drummer, master of deadpan, and Simon Spier's best friend from the award-winning Simon vs. the Homo Sapiens Agenda—takes center stage in this novel of first love and senior-year angst.
When it comes to drumming, Leah Burke is usually on beat—but real life isn't always so rhythmic. An anomaly in her friend group, she's the only child of a young, single mom, and her life is decidedly less privileged. She loves to draw but is too self-conscious to show it. And even though her mom knows she's bisexual, she hasn't mustered the courage to tell her friends—not even her openly gay BFF, Simon.
So Leah really doesn't know what to do when her rock-solid friend group starts to fracture in unexpected ways. With prom and college on the horizon, tensions are running high. It's hard for Leah to strike the right note while the people she loves are fighting—especially when she realizes she might love one of them more than she ever intended.
What April releases are you most excited about? Have you read any of these ones? Let me know in the comments if you also have any of the books I've mentioned on your list!
Follow me on BlogLovin'
Goodreads | Instagram | Twitter | Contact Me