Hello bookworms! I'm Nia and today I'm going to be talking about prequels that I need in my life.
I've given to much thought to this topic, because I usually forget about these type of things. It's true that I've read many amazing books and after finishing it I think about how much I want it to have either some prequels or sequels in that world, but I later forget about them because that usually never happen. So I finally managed to think about five books!
If you aren't familiar with Top 5 Tuesday, it is a group here on WordPress now currently run by Shanah over at BionicBookWorm, where each week they give you a topic and you talk about 5 books that fit that category.
Without any further ado, let's start with this week's topic!
Harry Potter | J. K. Rowling
Okay, I've said this already in many posts but your girl needs an entire series about the Marauders. I just love them so much and I've always been curious to read more about them in Hogwarts when they were younger, how they became friends and all that amazing stuff. I know that probably won't ever happen, but a girl can dream.
A Darker Shade of Magic | V. E. Schwab
Okay, but imagine how amazing it'd be to read about the different London's before all the events in ADSOM happened. I would love to read a prequel about Black London and how everything went crazy then. I don't know why, but there's something about knowing more about that history that appeals to me and makes me want to read a trilogy about that. And well, I just love that world too!
The Night Circus | Erin Morgenstern
I need more TNC in my life! If you've been following me for a while you'll probably know already how much I love The Night Circus, and how it's one of my favorite books of all time, so it'd be amazing if I have another book based on that competition. And I need a prequel about Tsukiko. I just do. She was one of my favorite characters, and I found her story so fascinating and tragic that I really want a full book about it.
The Grisha World | Leigh Bardugo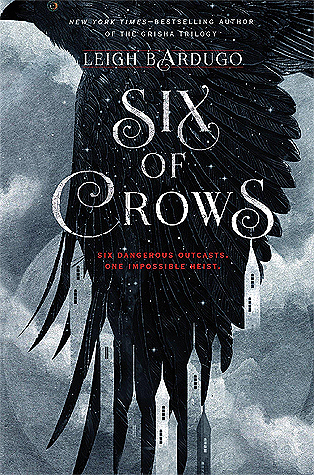 To be completely honest with you, I don't care if it's a prequel or a sequel, but I just need more books that take place in this world, because not only it's become so complex throughout the books she's published, but also I completely adore it. I'm beyond excited for the Nikolai trilogy (cannot wait to read it!!), but I'd love to read a prequel mostly about the characters in Six of Crows, because they are my babies and I just love them so much to let them go.
Snow Like Ashes | Sara Raasch
I don't know why but ever since I finished this trilogy I've been wanting to read more about that world, so I think it'd be very interesting to read more about what happened before the war that took place before the beginning of the first book, and the story of the characters' ancestors. I truly enjoyed the world building and I thought the story had a very interesting magic system, so I'd pay to read a sequel about that.
What books do you think need a prequel or would you want to have one? Let me know if you have any of the ones I've mentioned on your list so we can chat about them in the comments!
Follow me on BlogLovin'
Goodreads | Instagram | Twitter | Contact Me