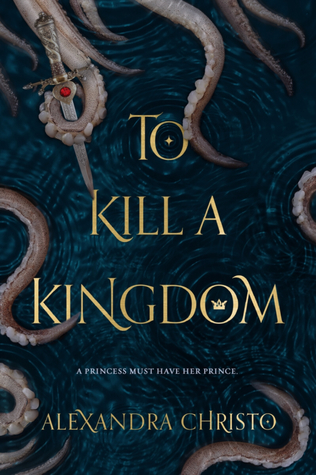 Title: To Kill a Kingdom
Author: Alexandra Christo
Series: N/A
Genre: Young Adult, Fantasy, High Fantasy, Romance, Retelling
Publisher: Feiwel Friends
Publication date: March 6th, 2018
Pages: 342
My rating: 
---
Princess Lira is siren royalty and the most lethal of them all. With the hearts of seventeen princes in her collection, she is revered across the sea. Until a twist of fate forces her to kill one of her own. To punish her daughter, the Sea Queen transforms Lira into the one thing they loathe most—a human. Robbed of her song, Lira has until the winter solstice to deliver Prince Elian's heart to the Sea Queen or remain a human forever.
The ocean is the only place Prince Elian calls home, even though he is heir to the most powerful kingdom in the world. Hunting sirens is more than an unsavory hobby—it's his calling. When he rescues a drowning woman in the ocean, she's more than what she appears. She promises to help him find the key to destroying all of sirenkind for good—But can he trust her? And just how many deals will Elian have to barter to eliminate mankind's greatest enemy?
"Could it really be such a bad thing, to become a story whispered to children in the dead of night? A song they sing to one another while they play."
This book was simply amazing. I admit I went with pretty high expectations, not only because this was one of my most anticipated releases of this year and a retelling of The Little Mermaid, but also because lately it's been a very hyped book and everyone's been talking really great things about it.
I tried to read as less things about it as possible, so I could be neutral and form my own opinion, but I have to say To Kill a Kingdom is so worth the hype. Yes, it had its tropes that we all are well aware of, but I think the author did such an amazing job at creating that story and characters that I feel I didn't notice those that much.
"Hearts are power, and if there's one thing my kind craves more than the ocean, it's power."
I absolutely loved the cast of characters that this novel had. Lira was such an awesome and strong main character that I thoroughly enjoyed reading from her perspective. She had some elements about the original mermaid in her, but at the same time the author created her own character, and it was so cool to learn about sirens and about her life.
I also really enjoyed how neither of those main characters overpowered each other. The book was told in two points of views, Lira and the prince, Elian. And because they were both very strong and powerful characters at first I was a bit scared one would take much importance in the story than the other, but after finishing it I feel that didn't happen. They complimented each other so well, and I absolutely loved the romance part of the story.
Now I'm a sucker for a Little Mermaid retelling, because not only mermaids (or sirens in this case) are one of my favorite creatures, but also because the original story had a well done, angsty romance and this novel definitely had that type of relationship, which was surprisingly incredible and right up my alley. I just freaking adored the slow burning romance. It didn't happen too fast, and it wasn't the main focus of the story.
"Two kingdoms that come with responsibilities we each have trouble bearing. Him, the shackles of being pinned to one land and one life. Me trapped in the confines of my mother's murderous legacy. And the ocean, calling out to us both. A song of freedom and longing."
I must say at first it was a bit slow and the action and plot took a bit to finally start to develop, but as I continued reading I found the story started to get better and better. The world was also pretty interesting, and I just wish to know more about it, because even though the author didn't do a bad job with her world building, it was still a standalone, and though I learnt some things about it, there were many more that I missed.
The novel also had a lot of twists and turns, and it kept me at the edge of my seat. Even though it wasn't exactly fast paced because it was pretty descriptive sometimes, I flew through it, maybe because I was enjoying it that much, but mostly because I wanted to know what would happened next.  I loved how the author showed some elements of the original fairytale in To Kill a Kingdom, but still managed to create a whole new story.
Overall, I highly recommend this book if you're into retellings or sirens in general. It was an amazing story, and though the beginning was more on the slower side, it built up and it got even better as you went through.
Follow me on BlogLovin'
Goodreads | Instagram | Twitter | Contact Me