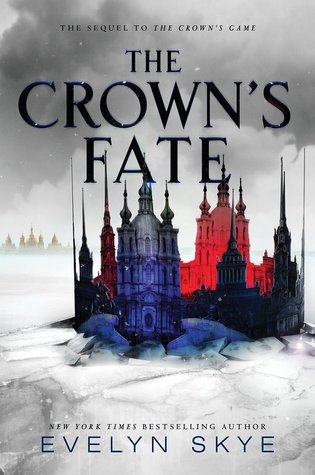 Title: The Crown's Fate
Author: Evelyn Skye
Series: The Crown's Game #2
Genre: Young Adult, Fantasy, Historical Fiction, Romance
Publisher: Balzer + Bray
Publication date: May 16th, 2017
Pages: 415
My rating: 
---
Russia is on the brink of great change. Pasha's coronation approaches, and Vika is now the Imperial Enchanter, but the role she once coveted may be more difficult—and dangerous—than she ever expected.
Pasha is grappling with his own problems—his legitimacy is in doubt, the girl he loves loathes him, and he believes his best friend is dead. When a challenger to the throne emerges—and with the magic in Russia growing rapidly—Pasha must do whatever it takes to keep his position and protect his kingdom.
For Nikolai, the ending of the Crown's Game stung deeply. Although he just managed to escape death, Nikolai remains alone, a shadow hidden in a not-quite-real world of his own creation. But when he's given a second chance at life—tied to a dark price—Nikolai must decide just how far he's willing to go to return to the world.
With revolution on the rise, dangerous new magic rearing up, and a tsardom up for the taking, Vika, Nikolai, and Pasha must fight—or face the destruction of not only their world but also themselves.
"This is part of my duty. All my life, I've wanted nothing more than to be Imperial Enchanter, and this is what it entails. I can do this."
Well finally it was time for me to finish this duology! I feel it's been forever since I read the first installment, and though I remember most of the events and important things that happened in The Crown's Game, I have to say that it took me a bit to get into the story because I didn't fully remember some other tiny little things. Still, I'm so glad I ended up reading The Crown's Fate, because I thoroughly enjoyed it, and I finally got to know how the story ended.
I admit I'm kind of sad that this series is over, because I just loved that world and those characters. I cannot tell you if I enjoyed this novel more than its previous one, because I believe I read it more than one year ago, and my egg of a brain forgot to write a review, but I must say that this book was a nice and bittersweet conclusion to the series. It's true that I had some issues with the ending and the characters, but overall, it was a great installment.
"Then again, if there was anyone who could make more of the cards that life had dealt him, it was Nikolai. He'd always been resourceful. He'd always found a way."
Let me first start by saying that Nikolai wasn't my favorite character in the first book, and though he was a morally grey character in this one and had some interesting scenes and a very intriguing new "personality", he still wasn't my favorite out of all of them. However, I absolutely adored Vika, and her development in this novel was to die for. I think I saw a different kind of Vika in The Crown's Fate, more realistic and exposed, rather than that strong, intelligent characters that was portrayed in the first installment, which was a nice addition to the plot. Don't get me wrong, she still was that same person, but it was good to see a different part of her.
I also didn't completely dislike Pasha like I did after finishing The Crown's Game. Though he didn't particularly had a redemption arc, you saw regret in him and how he was trying to get things right.
I was a bit sad because I feel the character of Nikolai's mother wasn't as I expected to be in this sequel. Though you did know more about her, she still remained a mystery and not much was changed about her. She was a bit lineal, and because she wasn't that complex, I didn't comprehend nor care about the things she did throughout the story.
"She hadn't imagined that achieving her greatest desire would come true, but with the precise opposite of what she'd wanted: to fly without bounds."
Though I liked the ending, I had some issues with it. I feel that it was a bit rushed, because you spent the whole book anticipating that moment, and the author was building up that grand finale, that when it happened it was a bit fast and convenient. It's not the type of ending I was expecting, definitely. And I must say I was a teeny tiny bit disappointed about that.
However, I must admit that this installment was super fast paced and easy to read. I cannot believe that I finished it in two sittings and it took me less than four hours to do so. I cannot remember if The Crown's Game was just as fast paced as this one was, but I just wanted to point that out because I was shook.
Overall, though the big finale wasn't as amazing as I wanted it to be, I loved the characters and the magic system, and they had such great interactions between them.
Follow me on BlogLovin'
Goodreads | Instagram | Twitter | Contact Me