Hello bookworms! I'm Nia and today I'm going to talk about some pretty unpopular opinions I have.
Like I mentioned in a previous T5T's topic, I usually tend to be in this lane. There are some books that are pretty popular that other people didn't like and I did, but for the most part I tend to dislike books that a LOT of people love, so excuse my rantings in this post.
Again, if you liked any of these ones I'll be mentioning that's amazing, but don't get mad at me for not doing so. Every person has their own opinion and what I like you may not like, and vice versa.
If you aren't familiar with Top 5 Tuesday, it is a group here on WordPress now currently run by Shanah over at BionicBookWorm, where each week they give you a topic and you talk about 5 books that fit that category.
Without any further ado, let's start with this week's topic!
Library of Fates | Aditi Khorana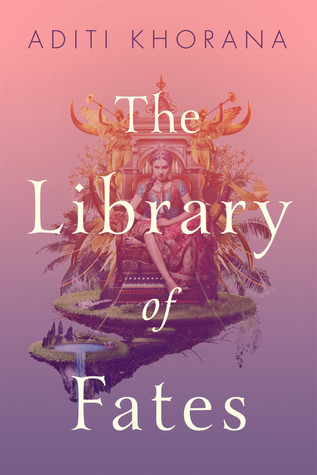 My thoughts: I'm so sad that I didn't enjoy this book because the premise sounded incredible and I went with pretty high expectations, but it was kind of a let down to me. Basically, the story ended up not being as good as I thought it would be, and the characters were childish and underdeveloped. I liked the mythology part of the story, but the rest of it was kind of boring and I felt nothing interesting was actually happening. I'm so happy to see other people really enjoyed this novel, but I guess it wasn't for me.
I have a review of this book here in case you want to check it out.
No one is entirely certain what brings the Emperor Sikander to Shalingar. Until now, the idyllic kingdom has been immune to his many violent conquests. To keep the visit friendly, Princess Amrita has offered herself as his bride, sacrificing everything—family, her childhood love, and her freedom—to save her people. But her offer isn't enough.
The unthinkable happens, and Amrita finds herself a fugitive, utterly alone but for an oracle named Thala, who was kept by Sikander as a slave and managed to escape amid the chaos of a palace under siege. With nothing and no one else to turn to, Amrita and Thala are forced to rely on each other. But while Amrita feels responsible for her kingdom and sets out to warn her people, the newly free Thala has no such ties. She encourages Amrita to go on a quest to find the fabled Library of All Things, where it is possible for each of them to reverse their fates. To go back to before Sikander took everything from them.
Stripped of all that she loves, caught between her rosy past and an unknown future, will Amrita be able to restore what was lost, or does another life—and another love—await?
The Wicked Deep | Shea Ernshaw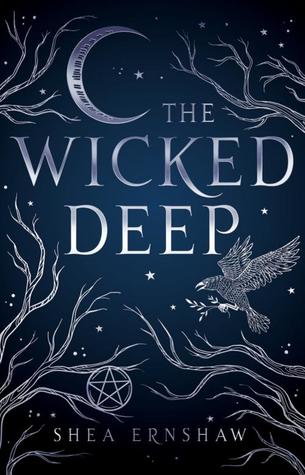 My thoughts: This is a pretty unpopular opinion, because I'm telling you every review I've seen about The Wicked Deep has been positive and everyone's been praising it till the ends of the world, and I did not like it. Yes, it had such an interesting premise, but the characters were so lineal and their interactions a bit forced, and also I feel the story was so slow that I got bored halfway through. I think it could have been amazing if done differently, because it had potential, but it ended up disappointing me.
I have a review of this book here in case you want to check it out.
Welcome to the cursed town of Sparrow…
Where, two centuries ago, three sisters were sentenced to death for witchery. Stones were tied to their ankles and they were drowned in the deep waters surrounding the town.
Now, for a brief time each summer, the sisters return, stealing the bodies of three weak-hearted girls so that they may seek their revenge, luring boys into the harbor and pulling them under.
Like many locals, seventeen-year-old Penny Talbot has accepted the fate of the town. But this year, on the eve of the sisters' return, a boy named Bo Carter arrives; unaware of the danger he has just stumbled into.
Mistrust and lies spread quickly through the salty, rain-soaked streets. The townspeople turn against one another. Penny and Bo suspect each other of hiding secrets. And death comes swiftly to those who cannot resist the call of the sisters.
But only Penny sees what others cannot. And she will be forced to choose: save Bo, or save herself.
Empire of Storms | Sarah J. Maas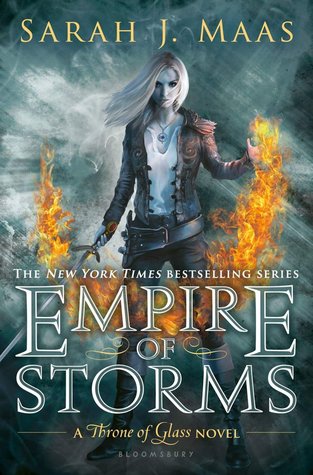 My thoughts: I have a love-hate relationship with this series. I read Throne of Glass when I started reading more YA fantasy, and I absolutely fell in love with it, but I find that as the series continued it got so much worse, but especially I dislike Empire of Storms. Aelin seemed like a completely different character, and I hated how the entire book (it's about 700 pages long!) was focused on the romance and had no plot whatsoever. And if you like the characters, maybe that'll work for you, but I HATE Rowan with all my heart (he's an abusive character and this home will not stan him), and so I ended up lowering my rating like two stars because the more I thought about it, the more I found things I didn't like about the path the series was taking. So yeah.
The long path to the throne has only just begun for Aelin Galathynius as war looms on the horizon. Loyalties have been broken and bought, friends have been lost and gained, and those who possess magic find themselves at odds with those who don't.
With her heart sworn to the warrior-prince by her side, and her fealty pledged to the people she is determined to save, Aelin will delve into the depths of her power to protect those she loves. But as monsters emerge from the horrors of the past, and dark forces become poised to claim her world, the only chance for salvation will lie in a desperate quest that may mark the end of everything Aelin holds dear.
Without Merit | Colleen Hoover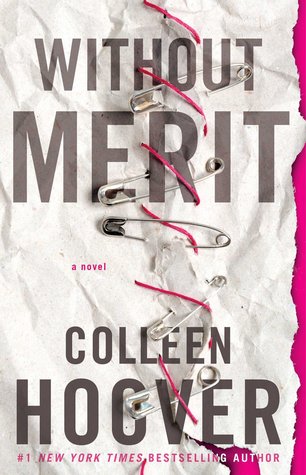 My thoughts: This is another case like Empire of Storms; the more I think about it, the more issues I find it. I even ended up lowering my rating to two stars because of that. This book had SO many problems, starting with the representation of depression. The beginning of the book was okay, but I hated the second half with all my might. I did not like how it was all handled and everything that happened after that "plot twist".
I have a review of this book here in case you want to check it out.
Not every mistake deserves a consequence. Sometimes the only thing it deserves is forgiveness.
The Voss family is anything but normal. They live in a repurposed church, newly baptized Dollar Voss. The once cancer-stricken mother lives in the basement, the father is married to the mother's former nurse, the little half-brother isn't allowed to do or eat anything fun, and the eldest siblings are irritatingly perfect. Then, there's Merit.
Merit Voss collects trophies she hasn't earned and secrets her family forces her to keep. While browsing the local antiques shop for her next trophy, she finds Sagan. His wit and unapologetic idealism disarm and spark renewed life into her—until she discovers that he's completely unavailable. Merit retreats deeper into herself, watching her family from the sidelines when she learns a secret that no trophy in the world can fix.
Fed up with the lies, Merit decides to shatter the happy family illusion that she's never been a part of before leaving them behind for good. When her escape plan fails, Merit is forced to deal with the staggering consequences of telling the truth and losing the one boy she loves.
The Price Guide to The Occult | Leslye Walton
My thoughts: I had really high hopes because I loved her debut novel, so I was expecting to enjoy this one as well, but nope. I didn't. And lately I've been seeing a lot of positive reviews, hence why I'm mentioning it in this post. Basically, it had an interesting premise, but it ended up being quite rushed towards the end and slow from the beginning. I didn't like the characters; they were underdeveloped and unidimensional, and I wasn't the biggest fan of the path the story took.
I have a review of this book here in case you want to check it out.
When Rona Blackburn landed on Anathema Island more than a century ago, her otherworldly skills might have benefited friendlier neighbors. Guilt and fear instead led the island's original eight settlers to burn "the witch" out of her home. So Rona cursed them. Fast-forward one hundred–some years: All Nor Blackburn wants is to live an unremarkable teenage life. She has reason to hope: First, her supernatural powers, if they can be called that, are unexceptional. Second, her love life is nonexistent, which means she might escape the other perverse side effect of the matriarch's backfiring curse, too. But then a mysterious book comes out, promising to cast any spell for the right price. Nor senses a storm coming and is pretty sure she'll be smack in the eye of it. In her second novel, Leslye Walton spins a dark, mesmerizing tale of a girl stumbling along the path toward self-acceptance and first love, even as the Price Guide's malevolent author — Nor's own mother — looms and threatens to strangle any hope for happiness.
What books you didn't enjoy but other people did? Let me know if  any of the ones I've mentioned are in your list as well!
Follow me on BlogLovin'
Goodreads | Instagram | Twitter | Contact Me