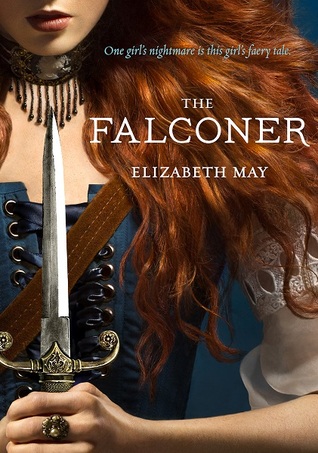 Title: The Falconer
Author: Elizabeth May
Series: The Falconer #1
Genre: Young Adult, Fantasy, Urban Fantasy, Historical Fiction, Steampunk, Romance
Publisher: Chronicle Books
Publication date: May 6th, 2014
Pages: 378
My rating: 
---
She's a stunner.
Edinburgh, 1844. Eighteen-year-old Lady Aileana Kameron, the only daughter of the Marquess of Douglas, has everything a girl could dream of: brains, charm, wealth, a title—and drop-dead beauty.
She's a liar.
But Aileana only looks the part of an aristocratic young lady. she's leading a double life: She has a rare ability to sense the sìthíchean—the faery race obsessed with slaughtering humans—and, with the aid of a mysterious mentor, has spent the year since her mother died learning how to kill them.
She's a murderer.
Now Aileana is dedicated to slaying the fae before they take innocent lives. With her knack for inventing ingenious tools and weapons—from flying machines to detonators to lightning pistols—ruthless Aileana has one goal: Destroy the faery who destroyed her mother.
She's a Falconer.
The last in a line of female warriors born with a gift for hunting and killing the fae, Aileana is the sole hope of preventing a powerful faery population from massacring all of humanity. Suddenly, her quest is a lot more complicated. She still longs to avenge her mother's murder—but she'll have to save the world first.
The first volume of a trilogy from an exciting new voice in young adult fantasy, this electrifying thriller combines romance and action, steampunk technology and Scottish lore in a deliciously addictive read.
"The faery will follow me until it finds the perfect place to attack. Faeries love the hunt, which is all about  power, control and dominance. Everything builds to that moment when they realize I'm not the prey after all. I'm the predator."
Oh, my god! Why haven't I read this book before? I've owned this book for more than a year now and somehow I've never read it, but lately I was thinking a lot about it and decided to finally picked it up and guess what? I'm obsessed with the trilogy itself.
I had a feeling I was going to like this book, because not only it had an amazing and strong female main character and a slow burning romance, but also because it's about wicked faeries and a fae hunter. And those two combined make such incredible books. So, yeah, I needed to read it.
"As I groe more and more tired, my resolve fails. My eyelids begin to close. And Kiaran's words play again in my mind, a painful reminder that I was always fated for this. To be a killer. This is what you were born to be. Falconer."
What basically sold this book for me was the amazing cast of characters. I adored them since the very beginning. Aileana was such a strong and witty main character, and the dynamics she had with the rest of them were done really well. I loved the development she had in this first installment and reading from her point of view, because though at the beginning she seemed like oh-that-strong-female-main-character, she ended up being much more complex and flawed than I expected, and I empathize a lot with her throughout the story.
I also absolutely adored the relationship she had with Derrick. He was one of my favorite characters from the book, because he was a very hilarious side character that somehow got me laughing at the most unexpected moments, and the friendship he had with Aileana was such a pure and beautiful one.
And you'll probably know me and my obsession with hate-to-love romances, so it's nothing new when I say I was living for these two characters! It's true that it was a bit difference hate-to-love romance, but I loved their interactions and basically the camaraderie they had going on in the whole trilogy. They were two really interesting characters, and I enjoyed knowing about their history before the starting of the novel.
"I know from experience what grief does. How it can transform us. That the only way to control it is by pressing it deep down inside ourselves where we hope no one will ever discover it. But it will always be there."
I would say the beginning was a bit slow, and it took a bit for the story to finally begin, but I didn't have much of a problem with that, because once I continued reading the book I was completely hooked and wanted to know what was going to happen next. There had some steampunk elements as well, and I found that super interesting to read, because I haven't read anything like that before.
The whole faerie thing was super interesting as well. I love stories about fae, especially when they are wicked, and I found that The Falconer had exactly what I wanted to read about (though I must say you start to know more about them in book two!). Also, there was a glossary at the end of the book, so people like me who often forget about names could easily find the meaning of everything (I cannot tell you how happy I was to see that).
Overall, it was such an amazing first book in a series, that ended in a very intense cliffhanger. I adored the cast of characters and their interactions throughout the story, and needless to say I immediately pick up the sequel after finished this installment.
Follow me on BlogLovin'
Goodreads | Instagram | Twitter | Contact Me